Just when I thought my days of writing about Peabody Energy (BTUUQ) were behind me, I keep get pulled back into the arena, solely as a benevolent advocate. In the interest of full disclosure, we sold our bonds for a hefty $76K loss (if you include my $51K loss and my parents' $25K loss) back in May 2016. We have never repurchased any Peabody securities since then, and have no future plans to be associated with people like these. With that out of the way, this story is so outrageous and, arguably, a travesty of American financial justice that I felt compelled to write one last article on the topic.
If on March 16, 2017, the gavel falls in favor of Peabody's management and its institutional debt holders, which include one of the world's most powerful hedge funds (notably Paul Singer), this could officially mark the day of the greatest heists in bankruptcy history.
With today's court approval, Peabody will begin soliciting votes for its plan of reorganization ahead of a voting deadline of March 3, 2017 at 5 p.m. CST and a hearing to consider confirmation of the plan on March 16, 2017 at 10 a.m. CDT.
Moreover, if Judge Schermer simply rubber stamps (and I fully anticipate that he will) and approves the bankruptcy plan, this will be the future "blueprint" that sets a new chilling precedent. It will only encourage other corrupt companies to prematurely file for bankruptcy and collude with hedge funds, so management and hedge funds get a disproportionate share of the leaner and streamlined post-bankruptcy entity at the expense of retail unsecured bonds holders, who simply lack both the sophistication and the capital to fight back. After all, Peabody's management owned less than 1% of its pre-bankruptcy equity and stands to reap 10% of the much more valuable post-bankruptcy equity. This would be a sad day in American capitalism. However, given the lateness of the hour and the direction of prior developments, I realistically understand that this article is simply an academic "tilting at windmills."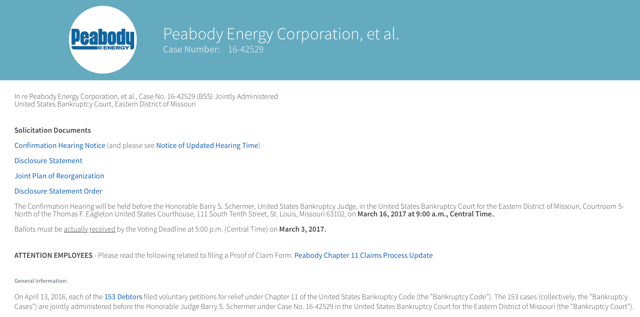 Source: KCC
Before we discuss some aspects of this complex case, let me put a human face on this story. Fellow Seeking Alpha contributor and very passionate reader Mark Gottlieb has invested hundreds of hours trying to lead a grassroots media campaign effort by trying to educate and interface with the movers and shakers of the financial media, including contacting decision makers at the WSJ, Bloomberg, Fox Business, NBC, ABC, MSNBC, Fortune, Forbes, Money Magazine, Barron's, Reuters, etc. Despite his best efforts, he has only established modest traction with Barron's, the St. Louis Post-Dispatch, and Reuters.
For perspective, Mark works in marketing and lives in New Jersey with his family and owns 130 unsecured bonds (for readers unfamiliar with bonds, each bond has a face value of $1,000, so his 130 bonds equal $130K face value). Through the grapevine, he stumbled on my Peabody Energy chronicles here on SA, and was convinced by the strengths of my core arguments, so he invested $16,000 of his savings to buy 130 bonds (circa December 2015). Mark has a cost basis of roughly $0.123 cents on the dollar.
In the interest of full disclosure, I have become friends with Mark as a result of this Peabody Energy fiasco, and we trade a few weekly emails discussing financial markets and briefly speak on the phone two or three times per month. Mark is truly a long-term investor in every sense of the word. At the depths, soon after Peabody Energy filed for bankruptcy in April 2016, he held steady when his bonds plummeted to as low as $0.03 on the dollar. He also took a long-term view in early December 2016, when his bonds rocketed to as high as $0.80 on the dollar on the back of the meteoric rise in metallurgical coal, which most investors figured would mean Peabody's Australian assets would generate strong operating leverage and be worth billions of dollars to an interested buyer.
Fast forward to today, and Mark's bonds that briefly traded at $0.80 on the dollar in mid-December are now trading at $0.05 on the dollar. Now, a lot of the correction in the bond prices is due to met coal's speculative euphoria peaking, but certainly not all of it.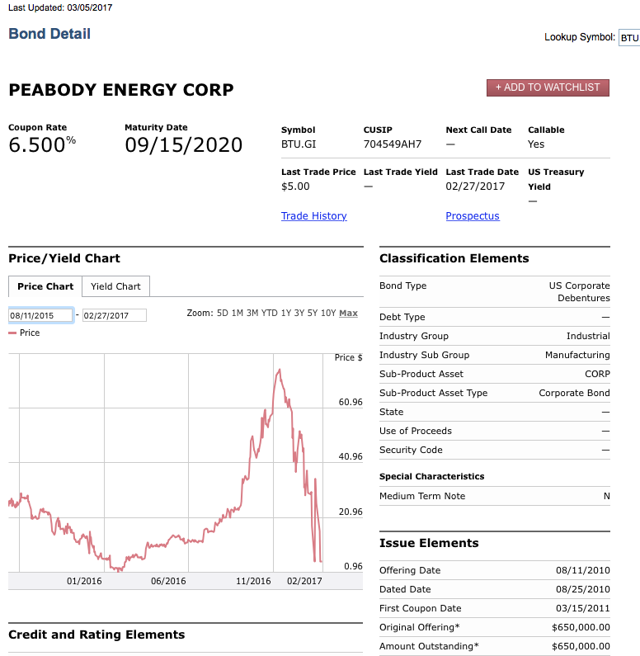 Source: Morningstar
Met coal's amazing run north of $330 m/t (in late December 2016) has subsided, and as of this morning, thinly traded met coal futures contracts are at $165-175 m/t. Yes, this is down 45%-plus off the highs, but still way above the levels (roughly the mid-$80s) when Peabody filed for bankruptcy.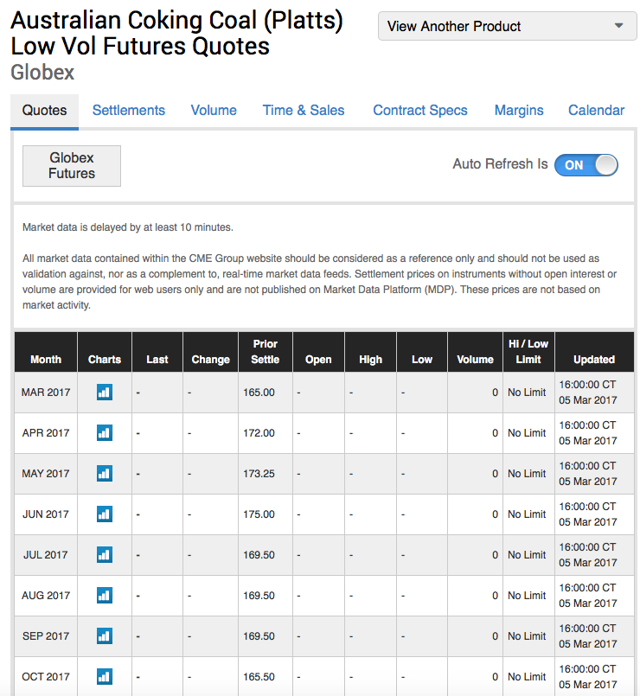 Source: CME Group
Next, I want to review Peabody's double talk. In late January 2017, the company issued a slide deck to future post-bankruptcy lenders, arguing its bullish case. Please see a few snapshots of those slides:
Pro forma New Capital Structure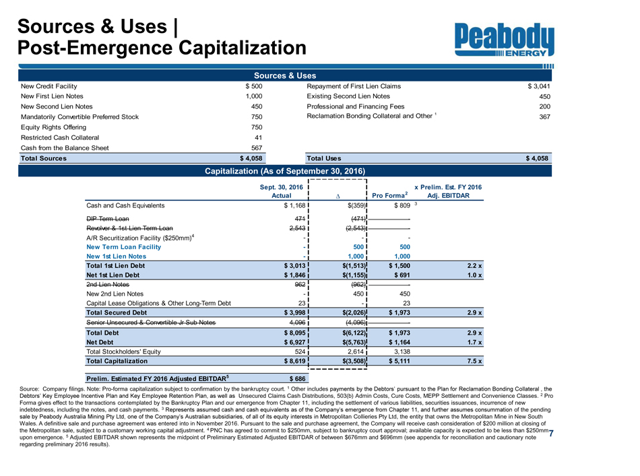 Peabody was arguing for the value of its U.S. assets.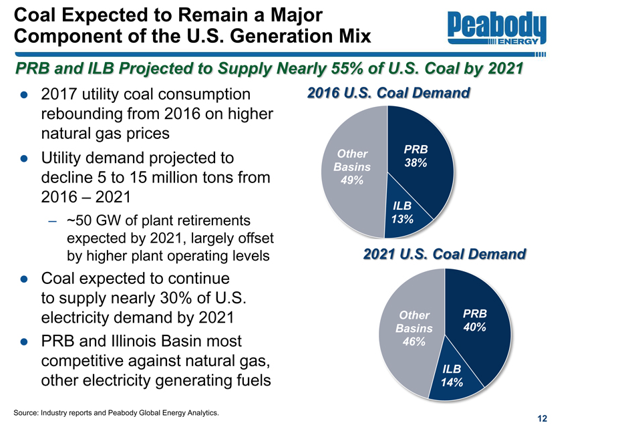 Ironically, in late January 2017, it was suddenly rosy about seaborne coal driven by China and India. Yet, in mid-January, when the company fought in court against Mangrove, the outlook and EBITDA power of the firm was far less. What an about-face in a 10-day time period!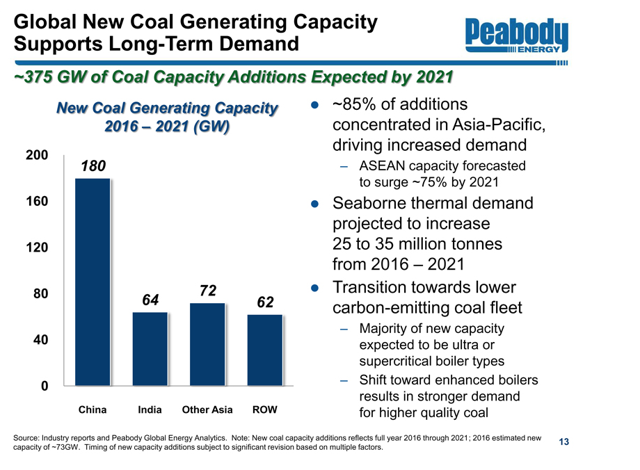 The second chart on this bullish thesis: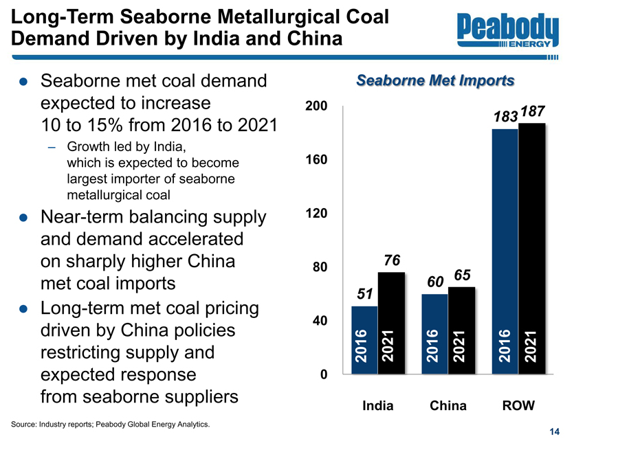 Next is another view of its massive reserves and operations that span the globe: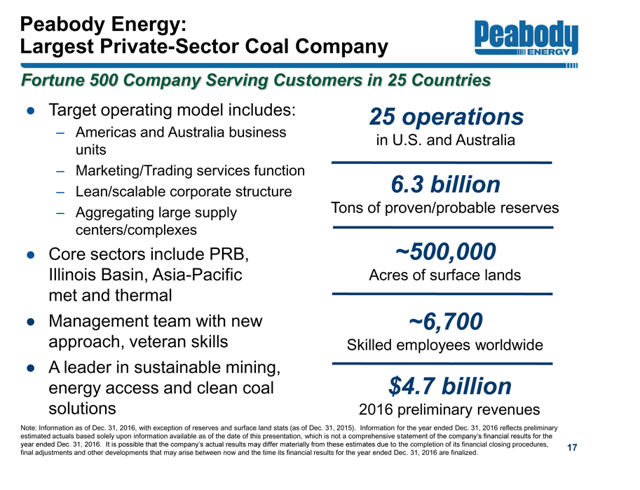 Next, let's turn to the details of Peabody Energy's management plan. SA contributor WYCO Researcher, whom I respect and have traded emails with, wrote this excellent late-December article detailing the estimated recoveries for unsecured bond holders. This was based on management's estimated TEV of $4.275 billion.
To avoid reinventing the wheel, I am going to screenshot WYCO's excellent and concise details of the Peabody management team: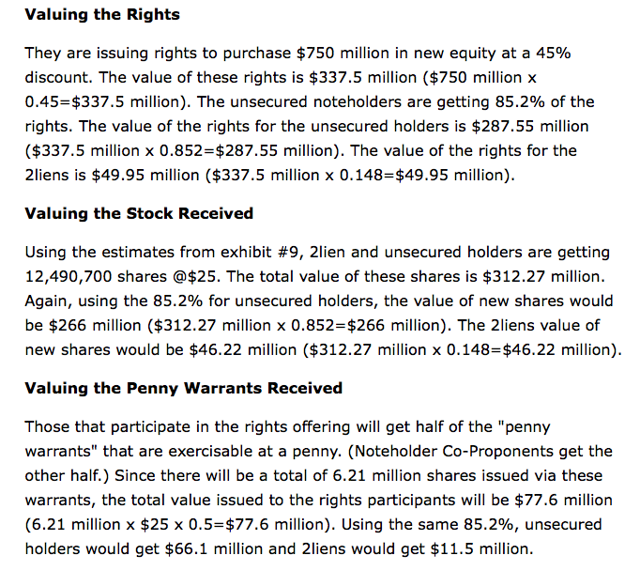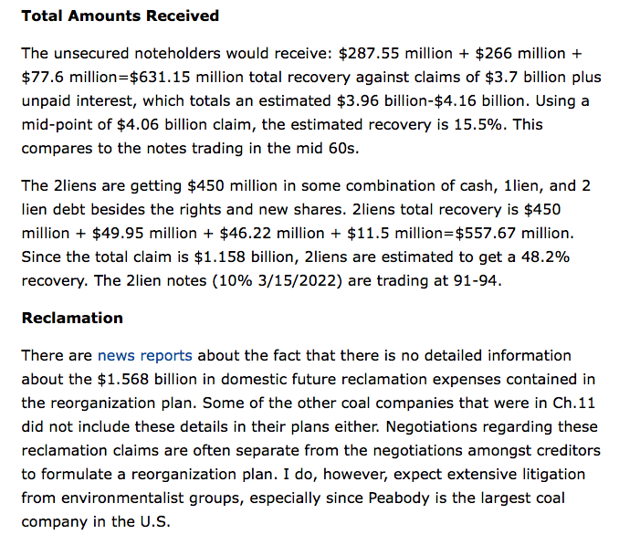 When I spoke with Mark on the phone yesterday, he said for his 130K face value of unsecured bonds, he elected to exercise his right to buy 1,603 shares at a price of $13.75. In other words, he had to fund his account with an additional $22,042 to buy shares. When Peabody does complete it bankruptcy and relists its shares in the new structure, let's assume that the shares do trade at the $25 valuation set by management (and could certainly trade higher). In this scenario, if Mark were to sell his shares at $25, he would make a profit of $18,034. However, remember, he originally invested $16,000 for his bonds, so 18 months later, he will get $0.138 cents on the dollar, or a $2,000 profit.
That said, the real story here is that retail holders are getting a worse deal than institutions. Please see this exhibit filed by Mark S. Hootnick of Millco Advisors, LP.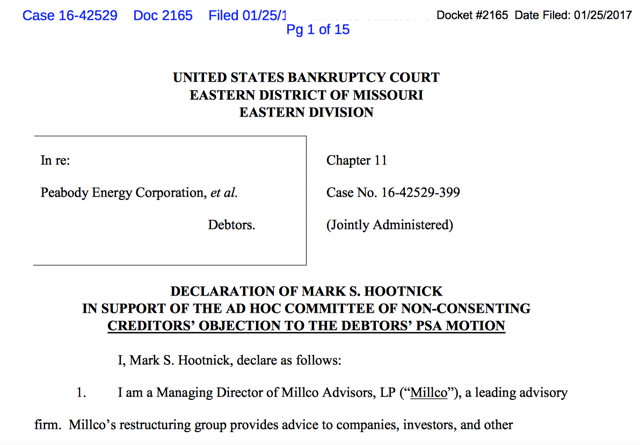 Also check out these two exhibits by Millco:
Here is another exhibit: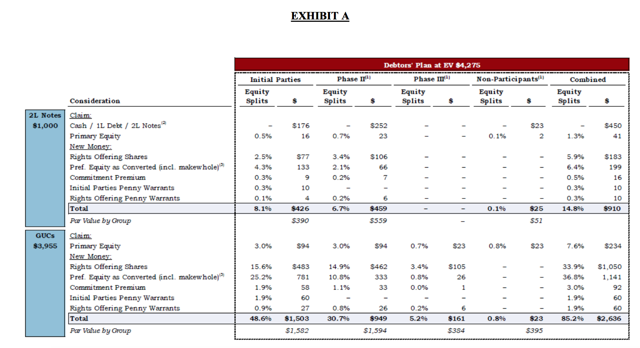 Takeaway
My goal for this piece was to shine the light of transparency and highlight the inequity of this intentionally complex bankruptcy restructuring plan. Under the cover of arbitration, Peabody's management team got to signal and indirectly work with powerful hedge funds like Paul Singer in order to cleverly suppress the final determined TEV, by the courts, at the time of bankruptcy. Here is the link to a presentation by Milbank, Tweed, Hadley & McCloy LLP that argues for a much higher TEV using the high yield research from Stifel.
By suppressing the TEV, there is less pie available to share with the more junior creditors, such as the unsecureds. To add insult to injury, management will walk away with 10% of the new equity not based on merit or value creation, but by deliberately developing a highly complex rights offering, with penny warrants, and accelerating voting deadlines to purposefully siphon away more value from unsecured bond holders. I fully anticipate that Judge Schermer will drop the gavel in favor of the bad Jedi Knights. If so, March 16, 2017, might go down as a sad day in American capitalism.
Disclosure: I/we have no positions in any stocks mentioned, and no plans to initiate any positions within the next 72 hours.
I wrote this article myself, and it expresses my own opinions. I am not receiving compensation for it (other than from Seeking Alpha). I have no business relationship with any company whose stock is mentioned in this article.
Editor's Note: This article covers one or more stocks trading at less than $1 per share and/or with less than a $100 million market cap. Please be aware of the risks associated with these stocks.