Note: This article was originally published Feb. 17th on Value Investor's Edge, a Seeking Alpha subscription service.
Overview
Dry bulk shippers specialize in transporting cargos, typically commodities, such as iron ore, coal, grain and other materials around the world.
Companies with exposure to dry bulk include Diana Shipping, Inc. (NYSE:DSX), Eagle Bulk (NASDAQ:EGLE), Genco Shipping (NYSE:GNK), Golden Ocean Group Ltd. (NASDAQ:GOGL), Navios Maritime Holdings, Inc. (NYSE:NM), Navios Maritime Partners L.P. (NYSE:NMM), Scorpio Bulkers (NYSE:SALT), Safe Bulkers, Inc. (NYSE:SB), Star Bulk Carriers Corp. (NASDAQ:SBLK) and Ship Finance International Limited (NYSE:SFL).
Those who follow shipping already know that the dry bulk segment has been caught up in a historic bear market for the past three years. This downturn is best seen through the lens of the Baltic Dry Index, a current indicator.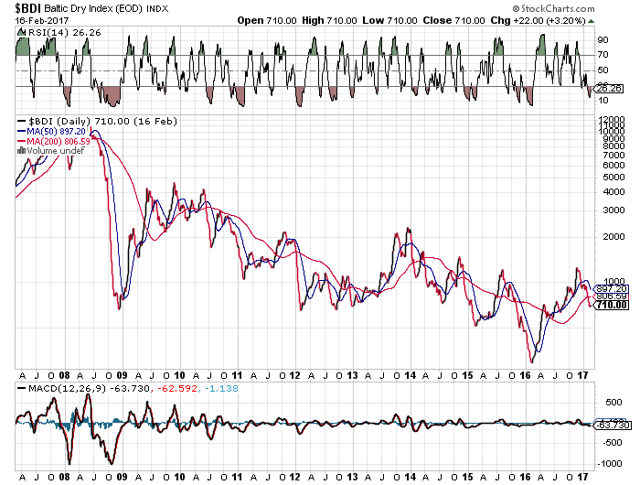 Source: stockcharts.com
The Baltic Dry Index, or BDI, is a composite of the Baltic Capesize, Supramax, Panamax, and Handysize indices. It is useful in determining the current cost to move materials by sea by these various vessel classes.
Introduced on January 4th, 1985, at 1000 points, this economic indicator had reached a record high of 11,793 on May 20th, 2008 and a record low of 290 on February 10th, 2016.
While the BDI is the most widely followed indicator for the dry bulk segment, it is not forward-looking. However, there are a few indicators that could provide some insight into the future of dry bulk. Of course, as with anything that attempts to predict the future, especially those containing a human element, these aren't always perfect and must be viewed in that context. In this case, they are merely trends that are forming due to industry activity based on insider knowledge and predictions of the future market. With that in mind, let's take a look at three key trends.
Background
A quick note before we begin. Recently, I wrote an article entitled Why Dry Bulk Shipping Could Look Very Different One Year From Now. This article examined the root cause of the downturn (an oversupply of vessels) and how market mechanisms along with recently imposed regulations could be setting up for a rebalancing of the dry bulk market over the long run. Along with some 'random thoughts' included in this piece it allowed me to conclude:
I estimate the market is still approximately 20% oversupplied and it will take some time for that to work out. This situation isn't going to correct overnight. But the good news is that a correction appears to be on the horizon and I am able to forecast, for the first time in years, that a recovery may be setting up in the long-run.
I tried to emphasize the long-run aspect of this recovery many times throughout the piece. Now let's move on to those leading indicators that appear to imply that many others, specifically industry insiders, are seeing an improvement in the long run.
Demolitions
In a recent article designed to be a sort of shipping 101 for those new to the segment, I described how reactionary owners respond to low rates (both current and future) by increasing the level of demolitions. If you are new to shipping, I highly encourage you to read this article as it goes into much further depth than I will here and provides historical and current examples using both the dry bulk and LNG segments.
But for now, let's just review the key concept for those new to shipping which will allow us to make sense of the current demolition trends and why they may be an indicator of the future.
As a vessel begins nearing the end of its service life, the current market and future projections can greatly influence the decision to retire early or perhaps extend operations. Rates are the deciding factor in this equation.
If rates remain very strong, we typically see vessels remaining on the water longer than usual as strong charter rates more than cover the increased OPEX for older vessels.
On the other hand, if a vessel is nearing the end of its life and charter rates are dismal, perhaps even loss-making, it may find itself in the scrapyard sooner than expected. This decision rests on the severity of losses, coupled with the projected duration of the downturn, all while considering the vessel's age and financial needs.
For example, if a vessel is three years away from retirement, but currently operating in a loss-making environment projected to last five years, the decision is easy. But if the vessel is eight years from retirement, with a five-year bear market on the horizon, owners must take into account the current projected losses they will suffer in the bear market, and whether the bullish upturn will negate those losses and perhaps turn a profit. Of course, that can all be highly speculative. Which is why in horrific markets we sometimes see vessels ten years away from retirement being scrapped early.
So what is demonstrated here is that demolition rates not only track the market but also take into account the projected duration of a downturn which require owners to make predictions regarding the future. Collectively, these predictions sometimes align to form a consensus regarding the future.
In January of 2016, one month before the BDI hit a historic low, demolition activity was quite brisk. A total of 53 dry bulk vessels, well over 4 million dwt, were sent to the scrapyard representing 75% of the total demolition activity in the entire shipping sector that month.
One year later, January of 2017, there has been a dramatic reversal. Only 15 vessels, or about 2 million dwt, were sent to the scrapyard representing 25% of the total demolition activity in the entire shipping sector that month.
Some might notice that the dwt of 2017 was only half that of 2016 while the total number of vessels scrapped was down 72%. This is a reflection of the continuing turmoil in the Capesize segment which maintains the most bearish outlook. In 2016, vessels across all classes were demolition candidates due to the horrific environment across the entire segment and the average dwt sent for scrap was about 78 thousand dwt. However, in 2017, the average was about 134 thousand dwt indicating that the Capesize class composed a great number of these total demolitions.
For those wishing to explore this situation further, I authored an article in March of 2016 entitled Dry Bulk Outlook: Capesize Segment In Focus, which explained why this class of vessel would face this situation.
But turning back to the numbers, we see that there has been a significant drop in the amount of vessels sent for demolition. There could be a couple of reasons for this.
The perma-bears would point out that all the low-hanging fruit has been picked and now owners are far more reluctant to part with these vessels. However, a counterargument would be that plenty of low-hanging fruit still exists in the segment with a great number of ships 20 years or older in age that should be candidates for scrapping if owners perceived that an ongoing bear market was in store.
Bulls might suggest that it could be due to the perception that the bear market is coming to an end, which is why fewer ships have been sent to the scrapyards even though demolition prices have significantly increased since this time last year, up from about 255 lt/Ldt in January of 2016 to 315 lt/Ldt in January of 2017, approximately a 20% increase. Furthermore, the average age of vessels being sent for scrap has moved up to 25 years of age in 2017 vs. 24 in 2016 as owners become less willing to part with ships with a few years of life left in them.
There are arguments on both sides, but the next couple of indicators may imply that the bull argument is gaining traction among the shipping community.
Second Hand Market
Even though January of 2017 saw the BDI declining, a trend that had started in late November of 2016, activity in the second hand market was strong.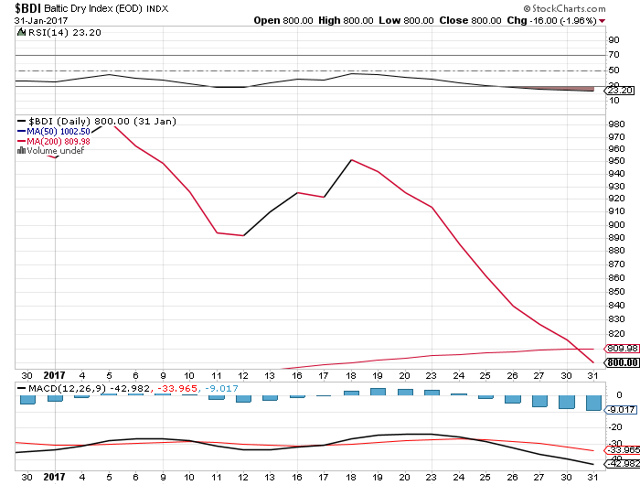 Source: stockcharts.com
Typically, when rates are decreasing, buyer's appetites tend to wane. But this wasn't the case. Some analysts believe that the prospect of a future recovery is what has been luring buyers.
Intermodal's SnP Broker, Mr. George Iliopoulos stated:
"As the market gradually started improving towards the end of the summer...this improvement brought buying interest back, even from owners who had been inactive for years in the second-hand market. What is impressive though is the fact that even today, with the index standing at below 700 points, buying interest remains exceptionally strong despite the fact that prices remain firm - and in some cases even higher than what they were just before Christmas". Additionally, Mr. Iliopoulos added "this definitely signals positive expectations for this year, which come on the back of improved forecasts for iron ore and coal demand in 2017, while the extended absence of newbuilding activity combined with high levels of scrapping last year, are also reinforcing the positive momentum that is currently supporting second-hand prices. Mr Iliopoulos concluded that "the market now has more reasons to be optimistic compared to a year ago, potential buyers might look at this time as the time just before the window of opportunity to buy at fairly attractive levels closes. Consequently, interest, especially for modern tonnage has been high, with an impressive number of owners competing for such vessels."
The rebound in buying interest has indeed been quite impressive when looked at year over year. January of 2017 saw double the amount of dollars invested in dry bulk second hand vessels, vs. January 2016, with the number of ships sold increasing by 147%. In fact, dry bulk vessels made up 47% of the S&P activity in January of 2017 with the average age of vessels sold actually increasing by one year from 2016, meaning owners are feeling more confident about investing in tonnage with a shorter shelf life. This trend has allowed vessels from the 1990s to actually find new owners whereas last year they would have found the scrapyards.
Even with the latest downturn in the BDI, it is noteworthy that spot prices have increased significantly over the past year with Capesize vessels up 66%, Panamax up 161%, Supramax up 165%, and Handysize up 103%.
Asset Prices
With these higher rates and the prospect of a recovery on the horizon, the second hand market has been experiencing increasing activity. With that comes an increase in asset prices as a 5-year old Capesize has increased in value year over year by 5.3%, a Panamax by 30.8%, a Supramax by 25%, and a Handysize by 42.1%.
While that part is simple, the outcome regarding the impact on stocks might need some further explanation.
The next part is up for debate, but in my experience, there are two very important metrics in how shipping stocks are valued. The first is FCF, or free cash flow. The second is NAV, or net asset value.
Some time ago, in March of 2016, I wrote an article entitled What's Holding Back Crude And Product Tanker Stocks, which examined why stocks in those segments failed to respond to high rates, similar to those in '06-'07, with equally high stock prices. One theory I put forward was that FCF while important wasn't the only consideration. NAV was playing a large role in this equation as well. This time around asset prices were being artificially depressed due to a variety of factors. In the conclusion to that article I wrote:
If all this is true, we see asset prices artificially depressed as a result of a disequilibrium in shipping yard capacity, with further pressure in the form of low input costs, government involvement, and tightening credit. This could explain the reason why in 2006-2007, when time charter rates were at the same level as today, buyers paid about 40% more for a brand new "resale" VLCC. Today, that vessel would go for about $100 million as opposed to the $140 million it previously commanded. Therefore, if stocks are correlated more toward asset values rather than rates, FCF, or any other metric, they could remain depressed until this disequilibrium is resolved.
Even though asset prices have been climbing, some owners still see the market as attractive. Songa Bulk's chairman and owner recently commented that they "continue to find asset values attractive in this part of the cycle."
This is probably because as Drewry noted in late January, "assets as well as dry bulk equities overshot on the downside; the normalisation process will lead to great opportunities even with incremental gains in the underlying markets as discount to NAV narrows."
Conclusion
Again, turning to Drewry, they report that "the long-awaited normalisation process has already begun in the dry bulk shipping; even as we highlight that recovery will be slow, but the time to be permanently bearish on the sector has passed. In our view the normalisation provides opportunity over the next two years."
As noted in the beginning, Dry Bulk Shipping Could Look Very Different One Year From Now. Waning demolitions, increasing S&P activity, and rising asset prices appear to confirm that the contributing factors set forth in that aforementioned article are having a material impact on the market and a rebalancing is underway.
Drewry concluded its recent report by noting "changes in asset values have an amplified effect on stock prices due to high optionality of the dry bulk companies."
As rates rise, contributing to greater FCF, and asset prices increase, it could create a bit of a multiplier effect on stock performance. Already we have seen significant increases, but this recovery is still in the early innings and many are still very cautious as the foundation for this market shift is still in its infancy and relatively fragile. Many things can still disrupt this recovery, but as of right now, the current situation presents the first real potential for a recovery over the coming months/years.
Thank you for reading, and I welcome all questions/comments.
If you would like to stay up to date on my latest analysis, I invite you to follow me on Seeking Alpha (click the "Follow" button next to my profile picture at the top) as I continue to cover all aspects of maritime trade.
Value Investor's Edge
Value Investor's Edge is a top-rated Seeking Alpha research service which focuses primarily on the volatile and therefore potentially very profitable, shipping industry. Members receive a two-week lead time on all reports by James Catlin alongside exclusive content by J Mintzmyer, a top tier deep value analyst. This platform offers actionable trades and strategic income opportunities through Mr. Catlin's data driven macro analysis which often complements Mr. Mintzmyer's company-specific analysis. This winning team has developed a dedicated following of highly knowledgeable investors and industry professionals who also share their own thoughts and ideas on Value Investor's Edge.
Disclosure: I/we have no positions in any stocks mentioned, and no plans to initiate any positions within the next 72 hours.
I wrote this article myself, and it expresses my own opinions. I am not receiving compensation for it (other than from Seeking Alpha). I have no business relationship with any company whose stock is mentioned in this article.