Houston-based Cheniere Energy (NYSEMKT:LNG) has recently posted its first quarterly profit, though earnings may drop into the red again in this quarter. But investors shouldn't fret over this as the company is heading in the right direction which should have a positive impact on this stock.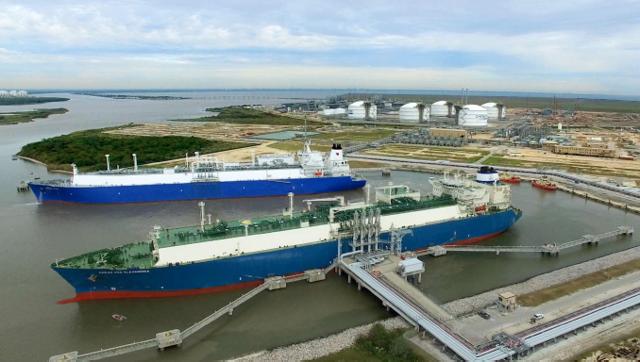 LNG cargo loading at Sabine Pass. Image: Cheniere Energy investor presentation, February 2017.
Cheniere generated $504.1 million in LNG revenues in the final three months of 2016, up from $1.7 million a year earlier. The company's total revenues clocked in at $571.6 million, up from $68.4 million a year earlier. Moreover, the company, which has been consistently reporting quarterly losses since its birth, reported a net profit of $109.7 million, or $0.48 per share, for the fourth quarter which shows a turnaround from a loss of $0.27 per share in 3Q16 and a loss of $1.28 per share in 4Q15.
However, that profit won't be sustainable since it was driven by non-recurring benefits, particularly a derivative gain of $232 million. If it weren't for the one-time items, the company would have reported a net loss of $78.1 million, or $0.34 per share. That was actually worse than analysts' expectations of a loss of $0.30 per share, as per consensus data from Thomson Reuters. Moreover, analysts believe that the company will continue to report losses in the short term. In fact, even the most optimistic analysts are projecting a loss of $0.08 per share for 1Q17.
The abovementioned numbers hardly look encouraging, but a closer look at the company's operations reveals that it is heading in the right direction. Here, it is worth remembering that although Cheniere has been operating for more than four years, it was largely occupied with developing the LNG export facilities at Sabine Pass, Louisiana and Corpus Christi, Texas. The company did not report any meaningful LNG revenues until 2Q16, which explains the large losses in the previous quarters. Its first LNG production line, or train, began commercial operations in 2Q16 followed by start-up of another train in the final weeks of 3Q16. 4Q16 was the first full quarter which included results from both trains.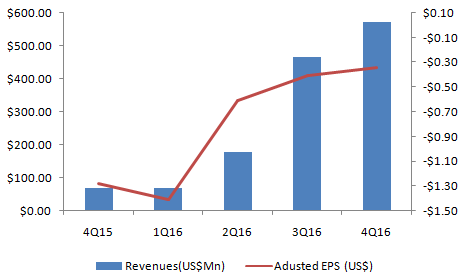 In this sense, Cheniere is still a young company. Like all young companies, what's important for Cheniere is that it grows revenues at strong rates. As revenues grow, earnings growth will follow. And this is already happening, as shown in the image above.
Cheniere's growth is being driven by the start-up of Train 1 and 2 which has fueled the surge in volumes. The company commissioned 24 LNG cargoes in the final three months of 2016. For the full year, a total of 56 cargoes representing 200 trillion Btu of gas were shipped to 17 different countries ranging from Argentina to the United Arab Emirates. Consequently, the company ended 2016 with total revenues of $1.28 billion, including more than $1 billion of LNG revenues, and an adjusted net loss of $1.95 per share. This shows a significant improvement from revenues of just $270.9 million, of which LNG revenues were just $66 million, and a net loss of $2.88 per share in 2015.
Cheniere's future outlook is looking great as it is preparing to start-up other trains at Sabine Pass. In the fourth quarter earnings release, the company said that construction of Train 3 and 4 was 96% complete at the end of 2016. Train-3 started receiving meaningful quantities of natural gas in December and exported first cargo at the end of January. During the conference call, the management said that the facility could begin commercial operations (also called 'substantial completion') from this month. That's going to have a positive impact on the company's 1H17 results. This will be followed by the start-up of Train 4 in 2H17.
Although Cheniere hasn't given any exact dates in the latest earnings release, it has previously mentioned August-2017 as the start-up target for Train 4 in FERC filings. Cheniere has also said that its relationship with Bechtel Corporation, the San Francisco, California-based engineering and construction company that is developing Cheniere's LNG facilities, is improving. Cheniere told analysts in the conference call that Bechtel is applying the lessons learned from the start-up of Train 1 and 2 on the construction of Train 3 and 4. I believe Train 4 will likely come online in 3Q17, lifting the company's 3Q17 and 4Q17 results.
Cheniere's revenues will likely continue to climb while its losses will shrink. I believe that with all four trains running, the company will likely witness a first real quarterly profit, which isn't influenced by derivative gains, in 4Q17.
This will be underpinned by Cheniere's ability to smoothly start-up Train 3, 4 and 5 by meeting all completion dates and other targets. If it does that, then 2018 will become the first year in which all four trains would operate at full capacity. That could also be the first profitable year for the company. This will be followed by start-up of two trains at Corpus Christi, which were 54% complete at the end of last year, and the fifth train at Sabine Pass, which was almost 56% complete in the same period, in 2019.
I expect Cheniere stock to move higher as it brings other trains online, grows revenues and shrinks losses and eventually becomes profitable in the near term.
Note from author: Thank you for reading. Remember that Cheniere Energy does not directly own its LNG facilities at Sabine Pass and Corpus Christi. Rather, its core assets are held by its subsidiaries, primarily Corpus Christi Liquefaction LLC, Cheniere Energy Partners LP Holdings (NYSEMKT:CQH) and Cheniere Energy Partners (NYSEMKT:CQP). However, Cheniere Energy is the only way to gain exposure to the entire Cheniere family. If you like this article, then please follow me by clicking the " Follow" link at the top of this page.
Disclosure: I/we have no positions in any stocks mentioned, and no plans to initiate any positions within the next 72 hours.
I wrote this article myself, and it expresses my own opinions. I am not receiving compensation for it (other than from Seeking Alpha). I have no business relationship with any company whose stock is mentioned in this article.