In my previous article on Freeport-McMoRan (NYSE:FCX), I discussed the company's problems in Indonesia. This time they are serious compared to previous rounds of this soap opera. Freeport-McMoRan has recently stated that there was no way to return to business as usual in Indonesia, so the situation deserves a closer look.
Grasberg

Source: company's website
Grasberg is one of the world's largest copper and gold mines. In 2016, production at Grasberg resumed the previous upside trend following challenges in 2014 and 2015, which were mainly caused by export permit games with Indonesian government.
Most of Grasberg production comes from an open pit mine, but soon Freeport-McMoRan will have to expand the underground mine. This is a capital-intensive task, so the company does not want to proceed with capital investments without a firm contract in place.
Author's chart, data from 10-K
Grasberg represents 25% of Freeport-McMoRan's copper reserves and almost all gold reserves. This year, production (especially gold) was set to increase as the open pit neared the end of its life. It is already clear that this will not happen due to ongoing dispute with the Indonesian government.

Last year, Grasberg delivered the biggest gross margin among the company's segments:
Gross margin

North America

South America

Indonesia

22.20%

20.28%

45.63%
With all its troubles which include periodic difficulties with the workforce, Grasberg is a world-class mine. If troubles with Indonesian government did not exist, Grasberg would have surely been the crown jewel of Freeport-McMoRan's assets.
However, these troubles exist, being a constant headache for Grasberg and Rio Tinto (NYSE:RIO), which is entitled to 40% interest in production above threshold through 2022 and 40% interest in all production after 2022. Due to ongoing challenges, Rio Tinto has recently indicated that it considered an exit from Indonesia.
So, this is how the mine looks like from Freeport's side - a highly profitable, world-class gigantic asset in a country that became hostile to foreign investment.
Let's flip sides and look at Grasberg through the eyes of the Indonesian government. Freeport-McMoRan's recent 10-K report indicated that 12200 people worked at the project. The report also stated that as much as 21300 people were employed by contractors.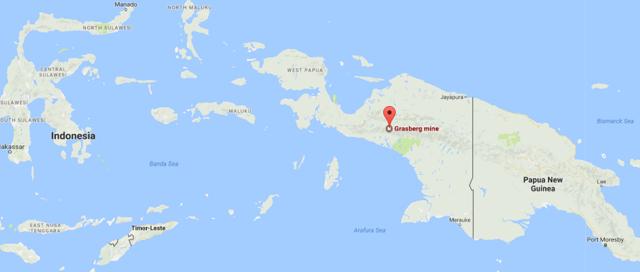 Source: google maps
Speaking about the additional levies imposed by the Indonesian government, royalties totaled $131 million and export duties totaled $95 million in 2016. To provide a bigger picture, Indonesian government plans revenue of about $135 billion and spending of $160 billion in 2017.
In short, Grasberg plays a much bigger role for Freeport-McMoRan than for the Indonesian government. Of course, Indonesian government's risks are not limited to financials.
The government also risks civil unrest due to lack of work in Papua (probably easy to deal with) and being labeled as "bad for investment" by the international community (a more serious issue). Nevertheless, it looks like the Indonesian government believes that risks are tolerable and proceeds with pressure on Freeport-McMoRan.
Arbitration
Freeport-McMoRan indicated that if it does not get a good deal with the government by June 17, 2017, it will file for arbitration. Here's what the company's annual report says on arbitration:
"Arbitration proceedings would take place in Jakarta, Indonesia, and for limited purposes, would be overseen by the Indonesian courts under the Indonesian Arbitration Act".
Freeport-McMoRan's position looks strong as it is based on the existing Contract of Work. However, the company hints at the potential Indonesian line of defense in the 10-K:
"At times, certain government officials and others in Indonesia have questioned the validity of contracts entered into by the Indonesian government prior to May 1998 (i.e., during the Suharto regime, which lasted over 30 years), including PT-FI's COW, which was signed in December, 1991. We cannot provide assurance that the validity of, or our compliance with, the COW will not be challenged for political or other reasons".

Source: google.com
Let's translate from the official language into real world language. Suharto's power was military-based with all corruption consequences which typically come with such regimes. In the above fragment of the 10-K, Freeport-McMoRan suggests that Indonesia might try to prove that the original Contract of Work did not come for free for the company.
If this was the case, the Contract of Work could be invalid. However, 26 years have passed since the COW was signed and there was no real action on this front from the Indonesian side. Your author believes that the Indonesian government won't bring these allegations to court.
Scenarios
1. Sale to an outside firm. This is probably what many investors want Freeport-McMoRan to do. The sale of Grasberg will help the company eliminate its debt and end political challenges, turning it into a boring copper company - investors' dream. The problem with the sale is, of course, the valuation. Back in the beginning of 2016, Freeport-McMoRan submitted its divestment price proposal for the 10.64% stake in the project, which valued the whole unit at $16.2 billion.
At that time, copper traded around $2.00 per pound and gold traded at $1100 per ounce. Since then, copper prices increased to $2.70 per pound and gold prices rose to $1230 per ounce. However, political risks increased as well. Thus, the buyer must have both the desire and the ability to secure a good contract with the Indonesian government and force (if necessary) the implementation of this contract. This must be a buyer from the region, and the only regional power that has the ability to put real pressure on its neighbors is China.
In my view the "sell to Chinese" scenario will be the best for the company's shares in the short-term. The elimination of political risk together with the solution to Freeport's debt problem will surely be recognized by the market. This may not the best long-term scenario as the company will have to give up a great asset at (likely) a distressed price, but so far Freeport-McMoRan did not show the ability to put enough pressure on the Indonesian government to solve the existing issues.
2. Sale to Indonesia. Recent comments from Indonesian government revealed that the country is set to force Freeport-McMoRan to divest a 51% stake in the project. In my view, this is a worse scenario then selling the entire project to someone else and leaving all the problems to the new owner.
3. Arbitration. I previously stated that Freeport-McMoRan's case in arbitration looks solid to me. However, there is a problem. The initial term of the existing COW expires at the end of 2021. In order to continue mining according to its initial plan, the company will have to receive two 10-year extensions.
Solving current problems through arbitration won't improve relations between Freeport-McMoRan and the Indonesian government. Also, the company will still have to determine whether it can risk new investments in the country right before the COW should be extended. Arbitration is not the best-case scenario for Freeport-McMoRan and it will bring significant challenges in the near future.
4. Amicable agreement. The best-case scenario is that Freeport-McMoRan is able to achieve a normal, solid deal with the Indonesian government, preserving the value of Grasberg for all interested parties. This scenario will be positive for the stock both in the short and in the long term. Unfortunately, this is the less likely scenario.
Conclusion
I expect that uncertainty in Indonesia will continue to put pressure on Freeport-McMoRan's shares. If copper prices do not rise from $2.70, further downside should be expected. The best case scenario is the amicable agreement between negotiating parties, but my bet is that the company may start to explore the possible sale of Grasberg to a player with more political influence in the region. While the arbitration case looks solid in the short-term, its long-term consequences are negative. You can certainly expect more news and rumors on this story. As a result, Freeport-McMoRan's stock will remain volatile.
Disclosure: I/we have no positions in any stocks mentioned, and no plans to initiate any positions within the next 72 hours.
I wrote this article myself, and it expresses my own opinions. I am not receiving compensation for it (other than from Seeking Alpha). I have no business relationship with any company whose stock is mentioned in this article.