United Tennessee Bankshares (OTCQB:UNTN), the parent company of Newport Federal Bank, is a three-branch bank open since 1934 and seems to have done surprisingly well even through the financial crisis. For fiscal 2016, it earned a decent 7.37% ROE with an overly conservative balance sheet. The future potential earning power for UNTN should be greater if it calibrates its balance sheet from its current level to its historical norm. With roughly 842.5K shares outstanding, the bank has roughly $25.00 tangible book value per share. The current market price of $20 is a 20% discount to tangible book value which, in my opinion, is quite a discount to a bank of UNTN's quality and potential earning power. The current stock price implies a 9.21% yield or an earnings multiple of just under 11 times.

Balance sheet and earning potential
UNTN has a 10.54% core capital (leverage) ratio and a 24.74% tier 1 risk-based capital ratio by the end of fiscal 2016 for the bank company and its holding company is slightly better due to excess cash at the holding company level. It's overleveraged and underexposed to risk with a net loans and leases to deposits ratio of 53.06% currently. The bank has been reducing and de-risking its balance sheet since the financial crisis reducing its net loans and leases to deposits ratio from a high of 97.75% in 2008 to the current 53% level.

Source: FDIC

Source: FDIC
Although the bank has never been unprofitable even during the financial crisis and has not taken provisions for bad loans of over $1 million in any single year (a mere 0.56% of total assets), which I think speaks volumes on UNTN's loan underwriting track record, the ordeal of taking on these larger than expected losses must have had an effect on the psyche of management. I find it to be somewhat unlikely that management would choose such an arrangement for their balance sheet due to a lack of lending opportunities. Instead, the bank seems to have preferred the safety of government debt securities in the years following the financial crisis.
As a consequence of its balance sheet conservatism and record low interest rates, yield on earning assets have hit a record low of 3.56% while net interest margins are at roughly 3% for 2016. Throughout the bank's history for the last 15 years, those figures have been closer to 6% and over 4%, respectively. Those figures have also been achieved with a net loan to deposit ratio that's closer to the mid-80% level. Hence, I have very little doubt that UNTN could achieve an ROE of something closer to a figure in the low teens range like it has done prior to 2006.
The quality of the bank's earnings is high since non-interest income accounts for less than 10% of total income, so as long as the bank maintains its strong underwriting, there isn't much reason to expect extremely variable results. In the case of a steep interest rate increase, any one-time loans can easily be offset by allocating capital away from lower yielding securities to higher yielding loans.
Maturity profile
Throughout 2015 and 2016, UNTN has kept a very short maturity profile heavily favoring short-term duration loans. However, by the very end of 2016, UNTN made a dramatic shift by moving a huge portion of its loans, almost 70% into 15 years and above duration loans. This happened only in the last quarter of 2016, and although it may cause UNTN to be somewhat more susceptible higher interest rates, I think this will greatly help it in terms of profitability for 2017. It's undisclosed how much of its loans are variable or fixed rate loans, but I wouldn't be overly concerned since by the limits of its capital ratios, it has the luxury of increasing its net loans to deposits ratio from 53% to roughly 100% and still remain an overcapitalized bank.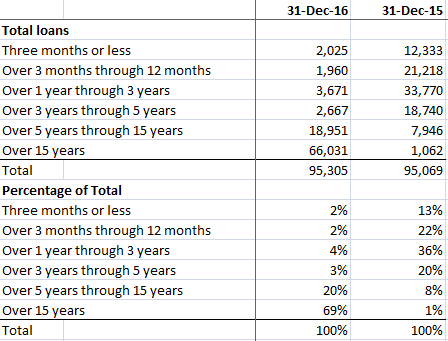 Source: FDIC and author's own work
One thing I would change
I feel as though shareholders are not being treated completely fairly since UNTN's management does not disclose their financial information publicly. I believe all shareholders would be better served if UNTN's management would post their quarterly and annual results on their website for the public to view. This would do more to ensure that any UNTN shareholder who desires to sell stock would be better able to find the fair value for his shares.
Conclusion
UNTN is a conservatively run bank that's being unsold at an unreasonable discount to its fair value. The bank is utilizing an overly restrictive balance sheet which is an edifice of its financial crisis experience. Even with such a balance sheet, the bank is still providing a decent return of 7.4% ROE which translates into a 9.2% earnings yield on the current stock price. I expect the bank to be a bit more profitable if interest rates were higher and its significant shift to longer maturity loans in the last quarter of 2016 should also improve profitability for this year. Since the bank would still be considered overcapitalized if it decided to add 100% more capital to its current loan book, I'm hopeful that the bank can at least maintain its current profitability and is likely to increase its ROE in the future. While I'm not expecting a quick sale of the bank due to its long history, I don't think investors will have a bad experience waiting in this name since the current price gives you a very satisfactory return with the possibility of a re-pricing for the bank. Excess capital that's currently put into cash and securities should either be put to better use and lent out to borrowers or distributed to shareholders in a special dividend. The bank currently pays a dividend of $0.53 per share and will go ex-dividend on March 29th.
Disclosure: I am/we are long UNTN.
I wrote this article myself, and it expresses my own opinions. I am not receiving compensation for it (other than from Seeking Alpha). I have no business relationship with any company whose stock is mentioned in this article.
Editor's Note: This article covers one or more stocks trading at less than $1 per share and/or with less than a $100 million market cap. Please be aware of the risks associated with these stocks.