Seaspan (NYSE:SSW) is the largest independent owner and charterer of containerships. The firm has 87 ships with an average age of 5.4 years (ships last 20-30 years and US$5.4 billion in contracted revenue. The firm's average vessel size is ~7,500 TEU.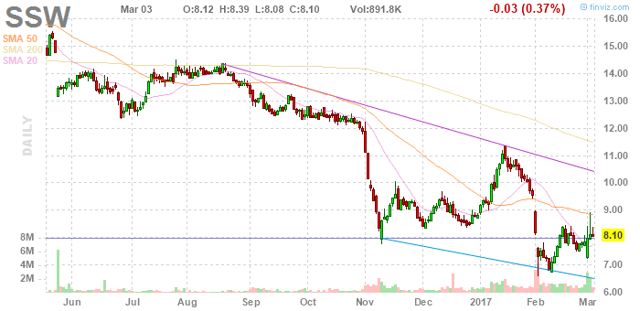 Source: Finviz
The firm has sold off over 30% in the last month on the back of negative research reports and shipping pessimism. In their most recent quarterly report they announced a cut of their dividend by ~67%.
The key source of the cash shortfall is the new ship deliveries in 2017 (as well as their cash dividend payouts, which have now been cut):

Source: Seaspan Annual Report
However there is another way of looking at the firm. With an average contract length of over five years there is a decent amount of hidden value in Seaspan, even with the container chartering market in its current condition.
The company finances ships with mostly debt, though recently they have made use of preferred equity to shore up their balance sheet. Debt is appropriate here as all the ships are on long term contracts from the date of delivery, which reduces financing risk. A handful of the contracts specify spot market exposure (see below) but utilization is certain.
While the market sees the new deliveries as a drain of cash, over the long term they should be value accretive and give explosive push to Seaspan's stock when markets normalize.

Source: Seaspan Annual Report
Container shipping market
Container shipping has been in the doldrums for some time. The firm suffered from the classic shipping mistake: everyone forecasts purchasing based on the current freight rate, but can't adjust for the purchasing decisions of peers looking at the same rate.
In dry and wet bulk, there are only minor operational advantages to scale. Anyone can buy a ship and lease it at the market rate. However container shipping is different. It involves global supply chains and highly complex packing schedules. There are enormous benefits and competitive advantages to scale.
Since 2014 there has been a huge consolidation in containers, with the number of global firms shrinking from 11 to 20. This should rationalize purchasing decisions, with 6 container lines owning 80% of industry capacity.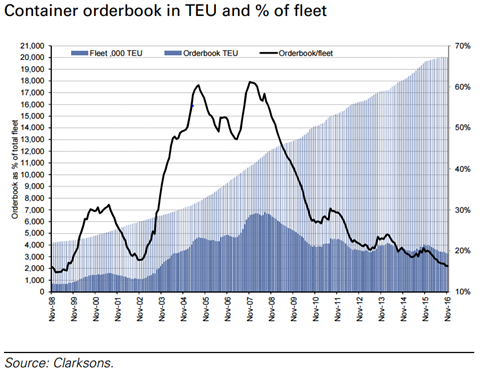 In August 2016 the containership orderbook dropped to the lowest level since 1999. This fact alone should pique a cyclical investor's interest.
Strategy
A core part of shipping is a firm's approach to chartering strategy. The two logical extremes are an equity funded firm with no debt, or a highly leveraged firm with longer contracts.
With US$3 billion of net debt and length charters, some out to 2034, Seaspan is heavily weighted towards the second strategy.
The vast majority of Seaspan's vessels are time chartered out for length periods. The volatility of Seaspan's stock is not reflective of the volatility of Seaspan's earnings.

Source: Company Annual Report
This accounts for Seaspan's US$5.4 billion in contracted revenue. Applying Seaspan's 2016 EBIT margin of 39% suggests there is $2.1 billion of contracted EBIT with which to pay debt holders and shareholders. This is ample to cover the financing costs of the firm's US$3 billion debt. This doesn't include the depreciated value of the ships.
Over a third of Seaspan's ships are leased to Chinese firms. Chinese firms are notorious for using their pricing power to wriggle out of shipping contracts when the market moves against them. So far there is no indication this is going to happen, and this was more of a problem when rates fell from far higher levels. Investors can expect little legal recourse should these business relationships sour.

Source: Company Annual Report
The bankruptcy of Hanjin Shipping - costing Seaspan only $18.9 million - was a timely reminder that defaults do happen, and contracts have no better credit quality than the equity of the counterparty. It is likely that much of Hanjin's capacity is removed, as there is every incentive to scrap Hanjin's older vessels.
The managers of companies that operate as a going concern have different incentives to those in receivership, namely, to sweat the assets as long as possible and avoid scrapping until the last possible moment, whereas receivers are expected to cash the assets.
It may well turn out that this bankruptcy marks the bottom, and the resulting scrapping and reduced capacity marks the first turn in the market.
Balance Sheet and Commitments
Seaspan currently has contracted to purchase 9 ships for $667 million. These purchase obligations are unfinanced and have caused analysts to question the sustainability of Seaspan's dividend. Typically 50-80% of the value of the ship is paid on delivery.
There is an element of Soros reflexivity here - Seaspan needs the confidence of financial markets to make these purchases, in which case the firm will be fine. Or it will lose the confidence in markets, and then fail to finance these newbuilds.
From our perspective, we would prefer Seaspan to withhold dividends (to equity, obviously dividends to preference shares should continue). Seaspan should then use the retained capital to shore up their balance sheet and fund further acquisitions of high quality, new vessels, which will have plenty of life left when the industry finally escapes from its current doldrums.
Valuation
Shipping valuation is a tough nut to crack. In Seaspan's case, valuation is entirely dependent on the rates that Seaspan can recharter out their ships once their existing contracts expire. That is entirely unknowable, and will depend on both the future decisions of ship owners and the level of growth in container trade.
What we can do is see where Seaspan's enterprise value lies compared to its usual range, and form some view of the steady-state earnings power of the firm. EBIT is the appropriate metric, as ships depreciate at predictable rates, as they are typically scrapped at 20, 25 or perhaps 30 years, before each expensive special survey. 30 year ships are rare these days as global environmental regulations change rapidly, and the earnings power of older ships often lacks the power to justify an expensive expansion.
It's worth noting that Seaspan's EV/EBIT has dropped from 14x to 11x. A 14x EV/EBIT valuation on 2017s forecasted EBIT of $300 million would imply an enterprise valuation of $4.2 billion vs. current $3.8 billion, and account for a 50% uplift in the stock.
By 2018, after Seaspan's new ships are delivered, EBIT should reach circa $340 million. At a valuation of 14x this would imply an uplift of 125%.
Risks
Given the stress in the industry there is risk that the shipbuilders might file for bankruptcy and be unable to deliver the vessel, exposing Seaspan. This seems unlikely as any bankrupt yard would be incentivized to complete the vessel and receive payment. Shipyards tend to have considerable Government support, given their strategic value and importance to communities and other industries.
There are considerable related party transactions by the CEO and co-Chairman, Jerry Wang, and the co-Chairman, Mr. Porter. They are also involved in a Carlyle container shipping play that may lead to conflicts when it comes to vessel purchasing and chartering opportunities. So far they seem to be playing this straight, but should distress in the industry worsen, there may be a move by Carlyle to either take over Seaspan at the lows, or related party transactions that benefit the insiders over public shareholders. This is something to watch carefully.
Trade policy is all over the news. Goldman Sachs estimates that Trump's harsher policies could knock 100 to 200 basis points off global trade. If they resulted in a global trade recession the effect could be much greater. This risk needs to be carefully considered.
But markets are currently exuberant, with consumer and business confidence high. It's quite possible that in this current environment demand surprises to the upside.
In my own fund (www.fraziscapitalpartners.com) we hold substantial hedges, so are happy to take the considerable cyclical risks inherent in a stock like Seaspan.
With short interest of 11%, and bearish notes from the likes of Morgan Stanley, you can be assured there is a bear thesis as well as a bull case.
I believe these reports are too focused on short term funding gaps on ship deliveries - which given the contracted nature of Seaspan's business there is every expectation of those being filled - and downplay the additional long term earnings power of the vessels once they're delivered.
Summary
The play here is to hold the stock through the downturn, rely on its contracted revenue to allow the payment of (much smaller) dividends, while giving time for the weaker hands in the market to fold and older ships to be scrapped.
The true upside would occur after the effect of the current lack of investment in new supply comes in to play, which combined with steady growth in global GDP and trade would lead to a supply/demand shortfall and dramatically more valuable shipping assets.

Disclosure: I am/we are long SSW.
I wrote this article myself, and it expresses my own opinions. I am not receiving compensation for it (other than from Seeking Alpha). I have no business relationship with any company whose stock is mentioned in this article.