"A painstaking course in qualitative and quantitative analysis by John Wing gave me an appreciation of the need for, and beauty of, accurate measurement." - Paul D. Boyer
Recently, a small cap stock has caught our attention - Village Super Market, Inc. (NASDAQ:VLGEA). At first glance, it may look like just another market jitter, but quantitative analysis explains it all.
It's long being known that stock movements are effected by factors like: supply and demand, trader's psychology, herd mentality, insider trades and sometimes, superstitions also. But more than that, what may escape from our eyes is the artificial manipulation of stocks.
The case may be that, lots of stocks are pumped up (creating an illusion that the stock is a hit), and while one is busy spending bucks on them, the stock drops, leaving one with hard hitting losses. But what if one could catch these signs of "things going to happen"? What if, a potential to make money from this situation exists?
Well, this can be done.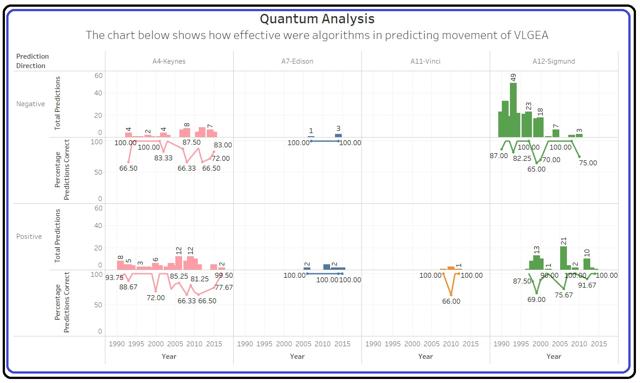 Source: TINO IQ
Like many other stocks, Village Super Market was run through a set of algorithms designed to find patterns, learn patterns, listen to new market movements, and come up with predictions. Using the Algorithm-Keynes, most of the predictions during a year are more than 72% accurate. Likewise, the algorithm has predicted that the stock will move from current price of $28.09 to a target price of $29.59 (or exceed it) by March 16, 2017 (increase of 5.34%), with an accuracy of 99.54%. The same algorithm has already given 2 predictions in the year 2017, having a combined accuracy of 99.50%. Though the stock has been on a stable decline since the end of February, we believe that it has bottomed out and will definitely catch an uptrend before going down again. The current declining move of the stock compares with the 0.5% drop in the Russell 3000 Consumer Staples Index.
One of the several reasons (for the algorithm showing such a prediction) is the hedge fund allocations for the stock.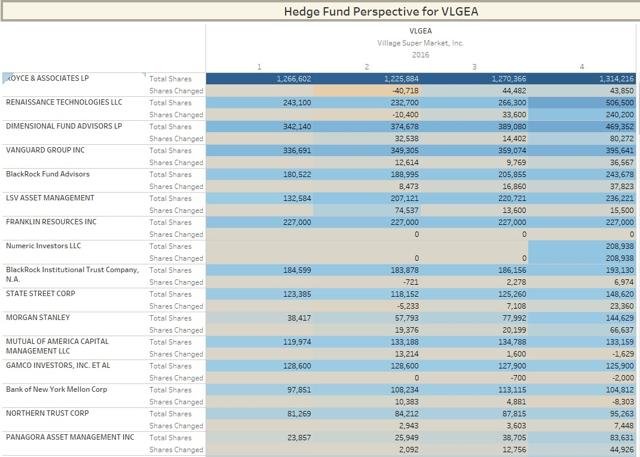 Source: TINO IQ
Many of the big hedge funds have been seen taking new positions in the stock, with Royce & Associates LP topping the list. Numeric Investors LLC took a position of 208,938 new shares in the fourth quarter of 2016, while Renaissance Technologies LLC and Morgan Stanley both doubled their positions on the stock during the same period.
While this is just one side of the story, the stock price movement is attributable to many other factors here like: momentum, money movement, insider trades, news on the stock, etc.
Some Fundamentals:
DuPont Analysis of Village Super Market: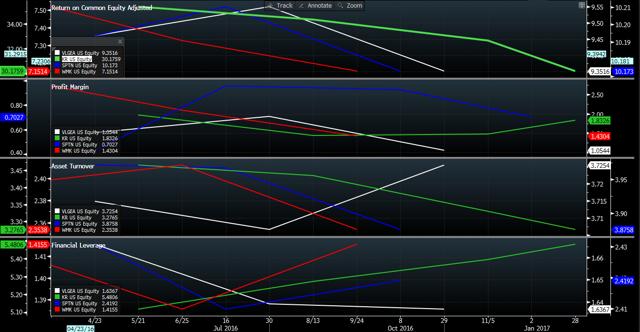 Source: Bloomberg
During the entire previous year (12 M trailing), Village Super Market Inc. has maintained a fair return on equity. From October 2016, Kroger Co. (NYSE:KR) has scored the best in terms of ROE, but if one delves into the details, it's due to the high leverage the company is taking. Compared to other competitors: Kroger Co., Spartan Nash Co. (NSD: SPTN), and Weis Markets Inc. (NYSE: WMK), Village Super Market is the least on financial leverage. The company is selling at a lower margin (due to its competitive pricing tactics), but it is turning over its assets into revenues much faster. Currently, it has the best asset turnover ratio among the competitors and is already on an uptrend.
The growth strategy of Village Super Market
In spite of the fact that Village Super Market had maintained a constant number of stores (29) from 2012 to 2015, it showed a steady increase in "Sales per average number of stores" throughout the same period. The company showed a strong growth of 7.8% in the fourth quarter of 2016. This growth is not only attributable to the 2 new stores opened in New Jersey, but also to the closing of 2 competitor stores. Sales growth continued in the expanded or replaced stores in Stirling, Greater Morris town, and Union.
The company has long being following tactics like: low pricing, superior customer service, a broad range of consistently available quality products. Its own "ShopRite" labeled products, and initiatives focused on boosting consumer loyalty, programs such as ShopRite "Price Plus" to attract customers by providing discounts and electronic coupons, are boosting sales figures.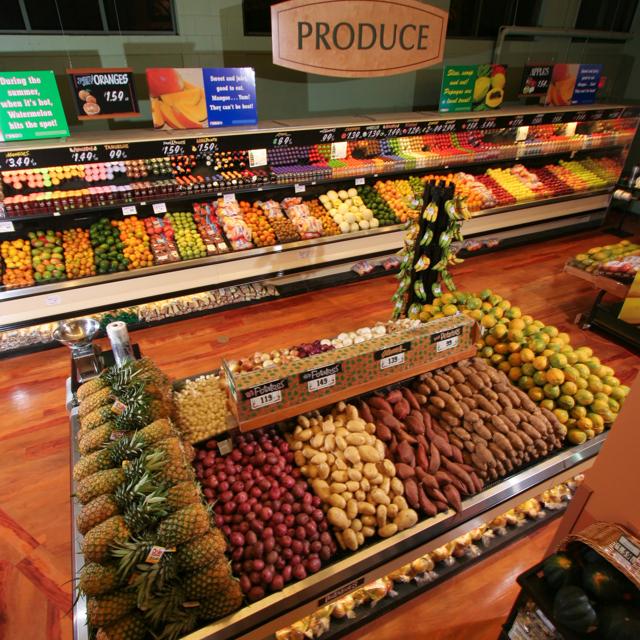 Source: i5design
Revenues: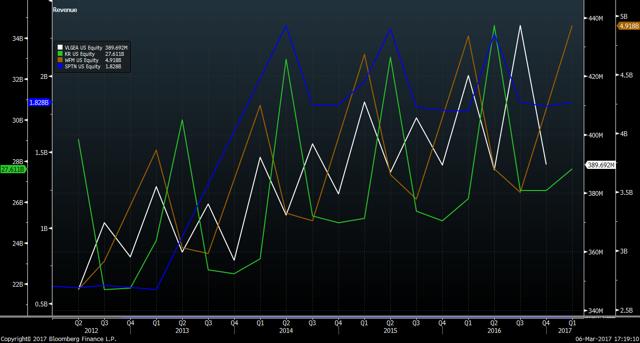 Source: Bloomberg
Compared to other competitors, its revenues (quarterly) over a five-year-period are quite stable (even though the revenue for VLGEA is in millions). While Kroger Co. has one of the best revenues, it varies during the complete cycle of the year. Thus, even though VLGEA is a small cap stock, it can provide sustainable revenues (that are also increasing throughout the years).
Capital Expenditures: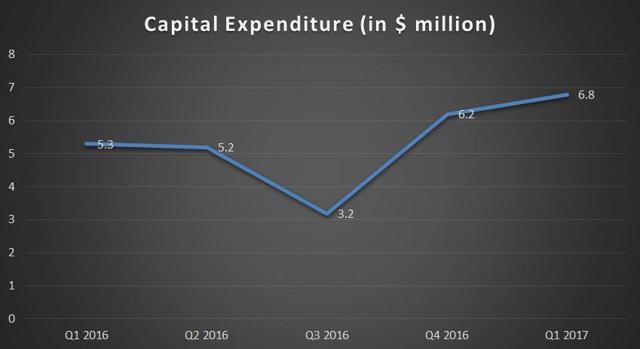 Source: Data Sourced from Bloomberg
The company has increased its capital expenditures in the last 3 quarters, indicating strong growth ahead. Also, during fiscal 2015, the company spent $23.5 million on capital expenditures, a large portion related to the Sterling store as well as other smaller remodels.

Source: Village Super Market Annual Report 2015 (data in thousands of USD)
The long-term debt of the company mostly consists of the capital lease obligations, providing the company the financial flexibility to capitalize on growth opportunities.
Disclosure: I/we have no positions in any stocks mentioned, and no plans to initiate any positions within the next 72 hours.
I wrote this article myself, and it expresses my own opinions. I am not receiving compensation for it (other than from Seeking Alpha). I have no business relationship with any company whose stock is mentioned in this article.