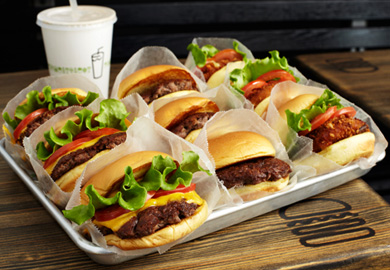 On Wednesday March 1st, Shake Shack (NYSE: SHAK) reported a Q4 EPS of $0.09, which was in-line with estimates. Revenue of $73.3 million (+43.6% Y/Y) beat estimates by $2.62 million, with sales growth of 44% in Q4, resulting from store growth. Same-store sales were up 1.6% year-over-year, and on the surface the quarter seemed inline with the street. However, same-store sales missed estimates, and the company offered a subdued 2017 same-store sales outlook, which sent shares sliding afterhours, and down over 10% by Friday's close.
Shake Shack's fourth quarter review
Overall, the quarter provided some evidence that the Shake Shack growth story may be hitting a wall. A closer look at the numbers suggest some margin pressure continues amid rising labor costs, and revenue growth seems largely dependent on store growth (and price increases) rather than same-store-sales. Restaurant-level operating profit rose 450 bps to 29.9% of sales as some costs were leveraged down, namely commodity prices. Average weekly revenue slightly increased, mostly due to menu price increases.
Revenue
As mentioned, total revenue, which includes sales and licensing revenue, increased 43.5% to $73.3 million in Q42016, from $51.1 million in Q42015. SHAK sales for the fourth quarter of 2016 were $70.9 million, an increase of 43.8% from $49.3 million in the same quarter last year due primarily to the opening of 20 new domestic company-operated locations. Licensing revenue for the fourth quarter was $2.4 million, an increase of 34.6% from $1.7 million in the same quarter last year, primarily due to the opening of 10 net new licensed locations, offset by lower licensing revenue from locations in the Middle East as a result of the macroeconomic conditions in the region (more on that later).
The Shake Shack story contains a hyper-growth model, with a super-hot burger concept that draws crowds with lines forming out the door. However, same-store SHAK sales increased a mere 1.6% for the fourth quarter of 2016 versus 11.0% growth in the fourth quarter last year, which indicates a tough, and perhaps, unfair comparison. According to the company, the comparable Shake Shack base includes those restaurants open for 24 months or longer. For Q42016, the comparable Shake Shack base included 30 locations versus 21 locations for Q42015, which explains the massive revenue growth. Individual restaurant performance did not impress the street. The company reported average weekly sales for domestic company-operated locations totaled $90,000 for Q4, compared to $89,000 for the same quarter last year, a 1.1% increase, primarily due to increased menu prices and favorable shifts in sales mix from menu innovation. Despite tough comparable comps from last year, revenue numbers came in on the light side, and the street took notice.
Margins
SHAK reported restaurant-level non-GAAP operating profit increased 29.9% to $18.0 million for Q4 from $13.9 million in the same quarter last year. As a percentage of sales, restaurant-level operating profit margins decreased 280 basis points to 25.4% primarily due to "increased labor and related expenses resulting from the company-wide increase to the starting hourly wage that was implemented at the beginning of the fiscal year, increased medical claims and staffing investment to support future Shack growth, as well as higher repair and maintenance and utilities costs."
Higher labor costs remain an industry-wide headwind, and SHAK already operates with lower than industry average margins, which is fair considering their aggressive growth model. Some good news: lower commodity costs, primarily beef (down -8% Y/Y), helped offset some of those labor increases. Labor and related expenses came in at 26.6%, an increase of 160 basis points compared to the prior year. General and administrative expenses increased to $8.3 million for Q42016 from $7.7 million in the same quarter last year, which seem reasonable given the revenue growth. As a percentage of total revenue, however, expenses decreased to 11.3% for Q42016 from 15.0% in the fourth quarter last year, primarily due to $0.8 million of expense recognized during the prior year quarter related to a legal settlement and increased levels of restaurant sales. Overall, adjusted EBITDA margins decreased 140 bps to 15.6% versus 17.0% a year ago, which can be concerning given the growth model.
Management explained the rising labor costs remain a part of their aggressive growth strategy, with plans to open even more restaurants than last year. From the earnings call:
Most important to this high labor, we're choosing to play offense. This year, we'll ramp up development to an expected 22 to 23 domestic company-operated Shacks, representing a company-operated unit growth rate of approximately 35%. And we're staffing up to be sure we have the strongest team in place to meet these increased needs. Our higher labor in the fourth quarter, as well as our guidance of higher labor in 2017, represents our investment in sustained quality growth and maintaining the best team. Within all that important investment, we're proud that the team delivered another quarter of strong Shack level op profit margin of 25.4%, ending the full year at 28.3%.
Shake Shack's year
Looking at FY2016, total revenue increased 40.9% to $268.5 million, from $190.6 million for FY2015, with much of that revenue from new locations as mentioned above. SHAK sales for FY2016 were $259.4 million, an increase of 41.6% from FY2015, with same-store sales increasing 4.2% during FY2016 versus 13.3% growth in the prior year, which shows some relative strength for the brand in this tough restaurant environment. Restaurant-level non-GAAP operating profit increased 38.6% to $73.3 million for in FY2016 from $52.9 million for FY2015. As a percentage of sales, restaurant-level operating profit margins decreased approximately 60 basis points to 28.3% primarily due to increased labor and related expenses.
Looking forward, for 2017 we fully expect that labor pressures will continue. Minimum wages are up in the majority of our current and future markets and we continue to invest in our leaders at all levels to prepare for the growth ahead. Labor will be a headwind for this year and will trend higher year-over-year.
The FY16 numbers generally parallel SHAK's fourth quarter, and management effectively lowered expenses despite ambitious growth strategies. General and administrative expenses decreased to $30.6 million for fiscal 2016 from $37.8 million for fiscal 2015. As a percentage of total revenue, G&A expenses decreased to 11.4% for fiscal 2016 from 19.8% in fiscal 2015, which signals some effective management of the overall growth strategy. Besides massive stateside ambitions, SHAK's licensing plans include some international flavors, and the company outlined opportunities in Asia and the U.K., and management indicated some early success. However the Middle East is off to a shaky start, which begs the question: How far and fast could this "hot" burger-concept grow?
Meanwhile, we continue to execute our strategy of licensed revenue growth through key partnerships here and abroad. In the fourth quarter, we continued our growth in the Middle East, with Shacks opening in Kuwait and Qatar. And subsequent to the quarter, we opened five Shacks throughout the Middle East market. Now as we've discussed on previous calls, while we continue to moderately grow in the Middle East, we still continue to experience softness in sales in this market which is our largest licensed market, due to continued volatility in the region for a number of macro factors. As such, we expect Middle East sales and our royalty revenues to continue to feel pressure through 2017.
Another question comes to mind: Why is the Middle East SHAK's largest licensed market given the region's propensity for volatility? Obviously cities like Dubai lend themselves to expensive American tastes, and it will be interesting to see how this story plays out in the coming year.
Shake Shack's 2017 Outlook
SHAK's growth model seems on track, and the company guided towards some lofty goals in 2017, which seem largely dependent on new restaurant growth, as well as an uptick in same-store sales and traffic.
As we stated previously on our last quarter call, given the visibility into the pipeline for 2017 and the balance of growth in both new and existing markets, we believe that the Shacks that we open in 2017 are likely to produce average sales volumes and Shack level operating margins at the high end of our long-term ranges. Therefore, as stated on our last call, we expect the 2017 openings to average at least $3.2 million in annual revenue and achieve at least 21% Shack level operating profit margins.
Here is a list of some 2017 guidance highlights, minus some specifics already mentioned above.
Raising total revenue guidance to between $349 million and $353 million (vs. $348 million and $352 million).
Same-store sales growth between 2% and 3%, which includes approximately 1.5% to 2% of menu price increases taken in early January and nominal traffic and mix increases.
Restaurant-level operating profit margin between 26.5% and 27.5%.
Increasing general and administrative expenses to between $38 million and $40 million (vs. $37 million to $39 million).
Increasing depreciation expense to approximately $22 million (vs. $21 million).
Interest expense between $1.6 million and $2.0 million.
Adjusted pro forma effective tax rate to between 40.0% and 41.0%.
Valuation
Despite a lackluster quarter in terms of same-store sales, which ran into some very tough comparisons, revenue and store growth remain on track. Valuation is another story, and Morgan Stanley's (NYSE:MS) take from the ICR conference (Jan. 2017), lead by analyst John Glass:
Shake Shack: The early stage of SHAK points to using a 20-year, 2-stage DCF as our primary valuation methodology. Our $34 price target for SHAK is based on an average of our base and bull cases ($24 and $44, respectively). Key assumptions in our DCF (in each scenario) are a WACC of ~10% (beta of 1.3), no debt and a 2.5% terminal growth rate. Risks include 1) unit growth targets are missed, causing investors to doubt unit potential, 2) lagging new unit productivity, below management's "target metrics", 3) high valuation leaves little room for operational missteps.
There can be no doubt that the SHAK's high valuation remains the biggest risk to shareholders, and target metrics like $3.2 million in average revenue per location must accompany the aggressive growth model management outlined, and as Morgan Stanley suggests, there is little room for missteps. Here's a look at earnings from the company's filing: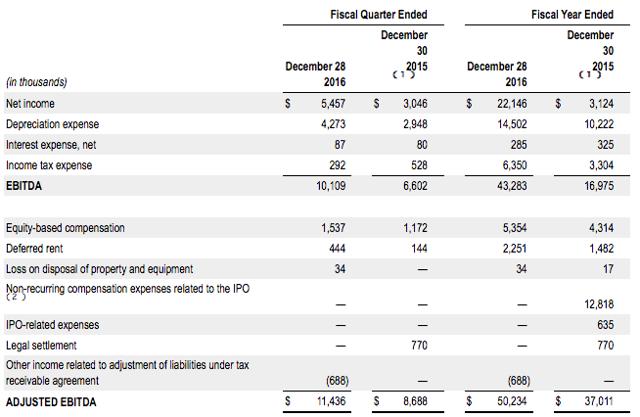 According to the company: "Adjusted EBITDA," a non-GAAP measure, is defined as net income before net interest, taxes, depreciation and amortization, which also excludes equity-based compensation expense, deferred rent expense, losses on the disposal of property and equipment, as well as certain non-recurring items that the Company does not believe directly reflect its core operations.
Investors should understand that these measures have become customary, and in terms of valuing the restaurant sector (NYSEARCA:MENU), many analysts use a form of adjusted EBITDA, so we will too. According to finviz, at current levels, SHAK's market cap hovers around $1.2 billion, which equals a valuation of nearly 26x Adjusted EBITDA, and nearly 28x EBITDA, which puts the company on shaky ground should margins continue deteriorating, or worse, sales at the new locations fail to hit the target metrics of an average $3.2 million per restaurant as outlined in the call.
Morgan Stanley chimed in after the call, with regards to SHAK's labor forecast:
"4Q16 marks the second consecutive quarter that SHAK's RLM has de-levered, the first times this has happened since the IPO. Though it has been well forecasted by management, FY17 guidance implies continued headwinds to margins next year," analyst John Glass wrote in a note.
Labor is certainly a headwind for the entire sector, and we expected more in terms of downgrades following the call, like something closer to that $24 base case that Morgan Stanley mentioned back in January. However, it is important to note that Morgan Stanley owns a piece of the Shack, and the top five institutional players according to Thomson Reuters:

In terms of earnings per share, SHAK comes in way too hot as far as valuation is concerned. At nearly 70x last year's earnings, and 50x next year, which can go either way when considering margins, and the amount of restaurant openings the company plans. We didn't expect to find "value" when looking at SHAK metrics, but we did find some compelling short-term growth rates with much more to prove given the absurd, tech-sector style valuation. All numbers courtesy finviz.

Range Bound and Down
We covered earnings, revenue, margins, and valuation. That leaves the chart, which illustrates an overvalued, and overhyped, SHAK that traded over $90 post-IPO in 2015 (Snap Inc. (SNAP) anyone?), before sliding into a multi-year downtrend. Not a chance the stock would ever grow into the valuations from a year ago, but that's another story.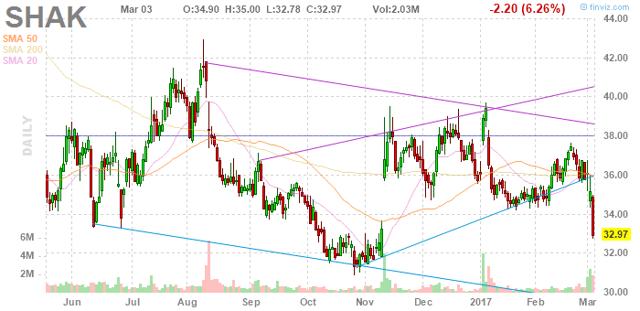 If you think this chart looks bad, then you wouldn't want to see a weekly or monthly chart with SHAK trading in another galaxy. Currently the stock trades well below all relative moving averages, and teeters near oversold levels with an RSI of 33.33. The stock sold off on heavy volume, and valuation implies more pain, especially if the broad market (NYSEARCA:SPY) experiences a sell-off, correction, or series of "breathers" as heard on CNBC. Regardless, the downside risk far outweighs the potential upside. Minus the labor and margin story, growth rates will decelerate with the addition of new locations, and same-store sales must deal with tough comparisons from a year ago, which suggest range-bound and down conditions for the Shack in 2017. Trade accordingly.
If you like restaurants, earnings, or interesting sector takes, check out our latest:
Weekly Restaurant Report: Fast Food Nation, Jack Takes A Hit
Weekly Restaurant Report: Dividend Dogs And The Couch Economy
Disclosure: I/we have no positions in any stocks mentioned, and no plans to initiate any positions within the next 72 hours.
I wrote this article myself, and it expresses my own opinions. I am not receiving compensation for it (other than from Seeking Alpha). I have no business relationship with any company whose stock is mentioned in this article.
Additional disclosure: This article is intended for information, engagement & entertainment purposes only, and is not meant as investment advice or direction. Shorting stocks can be dark business. Investors are strongly encouraged to perform due diligence and/or consult with their financial advisor.