Aurinia Pharmaceuticals (NASDAQ:AUPH) is a biotechnology stock, all set to rise in 2017. The company, focused on developing therapies for autoimmune conditions that affect the kidney, has been lately in the news for all the right reasons. This clinical stage biopharmaceutical company boasts of a management team which participated in development of Roche Holdings' (OTCQX:RHHBY) CellCept, the current standard of care in Lupus Nephritis or LN indication. The company is now developing the next-generation calcineurin inhibitor or CNI therapy, Voclosporin, in LN indication. And there has been a steady flow of very positive news for this investigational therapy.
Based on the progress of its research pipeline, there are very high chances that Aurinia Pharmaceuticals will become a takeover target for some large pharmaceutical or biotechnology company. Even if this projection does not materialize, there is very high probability that the company will transition into a commercial organization latest by year 2019.
With this context, let me present my rationale for considering Aurinia Pharmaceuticals to be a solid buy in 2017.
Aurinia is targeting Lupus Nephritis, an area with significant unmet demand.
Systemic Lupus Erythematosus or SLE is a chronic, autoimmune condition, and is known to affect around 1.0 million patients in USA.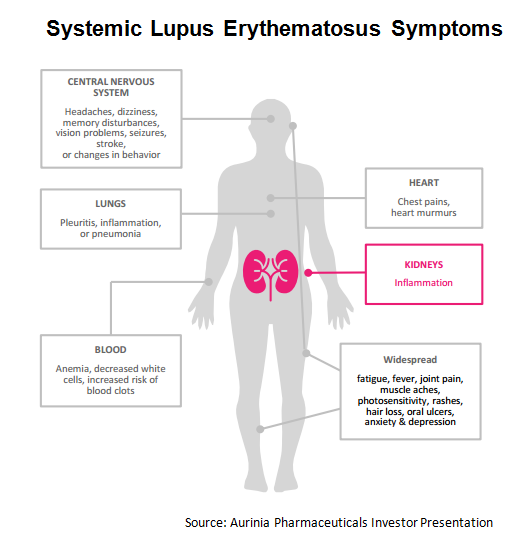 The above diagram shows how SLE affects multiple organs. Around 60% of SLE patients suffer from LN, a serious inflammation of kidneys. LN demonstrates high morbidity and mortality rates, with patients requiring dialysis, renal transplants, and finally succumbing to the disease. Around 10% to 30% of the LN patients are known to progress to end-stage renal disease (or ESRD).
Further, an LN patient can spend anywhere close to or even greater than $60,000 per year, a statistic that can make us better understand the economic burden of this disease.
High disease prevalence and severe impact of the disease on quality of the patient's life underscores the requirement of effective treatment options for LN. The need is further aggravated as there is currently no FDA or EMA approved therapy for LN.
Current standard of care has failed to obtain complete responses from majority of LN patients
The absence of FDA approved LN therapies has given way to off label use of organ anti-rejection drug, Cellcept (mycophenoloate mofetil), and chemotherapy agent, cyclophosphamide, as standard of care treatment for this disease. Even the American College of Rheumatology has recommended these drugs as first line LN therapies. However, in Aspreva Lupus Management Study or ALMS, it was seen that 24 weeks of treatment with Cellcept and cyclophosphamide resulted in complete response rates as less as 9% and 8%, respectively.
In case of emergencies, patients are also administered steroid prednisone, to lower organ flare. However, the lack of an approved schedule inadvertently leads to higher-than-required dosage. This may result in the patient requiring many months to stabilize.
With majority of LN patients responding inadequately to the current standard of care, there is an urgent need for new therapies in this segment. If approved by regulatory authorities, Aurinia Pharmaceuticals' Voclosporin will capture a major portion of this underserved multi-billion dollar opportunity.
Voclosporin is the first and only investigational LN therapy that met all primary and secondary endpoints at 24 weeks and 48 weeks in global phase 2b trial, AURA-LV
On March 01, 2017, Aurinia Pharmaceuticals reported positive data from phase 2b trial, AURA-LV at 48 weeks of initiating the trial. Voclosporin combined with standard of care Cellcept managed to meet both complete remission or CR and partial remission or PR endpoints, despite very low use of steroids. In AURA-LV trial, Aurinia Pharmaceuticals has defined CR as composite endpoint of multiple factors such as urinary protein to creatinin ratio, renal function, low steroid usage, and no requirement of rescue medications.
In case of 24-week data released in 3Q 2016, the therapy had demonstrated CR rate of 32.6% for 23.7mg Voclosporin, while after 48 weeks, CR rate has risen to 49.4% for the same dosage. For higher Voclosporin dosage of 39.5mg, CR rate at 24 week was observed to be 27.3% while at 48 week, it is 39.8%. This is almost twice of the CR rates that were seen in patients in the control arm who were administered only Cellcept. The CR rate after 24 weeks of Cellcept was 19.3% while that after 48 weeks of Cellcept was 23.9%.
Aurinia Pharmaceuticals also conducted a supportive proof-of-concept study, AURION, to test the efficacy of combination regimen, Voclosporin with standard of care, Cellcept and steroids, in 10 patients. Data from this trial showed a direct linkage between reducing proteinuria levels and early signs of improvement in LN patients. At 8 weeks, 50% patients achieved CR while at 24 weeks, 70% patients managed to achieve CR rates. Renal function also remained stable in this trial.
Voclosporin has superior clinical profile compared to current standard of care therapies.
Aurinia Pharmaceuticals has witnessed a steep rise in share prices due to positive clinical trial results for Voclosporin. But the question is, is this share price growth sustainable and is it based on solid fundamentals. Luckily, the answer to both these questions is a solid yes, owing to the drug's solid efficacy and safety profile.
Voclosporin has very high chances of replacing existing LN standard of care therapies due to its superior clinical profile. In pre-clinical studies, the drug has also demonstrated higher potency as compared to cyclosporine A. This allows us to use lower dosage of Voclosporin, a factor which assumes significant importance from safety point of view. It has also been seen that Voclosporin results in lesser cholesterolemia in LN patients as compared to cyclosporine A. Then, there have been fewer reported cases of patients suffering with glucose intolerance or diabetes with Voclosporin as compared to another LN therapy, tacrolimus. Finally, majority of LN patients seems to respond more or less similar to Voclosporin. This allows for flat dosing of the therapy, reducing the chances of over or under treatment for patients.
Based on data from the various clinical trials, FDA has granted fast-track designation to Voclosporin. The regulatory agency has also allowed Aurinia Pharmaceuticals to initiate a single phase 3 trial, AURORA, which will be initiated in 2Q 2017. This is a 52-week study, comprising of 320 patients, with design similar to AURA-LV trial.
48-week data has also cleared all fears related to Voclosporin's safety profile
Despite positive efficacy 24-week data, Aurinia Pharmaceuticals' stock price had reacted negatively. This was because there were 12 out of the 13 deaths reported in the AURA-LV trial were those who were treated with Voclosporin. The market thus started doubting the safety profile of this investigational drug and reacted adversely, without considering mortality rates in other LN trials.
However, the 48-week data from AURA-LV trial, has allayed all worries related to the drug's safety profile. Here, no new adverse events were reported for Voclosporin - treated patients. Instead, three deaths and one malignancy was reported by patients who were being treated with current standard of care regimens. This data has driven the market to correct its assessment of Aurinia Pharmaceuticals' stock.
Peak sales estimate
Based on the commercial opportunity available, Aurinia Pharmaceuticals expects Voclosporin to reach peak sales of around $1.0 billion in USA, $300 million in Europe, and $80 million in Japan.The probability of securing reimbursement from payers across the world is also significantly higher for Voclosporin, since it is proving its superior clinical profile as compare to current standard of care therapies. Head-to-head trials generally go a long way in negotiating fair reimbursmenet from the payers.
The company believes that pricing pressures and physician adoption rates will determine the future revenue potential for the drug in a market.
Historically, healthcare analysts and investors have been valuing a clinical stage biotechnology company at around three times of the annual peak sales of its investigational drug. We also need to adjust the drug's peak sales value by the probability of FDA approval. For nephrology drugs in phase 3, the historical probability of securing FDA approval is 47.8%. Hence, the current risk-adjusted peak sales value for Voclosporin must be around $478 million. This assumes only sales in USA, as other markets may peak out at different points in the time scale. By this assessment, Aurinia Pharmaceuticals may reach market capitalization as high as 1.4 billion. With current market capitalization close to $254 million, the stock has the capacity to grow around 5.7 times and reach as high as $27.2. This price is a very rough estimate of the ability of Aurinia Pharmaceuticals to grow after launch of its drug, which is expected to materialize only post 2019.
In case Aurinia Pharmaceuticals becomes a takeover target in 2017, which seems a more likely option for this stock, the price provides an indication for the amount of premium that may be demanded by the stock.
However, cash burnout rate may require Aurinia Pharmaceuticals to opt for collaboration, acquisition, or atleast new round of loan funding.
Based on cash flow statements of the past three years, the annualized cash burnout ratio for Aurinia Pharmaceuticals comes close to $17.0 million. These expenses have been mainly incurred on the ongoing AURA-LV phase 2 research program. With Aurinia Pharmaceuticals stepping in pivotal phase 3 program in 2017, it is obvious that the company may witness increase in operational spending and higher cash burnout ratio. The latest quarterly report for period ended September 30, 2016, stated cash and short term investments for the company to be around $15 million. Since, the company has reported its 48-week data for AURA-LV trial in February 2017, it is only reasonable to assume that the cash at end of fourth quarter 2016 must have declined to round $12.0 million. Assuming cash burnout rate for Aurinia Pharmaceuticals in 2017 to be close to $20 million, it seems that the company can continue funding its operations on its own financial muscle till mid 2017.
And this highlights the need for the company to either enter into a collaborative arrangement with a larger biopharmaceutical company, become a takeover target, or opt for new lease of funding. I believe that Voclosporin's superior clinical profile may be a big plus point in attracting suitors for Aurinia Pharmaceuticals. While the acquirer may not be ready to cede the entire premium to Aurinia by pricing the stock at around $27.0, it is logical to expect that the transaction price will be significantly more than the share's current price levels.
But Aurinia Pharmaceuticals is definitely not for the faint hearted.
Before investing in Aurinia Pharmaceuticals, it is imperative for an investor to take note of the various company-specific risks related to this stock. The foremost is business concentration risk. For any rational investor, Aurinia is Voclosporin and vice versa. The future of this stock is inexplicably tied to that of voclosporin research program.
In case the company decides to continue as a going concern, it will definitely have to explore funding options in 2017. Failure to manage its funds optimally may force the company to a bargain sale, a situation definitely not in the interest of the investors.
Hence I believe that at $4.81, Aurinia Pharmaceuticals offers a solid growth opportunity, but only for an investor with above-average risk appetite.
Disclosure: I/we have no positions in any stocks mentioned, and no plans to initiate any positions within the next 72 hours.
I wrote this article myself, and it expresses my own opinions. I am not receiving compensation for it (other than from Seeking Alpha). I have no business relationship with any company whose stock is mentioned in this article.
Editor's Note: This article discusses one or more securities that do not trade on a major U.S. exchange. Please be aware of the risks associated with these stocks.