On Friday, our Oil Markets Daily article covered the situation in Libya briefly. At the time, oil exports weren't affected, according to the Libya National Oil Company (NOC). Fighters from the Benghazi Defense Brigade, an Islamist militia group that opposes the Libyan National Army, took the oil ports of Es Sider and Ras Lanuf by surprise last week.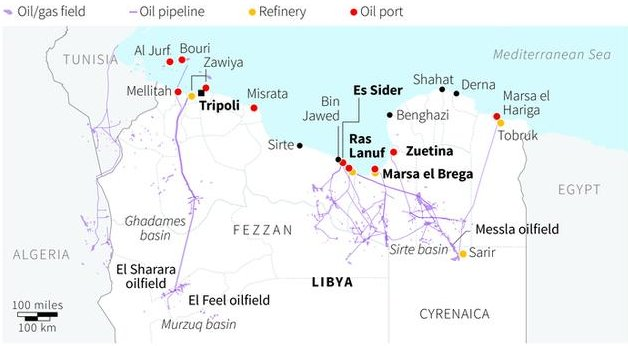 To the surprise of many, the Libyan National Army, headed by General Khalifa Hafter, with its dominant air space control lost the oil terminals. In an article by Arnaud Delalande, the reporter said approximately 50 vehicles traveled from Sirte to Jufrah two days before the assault took place. In December 2016, BDB attempted to attack the oil ports but were fended off by Hafter's air strikes. This time, however, plane maintenance reduced Haftar's ability to respond by air, and the militia group took the most important oil terminals in Libya.
This is a big blow to both the East, controlled by the GNA, and the West, controlled by the Libyan National Army, as oil revenue is the main source of income for Libya. The recent seizure by BDB highlights the lack of land forces Haftar has, and the group that controls the oil ports controls Libya's destiny. The conflicts will likely escalate as Haftar understands how important Es Sider and Ras Lanuf are to his bargaining power against the GNA. Despite sell-side analysts and oil market pundits proclaiming and quoting Libya's NOC about potential production growth going to 1 million b/d, we have always been cautious of the geopolitical conflicts that continue to plague Libya's future.
With both sides divided and militia groups around, it's highly unlikely that Libya will have both the resources and the capabilities to grow oil production meaningfully above the 700k b/d it already achieved in January this year. We see Libya's oil production declining slowly throughout 2017 as a lack of infrastructure and aging production fields bite into its oil production. Libya also lacks the adequate funds to reinvest back in its aging oil fields, and the decline will come as a surprise to many oil pundits that expect Libya's oil production to grow.
Our focus on geopolitical issues continue to give us a variant perception take on situations in Nigeria and Libya. We believe this geopolitical analysis, along with our fundamental contrarian thesis that non-OPEC production will decline this year, is what gives us certainty in our bullish oil price call.
If you find our variant perception oil market analysis insightful, we believe you will find our premium service to be more valuable. You can sign up here. For more info on premium, please read this.
Disclosure: I/we have no positions in any stocks mentioned, and no plans to initiate any positions within the next 72 hours. I wrote this article myself, and it expresses my own opinions. I am not receiving compensation for it (other than from Seeking Alpha). I have no business relationship with any company whose stock is mentioned in this article.