Investment Thesis
Resolute Forest Products (NYSE:RFP) is diversified company that sells forest products. It has suffer from years of underperformance that has left the stock for dead. In this article, I will attempt to uncover reasons why this stock is undervalued. It is difficult to pin point this stock's fair value, because that is contingent on a plethora of different aspects, ranging from management's execution to the pricing of its raw materials and the company's ability to price its final products. Resolute is selling commodity products, and its financials clearly demonstrate that this business has no pricing power. However, in spite of my above concerns, I still feel the downside has too much pessimism priced in and none of the hope. I can see upside potential of about 50%.
Business Overview
Resolute Forest Products is a global leader in the forest products industry with a diverse range of products, including market pulp, tissue, wood products, newsprint and specialty papers.
The graph below highlights how the company's shareholders have fared over the last 5 years.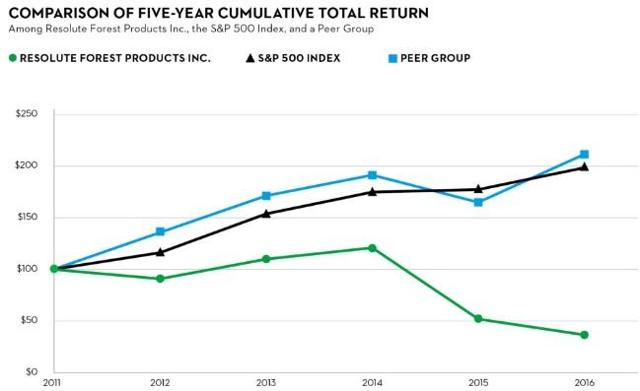 Source: RFP 10-K, 2016
I feel that in spite of this chronic underperformance since its IPO in 2010, there are now some green shoots that are starting to materialize in this company's operations that could reverse this trend.
Financials

Source: Morningstar (a quick overview of the last decade; you can see detailed 2016 results here), Author's calculations.
There is evidently no pricing power in these commodity products the company sells. In the last 5 years, on average, there has been negative Free Cash Flow generation (highlighted in pink). 2011-2013 is the only time in the last decade that the company generated any FCF.
Management hopes to address the commodity business that Resolute is through its premium-quality Tissue segment. Although the rest of its segments are still commodity-like types businesses with no pricing power.
However, in spite of no pricing power and the company having no history of generating meaningful FCF, my argument is that investors are not asked to pay much for any tunraround that Resolute is already undergoing.
In the next section, I will go through each of the company's segments and value them independently to help highlight just how much Resolute is actually undervalued.
Segments
There is a lot of information contained in the table below. But as I go through the article, I will highlight a couple of noteworthy areas.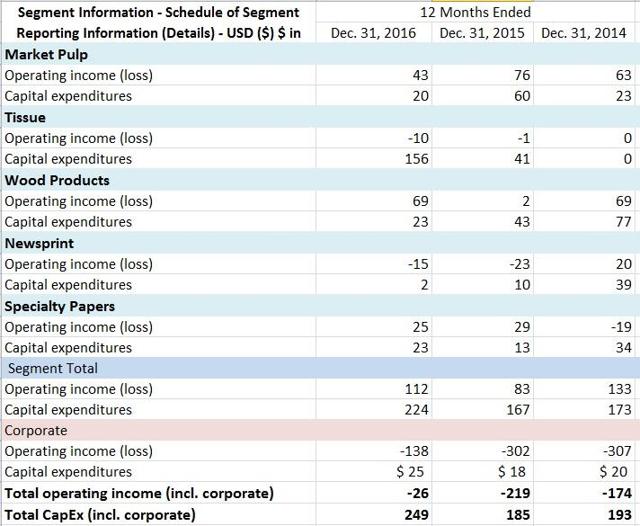 Source: 10-K 2016, Author's calculation.
Atlas Paper Holdings
In 2015, Resolute acquired Atlas Tissue for $155 million. The company believes there are some strategic benefits to this acquisition. The acquisition provided the company with an immediate position in the North American consumer tissue market, as well as allowing it to forward-integrate its U.S. market pulp assets.
The company says, "2017 will be a better year for our Tissue segment," with a "target of $8 million to $12 million in annual EBITDA in 2017." Also, Resolute says that during the first quarter of 2017, it expects to start another tissue machine at its facility in Calhoun. There will be a ramp-up period in the beginning of 2017, but overall, the company believes that "Tissue demand is growing," and it will benefit from this opportunity.
This segment alone, if it achieves the low end of its guidance of $8 million in EBITDA, could be worth a conservative multiple of 6x-7x, or somewhere in the ballpark of $50 million. This is a conservative multiple, since it is significantly growing. It's still early days, but somewhere in the ballpark of $50 million for this segment is very much justified if we remember that, as I mentioned above, Resolute acquired Atlas just two years ago for $155 million - so another knowledgeable arm-distance competitor could value it for at least 30% of what Resolute, a knowing buyer, purchased it for.
Market Pulp
This segment is going to be challenged, with competitors' capacity additions. In spite of this headwind, Market Pulp is a segment of the company that has generated at least $43 million in operating income. To account for these headwinds, I will put a 5x multiple on this EBIT, giving a conservative valuation of $215 million even without any future growth possibilities.
Wood Products
This segment has really turned a corner. With the exception of problems it faced in 2015, Wood Products has been a consistent earner. It is projected to continue its gradual recovery in 2017, and with the segment having earned $69 million in 2016, we could assign a multiple of 6x-7x. Wood Products could be valued at $414-483 million and could by itself match Resolute's market cap.
Specialty Papers & Newsprint (Paper Market)
The graph below contains a lot of information, but focus on Specialty Papers and Newsprint and how the shipments for these two segments have been declining for some time and resulting in meaningful headwinds on the bottom line.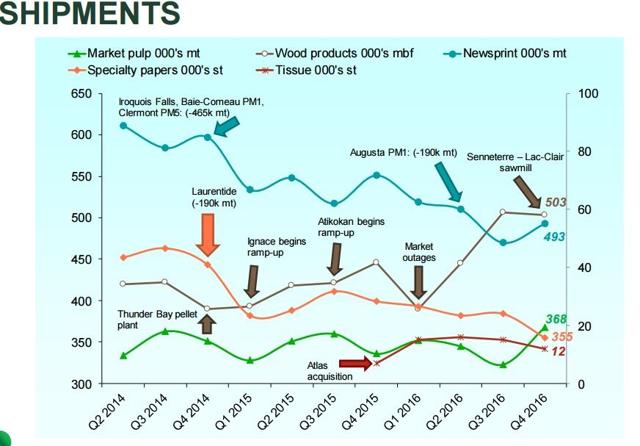 Source: RFP 2016 Conference Call
Resolute recently tried to deal with this by lowering its costs and significantly improving its EBITDA result during the quarter, up from $18 million in the previous quarter to $34 million. However, the persistent decline in demand for these two segments should give the company a wake-up call. If Resolute chose to address this issue, and rather than trying to salvage this sinking ship it simply abandoned it, the company would be able to improve its bottom line materially.
When 2 + 2 + (-1) = 3, choosing to close nonperforming operating segments could materially improve results.
However, the company guided that:
"In the paper segments, we expect that previously announced capacity reductions in the first quarter will support stable market dynamics, particularly in newsprint"
So while I'm personally skeptical of this particular segment, it is possible that in spite of its result continuing to be very bumpy, management, which is in the best position to judge Resolute's results, feels that keeping its Newsprint operations live could make it a recurring contributor to the consolidated bottom line, rather than the cash drag it has been in 2015 and 2016. I will not assign any value to both of these segments and will leave them as wild cards.
Financials

Deferred Income Tax
Resolute Forest Products has deferred income tax of about $1 billion on its balance sheet. Hopefully, when the company is able turn a profit, its income tax provision will turn to an income tax benefit.
Resolute is definitely moving in the correct direction, when you consider that in 2014 it had operating losses of $174 million, in 2015 operating losses of $256 million, and in 2016 these losses were only $26 million.
Debt
Its debt burden of approximately $760 million on the balance sheet allows the company very limited financial flexibility. Needless to say, Resolute would like to seek opportunities to reduce this debt burden, but I cannot realistically see it coming down anytime soon.
On the other hand, its senior notes are not due until 2023, so this is not a concern at this moment in time, allowing the company plenty of time for its turnaround.
Pension
Up until December 2016, Resolute's pension liability had been a significant drag on the company's performance, but its pension funding obligations will reverse until 2020 and actually offer the company some small and much-needed financial flexibility.
In 2016, following an amendment to the regulations that govern our material Canadian registered pension plans (or "funding relief regulations") in the province of Ontario, we voluntarily exited the Quebec funding relief regulation. As a result, since January 1, 2017, our pension plans in Quebec are subject to Quebec's Supplemental Pension Plans Act, as amended ( or "SPPA"), which provides for funding pension deficits on a going concern basis. Our annual basic contribution to the Ontario plans under funding relief regulation will be fixed at Cdn $9 million, from July 2017 through December 2020. These changes are expected to reduce the volatility in the amount of the company's contributions as well as the amount of contributions required until 2020. When compared to the baseline contributions of 2016, we estimate that pension contributions will drop by approximately $127 million between 2017 and 2020
Relative Valuation
Source: Morningstar
My favorite metric is P/S. I like it because it is quite a clean metric. I like to compare what investors have been willing to pay for a stock over the past five years and what they are willing to pay for it now. In the past five years, investors were happy to pay 0.3x P/S for RFP. Currently, they are only asked to pay 0.1x P/S. So on a relative valuation, the stock is underpriced.
DCF Valuation
Resolute's earnings are too volatile to meaningfully calculate a DCF analysis. This method is unreliable at the best of times, but in Resolute's case, it produces results that range so much that it simply detracts from the fact that while the company has historically underperformed, there are a lot of potential avenues for it to make a successful turnaround.
Biggest Shareholders
Lastly, if I have not be able to successfully sell you this simple but undervalued stock idea, allow me to talk about my trump card. Prem Watsa is currently the biggest shareholder, holding 34.1% of the stock, and has bought the stock at prices greatly higher than it currently trades at.
Also, while not quite a household name and mostly unknown outside of the hardcore and devout value investing fans, Francis Chou, which was once named the fund manager of the decade, also owns the stock and bought it at prices higher than it currently trades at.
Conclusion
As the stock trades at a near all-time low, the market is clearly despondent and unwilling to believe that Resolute will ever be a successful and profitable enterprise. I hope I have been able to argue that this is simply not the case, and that there are many pockets of opportunity that will allow shareholders to exit their positions at significantly higher prices over the next 18 months. I have very conservatively shown that the total combined segments could be worth at least $650 million, or 50% upside potential.
Please remember that this article is not a recommendation to purchase shares of any of the securities mentioned. Investing in out-of-favor securities has risks that may not be suitable for you. Please do your own due diligence to reach your own conclusions. Thanks for reading.
Disclosure: I/we have no positions in any stocks mentioned, but may initiate a long position in RFP over the next 72 hours.
I wrote this article myself, and it expresses my own opinions. I am not receiving compensation for it (other than from Seeking Alpha). I have no business relationship with any company whose stock is mentioned in this article.