Herbalife Ltd. (NYSE:HLF), the multilevel marketing, MLM, company, which specializes in distributing herbal supplements, has a market cap of $5.2 billion, a trailing P/E of 18.54 and its shares were valued at $55.99 as of market close on 3/3/17.
Incredible Short Interest, 48.52% Of Float
Strikingly, the company has 54.02 million shares available for public trade (float), of which an astounding 48.52% are short. This is an unprecedented number, and it clearly indicates that many traders, investors, and big money managers are noticing something extremely atypical about this company.
Alarmingly High Price To Book Ratio, 26.56
Herbalife has an astronomically high price to book (P/B) ratio, 26.56. Traditionally, a number under 1 indicates high value potential for a company, a figure under 3 represents some potential for value in a business. 26.56 however, is a figure of great rarity in a viable publicly traded company.
Disappointing Guidance, Indicating Poor Future Earnings Potential
Herbalife very recently disheartened investors in its latest quarterly report, providing depressing guidance and reducing full-year 2016 expectations to an average estimate of $4.16 from a previous estimate of $4.85 per share. Furthermore, the analysts who cover the company have decreased their expectations drastically, lowering first-quarter 2017 earnings expectations by 33% from $1.36 to just $.91.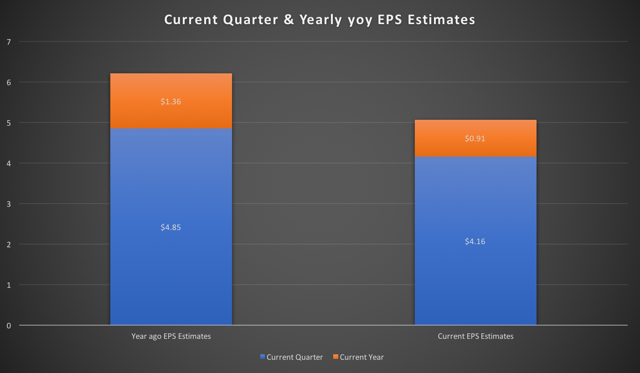 Declining Sales In Key Markets Are Crushing Revenue Growth
Herbalife has exhausted much of its revenue growth potential in many of its markets, including the U.S., Europe, Mexico, South and Central America as well as the Asia Pacific region. Including foreign exchange (FX) rates, 2015-2016 year-over-year sales growth is extremely negative just about everywhere: down 3% in Asia Pacific regions, down 7% in Mexico, down 13% in South and Central America, and is up a meager 3% in China.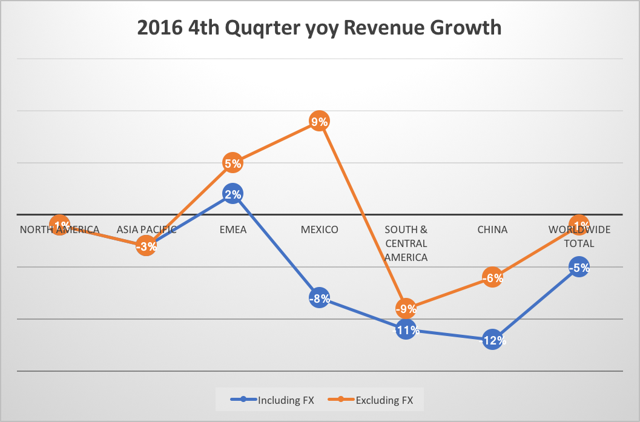 Where 65% Of Herbalife's Revenues Come From?
To put things in perspective, these exchange-sensitive regions accounted for the lion's share of HLF's so called "sales," and approximately $2.8 billion of 2016 revenues, whereas the U.S., Europe, the Middle East and Africa only accounted for approximately $1.7 billion in the same time frame.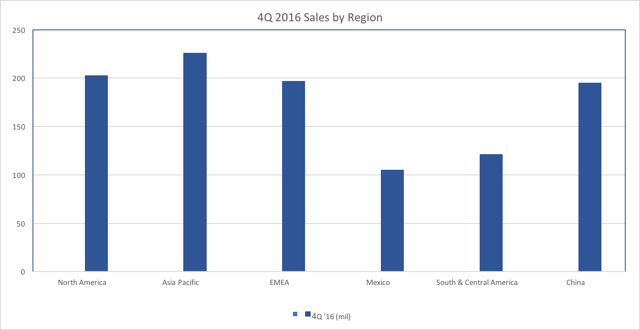 Unfavorable Future Exchange Rates & Trade Policies
The Fed's intent to raise rates in the U.S. and President Trump's somewhat protectionist attitude towards trade policies, as well as questionable diplomatic relations with certain nations will certainly continue to put significant pressure on HLF's future revenue and earnings potential in the underlying regions due to a strong dollar and exchange rate fluctuations in less developed markets.
SEC's Investigation Could Turn Into Chinese Bribery Scandal
China, the most promising region that could represent a revenue expanding opportunity for Herbalife, where FX-adjusted revenues grew 3% last year, has a reputation for scrutinizing, investigating, and shutting down MLMs suspected of suspicious activity. On January 20, 2017, the SEC launched a probe into possible corruption links concerning and possible bribery of Chinese officials.
Outcome Of The FTC Investigation
No matter how hard Herbalife representatives try to spin the decision, the facts are clear. The Federal Trade Commission, FTC, clearly inferred that Herbalife is indeed operating a business model indicative of a predatory pyramid scheme. The FTC's and Justice Department's investigations concluded that Herbalife's extremely deceptive marketing tactics deliberately misled and victimized hundreds of thousands of innocent people.
The $200 Million Slap On The Wrist
The FTC and the Justice Department awarded the 350,000 victims of this unethical scheme $200 million. In addition, the government gave Herbalife explicit instructions to restructure its business to a non-pyramid scheme model. This is a crucial element of this settlement that Herbalife agreed to comply with.
Can Herbalife Reform Its Business Without Incurring Massive Losses?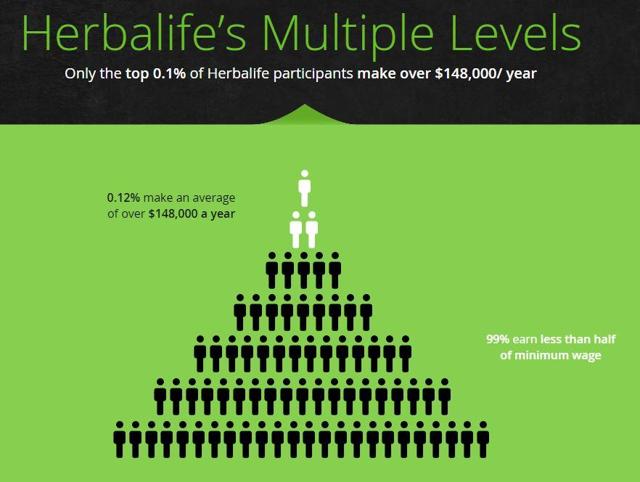 For anyone who may not be familiar with pyramid schemes and certain MLMs posing as legitimate businesses, John Oliver does an amazing job explaining the basics, as well as throwing some humor into the mix. The greatest problem with a Herbalife-style business model is that millions of its distributors end up being the actual end users and consumers of 'Herbalife's products. They have no real demand for, nor the need to use the thousands of dollars' worth of Herbalife products they are coerced into purchasing. This is an essential trademark of a pyramid scheme type business model.
Herbalife's Impact On Its Surrounding Environment
Unmistakably, this phenomenon that Herbalife has created causes significant financial damage as is exemplified by the losses incurred by numerous victims of this scheme. Statistically, approximately one person out of 5,000 ends up making an income above $100,000, while the 99% of the company's members/distributors make less than half of minimum wage, nothing at all, and in many cases, get coerced into buying an enormous amount of useless, dead end inventory.
Herbalife At Its Core
A significant amount of evidence is indicating that Herbalife is in fact, and has been for a long time operating a sophisticated scheme that at its core transfers an enormous amount of capital from millions of average and relatively poor individuals to the upper echelons of the organization. By promising unfortunate victims the world at company seminars, and in promotional videos, in the end Herbalife literally ravages countless lives and devastates whole communities.
How Will Herbalife Make Profits When It Alters Its Business Model?
The ultimate problem with operating such a business model as 's is that you can't change it much without becoming unprofitable particularly quickly, in part due to much of the sales going to distributors rather than outside customers. The company is also going to have a tough time transforming its marketing strategy without creating major disruptions in its current "business model", which will further drive down revenues and subsequent profits.
The Inevitable Fate Of Herbalife And Shares
The FTC's requirements for Herbalife to drastically alter its operations, unfavorable exchange rates, coupled with the SEC's new investigation regarding Chinese bribery charges will put enormous strain on the company's growth, revenues, stock price, and management, which in time could test this company's mere existence.
Where There Is Smoke There Is Ultimately A Fire
The fundamental factors examined unequivocally support our thesis that Herbalife is essentially a house of cards, which will come crashing down, possibly very soon. This position is further validated by, and supports the fact that an unusually amount of big money managers, traders and investors are enormously short Herbalife stock.
Sooner or later a pyramid-style scheme always fails, especially one that has already had a bright light shined on it. There are simply too many bright red flags, and countless important questions that need to be answered.
So, where will the stock be when Herbalife is finally exposed for what its business model is truly worth? Our analyses indicate that a value of $3-$7 per share is a reasonable price target for Herbalife's shares considering the overwhelming amount of evidence, which supports the essential elements of our thesis.
Disclosure: I am/we are short HLF.
I wrote this article myself, and it expresses my own opinions. I am not receiving compensation for it (other than from Seeking Alpha). I have no business relationship with any company whose stock is mentioned in this article.