Manning & Napier, Inc. (NYSE: MN) currently has a dividend yield of 10% with a payout ratio of .96, making it a very attractive stock. The company is also paying out about 96% of its earnings and makes it more difficult for the company to continue to pay its dividends with some predictable consistency. However, the stock price has been going in a trend downwards since the middle of 2014 and is currently near all-time lows. A great dividend opportunity and the potential for significant returns can make this stock a great buy. The only thing to do is to analyze further and ensure that it can continue to pay out dividends with ease and whether there is a significant possibility for the payout ratio to decrease to safer levels. I will delve further into the above topics to provide insight into my perception of the position.
As of today, MN's price to book ratio is at .56, while the price to sales ratio is at .35. It means the stock is currently trading below book and sales value and can be considered undervalued for its current price. In the global asset management sector, MN currently has a P/E lower than 99% of the industry with a ratio of 10.26. However, due to the latest events of a class-action lawsuit brought against the board of directors has caused the price to continue to decrease near all-time lows.
High Dividend Yield And Payout
Earnings have been somewhat consistent in regards to staying green and within decent range quarter over quarter. The free cash flow per share is at $7.09 as of now, and is also greater than the actual share price of the stock. The dividend per share is at $.64, while earnings per share is set at $.67, showing that the company is currently paying a huge portion of its profits to shareholders. However, if the price rebounds, the company can remain with the same dividend payout amount while earnings increase, thus providing more of a spread between the dividend payout and its earnings. The company focuses on a broad range of investment products, such as mutual funds, fixed income, and other asset models which invest in a mix of equities and bonds. One would expect that with the ongoing rally in the markets, and the continuous source of new highs would be beneficial to the investment company. Which, consequently should be producing exceptional returns for the next quarter. Moreover, the high-dividend payout ratio is an alarming factor which should not be neglected. One must carefully gauge quarter over quarter in regards to earnings per share increasing, which can then bring down the payout ratio to safer levels at which investors may feel more comfortable investing in the company. Although it is a negative component in a long position investment, I believe that the opportunity to get in before a performance increase such as EPS could potentially force investors to buy at a higher price. I believe that to get a good price for an undervalued asset, you must look for very low transparency before it becomes too visible to the majority.
If the earnings report beats analysts' expectations, we could see a quick rise in MN's price and could potentially close the window of opportunity for MN as an undervalued play. The next earnings report is on Tuesday, April 25th, after the market close. For the second and third quarter of 2016, MN has produced earnings below expectations and met fourth quarter estimates to end the year on a positive note. Analysts expect first quarter of 2017 earnings for MN to be $0.15 per share. If MN beats expectations due to outstanding market performance since the beginning of 2017, then the company is off to a good start for the new year.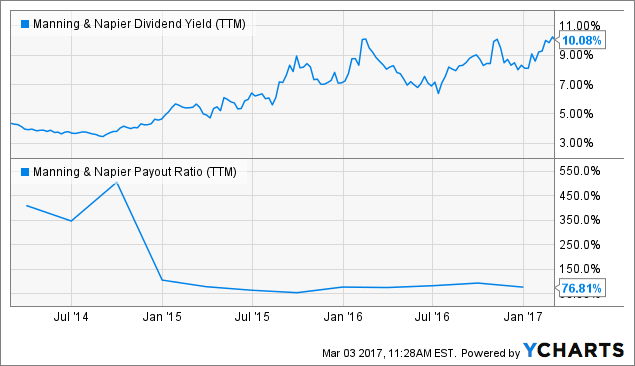 MN Dividend Yield (TTM) data by YCharts
The company has no outstanding debt or borrowed debt nor is it using any debt to finance any investments outside of its normal business operations. MN currently has a consistent flow of cash equivalents as well as enough free cash flow to continue to pay out its dividends with ease. Furthermore, the company is unlikely to cut its dividends during a time where the business is underperforming. A dividend cut now would create a significant price reduction in the stock, which I think management does not want to be in the first place.
The current news regarding MN and the class action lawsuit can put investors on edge whether to pull the trigger or not on investing in the company. Furthermore, the future is uncertain and difficult to gauge; it is best to look at current cash flow numbers than discounted projections. By looking at the earnings power value, I could see that the present value is at $109.04, thus making the margin of safety rest at 94.27%. It shows that the company is sustainable enough to continue to operate and function normally.
MN has an ROE of 5.23% and an ROA of 4.09%, which has increased from a bounce in 2014. Additionally, the rate of returns on these metrics is very consistent since most of the changes in the ROE and ROA have been due to the fluctuations of net income. In the chart, you will see that the ROE, ROA, and net income are moving with almost perfect correlation. In regards to earnings, the normalized diluted EPS is currently at .534 and in the span of ten years, it has had some inconsistent fluctuations when viewing year over year.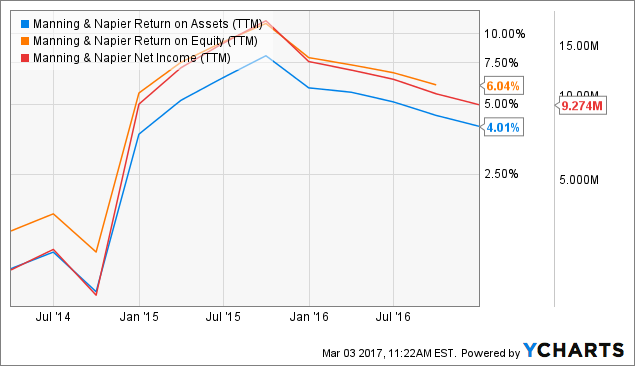 MN Return on Assets (TTM) data by YCharts
Now, it looks like it's on the cusp of breaking out to new highs. Due to the inconsistencies year over year, I decided to look at the EPS (NRI) growth rate for the trailing twelve months and past three years. The growth rate on a trailing twelve-month basis is at -31.10%, while the previous three-year data is showing a positive growth of 48.3%. Whether this helps strengthen the company's future is minuscule. I think that this company requires constant analysis throughout 2017 to gauge and seek any signs of consistency brewing.
Finishing Up
I believe MN to be a great opportunity. Additionally, the attraction of the opportunity becomes more appealing as it pushes closer to all-time lows. MN's P/B and P/S ratios below one makes the stock an undervalued asset, while maintaining operational consistency, earnings, and free cash flow at safe levels. MN can continue to pay out high dividends with enough free cash flow that it generates. We can be on the safe side that it is unlikely for them to cut the plow-back rate or push for a dividend cut.
In regards to the class-action lawsuit; it is in its early stages, and class-action suits typically take a very long time to settle, and the cause of the news is most likely baked into the price already. What worries me more is the fact that the company is having trouble finding consistency year over year. It makes it a difficult stock to predict potential growth and performance within the business over the future. On the same note, I don't think MN is going anywhere, as it has no debt; it produces positive net returns on investments and can withstand a declining market and industry. That is what makes the opportunity so appealing, and I firmly believe it can continue to weather the declining value while continuing to stand as an undervalued asset.
At the moment, MN has decent support on the daily chart at $6. It attempted to break below on November 3rd, and 4th, and then again on March 2nd of 2017. I think any price break below $6 can be a decent entry, and if anything, just enter for a small amount to begin to build a position. Stops are simple. If it breaks all-time lows, you can either get out of the trade altogether and then re-evaluate for a better time when a turnaround may look more apparent. Otherwise, you can continue to hold the stock while adding to the position as it goes lower in price. I am more of a conservative investor, and I would prefer to use the all-time lows as the stop, which also makes the trading opportunity more attractive since the risk to reward ratio will be high. In the chart below, we can see a descending triangle, which is getting close to its apex point, and could potentially represent a possible breakout or breakdown from its current position.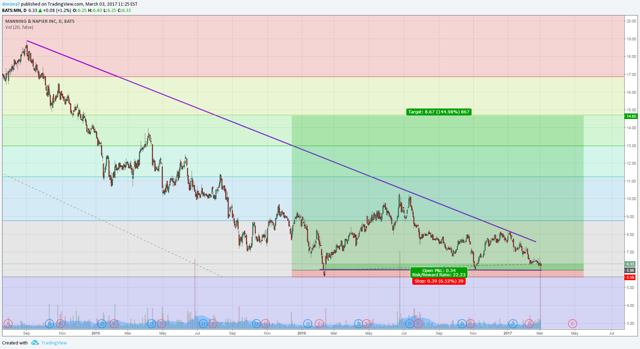 Lastly, the Fibonacci on the daily chart are showing a retracement level of .786, which is at the price of $8.76, and .618, which is at the price of $11.23 seem to be the major resistance levels that one must watch carefully and evaluate when near those price levels. Set targets to $10.75 and $14. The time to get in is when the stock is near its all-time lows, and potential returns on the investment could be at its highest.
Disclosure: I/we have no positions in any stocks mentioned, and no plans to initiate any positions within the next 72 hours.
I wrote this article myself, and it expresses my own opinions. I am not receiving compensation for it (other than from Seeking Alpha). I have no business relationship with any company whose stock is mentioned in this article.
Editor's Note: This article covers one or more stocks trading at less than $1 per share and/or with less than a $100 million market cap. Please be aware of the risks associated with these stocks.