Nike vs. Under Armour
The Nike (NKE) Swoosh is one of the most recognizable brands in the world. Brand Finance ranks Nike at #29 on the list of most valuable brands globally, estimating the Swoosh's value to be over $28 million. Nike's market cap now exceeds $93 billion, its sales are over $32 billion a year, and the company rewards its shareholders with an over 1% annual dividend payment.
Nike is beloved by both investors and analysts today, but this was not always the case. In the late 1990s, after years of explosive growth, the company saw its revenue growth slow down to single-digit percentages. This sent shares tumbling, as people feared NKE was no longer a high-growth stock. This turned out to be an incredible buying opportunity, given Nike has performed extremely well over the past 20 years.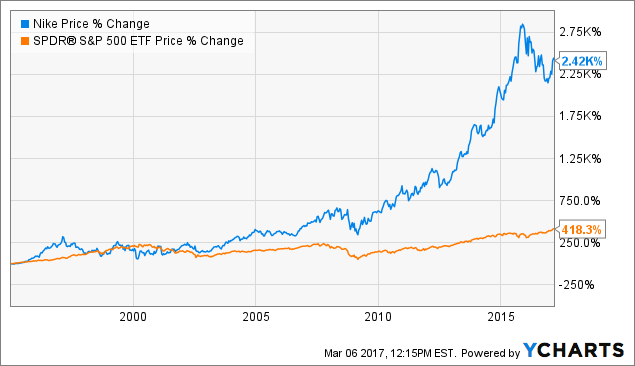 Opportunities to buy name-brand companies at depressed prices is rare, which is why one of Nike's main competitors, Under Armour (UA,UAA), is an intriguing long-term play. (You can read about the differences between the two share classes here.)
Similar to Nike in the late 1990s, Under Armour's revenue growth has begun to slow. While its annual sales are still growing at more than 20%, the number did not meet the market's expectations. Combine that with an 8% earnings miss and you can see why the stock has started to fall out of favor with investors. Shares have fallen around 60% since their peak in the fall of 2015, and fell over 25% in one day following the release of the company's 2016 earnings report.
Over the past few years, Under Armour's EV/EBITDA touched 50 and its P/E ratio consistently hovered around 100. These are some extremely high valuation numbers, so while a pullback was not surprising, the market seems to have overreacted. Under Armour is currently trading at an EV/EBITDA of 17.08, which is actually lower than the much slower-growing Nike, whose EV/EBITDA is 17.65. Under Armour's growth was at an unsustainable level and eventually had to slow down, but its revenue is still growing over 20% a year, while Nike has averaged under a 10% growth rate over the past few years.
Brand Building
One of the most valuable assets Nike possesses is its brand. While Under Armour currently cannot compete with the Swoosh, the company has done a lot recently to help improve its brand recognition. It has signed deals with some big name athletes and celebrities, including Stephen Curry (who was originally signed to Nike, you can read about that debacle here), Tom Brady, Gisele Bündchen, Jordan Spieth, Michael Phelps, Misty Copeland, Dwayne Johnson, Bryce Harper, Cam Newton, Julio Jones, Clayton Kershaw, and many more. As it continues to grow its list of sponsored athletes and celebrities, it's no surprise Under Armour had a big 2016 in terms of brand building.
The 2016 Olympics were huge for the credibility of the brand. Not only does Michael Phelps, the most decorated Olympian of all-time, wear the brand, but the entire US gymnastics team wore Under Armour uniforms while competing in Brazil. While the Olympics provided unprecedented international exposure for the brand, the most important thing the company did in 2016 was inking its first-ever deal with a major US professional sports league. Under Armour and the MLB signed a 10-year contract that will take effect in 2020. Under this agreement, the company will be responsible for making all on-field jerseys and uniforms. Baseball is the second-most watched sport in the US, which provides Under Armour an incredible opportunity to continue to grow its brand and continue to steal market share from its competitors.
Growth Opportunities
I expect Under Armour will benefit from its increased brand recognition and will see growth in both the US and international markets over the next few years. The two main areas I expect growth in the US are in the company's women's apparel and footwear sales. Under Armour made a strong push in women's apparel in 2016 and saw its sales increase to $1 billion for the first time in this category. Its contracts with Gisele Bündchen, Misty Copeland, and Lindsey Vonn were largely responsible for this growth, which I expect to continue into the future as the company continues its female empowerment campaign.
Another area where I expect growth is in Under Armour's footwear sales. Its footwear sales also surpassed the $1 billion mark in sales for the first time in 2016, but Nike still commands an over 50% share of the US athletic footwear market. As Under Armour continues to release new iterations of the Stephen Curry shoes, I expect younger basketball players to start turning more and more towards Under Armour for their shoes. Also, the company currently presents young NBA players with a unique opportunity to become a major face of a growing brand. I would be surprised if we do not see more high-profile rookies deciding to be a major player at Under Armour instead of being just another guy at Nike. Emmanuel Mudiay, the 7th pick in the 2015 NBA Draft, is the first example of a player taking advantage of this opportunity, as he decided to sign with Under Armour instead of Nike or Adidas (OTCQX:ADDYY).
International markets have been largely untouched by Under Armour, and I see this as a huge potential growth opportunity for the company.

(Source: Under Armour's 10K)
Under Armour greatly lags Nike in the international sales department, as only 15.4% of its sales come from outside the United States, while Nike gets over half of its sales from overseas. At half the age of Nike, Under Armour is very much in the beginning stages of becoming a global brand, but it has already started to see some major growth in that area, as international sales grew by 55% in Q4 2016. This is incredibly important for the company, but seemed to be ignored by analysts and investors, who focused solely on the slowdown in its revenue growth overall. Under Armour has recently seen particularly strong growth from the Asia-Pacific region, where sales are up 281.4% since 2014.
Growing in the Asia-Pacific region, specifically China, is going to be one of the most important things for the company over the next few years. The impressive growth seen thus far is largely thanks to Stephen Curry. As the popularity of basketball continues to grow in China, the two-time NBA MVP has made two separate trips to the country in an effort to help grow the brand. In 2016, the Chinese government announced a national fitness plan, which is expected to increase the country's health and fitness expenditure to RMB 1.5 trillion ($2.71 billion). This will greatly increase sportswear sales in China and will present Under Armour with an opportunity to increase its presence in the country with the largest population in the world.
Potential Headwinds
There are two major potential headwinds I believe Under Armour could face moving forward, both relating to marketplace trends. The first is the increasing popularity of retro shoes, which is an area in which the company has zero offerings. Unlike Nike, which is constantly re-releasing old Jordan brand shoes to keep up with the growing trend, Under Armour has not been around long enough to have the luxury of re-releasing shoes as retro editions. I am skeptical of the staying power of this trend, but it is an area where it is simply impossible for Under Armour to compete with Nike.
The second trend is the "athleisure" trend, which Under Armour completely missed the ball on. "Athleisure" has taken off rapidly in the US, and the related products have become some of the most demanded from athletic apparel companies. In the Q4 earnings call, CEO Kevin Plank admitted to completely misreading the "athleisure" trend and acknowledged the need for the company to expand more into everyday fashion. It is very important for Under Armour to be ahead of the curve on trends in the US, due to the fact 83% of its revenue is currently generated in the country. While it is nice to hear a company admitting it made a mistake and that steps are being taken to fix it, hindsight is 20/20, and the company's inability to recognize the "athleisure" trend raises questions about its ability to recognize up-and-coming trends in the future.
Conclusion
While Under Armour may never again see the days of consistent growth in the high 20%'s range, the company should not be valued at a lower EV/EBITDA than the much slower growing Nike. Under Armour is hated right now, much like Nike was in the late 1990s, which is generally the best time to buy a stock. I expect the company to see high growth levels in both footwear and international sales over the coming years, which makes Under Armour a solid long-term investment. Anyone who was smart (or lucky) enough to buy and hold Nike when it was hated in the late 1990s has made a lot of money. I believe in 20 years we could be saying the same thing about the investors who buy Under Armour at its current price.
Disclosure: I/we have no positions in any stocks mentioned, but may initiate a long position in UA, UAA over the next 72 hours.
I wrote this article myself, and it expresses my own opinions. I am not receiving compensation for it (other than from Seeking Alpha). I have no business relationship with any company whose stock is mentioned in this article.