I started looking at EVs a few years back, not so much out of direct interest in the automotive sector, but rather because as someone mainly interested in commodities, I was interested in what effect the EV trend might have on long-term oil demand going forward. I am also interested in keeping track so I can get a good idea in regards to how it might end up affecting electricity demand, as well as direct demand in EV production for lithium. That is not to say that it is the only aspect that matters. For owners of Tesla (NASDAQ:TSLA) stock, it is all about whether EVs are the future or not, given that Tesla's future depends a great deal on consumer acceptance of EVs. It is also about whether it will be allowed by its competitors to own the field, or whether they will challenge the only pure EV automaker in the field, with their own attractive product lineups.
Regardless of whether one is looking at it from an automaker business point of view, looking at market sales trends, or whether like me, people are more interested in what potential impact a potential shift to EVs may have on demand for certain commodities, EVs made up about 1% of total car sales last year, so we need to start paying attention. The global car industry accounts for the highest share of global oil demand. It provides for about 50 million jobs directly and indirectly and it is turning out products worth trillions of dollars worldwide, with sales last year of almost 77 million units and growing. If EVs are about to transform this industry, we need to understand at what rate it is happening and what the outcome will be from different perspectives.
The view from the three main markets
Last year, China was by far the most important EV market of the three. The other two important markets are the US and Europe. China accounted for about 45% of all EV sales on this planet.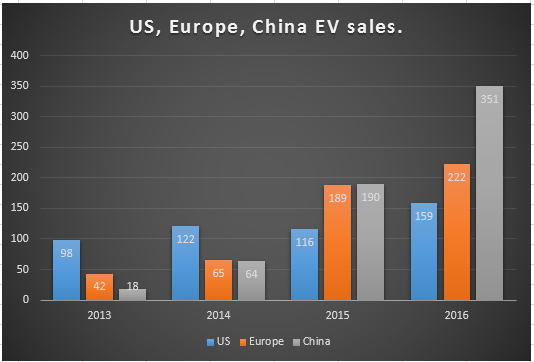 Data sources: EV obsession, EV-Volumes, Inside EVs
My view in regards to China and its heavy subsidy support policy for EV sales is that it is not so much about the environment, or about limiting China's dependence on imported oil. I believe that China's longer-term goal is to become an EV manufacturing and export leader, thus overcoming the past difficulties it encountered with having its domestic brands penetrating important global car markets such as Europe or North America. The fact that it is heavily protecting its own developing EV industry from outside competition through granting incentives to local producers, while heavily taxing imported EVs is proof of this goal in my view.
We should keep in mind that one of the barriers to entering the EU and US markets with their own domestic car brands had to do with emissions rules. Needles to say that with EVs, that major obstacle is being removed. China needs this initiative and others like it to succeed if it is to remain a manufacturing superpower. It has recently been discussed in the media that Chinese manufacturing sector wages are now $3.60/hour on average, which is higher than in many East-Central European countries, including some EU member states. Needless to say that manufacturing of textiles, cheap toys and pots & pans are no longer a feasible industrial model for Chinese workers. They need to produce and export higher value goods if the current economic model is to continue. I do believe that EVs are among those products they see themselves as able and capable of flooding the global market with. But to do that, local manufacturers need the initial incentive and market needed to develop top quality EVs at an eventual profit.
For the month of January 2017, China has registered only 6,200 EVs, which is less than half of the volume seen in the same month of last year.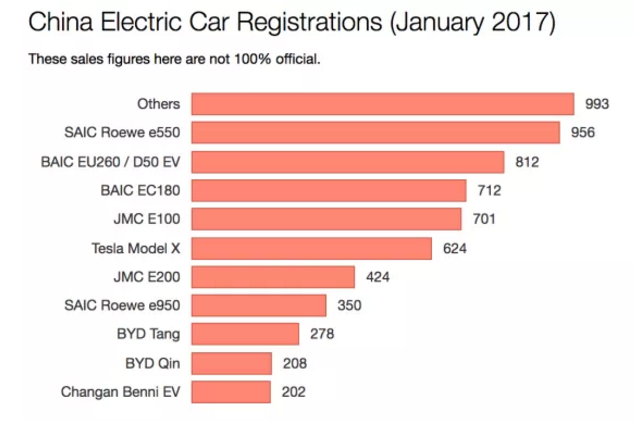 Source: EV obsession
It remains to be seen whether it is just a one-month event or whether it may be the beginning of an initial EV sales slowdown in response to subsidies being phased out, starting from the beginning of this year. China initially introduced a subsidy of $9,300 per EV, but the phase-out which started this year and will end in 2021 has cut the subsidy by 20%, with another 20% cut coming in 2019, followed by no subsidies by 2021. It seems that it is meant to weed out the EV makers which cannot compete. Thus in theory, China should have just a handful of EV makers, which will be the strongest ones left standing and supposedly ready to compete on the global stage. The steep drop in sales in response to just a 20% drop in subsidy levels may suggest, however, that the global EV market is not yet ready to live without subsidies and may in fact be much smaller than we might expect, once subsidies are eventually phased out. Chinese EV makers may still have to compete for a relatively small niche market by 2021.
Europe has seen an opposite trend compared with China at the beginning of this year. Sales were up 31% in January compared with the same month last year, with 19,000 EVs being registered across Europe. Europe not only continues to provide heavy EV buying incentives, but also provides an indirect incentive for middle class customers to buy electric due to very high gasoline price policies.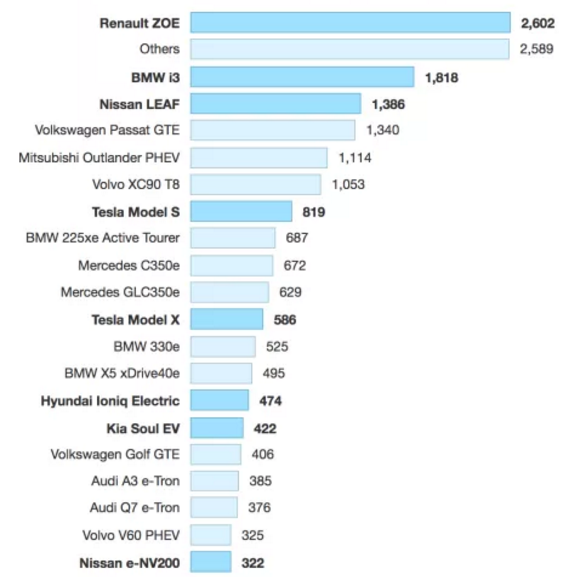 Source: EV obsession
As we can see from the chart, Renault Zoe is by far the most dominant EV on the European market, which is something which does not surprise me at all. With a real driving range of about 180 miles, which is just a bit short of the Tesla Model 3 and the Chevy Bolt (from General Motors (NYSE:GM)), but with a price that is just over half of what the Model 3 will sell for once the options are included, it is in many ways the first true mass-appeal EV on the European market today.
As I pointed out in a past article, I expect the European EV market to become extremely brutal in the next few years in terms of price competition. I cited the increased signs that EV manufacturing is increasingly establishing itself in Central Europe where wages are significantly lower as evidence that car manufacturers are getting ready to fight for EV market share. Given the first signs of sales trends this year, it might be understandable why carmakers are now looking to gear up to actually compete for the still small, but growing EV market share. If current sales volume growth trends will last, we may be looking at European EV sales of over half a million per year by 2020.
It should be noted that as I pointed out in my past article on the issue of the more immediate future of EVs in Europe, it will be a growing market where for the next few years, and perhaps a decade, all EV makers will be given two choices. The first will be to take a loss on every EV they sell, but gain market share, or maintain prices and see market share erode. I see the likes of Renault (OTC:RNSDF) and Daimler (OTCPK:DDAIF) specifically gearing up for a brutal market share fight. Renault has an overall market strategy of offering low cost cars in place, which is also reflected in its EV sales strategy, while as I pointed out before, Daimler is gearing up to produce EVs in a flex production line facility in Hungary, giving it the ability to ramp up production as needed, at a competitive price, given the labor cost savings it is getting by producing in Hungary. What this means for the likes of Tesla is that it may find it hard to compete on the European market. It is already suffering from shrinking market share with its current model line-up. The arrival of the Model 3 may give it a bump in the sales rankings, but it might not be as great as expected.
As we can see from the EV sales chart I provided above, the US has gone from being an EV market leader until the end of 2014, to becoming a laggard for the past two years. The arrival of Tesla's Model 3 may change that to some extent, depending on how well it will actually do in terms of delivery volumes in coming years, but personally I think the US EV market is set to continue to lag behind Europe. January and February sales were significantly higher compared with the same months of last year, but it is in large part due to the fact that last year's first months saw very low EV sales, which were hardly higher than the corresponding months of 2014 and 2015.
It remains to be seen whether this year will be similar with last year and we will see sales that are significantly higher compared with the first two months of this year. A successful rollout of the Model 3 by Tesla would certainly go a long way in achieving that goal. Looking beyond 2017, the US federal EV subsidy is designed in such a way that any carmaker which achieves cumulative sales of over 200,000 EVs on the US market is set to have the $7,500 subsidy phased out. Tesla is likely to be the first automaker to become the victim of this phase-out, which could happen as soon as next year. It remains to be seen how it will affect its Model 3 sales volumes in the US. The model S as well as model X cars are more or less immune to the loss of the subsidy, but the Model 3, with a starting price of $35,000 was meant to appeal to the more price-conscious potential EV buyer. While it seems that there are currently over 400,000 Model 3 reservations, it is entirely possible that many potential customers will drop their reservations, in part due to the realization that they can opt for another EV which may still benefit from subsidies, such as the Chevy Bolt for instance. Some customers may not opt for any EV at all after dropping the reservation. A lot will depend on that Model 3 in regards to US EV sales for this year. US sales will probably be up for the year, even if there will be the usual Tesla delays. Whether it may return to number one market status or not will depend on whether Tesla will churn out and deliver those Model 3s.
It should be an interesting rest of the year for the global EV market as a whole. Between China's EV sales potentially plummeting compared with last year, Europe continuing on its steady gain in EV sales, and the US being a wild card, with the end-result very dependent on one single model's odds of success, odds are that this will not be the year when EVs will break the 1 million sales threshold. What this means for the grand debate in regards to whether EVs will imminently kill the oil producers by killing demand, is that it is not likely to happen any time soon. It is estimated that just under 78 million cars will be sold worldwide this year. We should keep in mind that the average number of cars that are being sent to the junkyard each year resembles the average sales volume of the 1990s, which is in the 39 million car range. This means that every year we are adding about 38 million ICE-powered cars, even after we subtract the EVs from the total. Even when we factor in continued efficiency gains from ICEs, it is clear that EV sales volumes will need to reach the tens of millions of cars per year level, before they can actually stop oil demand from personal vehicles from continuing to rise.
The fact that we are seeing a huge drop in EV sales in China due to the beginning of the subsidy phase-out process should give us pause for thought in regards to just how strong we can expect the EV market to be going forward. As the global EV market grows, needless to say that the subsidies will inevitably disappear. At some point, they simply become too expensive to maintain. This will reflect on carmakers who are increasingly betting on EVs in terms of their return on investment. It will also reflect on the evolution of secondary participants in the EV trend, such as lithium miners. I recently covered Albemarle (NYSE:ALB), which is a lithium mining giant, as well as a uranium-lithium miner which is more speculative in nature called Uranium Resources Inc (URRE). While both stocks are in my view in their own way viable options to play the assumed explosion in lithium demand due to the EV trend, potential investors also need to keep in mind that there may be some bumps along the way, including the prospect of EV subsidies disappearing, which may present dangers to existing lithium investments, but also potential buying opportunities.
Because the global automotive sector is a producer of trillions of dollars of revenue every year, the big picture in regards to the global EV trend will be one of the most important economic, business and investment stories for the next few decades. I have no doubt it will make up a growing proportion of the global car market, and eventually it may even displace the ICE as the dominant technology. At the same time, however, we have to keep in mind that we should keep a calm level attitude and not allow ourselves to be swept up and get carried away by the trend. This change may be spectacular at times, while not so much at other times. It might not have as great and immediate of an impact on the world's economy and individual sector or company performance as some may believe. I for one intend to keep a close eye on it going forward and do my best to objectively analyze the trends and their effects.
Disclosure: I/we have no positions in any stocks mentioned, and no plans to initiate any positions within the next 72 hours.
I wrote this article myself, and it expresses my own opinions. I am not receiving compensation for it (other than from Seeking Alpha). I have no business relationship with any company whose stock is mentioned in this article.
Editor's Note: This article covers one or more stocks trading at less than $1 per share and/or with less than a $100 million market cap. Please be aware of the risks associated with these stocks.