IT security is clearly a vital issue for every business that uses computers. Moreover, since more things like cars and home appliances will become "connected" in the near future with the use of Internet of Things (IoT), it is clear that cybersecurity will become an even more essential point for most companies that produce these connected products. Therefore, the corporations which offer the best solutions for protecting products from being hacked will inevitably gain from the future development of IoT. While some promoted corporations like Palo Alto Networks (NYSE:PANW), FireEye (NASDAQ:FEYE) or Fortinet (NASDAQ:FTNT) are considered to be pioneers of the sector, I find these stocks overpriced and suggest focusing on the others. In this article, I analyze the best-valued companies, which should be considered by investors who are willing to profit from a possible rise in the cybersecurity sector.
Market overview
With the increasing popularity of IoT the cybersecurity market will inevitably grow as well. It is estimated by Markets and Markets that the market size of cybersecurity will increase from $122.45 billion in 2016 to more than $202 billion in 2021 representing 10.6% CAGR. Cybersecurity Ventures provide an estimation that companies will cumulatively spend more than $1 trillion on cybersecurity products and services over the next five years. Microsoft claims it will spend "over $1 billion annually on cybersecurity research and development in the coming years."
It is likely we will see an increase in the cybersecurity market size. Primarily, this is because new market opportunities will occur along with the development of IoT in such industries as the automotive industry, smart homes, and home appliances. For instance, corporations like Cisco (NASDAQ:CSCO) and NXP Semiconductors (NASDAQ:NXPI) already make the first steps in establishing inter-vehicle networking systems with the use of IoT. These efforts are made to develop a comprehensive self-driving technology for cars (more information you can find in my previous article here). As a result, the automotive industry will require advanced solutions for protection from external interference.
Thus, Rob Toews from TechCrunch claims cybersecurity is "the biggest threat facing connected autonomous vehicles," since many electric components in a car use internet network. This makes a car vulnerable to hackers, who could be able to take control of brakes, engine or steering.
The situation is the same for other technology innovations like smart homes. It is evaluated, smart homes are easy targets for hackers, and it is stated by Paul Lilly on TechHive that "nearly all the hardware in your connected home is inherently flawed when it comes to security."
Another important event is signing an executive order on cybersecurity by Mr. Trump. This can positively impact the sector and help companies improve their revenues.
As a result, there is an opportunity for cybersecurity companies to gain from the development of new technologies and the government's actions. Therefore, I believe this sector is now very attractive for investment with the horizon of at least 2-5 years.
Cybersecurity ETF
A broad exposure to the cybersecurity sector can be gained through buying PureFunds ISE Cyber Security ETF (NYSEARCA:HACK). The ETF showed significantly negative performance in 2015 and regained the initial position only in the beginning of 2017 showing around 8% increase year-to-date.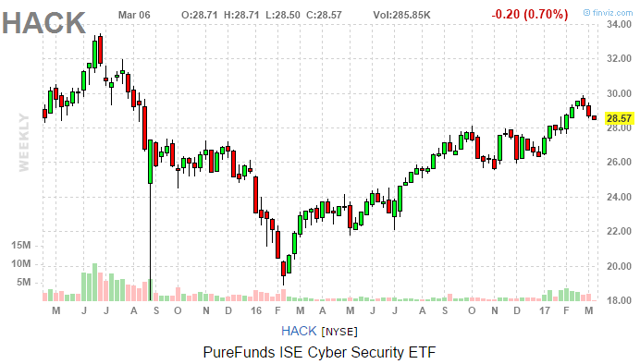 (Source: Finviz.com)
However, I believe that this strategy may be not the best one. This is due to the fact fund is comprised of 34 companies, and some of them do not show good performance. Moreover, some companies included in this fund tend to have indirect exposure to the cybersecurity market, which makes it hard to analyze their potential.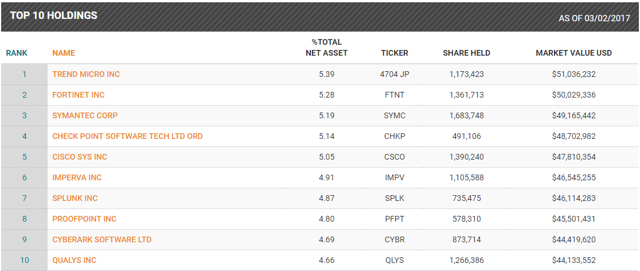 (Source: Purefunds.com)
Companies to consider:
Check Point Software Technologies (CHKP)
One of the most attractive corporations from the sector is Check Point Software Technologies. The company specializes in providing solutions for IT security and has a diversified portfolio of products, which is important for portfolio investors. These products include solutions for clouds, data centers and enterprises. Moreover, the company provides its services to small- and medium-sized businesses and independent consumers, which reveals the company has access to a broad range of different types of customers.
From the financial standpoint, the corporation shows decent performance. The company has stable positive free cash flow, growing revenue and net income. Moreover, Check Point's stock trades with 25 P/E ratio, which is way below the industry average, while both net margin and return on equity are higher than those of many competitors.
The price of the stock has already increased by 17% in 2017, which is a significant number. However, I believe that the current price level (around $100) is still a good point to invest in the company. This is supported by the fact that most major analysts issued upgrades for the stock in January 2017, setting price targets of $110-116.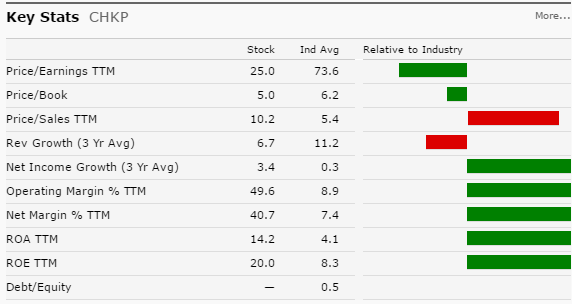 (Source: Morningstar.com)
Gigamon (GIMO)
Another notable corporation is Gigamon Inc., which develops and sells security solutions including products for network traffic control, SSL decryption and threat detection. One of the most remarkable products of the company is its Gigasmart engine, which not only enables deriving useful traffic patterns for analysis but also enhances the ability of efficient "eliminating unwanted content" with the use of SSL/TLS decryption, which "provides visibility into encrypted sessions." In other words, the engine makes incoming internet traffic more transparent, making it harder for hackers to be unspotted.
The company has been recently involved in "several unfavorable situations" that negatively impacted the company's stock price. Moreover, the guidance for Q1 2017 was announced to be below expectations with pro-forma EPS $0.04-0.08 against $0.26 estimate. However, I believe the market reaction is exaggerated, and the corporation has a high growth potential.
For instance, this is what Paul Hooper, CEO of the company, says about the current position of Gigamon:
During the year, we extended our addressable market by delivering the first to market solution for visibility into the Amazon (AMZN) Web Services cloud and enhanced our security platform in 2016. With our strong leadership in the industry, we believe our security-enabling platform for private, public and hybrid clouds has become an essential component of modern IT infrastructure.
Moreover, the corporation seems to have a strong financial position. Gigamon shows positive net income for the second year in a row, both net margin and ROE are higher than the industry average, and 25.2 P/E multiple looks more than reasonable. Additionally, both products and services revenue grew by about 50% from 2015 to 2016 (nine months ended October 2016). Therefore, I believe the price level of $30 represents an attractive point to buy this stock.
Juniper (JNPR)
Juniper is a company that specializes in networking and communication devices that include integrated security capabilities. The most notable Juniper's solution for cybersecurity is its unified Software-Defined Security Network platform that provides a comprehensive approach to recognizing and reducing threat of a cybercrime in an enterprise.
The solution is enabled by a range of Juniper's products, like SRX Series Firewalls, Junos Space Security Director, cSRX Container Firewall, and Sky Advanced Threat Prevention. All these products combined perform a wide variety of tasks aiming to enhance the security from possible unwanted interference.
I believe that the diversity of products and the sophisticated security platform of the Juniper Corporation are the main competitive advantages for the company. Moreover, the positive outlook for cloud spending of such giants as Facebook (NASDAQ:FB), Amazon and Alphabet (NASDAQ:GOOG) (NASDAQ:GOOGL) reveals a promising future for Juniper, since the company has a strong expertise in the cloud infrastructure. Therefore, Juniper seems to have high growth potential and should gain from the cybersecurity market development.
The financials of Juniper are in good shape. The corporation has positive net income and increasing free cash flow. Moreover, P/E multiple of 18.5, net margin of 12% and Debt/Equity ratio of 0.4 make this company very attractive for investment. The price is currently consolidating near the $28 level, which is a good moment to buy the stock.
Accenture (ACN)
Accenture plc is not a very obvious choice regarding cybersecurity. Mainly, the corporation provides services related to digital transition consulting. However, the company has made significant progress in the cybersecurity field, hiring experienced experts from the industry and deriving resources for research and development.
Thus, in December 2016 Accenture hired former Fidelis Cybersecurity chief security officer Justin Harvey, who has an experience of working with companies like FireEye and Hewlett Packard Enterprise (NYSE:HPE). He says:
My goal is to really help the existing global 2000 customers that we have…not only [to] just respond to threats, but also to build awareness and help these organizations get better.
It is also notable, the corporation is aiming to provide a complex end-to-end cybersecurity support, helping protect businesses' "entire value chain."
The existing ties with corporations from all over the world and certain expertise in providing complex solutions can help Accenture become a leading company in the cybersecurity sector. Moreover, the company's portfolio of products and services is diversified, which makes Accenture a perfect candidate to include in a cybersecurity portfolio.
From a financial point of view, Accenture looks very attractive. The company's revenue has a stable 5% revenue growth (3 years average) with 35% growth of EPS in 2016. P/E multiple is 18.2, which is below the industry average, while ROA is almost three times as high as the industry average. The stock price has a good history of stable growth, and now it is consolidating near an all-time high. I believe current price level (around $120) can be considered by investors as a moment to invest in the corporation.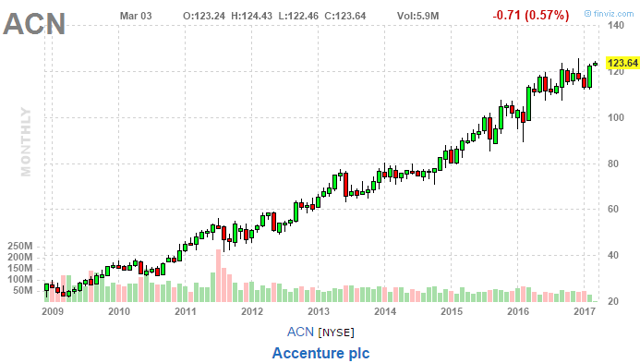 (Source: Finviz.com)
ManTech International Corporation (MANT)
Mantech specializes in providing cybersecurity services to governmental customers like the Department of Defense, Homeland Security and the Federal Bureau of Investigation (FBI). The company has established strong ties with the public entities and has a strong competence in the fields of cyber warfare and cyber defense security, "especially in pinpointing and countering external cyber attacks."
The average analyst expectation is that ManTech's revenue growth will be around 3.2% this year and 4.5% next year. However, I believe the growth will be higher than expected. This is because ManTech should profit from cybersecurity scandals related to the elections in the USA and from President Trump's cybersecurity executive order: government institutions are the main customers of the company.
Financially, ManTech's position is controversial. The company's revenue fluctuated around $1600 million from 2014 to 2016, which resulted in the three years' average revenue growth of -11.5%. However, EPS increased by about 10% from year to year on average and this growth emerges from operating income. This shows that ManTech's business is good, especially taking into consideration expected revenue growth over the next two years.
The stock price showed negative performance from December to current moment, but I believe this pullback is a good opportunity to invest in the company. The P/E multiple of 24 and the company's growth prospects support this opinion.
Cisco
Such giants as Cisco should also be noticed by investors in the cybersecurity market. The corporation has a long history of providing complex network infrastructure and this experience might help the company quickly develop its network security solutions. Moreover, Cisco's exposure to the IoT development in the fields like the automotive industry, smart cities and transportation is a great competitive advantage for the corporation.
Thus, Cisco already provides cyber and physical security for its IoT-connected networks with "cloud-based threat analysis and advanced malware protection." Additionally, Cisco offers official training and certification for cybersecurity specialists with the "Securing Cisco Networks with Threat Detection and Analysis (SCYBER)" course. Moreover, Cisco's "push into the security market" is even considered to be the reason of the recent negative development of the Palo Alto Networks stock. It is said PANW's growth is slowing due to excessive competition with the giant and other companies.
Regarding the moment for making an investment in Cisco, I restate my valuation made in the previous article and consider price range of $32-34 as a good level for buying the stock. This is because a P/E multiple of 17 is reasonable and 16% ROE with 20% net margin are solid.
Conclusion
Overall, many companies try to be involved in the cybersecurity market and the growth of the sector is inevitable. While there are highly promoted corporations like Palo Alto Networks, FireEye or Fortinet, still they are not profitable and significantly overpriced. Therefore, in order to profit from the cybersecurity sector development, it seems more reasonable to consider investing in the 6 companies described in this article, since they look attractive in terms of both business and financial state.
Disclosure: I/we have no positions in any stocks mentioned, and no plans to initiate any positions within the next 72 hours.
I wrote this article myself, and it expresses my own opinions. I am not receiving compensation for it (other than from Seeking Alpha). I have no business relationship with any company whose stock is mentioned in this article.