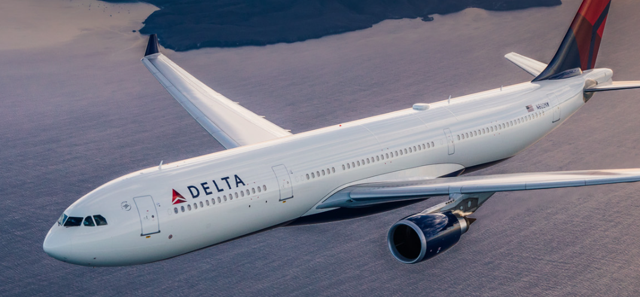 The airline industry is getting pretty interesting these days. Oil is expected to stay cheap, airplanes are becoming more efficient, and technological improvements are helping airlines increase revenue and utilization. Demand is also expected to stay strong. According to IATA, U.S. air traffic is expected to increase by 3.3% annually through 2034. Demand is increasing based on improving living standards, increasing population, and airlines continuing to add new routes in underserved markets.
Some of these factors are likely why Warren Buffett has been scooping up airline stocks, which includes large positions in Southwest (NYSE:LUV), Delta (NYSE:DAL), American (NASDAQ:AAL), and United (NYSE:UAL). These four airlines happen to be America's largest. Approximately 80% of the U.S. air traffic is controlled by Southwest, Delta, American, and United. In this article, I'll rank each airline on a number of investment metrics and then discuss which ones I think are the best "Buys" and which ones are not.
Historical Operating Performance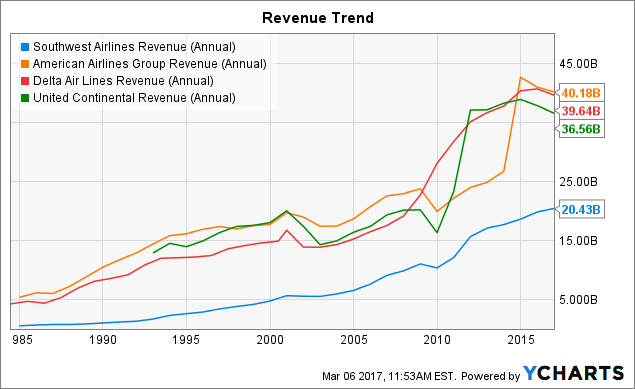 Data Source: Reuters
It's a bit subjective to rank the historical performance of each airline, so I'll give my rationale for each:
Southwest - consistently grown its top-line and operated profitably for 44 consecutive years. This is impressive considering Southwest has made it through multiple recessions and large swings in the price of oil. Reliability is important and no other airline can match Southwest.
Delta - top-line growth is pretty flat, but they have recorded nearly twice the net income when compared to any of the other airlines over the last 4 years.
American - revenue growth rate presented above its misleading. The merger with US airways caused their revenue to jump in 2014. In reality, American's sales have been pretty flat.
United - decreasing revenue and poor operating margins. For example, Southwest has produced more earnings 3 out of the last 4 years on approximately half of the revenue.
P/E Valuation
Based on the trailing 12-months price-to-earnings, all these airlines look cheap (average S&P P/E is 24.9x):
Delta - 8.7x
American - 9.8x
United - 10.9x
Southwest - 16.7x
Forward P/E exhibits the same order:
Delta - 9.6x
American - 10.1x
United - 11.2x
Southwest - 15.1x
Note - data provided by Reuters
Long Term Growth Forecast
Price-to-earnings doesn't really have much meaning unless you know the long-term growth forecast (data provided by Reuters).
Southwest - 10.5%
American - 2.2%
Delta - (0.4%)
United - (6.5%)
This mostly explains why Southwest trades at a premium. Southwest is the only true growth play out of the big 4 airlines.
Balance Sheet Strength
Given low amounts of leverage, Southwest and Delta both have attractive balance sheets. With operating cash flow and cash reserves, both are in a position to easily pay off their debt within a year or two if needed. American Airlines has a concerning amount of debt. Their leverage could put them in a difficult position during a future recession.

Average Fleet Age
Newer airplanes equals greater fuel efficiency and lower operating costs, which translates to greater profit margins. I used data from Airfleets.net to compile the average fleet age:
American Airlines - 10.4 years
Southwest - 11.8 years
United - 14.1 years
Delta - 17.2 years
Aging fleets not only mean higher operating costs, but also large near-term capital expenditures. Delta and United will need to replace their fleets sooner rather than later. The good news is they will be rewarded with airplanes that are significantly more advanced. For example, the new 737 Max and Airbus NEO are at least 10% more efficient than previous models.
What Does Wall Street Think?
I used data from MarketWatch to find the average upside based on the current price of each stock relative to the Wall Street consensus target price. I also calculated the percentage of analysts that have a "Buy" rating on the stock. It's important to note that no analyst gave any of these airlines a "Sell" rating.

Delta is the clear winner here with the highest percentage of analysts rating it as a "Buy" and having the most upside potential.
Conclusion

From this analysis, there are two clear winners and two clear losers:
Buy Southwest - even though Southwest trades at a premium, its the most reliable stock. Southwest has operated profitably for 44 consecutive years in a row, which is an impressive feat in an industry that has been plagued by bankruptcies. The premium is also reasonable considering a projected growth rate of 10.5%, so Southwest will continue to grow into its valuation. A low amount of debt is also compelling and provides flexibility to buy new airplanes, execute acquisitions, and weather downturns.
READ MORE: 9 Reasons To Own Southwest Airlines
Buy Delta - Good recent performance and rock-bottom valuation make Delta too good to pass up. The fleet age is a little concerning, but Delta has a flexible balance sheet and will have the ability to make capital investments as needed.
If you hold United or American, I wouldn't recommend selling either. Each are attractively valued, but neither has the investment profile that Southwest or Delta has. In particular, I don't like the operating trends of United and I don't like the debt load of American.
Disclosure: I/we have no positions in any stocks mentioned, and no plans to initiate any positions within the next 72 hours.
I wrote this article myself, and it expresses my own opinions. I am not receiving compensation for it (other than from Seeking Alpha). I have no business relationship with any company whose stock is mentioned in this article.