By Gary Alexander
What you're now seeing is profit-and-earning ratios starting to get to the point where buying stocks is a potentially good deal if you've got a long-term perspective on it.

- Barack Obama, March 3, 2009
The most unlikely, unloved, and unlauded major bull market of modern times has to be the current one. This eight-year-old bull was born on Friday, March 6, 2009, when the S&P 500 touched a low of 666.79. In history, 666 has a mystical air about it, being the "Number of the Beast" from the Book of Revelations. Like the 777 low in the DJIA back in 1982, this triple-digit convergence became a jackpot for investors.
The stock market was not supposed to rise when President Obama and a Democratic Congress swept the election of 2008. All of Obama's 2009 spending programs were supposed to spiral us into uncontrolled deficits - it indeed seemed that way for a while - but the S&P gained 68% in one year, by March 9, 2010.
This market was also not supposed to rise during the dismal 2016 election year. Last year was viewed as a no-win contest between two obviously flawed candidates, but the S&P ignored that risk, gaining 32.7% from its February 2016 lows to its March 1, 2017 peak. As of last Wednesday, in fact, this eight-year-old bull market has delivered 260% gains (on an intra-day basis) and 254% on a closing basis. According to Ed Yardeni ("Happy Anniversary" March 2, 2017), over this same nearly 8-year period, the S&P 400 MidCap and S&P 600 SmallCap indexes are up 335% and 374%.
Last Wednesday morning, March 1st, after President Trump's widely-praised address to a joint session of Congress, the S&P 500 touched 2400 for the first time - of probably many more to come. Yet at the start of 2017, top professional market analysts were calling for a year-end peak of 2356. According to the Wall Street Journal ("Skeptical Wall Street Strategists Undone by Market Rally: The S&P 500 has already surged above Wall Street strategists' original year-end target," by Steven Russolillo, March 2, 2017):
Wall Street strategists rarely get their annual stock market predictions right. For the second year in a row, it only took two months for the market to prove them wrong. The collective brain trust that predicts where the market is headed entered the year with more skepticism than usual. Hefty valuations, slow growth and the uncertainty of Donald Trump as president justified the caution. At the time, they anticipated the S&P 500 would rise 5% and finish the year at 2356, the lowest expected gain since 2005.
Some analysts keep telling us this market has to go down sometime - and it certainly will - but many of these analysts have convinced investors to stay on the sidelines watching an ever-rising market while not participating in those gains. What good does it do to avoid the inevitable correction if you also miss the gains that led up to that unknown and unknowable inflection point at the end of a long bull market?
As Louis Navellier described in his opening this week, the March-April period is the best "1-2 punch" among the months of the calendar year over the last 20 years and 50 years, according to data from Bespoke Investment Group. The same report ("March Seasonality," February 27, 2017) added this supporting data:
Over the last 50 years, the Dow has gained 1.28% in March on average with gains 70% of the time. That 70% reading is the highest of any month over the 50-year time frame. Over the last 20 years, the Dow has averaged +1.63% in March with positive returns 70% of the time.

While March is typically a strong month, April has historically been the very best month of the year for stocks. And when you combine March and April, it's been the best two-month calendar period for the Dow over both the last 50 and 20 years.
In boxing terms, that makes March a "left jab," which serves to set up April as a strong "right hook."
What's Supporting the Market at These Lofty Levels?
This bull market has been spectacular, but we shouldn't forget that the previous nine years (March 2000 to March 2009) were historically catastrophic. Put the two together and we're up modestly since 2000.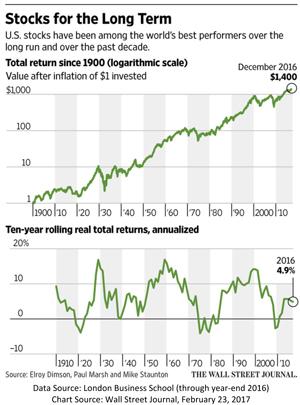 Graphs are for illustrative and discussion purposes only. Please read important disclosures at the end of this commentary.
The bottom chart shows that we're right in the middle (5%) of historical 10-year rolling real returns. The market was indeed overvalued in 1929, 1959, and 1999, but not now. We hear that this bull market is too old, but markets never die of old age. They die from declining economic and market fundamentals. We also keep hearing that this market is "overbought," but a great amount of cash still sits on the sidelines. Last fall, Bloomberg reported (in "Cash Cushion: A $50T Safety Net Awaits Buying Opportunity," October 21, 2016) that investors worldwide were holding $50 trillion in cash on the sidelines. To me, that means that this market could stay "overbought" as long it can lure new investment capital into the fold.
Here's an example of the super-cautious mentality on Wall Street these days. In a note on February 21st, David Kostin, chief U.S. equity strategist at Goldman Sachs Group, predicted that "the S&P 500 Index will give back recent gains as investors embrace the reality that tax reform is likely to provide a smaller, later tailwind to corporate earnings than originally expected." In ominous tones, he added, "Financial market reconciliation lies ahead." Kostin is also skeptical of soaring confidence levels after Trump's win. (Source: Bloomberg.com "Goldman Sachs Warns U.S. Stocks Are Now Reaching Peak Optimism." February 21, 2017)
Earnings aren't yet soaring, but it's encouraging to see fourth-quarter 2016 earnings coming in at their best rate in two years. According to Ed Yardeni ("Timing Isn't Everything," February 27, 2017), "S&P earnings are up 16.3% over the past three quarters to a new high." Most of the earnings recession of 2015 was due to lower oil prices, but now oil prices are in a Goldilocks range - not too low to wipe out profits, nor too high to depress consumer demand. As earnings from the energy patch start to erase some of their massive earlier losses, they could have a multiplier effect on earnings in some of the other sectors. If we see the proposed corporate tax cuts take effect this year, Yardeni predicts S&P earnings could rise 20% in 2017.
No less an authority than Warren Buffett told CNBC last Monday that stocks are "on the cheap side." He probably didn't vote for Trump (he is a longtime Democrat who supported Hillary Clinton), but he was smart and non-political enough to put $20 billion into the stock market since Election Day. In fact, he told CNBC that mixing politics and investing strategies is a "big mistake." He added, "Probably half [of] my adult life, I've had a president other than the one I voted for, but that's never taken me out of stocks."
Owning well-selected stocks is always risky, but avoiding the stock market entirely is even riskier.
Disclosure: *Navellier may hold securities in one or more investment strategies offered to its clients.
Disclaimer: Please click here for important disclosures located in the "About" section of the Navellier & Associates profile that accompany this article.