With stagnating sales and fierce competition from microbreweries and craft beers, one might say that beer stocks have a hangover. The top five beer stocks (by MktCap) trading on U.S. exchanges are Anheuser-Busch InBev SA/NV (NYSE:BUD), Ambev - Companhia de Bebidas das Americas (NYSE:ABEV), Heineken N.V. ADR (OTCQX:HEINY), Molson Coors Brewing Company (NYSE:TAP), and Kirin Holdings Co., Ltd. ADR (OTCPK:KNBWY). Of the five, only KNBWY had a respectable 52-week stock price appreciation.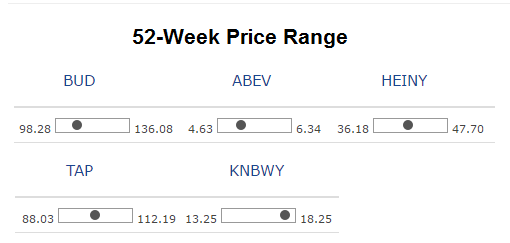 (Source: Portfolio123)
Over the last five years, there has been a wide range in performance, with TAP leading the pack with a 2.5x gain in price, while ABEV did not see any price appreciation.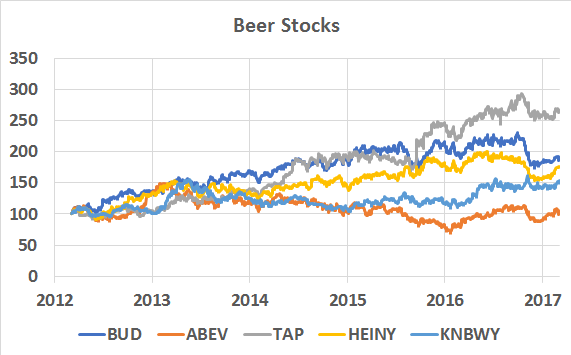 (Data Source: Quote Media, Charting Tool: MS Excel)
Which of these stocks, if any, would make the best investment? For an answer to this question, let's have a look at the company fundamentals.
Stock Fundamentals
This section provides a breakdown of the 5 largest airlines for investors who prefer stocks over ETFs.
NOTES:
(1) HEINY and KNBWY are OTCs that don't have sufficient number of analysts following them so they may be unfairly penalized for factors based on estimates in this analysis.
(2) I did not provide industry-wide statistics as most beer companies are foreign, and I have limited statistics and estimates for foreign companies.
Valuation
TAP has the lowest projected P/E Ratio and P/B Ratio. BUD has the lowest PEG, not surprising considering it is the largest company of the bunch. KNBWY has the lowest P/S Ratio.

(Source: Portfolio123)
Growth
TAP comes out on top for sales growth at 36.9%, but projected sales growth is a tepid 1.6%. BUD has a projected sales growth of 3.4% per year.

(Source: Portfolio123)
Quality
ABEV scores highest on quality factors with the highest Return on Assets of 15.9% and Return on Equity of 29.7%. BUD has the highest ROE 5-Year average at 20.4%. The last quality factor is Interest Coverage and KNBWY scores highest with a figure of 10.7%.

(Source: Portfolio123)
EPS Estimates Trend
The earnings estimate trend is sobering, with only ABEV not spilling suds. BUD and TAP are experiencing lower estimates compared to 4-weeks previous.

(Source: Portfolio123)
Growth Rates
The last factor for this analysis is the long term growth rate estimate. TAP takes top spot here with 9.5% annual long term growth along a substantial improvement from four weeks prior.

(Source: Portfolio123)
The table below provides the score for each of the five stocks based on the factors listed above. TAP appears to be the best selection based on fundamentals.
| | | | | | |
| --- | --- | --- | --- | --- | --- |
| Stock | BUD | ABEV | HEINY | TAP | KNBWY |
| Score | 3 | 4 | 0 | 5 | 3 |
Technicals
TAP is trading within a longer-term ascending channel and is also sitting just above a significant support level. These are bullish technical but traders need to be wary of a breach of the lower trend line or the support level. Either of these occurrences could trigger a rapid fall, spilling beer on the floor all the way down to a price level of the low-80's or even the mid-70's.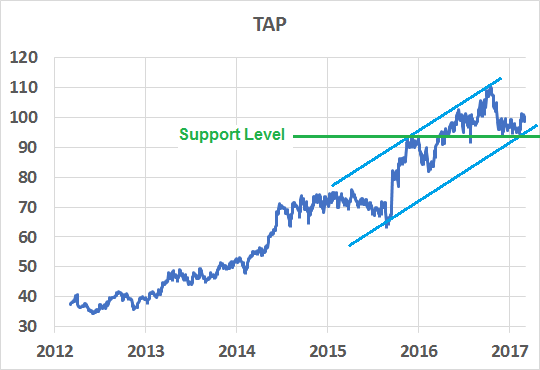 Is TAP a BUY?
Looking at the seasonal pattern for TAP, the stock typically outperforms the S&P 500 for the month of Mar. After March, it is still bullish but doesn't start to outperform again until mid-July.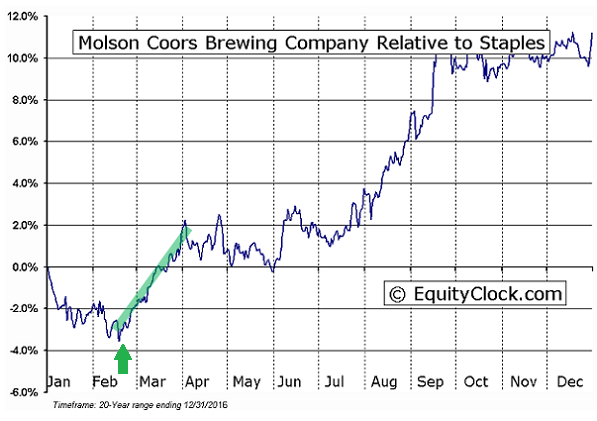 (Source: EquityClock.com)
TAP is a risky trade due to the large long-term debt load, but they should be able to pay it down from profits over the next 5 years. For traders who don't mind the extra risk in a rising interest rate environment, I suggest going long now (recent price of $98.94) with a price target of $120 and a stop loss at $90.
Wrap-up
Beer stocks are having a tough go given fierce competition from microbreweries and craft beers. Of the five top beer stocks, only KNBWY is trading near its 52-week high. An analysis of fundamental factors indicates that TAP appears to be the best company for investment. The long-term growth rate for TAP is 9.53%, up from 7.55% four weeks ago. TAP is currently in a bullish seasonal pattern and has good technicals. TAP is suggested as a buying opportunity but is risky due to its high debt load leading into a rising interest rate environment.
Disclosure: I/we have no positions in any stocks mentioned, and no plans to initiate any positions within the next 72 hours.
I wrote this article myself, and it expresses my own opinions. I am not receiving compensation for it (other than from Seeking Alpha). I have no business relationship with any company whose stock is mentioned in this article.
Editor's Note: This article discusses one or more securities that do not trade on a major U.S. exchange. Please be aware of the risks associated with these stocks.