Well no respite from the precious metals complex yesterday as gold (NYSEARCA:GLD), silver (NYSEARCA:SLV) and gold miners (NYSEARCA:GDX) all fell off the wagon once again. Both the mining index and the junior mining index (NYSEARCA:GDXJ) both practically hit their 61% Fibonacci retracements yesterday (see below) which basically means that this present decline (which is almost a month old now) has been a very steep one at that and a strange one also for a variety of reasons. Firstly the sheer length of the decline is a red flag straight away. Why? Because if gold miners were dropping into a normal daily cycle low, they would have rebounded quickly once their short term sentiment and momentum indicators got oversold. Short term sentiment in the miners first became bearish on the 27th of February last when hit $22.84 but we have kept falling. The momentum indicators also have stayed oversold which is not indicative of regular daily cycle lows.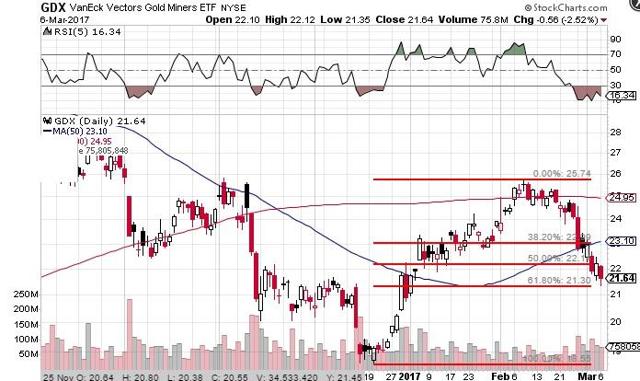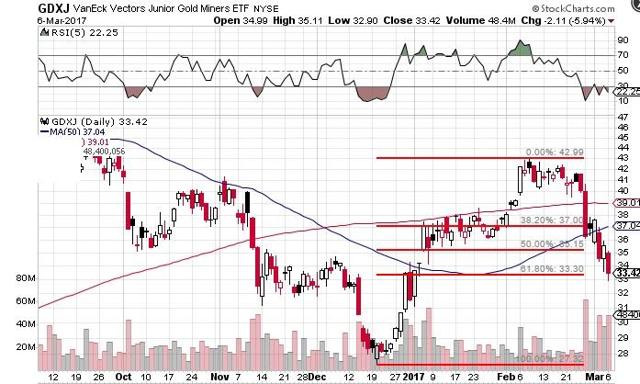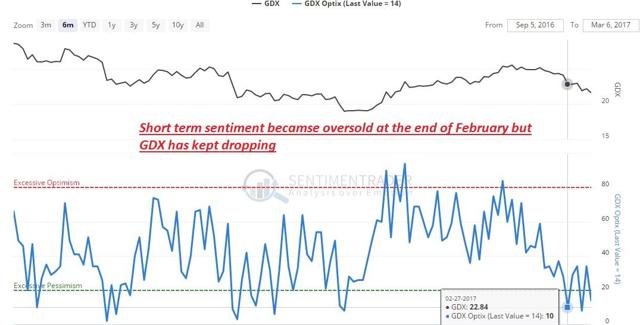 Source : sentimentrader.com
Therefore we have to be open to the possibility of gold dropping down into an intermediate cycle low. Intermediate cycles in this complex can last at least 20+ weeks and currently we have just started week 12 this week. If indeed gold is making its way down into an intermediate low, then miners look like they are going much lower than present levels which could probably mean they would break through their December lows. The confusing aspect about this present intermediate cycle is that we have not had any real recognizable daily cycle lows where both sentiment and momentum indicators got oversold. This was the first problem as we couldn't get a proper cycle count. Secondly because of the huge rally precious metals underwent last year (start of 2016), I believe investors were overly bullish coming out of the present yearly cycle low which we printed last December. So sustained momentum and an unclear cycle count has led to long term sentiment in gold still being too elevated at present (53) especially when one considers the decline we have had in the miners.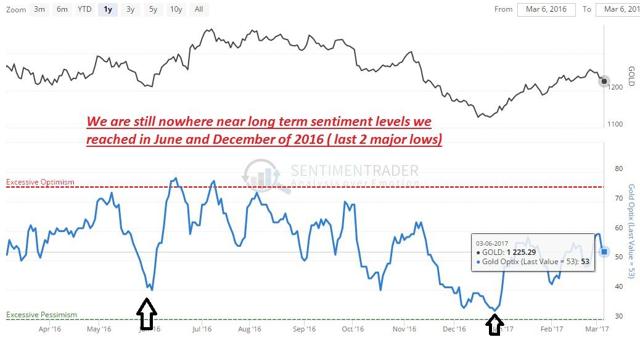 Source : Sentimentrader.com
I mentioned in a previous article that one should buy into weakness and sell into strength. However, I would advise investors who want to trade this complex to sell on the next up-move (when short term sentiment or momentum indicators get frothy) as I still maintain we should get a bounce out of these oversold conditions in the near term. However long term sentiment (shown above) illustrates to me that more selling has to take place to form a final intermediate bottom. This means that miners could most probably dip below their 2017 lows so investors in this space should be prepared. Why? Because even though the mining complex has had a horrible time over the past month, its divergence from gold has meant that long term sentiment in gold is actually up on where it was a month ago. Furthermore sustained weakness in the stock market (NYSE:SPX) (as we saw yesterday) will not help matters for mining stocks either.
So unless the pending rally out of oversold conditions makes new highs, it is most probable that we are stuck in an intermediate decline. The final bottom of this decline which should take place over the next 3 to 6 weeks in my opinion. Why? Because we topped on week 8 in the miners and week 11 in gold. If the bullish trend is going to continue in metals (which I believe it will), then the intermediate top will have to have taken place more than halfway through this present cycle. Therefore this cycle in my opinion will run 18 weeks max. We have just started week 12. To spot the bottom, one should be looking at long term sentiment levels which need to get back to former intermediate cycle low levels and volume in the leveraged ETFs. It is always easy to work out cycles looking back. It is very difficult going forward so this is my best estimation as to what is in the works over the next while in this complex.
As always - best of luck to all currently trading in this sector. Just remember the big picture. Gold (not miners) would have to take out its December lows for me to even consider that the bull market is in jeopardy. I don't think it will happen. Use leverage with intelligence as always
Disclosure: I am/we are long JNUG.
I wrote this article myself, and it expresses my own opinions. I am not receiving compensation for it (other than from Seeking Alpha). I have no business relationship with any company whose stock is mentioned in this article.