The last FOMC press conference was accompanied by the Fed moving from two to three hikes expected for 2017. We think that target may move up by one or two next Wednesday given the mass of Fed officials recently out publicly. That could cause market volatility.
Fed Went From 2 To 3 Hikes Last Press Conference
The Fed does not update their projections every meeting. They do so when they have a press conference. February's decision did not have a press conference scheduled. Next week's meeting does.
Next Wednesday's FOMC meeting could see the Fed further increase their amount of rate hikes expected for 2017.
You can see (click here and search "federal funds rate") that December's meeting saw the Fed go from a 1.1% fed funds to 1.4% for 2017.
Even though they are likely hiking rates next Wednesday they could sneak this expectation up to 1.7% or 2%. That would signal three or four more additional rate hikes on top of the March hike this year.
In the last FOMC Press Conference Fed Chair Yellen described the change as follows:
"Some of the participants but not all of the participants did incorporate some assumption of a change in fiscal policy into their projections and that may have been a factor that was one of several that occasioned these shifts."
"Some," not all of the participants increased their rate targets in December.
Based on the cacophony of Fed speakers talking up a hike of late we'd expect that "some" to change to "all."
That can nudge the expected rate to 1.7% or 2% for 2017.
That Would Surprise Markets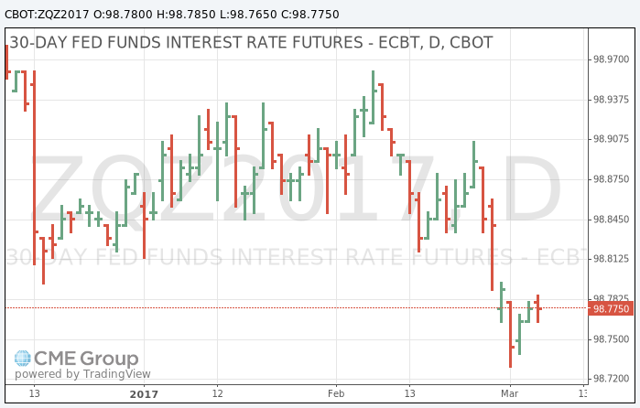 Source: CME
Above is December 2017's fed funds futures.
100 - 98.775 = 1.225% expected fed funds by December 2017.
The market is currently still underpricing the Fed's 1.4% expectation by December 2017.
If the Fed were to change their expectation to 1.7% or 2% the market would be even further behind the Fed curve.
Markets would have to adjust further wondering what's spooking the Fed.
While GDP hasn't picked up jobs have continued to strengthen along with the last reading of inflation.
A sudden move from the Fed changing their expectation from 3 to 5 hikes for 2017 could spook markets wondering what they are missing. The market could scurry to look for reasons for the sudden change which can cause volatility.
Conclusion
Based on the many Fed officials now coming out in unison we'd guess the number of rate hikes they expect for 2017 could move up next Wednesday. Currently the market is underpricing such a move. Catching up could cause volatility.
Disclaimer:
ETFs reported by Elazar Advisors, LLC are guided by our daily, weekly and monthly methodologies. We have a daily overlay which changes more frequently which is reported to our premium members and could differ from the above report.
Portions of this article may have been issued in advance to subscribers or clients. All investments have many risks and can lose principal in the short and long term. This article is for information purposes only. By reading this you agree, understand and accept that you take upon yourself all responsibility for all of your investment decisions and to do your own work and hold Elazar Advisors, LLC and their related parties harmless. Any trading strategy can lose money and any investor should understand the risks.
Disclosure: I/we have no positions in any stocks mentioned, and no plans to initiate any positions within the next 72 hours.
I wrote this article myself, and it expresses my own opinions. I am not receiving compensation for it (other than from Seeking Alpha). I have no business relationship with any company whose stock is mentioned in this article.