CNBC: 10:15 EST
After an initial sell-off to start the overnight session, ES futures (NYSEARCA:SPY) have shifted into a range-bound environment as market participants await the Consumer Credit numbers from January. The VIX is up very slightly from yesterday's close. Futures market expectations for a March rate hike continue to climb, with the market now pricing in over an 86% likelihood. The Federal Open Market Committee meets next week, on March 14-15, with a press conference to follow.

Also in focus this morning is the long-awaited legislation to repeal-and-replace the Affordable Care Act, which was unveiled last evening.

CNBC: Monday Close
US equities (NYSEARCA:DIA) had a modest down day to kick off the week; the three major US indexes closed with losses under 0.50%. Energy (NYSEARCA:XLE) was the only S&P sector to finish the day positively, gaining 0.22% in the process, despite crude oil futures for April delivery closing the US session slightly lower. Financials (NYSEARCA:XLF) and the materials sector (NYSEARCA:XLB) were the heaviest drags yesterday, giving up 0.76% and 0.65% respectively.
Article Shout-Out
Today we highlight an article titled " Happy 8th Birthday, Bull Market", written by Louis Navellier, and publish earlier this morning on Seeking Alpha. The author's main focus is, you guessed it, the state of the current bull market, which turned eight-years-old yesterday. Mr. Navellier spends some time reminiscing about how this bull market began, with the S&P touching lows at 666.79. From the Book of Revelations, 666 was the "Number of the Beast," giving the market at the time a certain mystical quality to it.
The author then moves on to discuss the political atmosphere during the beginning of the bull market, which seemingly ignored the financial risks for the country associated with an Obama presidential victory, and Democratic sweep in Congress. Similarly, the market was labeled unlikely to rise during the volatile 2016 election cycle. The market ignored the risk then as well, jumping well over 30% from its lows last February, to its peak at 2400 on March 1.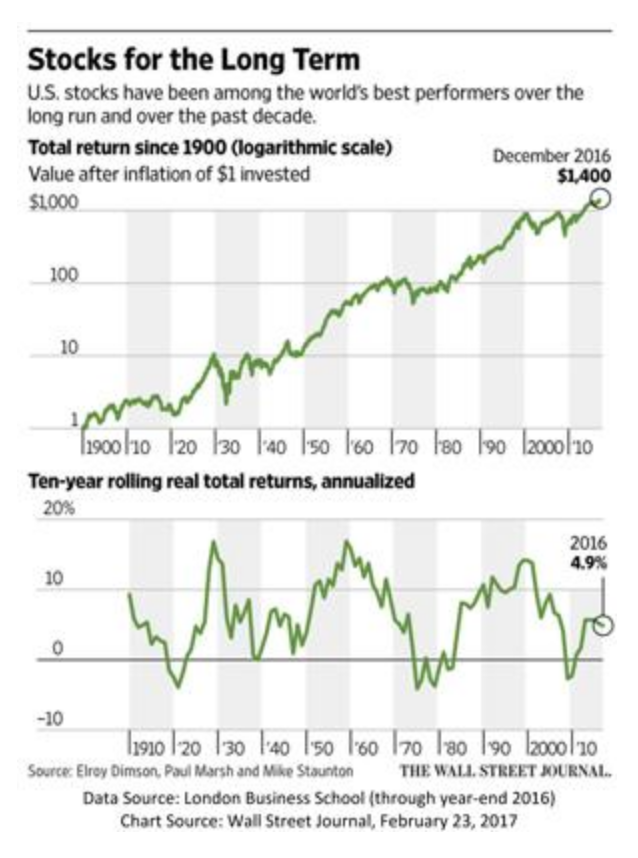 Mr. Navellier displays the chart above, which shows the sustained run-higher over the last eight-years, combined with the historically catastrophic period between the years 2000 and 2009. The author remarks, "put the two together and we're up modestly since 2000."
Finally, Mr. Navellier discusses what he views as the overly cautious mentality currently prevalent on Wall Street, quoting David Kostin, the chief US equity strategist at Goldman Sachs. Kostin predicted that " the S&P 500 Index will give back recent gains as investors embrace the reality that tax reform is likely to provide a smaller, later tailwind to corporate earnings than originally expected."
We feature this article for our readers today, not because we are equally as bullish on the market as Mr. Navellier, but simply because we wish to remind our readers that although quite extended, the current bull market has ignored or pushed past risks before, and it is not unlikely to continue to do so for some time to come.
Thoughts on Volatility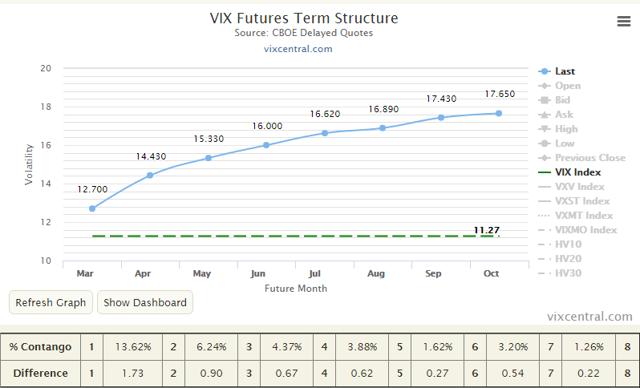 Though the spot VIX is unchanged from the time of publishing yesterday, observe that the contango the curve exhibits has changed slightly. On the front-end of the curve, we are witnessing some flattening, with April expiry VIX futures falling slightly. We find this particularly interesting given the French election, which we have written about previously, and the inherent political risks contained within.
As a reminder, we believe taking a position that is long the May VX contract, short the July contract in our view is a pretty solid way to get long volatility. This is a worthwhile alternative to consider over, say, buying a long-volatility ETP such as VXX or UVXY.
At the very least, understanding the drivers of what moves your position is perhaps more evident. The ETPs of late seem to be moving almost haphazardly, or at least not in keeping with their historical context. This argues against using such instruments as trading tools, unless you truly comprehend what it is that moves them.

ES implied volatility a move higher on the front end, with no movement in the middle or back of the curve.
These are pretty low vols any way you slice it; but the fact that the one-week is catching a bid likely speaks to jitters surrounding the Fed's meeting next week.
We think that vol is getting to look more and more like a buy. Somewhere between the one-month and one-quarter region looks pretty good. Perhaps not a straddle, but a strangle, DD, iron butterfly/condor, something that gets long some vol in that region appears to have decent prospects.
Tracking the Trade*(please read disclosures):
In last Tuesday's bulletin we began a new trade idea.
In this idea, we will delve to see where VIX contango is "hiding" in ES options via the trading of double diagonals.
Trade Specs:
Trade Horizon - Mar 10
Trade Instrument - ES
Trade Spread: Double Diagonal
Strategy: Thesis (Set out on Feb 28)
We're more interested in demonstrating where the VIX' contango is hiding than in some actual strategy for this particular trade. We even thought about flipping a coin to determine which side of the trade we'll take.
We ultimately decided to take the perspective of someone who is long a product like VXX, waiting for a big move.
Our contention is that VIX contango shows itself by how near-dated out-of-the-money (OTM) options decay relative to farther-dated options. We believe that the shorter-dated contracts will get killed, while the more distant (both in time and in terms of moneyness) will retain a good deal of their time value.
We'll explore the tactics of scaling and rolling in this trade: something that could be helpful for someone who is long ETPs such as VXX.
To conceptualize this contango, we will utilize the double-diagonal trading structure. As you can imagine, traders waste no time in coming up with clever names for this position, such as "double-D's". We will refer to them as "DDs".
A DD amounts to an iron condor with different expirations for the near vs. far strangle. More simply:
Long an OTM put and an OTM call with nearer strikes and expiration
Short an OTM put and an OTM call with more distant strikes and expiration
At initiation, the June Futures (all the options we'll be dealing with are tied to June futures, not March) was trading at 2361. After last Wednesday's monster move where they reached a high of 2397, June now trades down at 2371.
Tactics
Given that we want to demonstrate scaling and adjustment over the next couple weeks, we began with a standard DD and go from there.
Last Tuesday we initiated with the following specific DD:
Long the Mar24 2310 2410 strangle
Short the Apr21 2260 2460 strangle
Here was the visual off the payoff diagram for one DD as of initiation:

The solid line shows P&L for varying levels of this trade as of Tuesday (we'll update this periodically); the dotted line shows how this trade plays out through at the Mar 24 expiry (assuming static levels of implied volatility). Recall that our trade horizon is Mar10; regardless of how things play out, we will be done with this trade a couple weeks before expiration.
For contrast, this is where the trade sits now:

"Where does the spread trade now?"
We opened for a $1.95 credit. We took the "trade mod" of actually fully closing in Thursday's piece for a $.55 credit; we had some extra color on this in Thursday's "Tactics" segment.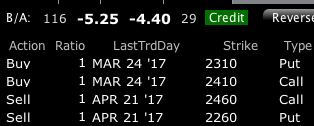 The spread now trades at a $4.80 credit mid. Last Thursday we simply got out of the trade altogether, and that was the cleanest move. We booked a $1.40 profit, and can now re-enter at a much better price (if we wanted to).
"So what are you going to do now?"
We'll tell you, but first:
We warned on Wednesday that theta was the most significant reason that time would act as the enemy of this trade; last Thursday we demonstrated that the VIX's contango is actually sourced from S&P options, and that this would act as a drag on our position as well.
Without rehashing all the details, we'll give you the Implied Vol chain for ES options for different expiries (taken from last Thursday's post):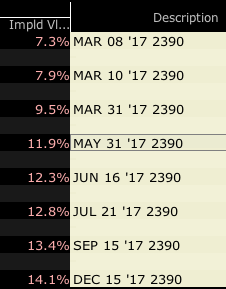 Now for considering a path back in.

We'd first consider the current nature of the spread. If we were to continue to trade this DD as-is (some strikes, same expiries), it would be from the other side, gradually scaling from short to long.
And that is what we did.
Yesterday we sold two of these DDs
Today we're going to do some version of buying one back
Some other version of buying one back tomorrow…
You get the idea.
"Why do you want to play it that way?"
The SPX still appears to reside in a state where it cannot really fathom down-moves; that may change quite suddenly. But taking a position that collects theta, that has a moderately negative delta, and that is long vega, appears pretty reasonable to us given the way that the facts are aligning themselves.
"How do you use the Scenario chart above to determine your exposures?"
It's fairly simple. The chart above corresponds to having sold one single DD with the strikes and expiries that we specified last week.
To reverse the position, and double it, simply take every cell in the Scenario chart, reverse its sign, and double its magnitude.
For example, to see what the spread would more or less do if the S&P drops by 1% today (hasn't happened in forever, but hey): look down Column 3, flip the signs, and double the magnitude.

P&L would rise (instead of fall) by $164
Delta would be +10 Vega would sit at +2.24
Theta would collect at a rate of $36/day
"So today you're going to buy one DD back?"
Sorta.
We don't have to buy back exactly the same DD. We can buy something that is likely better than the Mar24 2310 2410 strangle.
We'd just assume leave those options alone for the remaining three days. But we can beef up our exposures with something not entirely dissimilar: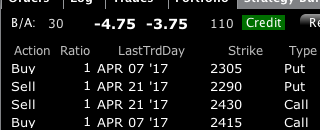 Buy Apr7 2305 2415 strangle
Sell Apr 21 2290 2430 strangle
Now, this is a different DD that we're buying, and in our opinion a better one that the two we shorted yesterday. The strikes are closer, and for the next three days we think this will be more responsive than what the particular DD we initiated with last Tuesday.
To be clear, there is no sense in which any one spread is categorically "better" than another. If there is a giant rip in either direction, the DD we're now short would be better than the one we're now considering purchasing. However, absent that, this spread has a nice balance of risks for now, and so we'll go with this.
Mechanics
We'll sim this trade with a limit order whose mid currently rests at $4.25.
For ES spreads that trade under $5, the increments are in nickels. So we could put in an order to sell this for instance at $4.30, or $4.25, or $4.20, etc.
We actually want to get this one, so we'll be a touch more aggressive than we usually would be:
We'll limit in at $4.20 on this spread.
Closing Thoughts
Regardless of whether you are a "trader" or an "investor" (whatever those words mean!), consider how breaking your ideas down into strategy, tactics, and mechanics could help you incrementally improve in whatever it is you do (or don't do) in the markets.
Have any questions or suggestions? Let us know! We really enjoy reader comments, and post strong comments from our readers with regularity. We appreciate that.
Please consider following us.
Disclosure: I am/we are short SPY.
I wrote this article myself, and it expresses my own opinions. I am not receiving compensation for it (other than from Seeking Alpha). I have no business relationship with any company whose stock is mentioned in this article.
Additional disclosure: We actively trade the futures markets, potentially taking multiple positions on any given day, both long and short. It is our belief that the S&P 500 is meaningfully overvalued. As such, we typically carry a net short position using ES options and futures.