About six weeks ago I wrote an article about the Global X Uranium ETF (NYSEARCA:URA) in which I indicated that the price of URA would decline due to an oversupply of uranium. Needless to say, the naysayers came out in full force. They had their 15 minutes of fame when the price of URA spiked for a period of time, but it is now down 8% from when my previous article was published.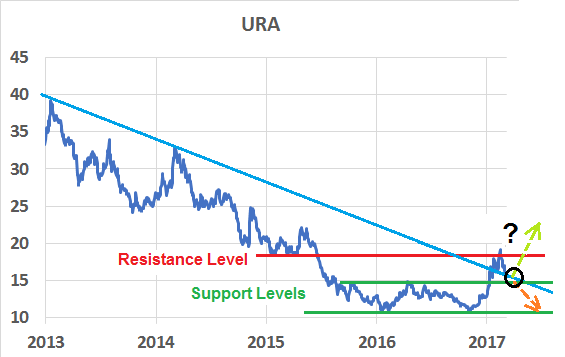 (Data Source: Quote Media, Charting Tool: MS Excel)
With the recent retracement to the current price of $15.48, URA is now at a decision point. Either the price bounces off the support level of $15 and heads north, or it breaches the support level and heads south to the second support level at $11.
If the price rises from here then the time series will have formed a cup and handle pattern, a very bullish technical pattern I might add. Normally I would be quite excited about the cup and handle pattern, but unfortunately there are too many potentially catastrophic issues with URA to consider buying the ETF, at least without hedging the position.
Why URA will Keep Sliding
I said this in my last article and I have no problem repeating it here: "there is an oversupply of uranium". There has been an oversupply for the last five years and nothing has changed.
Falling Price of Uranium
On a long-term basis, the price of uranium is in free-fall as can be seen from the rolling contract futures price chart below.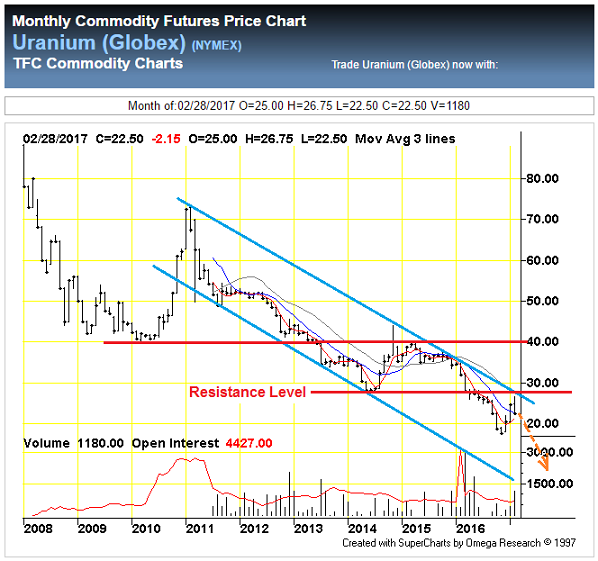 Uranium rolling contract futures price chart (Source: futures.tradingcharts.com)
Don't be swayed by the arguments of future nuclear reactors in China, India, etc. Instead focus on the here and now. The uranium futures chart is telling you the truth, not the so-called experts marketing their investment newsletters. When the price of uranium turns decidedly positive, then and only then is it time to start investing in uranium companies.
The Large Number of Penny Stocks
The structure of URA is horrendous. 15 of the 22 stock holdings are penny stocks in the true sense i.e. a stock price less than $1. I expect that the majority of these companies will fail in the next couple of years, or suffer large cash infusions that will dilute shareholder equity.
| | | |
| --- | --- | --- |
| NET ASSETS % | NAME | MARKET PRICE ($) |
| 19.44 | Cameco Corporation (NYSE:CCJ) | 10.83 |
| 13.09 | Nexgen Energy Ltd. (NXGEF) | 2.66 |
| 6.41 | Uranium Participation Corp. (OTCPK:URPTF) | 3.15 |
| 5.6 | CGN MINING CO LTD | 0.11 |
| 5.33 | Denison Mines Corp (NYSEMKT:DNN) | 0.65 |
| 5.26 | Uranium Energy Corp (NYSEMKT:UEC) | 1.32 |
| 3.99 | CGN POWER CO LTD-H | 0.31 |
| 3.77 | Ur-Energy Inc. (NYSEMKT:URG) | 0.72 |
| 3.71 | Greenland Minerals and Energy Ltd. (OTCPK:GDLNF) | 0.12 |
| 3.66 | Fission Uranium Corp. (OTCQX:FCUUF) | 0.56 |
| 3.61 | AREVA | 4.91 |
| 3.38 | Berkeley Energy Ltd. (OTCPK:BKLRF) | 0.66 |
| 3.265 | Energy Fuels Inc (NYSEMKT:UUUU) | 1.99 |
| 2.974 | Energy Resources of Australia Ltd. (OTCPK:EGRAF) | 0.49 |
| 2.875 | CNNC INTERNATIONAL LTD OR (OTC:CNNCF) | 0.47 |
| 2.769 | PENINSULA ENERGY LTD NEW (OTC:PENMF) | 0.48 |
| 2.195 | UEX Corp (OTCPK:UEXCF) | 0.26 |
| 2.102 | Paladin Energy Ltd. ADR (OTC:PALAY) | 0.08 |
| 1.996 | Silex Systems Ltd. ADR (OTCQX:SILXY) | 0.48 |
| 1.834 | Mega Uranium Ltd. (OTCPK) | 0.18 |
| 1.355 | Laramide Resources Ltd. (OTCPK:LMRXF) | 0.44 |
| 1.209 | Centrus Energy Corp. (NYSEMKT:LEU) | 5.72 |
(Source: globalxfunds.com)
The Disaster Called CCJ
CCJ makes up almost 20% of the net assets of URA. That is a huge weighting for a company that is turning into a complete disaster. Why is it a disaster, you ask? Well… where do I begin.
How about the fact that CCJ doesn't seem to be capable of meeting analysts' estimates?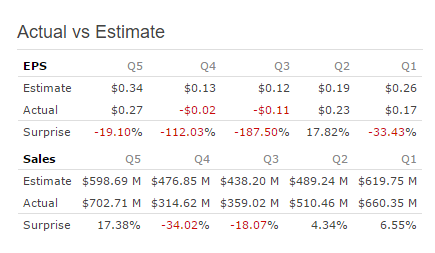 (Source: Portfolio123)
Then there is the cancellation of the $1.3 billion uranium supply contract with Tokyo Electric Power Company Holdings Inc. (TEPCO). It turns out that the regulatory burden in Japan is making nuclear reactors impractical.
Finally, and potentially the most serious issue facing CCJ is the legal challenge by the Canadian government regarding what is perceived to be a tax dodge in the order of $2.2 billion.
Cameco set up the subsidiary in 1999 and established a 17-year deal selling uranium at approximately US$10 a pound, which is what it was roughly trading at around the time. The price, however, shot up to over US$130 a pound by 2007 and still trades at over US$30 a pound today, while the Swiss subsidiary still pays the fixed price. No unrelated company would have made that kind of a deal. It was a convenient thing and it was primarily done to avoid taxes.
The stock price for CCJ looks ominous. CCJ is currently in a consolidation pattern and could break either way. Chances are that the price will fall through the $10.25 support level, given all the bad news surrounding this company.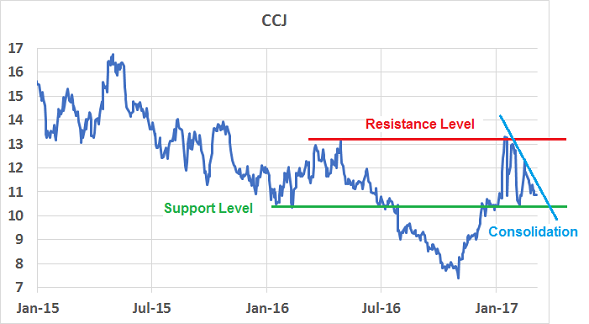 (Data Source: Quote Media, Charting Tool: MS Excel)
Wrap-up
URA is down 8% in the six weeks since my last article on URA The share price is at a critical junction and will break one way or the other. If the price rises from here then a cup and handle pattern is in play and the share price could run much higher. If the price drops below $15 then it will continue falling to $11 where it will reach the next support level.
There are serious issues with URA, including many penny stocks that could disappear in the next couple of years, and a very high weighting in CCJ. I suggest shorting URA at this point with a target price of $11. If the price rises to $19 then close the position for a loss. An alternative would be to go long at $19 but this is high risk unless the price of uranium is moving much higher than its current level.
A trader could also consider going long now on speculation that the cup and handle pattern will play out if he/she believes that the price of uranium is going higher. But if you do so, then it would be wise to buy puts to hedge the downside.
Disclosure: I/we have no positions in any stocks mentioned, and no plans to initiate any positions within the next 72 hours.
I wrote this article myself, and it expresses my own opinions. I am not receiving compensation for it (other than from Seeking Alpha). I have no business relationship with any company whose stock is mentioned in this article.
Editor's Note: This article covers one or more stocks trading at less than $1 per share and/or with less than a $100 million market cap. Please be aware of the risks associated with these stocks.