Having provided an overview of the shopping center REIT space here, I thought I would begin by taking a look at the shopping center REIT that has suffered the most in recent months.
Cedar Realty Trust, Inc. (CDR) is a shopping-center-focused REIT. Their core portfolio consists primarily of grocery-anchored shopping centers straddling the Washington, D.C., to Boston corridor and totals 10 million square feet of GLA.
It has been three years since this REIT has shown up on SA, let's get an update.
Property Location:
The following is a map of the REIT's locations: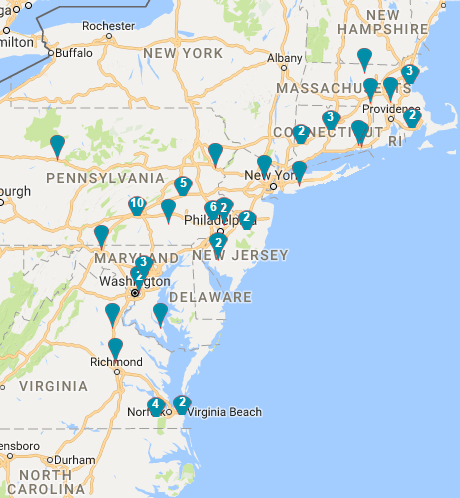 It has to be stated at the outset that Cedar is in the midst of a transformation. As they explained it on their most recent earnings call:
We're focused on gross re-anchored shopping centers between Washington DC and Boston. And as it relates to portfolio transformation, we continue to migrate our capital from low density markets to high density markets. And we continue to pursue redevelopments of the assets that we own or that we acquire in these high density markets.
Over the last six/seven years, Cedar has gone from 140 assets to 60 assets while disposing of non-core properties, malls and single tenant properties in order to focus on grocery-anchored shopping centers, so the transformation has been significant.
Tenants:
Next, a look at their top tenants to see if they are exposed to the "retail risk" of bricks to clicks, a border tax and/or "fashion/offering obsolescence":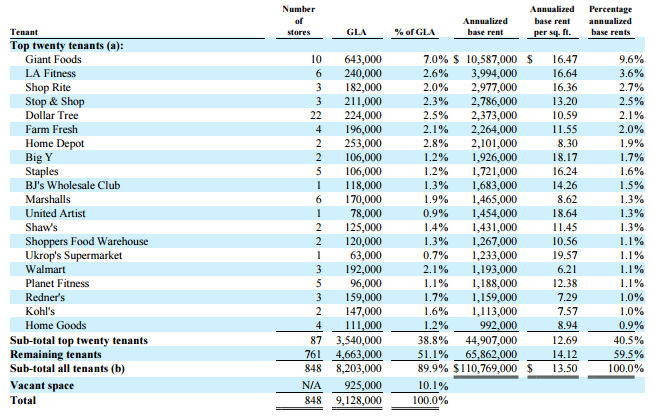 A large number of their largest tenants are grocery stores. While this sector has historically operated on razor-thin margins, they are not at risk of obsolescence or being replaced by clicks (despite Amazon muscling in on the sector).
That said, since November 2015, Cedar has been dealing with the vacancy of four anchors; Price Chopper at Webter Carman, Shop and Save at the Carman, Half Mart at Carman's Plaza and Redner's at Trexlertown Plaza. Additionally, in October 2016, the Acme at Carll's Corner closed. Losing four anchors in a smaller portfolio is painful, but the REIT has been digging its way out of this hole as anchor leases have been executed at Webster Carman's, Carman's Plaza and the Carman's for three of the five vacant boxes. There is also an executed LOI with a lease and negotiation for the Trexlertown Plaza property.
I am not a big fan of the staying power of fitness clubs (4.7% of ABR), but the sector has shown resilience and the spaces could be repurposed/refitted and the rents replaced in a worst case scenario.
One of the aspects of shopping centers that often make investors, including myself, wary is the mom and pop shops that can go dark quickly. The following is a breakdown of Cedar's large/small tenant roster:
While on a GLA basis, it appears that large tenants are over 2x small tenants, on a ABR basis, smaller tenants, due to their higher ABR/sqft, make up nearly half of Cedar's ABR.
Leases:
The REIT has been improving their cash rent spreads, but notice that the TI has kicked up pretty significantly to get it done:

The strength in their lease spreads has been coming from new leases rather than renewals (60% vs. 10%) which makes the figure more volatile but also shows that the development and improvement activity has been working.
The following chart shows how Cedar compares to peers in terms of base rent/sq foot: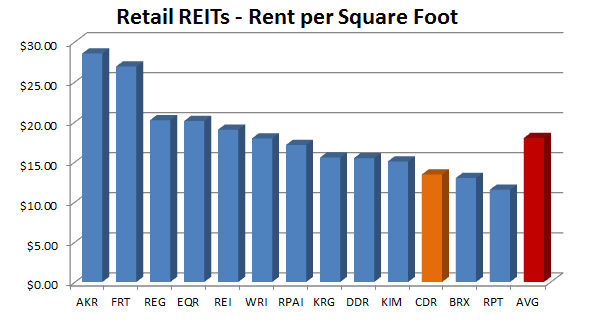 Cedar has been increasing this metric steadily: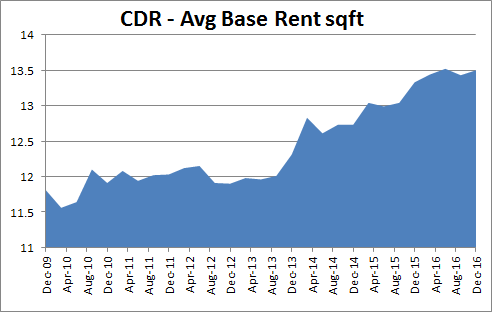 Debt:
Cedar ended the year with only six mortgages, totaling about $140 million and 80% of their property NOI is now unencumbered. The balance sheet, near-term, has almost no maturities and the first sizable maturity comes in 2019:

Dividend:
For many REIT investors, the dividend is where the rubber meets the road. Cedar has gotten no traction here for years. The transformation of Cedar has not come without pain to the REIT's shareholders. In 2012, in order to reduce leverage and increase financial flexibility, the REIT cut the dividend to $0.05/quarter or $0.20/yr. It has not changed since: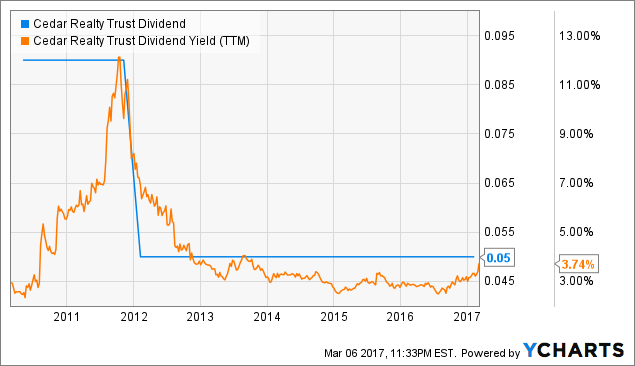 CDR Dividend data by YCharts
The problem here is that the transformation has been significant, but the shareholders have not been getting paid to wait for the ship to right itself.
And on a total-return-price basis, the performance is even worse: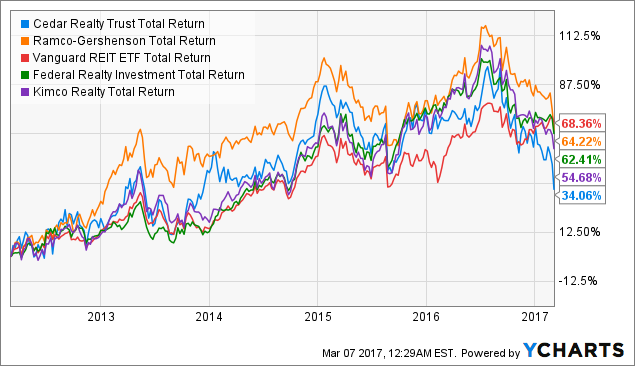 CDR Total Return Price data by YCharts
As you can see in the prior two charts, the last six months have been tougher on CDR than their peers. If this time period is stripped out, the following chart emerges: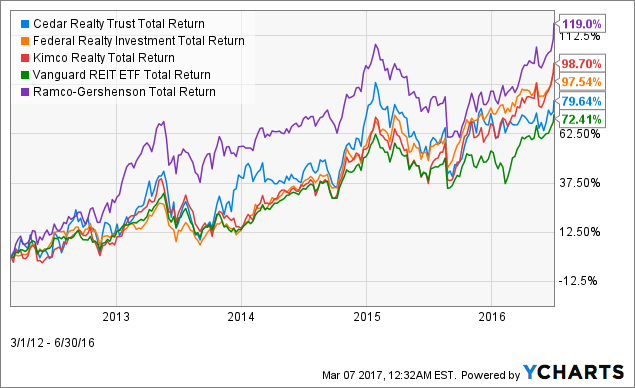 CDR Total Return Price data by YCharts
As the chart above shows, the shopping center space (as represented through the selected peer group) outperformed the broader REIT market, but Cedar lagged them by nearly twenty percentage points.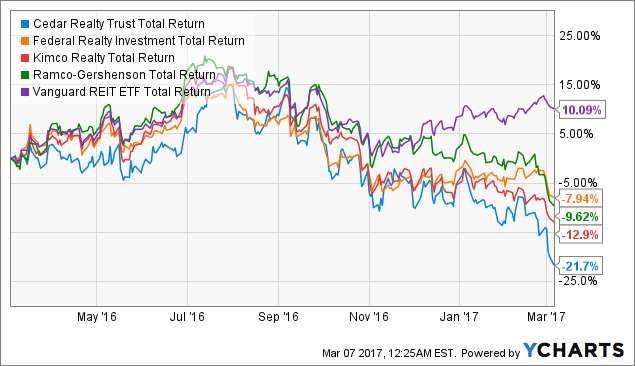 CDR Total Return Price data by YCharts
Further, the volatility in the stock has been nearly 2x peers and the broader REIT market.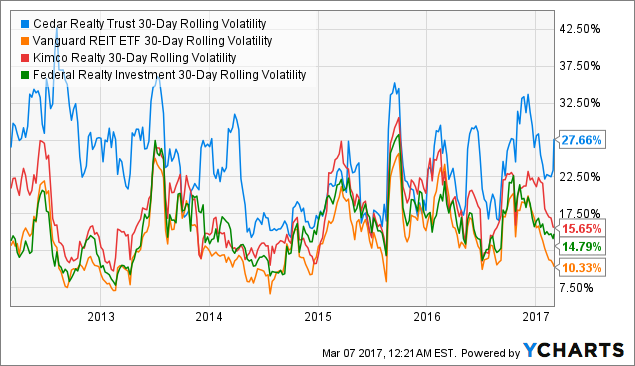 CDR 30-Day Rolling Volatility data by YCharts
From a valuation metric point of view, the REIT can now be had for a 2012 multiple: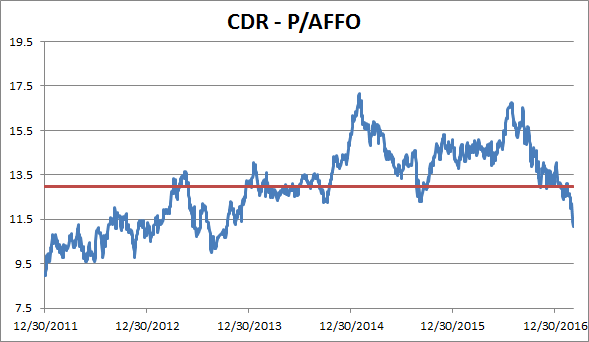 In the near term, there will be increased redevelopment occurring as well as re-tenanting and co-tenancy rent reductions occurring. These factors will drag on FFO in the near term. CDR has also said that redevelopment on a go-forward basis would be approximately $50 million. While these costs should eventually pay off in higher ABR (and ABR/sqft), they will continue to affect FFO growth and, therefore, their valuation.
Bottom Line: The bottom line with Cedar Realty Trust is that the company will not appeal to many REIT investors given their size (smaller - $453mm), low dividend yield, stagnant dividend and redevelopment needs. CDR could be interesting as a long-term capital appreciation candidate and occupy that space in a portfolio (given where it trades on a multiple basis versus historical norms), but there might be better candidates for that. So the answer to the title question is slow and steady might win the race, but there are other REITs where the probability of victory is higher.
Honestly, if I wanted exposure to the name, I would look at their Series A preferred which currently trades at $24.44 stripped price and a stripped yield of 7.41%.
Disclosure: I/we have no positions in any stocks mentioned, and no plans to initiate any positions within the next 72 hours.
I wrote this article myself, and it expresses my own opinions. I am not receiving compensation for it. I have no business relationship with any company whose stock is mentioned in this article.