Abercrombie & Fitch (NYSE:ANF) released results last week. The stock popped 14% on the news but now, 2 days later, it has lost almost all of those gains. During the quarter revenue declined at the highest rate (-6.9% yoy) while operating margin was significantly lower than last year's (6.1% vs. 10.9%).

(Source: Author calculations)
Looking at the income statement, the only positive is that gross margin has held up well. Considering all the talk of discounting in retail and lower prices one may think this was in free fall. If we look at the annual results, gross margin is only 30 basis points lower at 61.0% vs. 61.3% last year.
Prior to this quarter, the trailing twelve months free cash flow stood at $134m with operating cash flow at $265m. In the conference call transcript, I was disappointed to read that operating cash flow for the year was around $180m with CAPEX at $140m resulting in FCF of only $40m. Next year CAPEX is expected to drop to $100m. Therefore, if OCF remains steady then FCF will double to $80m. The company currently pays a dividend of 20 cents per quarter which translates into an annual cost of around $54m. Therefore it will be important for ANF to keep producing high double digit FCF if the dividend is to be maintained. The company could get away with a few years of weak cash flow but only in the short run. So my assessment is that investors don't need to worry too much about the dividend for the time being.
Same store sales (SSS) were a huge disappointment for the Abercrombie brand but a pleasant surprise for Hollister. Over the last six quarters the average SSS would rank Abercrombie alone as the second worstperformer while Hollister would rank third after American Eagle (NYSE:AEO) and Francescas (NASDAQ:FRAN).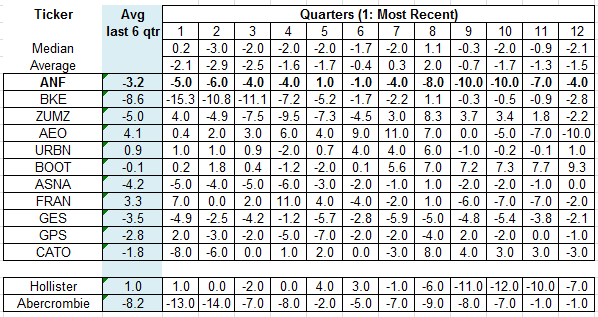 (Source: Bloomberg)
As of the beginning of February, Fran Horowitz took on the vacant position of CEO. Her previous two roles were President and Chief Merchandising Officer for the firm for 13 months and before that President of Hollister for 15 months. As Hollister has been successful, investors hope that the Hollister success can be repeated across the company now that she is CEO. Additional changes to the management team include: Joanne Crevoiserat who was named COO (she continues as CFO as well), a new Chief Marketing Officer and two brand presidents Stacia Anderson and Kristin Scott. Although these brand presidents took the positions last summer they too have made significant changes to their teams according to the conference call. Hopefully this new team will bring about the changes needed.
The company launched a new A&F store prototype. The first was launched in Columbus and it received some decent reviews. This is the first of seven new prototypes that the company will open this year.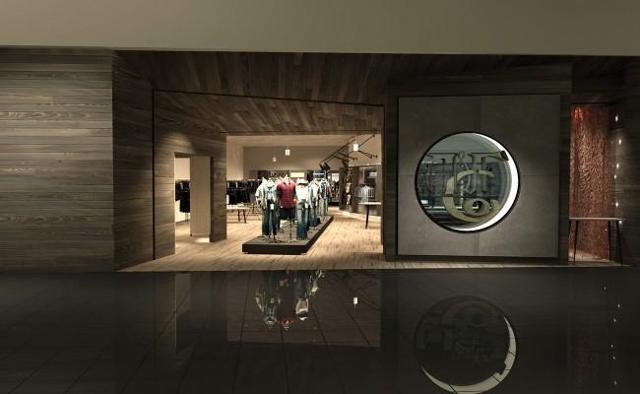 (Source: Company)
The Hollister Club Cali loyalty program now has 5 million members and a similar program will be launched for Abercrombie.
According to management, they took actions in Q4 that will reduce operating expense by around $100 million in 2017. Some of these savings will be used to "support investments in revenue driving activities." The change we can expect to see is around $60m. Specifically, "expect to see net savings of approximately 3% from the fiscal 2016 adjusted non-GAAP operating expense of $2.025 billion, with a commitment to pursue further expense reductions throughout the year."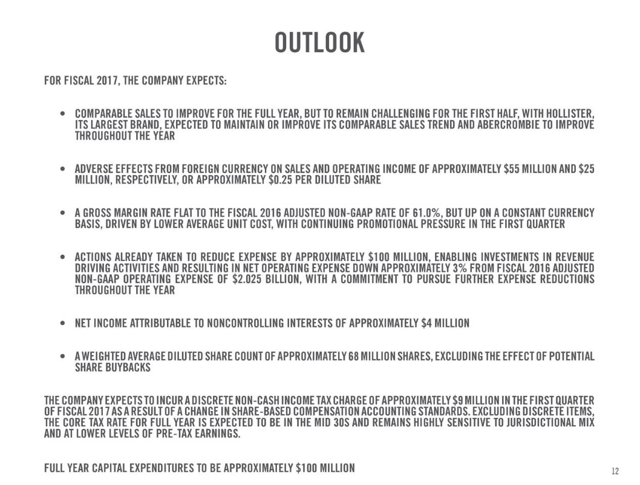 (Source: Company slides)
Here lies the biggest problem: operating expenses. These are comprised of marketing, general and administrative expenses (MG&A) and stores and distribution expense (S&D). MG&A rose from 13.4% of sales to 13.6% which sounds like a small increase but if we look at the longer-term picture we see that the company lost over $1.1 billion in sales while MG&A only dropped by 20m. On a per store basis, MG&A rose 11%. S&D was 47.4% of sales (vs. 45.6% last year) and on a per store basis rose 2.1%.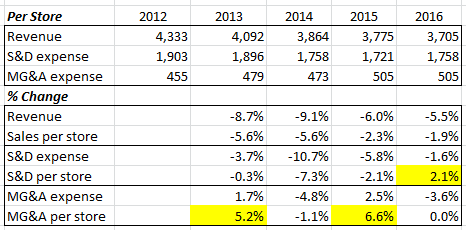 The new team needs to work harder to reduce these operating costs and their so called "actions" to date is just not satisfactory. The street projects that sales will decline by -2.4% next year, therefore a -3% drop in operating expenses is essentially in line with sales. Now consider that over the last four years sales have dropped by -5.5% (most recent), -6.0%, -9.1%, -8.7%. So a -2.4% decline may even be considered a success. For ANF to have a good year, they must either do better than that on the top line (potentially difficult), or must reduce operating expenses (potentially easier).
ANF holds $547m in cash and equivalents while long-term debt stands at $309m. Cash flow can still support the dividend so it appears safe. In addition, tangible book is $18 and attractive despite the drop from $22 over the last three years. Personally I initiated a position on the stock when I wrote this article but since that time I reduced my position significantly and it is currently my smallest position. If management does succeed in turning the Abercrombie brand around then there is a great deal of upside in my opinion. The market could reprice the stock to either a 4% yield ($20) or to tangible book ($18) which would represent a 50%+ upside. I will be keeping an eye on this stock and will look to add based on operational improvements.
Disclosure: I am/we are long ANF.
I wrote this article myself, and it expresses my own opinions. I am not receiving compensation for it (other than from Seeking Alpha). I have no business relationship with any company whose stock is mentioned in this article.