Don't kid yourself. New investors in the U.S. stock market the last couple of years need to understand stock portfolios could be hit by large losses in the not too distant future, if not hedged and diversified properly. Risk does happen, has happened and will continue to happen in the markets. I have been investing for a little over 30 years, with the 1987 stock market crash decline of 40% over six weeks being one my first experiences with a macro-type sell-off.
Pictured below is a quick recap of the major double digit Dow Jones Industrial Average drawdowns in price since 1986, the year I started investing, measured from intraday high to intraday low. Nearly every drop has been blamed on either rising interest rates (changing discount rates on business earnings) or fears/reality of slowing economic activity, or both. 2017 could be another - or both - year, if inflation rates continue to climb and trade protectionism demolishes the U.S. economy.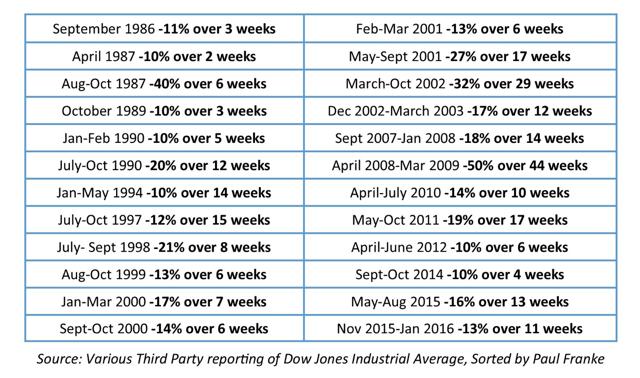 I counted 24 instances of a drop of at least 10% the last 30 years. The mean average drop is -17.7% over 11.2 weeks, the median is -17% over eight weeks. Statistically, a 17% decline in the Dow Industrials from last week's high would take us back to 17,500, the same level as a year ago or September 2014.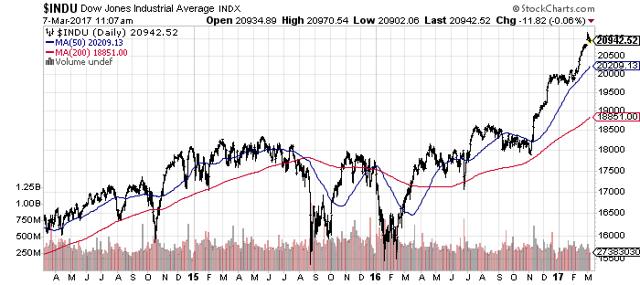 What are the reasons to be cautious?
Many of the biggest, scariest and most upsetting drops actually occur during periods of Republican control over Washington, rare instances like today when both the executive and legislative branches of government are held. Famed investor Mark Yusko of Morgan Creek has been pushing this idea on his Twitter account and other places. For example, the 2017 equity market setup with Republicans stepping to power is quite similar to the 1929 situation, just before the 1930s Depression. I tend to agree with this evaluation as we find ourselves at a juncture with more similarities than dissimilarities to 1929.
The stock market and economic cycle upturn over the last eight years is long in the tooth. Stocks are clearly overvalued using price to sales, cash flow, book value, dividends or CAPE calculations. Relatively expensive stocks that haven't seen a better than 20% price drawdown in eight years are something intelligent investors should fret about. Confidence surveys of the U.S. stock market's future are running quite high currently, but that optimism may be misplaced. Robert Shiller has been recommending long-term investors sell stock exposure the last month using the 10-year cyclical average price to earnings CAPE technique. Only before the record 50% stock market crash in 1929 and the 1998-2000 technology bubble peak saw higher long-term valuation readings in aggregate than early 2017.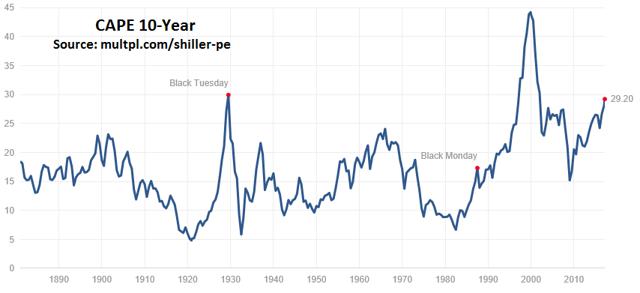 Higher oil prices are usually problematic for interest rates and the stock market.
Rising oil inflation has been the most common theme of equity market sell-offs in my three decades of investing. A bump or spike in oil prices causes bond and banking players to reevaluate interest rate levels necessary to recoup a big drop in relative purchasing power (inflation). With crude oil prices bottoming in February of last year and recovering nicely since, inflation rates in the U.S. are now comfortably above the 2% annual target zone the Federal Reserve has mentioned as the point to consider sharply higher interest rates.
Stock market investors are starting to contemplate how lower stock quotes may become necessary to properly discount slowly growing business earnings measured against rising rates. A better match of lower price to earnings may occur soon if crude oil prices climb further toward the worldwide long-term sustainable cost of production nearer $70 a barrel, from $55 in early 2017. Summarizing, higher inflation leads to higher interest rates, and higher interest rates lead to lower stock prices, in that order. It appears to me Wall Street is just waking up to the possibility of a new long-term rising interest rate trend, assuming the economy doesn't collapse first from a drop in global trade.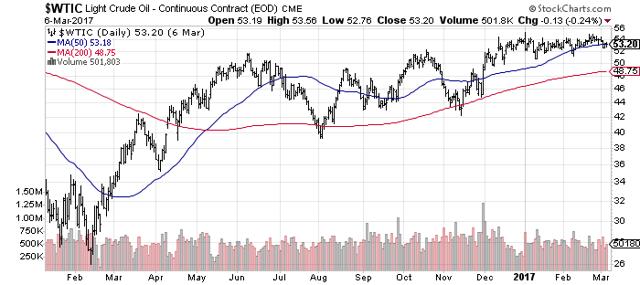 Protectionism is a horrible idea.
America's rise to economic power and prosperity since World War II has largely been fueled by: (1) a stable monetary and banking system, (2) stability in government, (3) the absence of major wars inside the country, (4) productivity growth per worker and unit sold, (5) advances in medical care, (6) a positive demographic trend of steadily rising population, education and training, and (7) the regularly improving total of trade in goods and services with other nations. In many ways, President Donald Trump's election could threaten all seven engines of growing prosperity listed above, but I will focus on the most obvious U-turn in fortunes for America in coming weeks - international trade.
The spark to ignite a monster sell-off in the market could be the crazy border adjustment tax idea being pushed by Speaker of the House Paul Ryan and President Trump. There is little doubt in my mind that new protectionist tariffs imposed by Republicans will quickly implode world trade and create a global economic downturn almost overnight. You can read a good article here about the 1930 Republican Smoot-Hawley tariff action that likely ushered in the worst economic depression worldwide of the 20th century. This story compares Trump's proposals to the aftermath of the 1930s failed experiment in protectionism. With world trade currently 3-4 times larger as a percentage of the overall economy vs. that point in human history, do we dare tinker with success? In the modern age, imports and exports together rose from 25% of total global GDP in 1968 to 60% in 2013, the latest available data.

Investors need to understand the world is more intertwined economically than ever before in human history, and America does not live in a vacuum. Other nations will immediately impose new taxes and impediments on U.S. exports in retaliation to any American border tax. Mexico and China have publicly stated this position to anyone willing to listen. A border tax will likely mean dramatically higher prices for goods imported to the U.S., while export volumes sold abroad take a nosedive as other nations slap taxes and new requirements on goods manufactured in America.
How to prepare for a market drop.
In my investing career, the years where interest rates were on the rise and fears of an economic slowdown became reality included a small subset of 1990, 2000 and 2008. Will history repeat in 2017? If oil spikes higher with interest rates at the same time or just before Congress enacts protectionist trade policies this year, we could witness a rather large stock market sell-off and economic recession. Investors of all stripes need to be aware of today's heightened risk to equity capital. After eight years of good times from the important 2009 recession low, America appears due for another economic downturn. We typically have a recession every 6-9 years. Raising cash levels in your portfolio, adding select short ideas and purchasing hedges like put options (albeit not cheap insurance) plus gold/silver have historically done their job preventing extraordinary losses in portfolios during bearish periods.
Perhaps the best short-term "market" direction hedges for the average brokerage account are ETF shorts. I prefer the 1x and 2x leveraged products for their low daily expense and ease of trading in large or small sums. The 3x or greater leveraged ETFs have excessive leverage costs and exaggerated time decay. The opposite of a long investment in the SPDR Dow Industrial ETF (DIA), SPDR S&P 500 ETF (SPY), iShares Russell 2000 ETF (IWM) or PowerShares Nasdaq 100 ETF (QQQ) are the Proshares Short Dow ETF (DOG), Proshares Short S&P 500 ETF (SH), ProShares Short Russell ETF (RWM) and Proshares Short QQQ ETF (PSQ). Basically, an investor in a 1x index short pays dividends on behalf of the underlying companies and a small daily expense fee to the financial institution creating the product through futures contracts, repurchase agreements and leverage (borrowed money) over time.
Sample SDS hedge usage in portfolio design.
My favorite double leveraged and highly liquid issue is the ProShares UltraShort S&P 500 (NYSEARCA:SDS). Here is an example of how I would use SDS as a small retail investor. A portfolio mix of 70% regular stocks, 20% cash and 10% in SDS right now translates into just 50% net long exposure (70% long minus 20% net SDS protection). You can invest 70% of the portfolio in your favorite stocks, have 20% cash to buy new positions on weakness, while you will theoretically (if your stocks perform like the market averages) only risk half the losses overall on a big stock market tank. If the equity market crashed 50% in March, our example investor should roughly witness a 25% drop in total capital. Plus, you could convert the SDS gains for cash and use your remaining liquid proceeds to purchase plenty of stock ON SALE.
If the market continues to zig-zag higher, you have that base covered in this portfolio design. Say we undergo a 20% rise in the market the rest of 2017. Your 70% in longs would increase the whole portfolio by 14%, all else being equal, not counting dividends. At the same time, the SDS would decline by 5% in value of the whole portfolio. Losing about half its initial 10% underlying value at the beginning, including time decay and daily compounding, the light SDS holdings wouldn't kill the entire portfolio. An investor would still net out a 9% gain for the year, assuming no dividends or outperformance by your favorite stocks. Taking on just half the capital risk of a traditional 100% long investment design, I believe owning a hedged portfolio is an incredibly smart strategy in early 2017, especially if we are about to be hit by a 40-50% market decline. What's it worth to sleep well in a bear market?
Final Thoughts
Sometimes taking a break from stock investing, moving mostly to cash and hard assets, and walking away for a year or two can be a sound strategy also to conserve your capital until the dust settles from an inevitable economic downturn. 1965-1982 and 2000-2009 would have been super times to walk away from stocks for an extended period. Alternative investments in gold/silver and real estate ran circles around financial assets generally during these long spans.
Right now, the portfolio with the lowest odds of long-term success may be a 100% invested (or margined) long-only stock market gambit. Sure it could work out fine for another 6-12 months. However, a sharp 40% or 50% plunge in your equity assets could take 5-10 years to recoup, just to get back to breakeven. At least that's how much time and effort major bear markets have taken to recover historically. Today's market backdrop could be the polar opposite of the 2009 market bottom; almost nobody willing to bet a stock portfolio full of longs was a good idea after a crushing two-year 60% price decline. Note: Another 50% market decline driven by a drop in international trade would take the Dow Jones Industrial Average back to 11,000 - the same as May 1999. Anyone that has shunned stocks the last 18 years would look like a genius, given a market meltdown scenario.
Please do your own research, and realize short ETFs have been truly rotten buy and hold investments. Use the short ETF products mentioned sparingly, and own all your hedge ideas in a diversified manner. Keep in mind, a short-only portfolio is difficult to pull off in a normally flat or rising market environment. This article is not outlining investment advice, only a generalized example. Each person's financial situation should be considered when developing more complex portfolio designs. Please consult an experienced financial adviser for further guidance on specific hedges and portfolio weightings.