Summary
The Trump rally has been going on since he was elected president of the U.S. (November 8th, 2016). The S&P 500's average (NYSEARCA:SPY) increased to about 12.6% (3/1/17) since his election. While there was an S&P 500 decline of -3.6% in June 24, 2016, and a decline -1.8% on June 27th, 2016 (-5.4%), there may be another deterioration in the future that may be worse than this one. If the decline is down from -4% to -5% in a few days, you can go in and place "half your capital" on this decline to buy the S&P 500 (sectors later in the report).
The S&P 500's earnings per shares for 2017 and 2018 estimates are $130.68 and $148.35, respectively. The current P/E ratios are 21.0x. If the P/E ratio in 2018 goes down to 15.9x (down -24%), the S&P 500 will be at the same level as it is now (2,395.96). While the S&P 500 markets are predicting that President Trump may not run into problems, he may be likely to do so.
Trump's Make or Break
The tax policies of the U.S. president will go one way or the other in terms of the stock markets. If the president gets the border taxes passed, alleviates Obamacare and its replacement (not repeal) approved and lowers tax reforms and deregulation for corporates and individuals, he will have a great term as president. However, these are very hard to do.
Border Taxes
A border tax, which would require congressional approval, would be a clear violation of NAFTA - which allows the duty-free movement of goods between Mexico, the U.S. and Canada. Both Canada and Mexico would have to participate in the requirements of NAFTA along with the U.S. However, the House of Representatives does not currently have the 218 votes for border tax reform. If the $1 trillion over the next decade of border taxes does not materialize, then taxable borders might make a slight dent in tax reform.
Repatriation of Overseas Taxes
The last time the United States implemented repatriation tax reform was in 2004, under the George W. Bush administration. U.S. corporations were permitted to repatriate overseas earnings at a temporarily reduced rate of 5.25%. Trump's economic plan has suggested a one-time repatriation tax holiday which will tax overseas earnings at 10%.
The idea is that if Trump offers a 10% flat repatriation rate on $2.5 trillion overseas cash, then U.S. multinationals may be eager at the chance to bring that money back into the U.S. and potentially use that cash to create more jobs, boosting U.S. GDP.
Yet, only 12.5% of U.S. CFOs surveyed suggested that the repatriated capital would be used to increase jobs. It might lead to M&A activity. (As you all know, this can work against job creation, but it worked well for profit margins.) Nevertheless, GrowthIncome's opinion is that we will see a repeat of the behavior of 2004. Rather than investing in new plants, infrastructure, or R&D, GrowthIncome suspects companies will use this new domestic capital to pay dividends and repurchase shares.
Obamacare
One of the major hindrances to a total repeal is the fact that the Senate does not have enough Republican votes even with a majority. They hold 52 seats in the Senate, but will need 60 to overturn the law. For example, President Trump liked the part that said insurance companies cannot drop enrollees arbitrarily, and he wants to keep this feature intact.
Trump may not be able to get legislation passed using traditional means, thanks to the filibuster, but he can, via congressional Republicans, use a technique called "budget reconciliation" to his advantage when altering Obamacare. Reconciliation was included as a feature of the 1974 Congressional Budget Act, and it allows Congress to sidestep the traditional route required for a bill to become law within strict parameters. Budget reconciliation also involves a two-step process, and Congress must first adopt its budget resolution and instructions to the committee. This will not all happen on day one, because these measures take time.
Additionally, Donald Trump will eliminate the individual mandate and will have no problem eliminating them at the end of the year. With the end of cost-sharing reduction payments, the price for participation in the marketplace would continue to rise, and that would lead to many insurance companies opting out of the program altogether.
Trump's proposals included:
Completely repeal Obamacare with individual required to purchase health insurance if he or she does not want too;
Enable interstate health insurance sales;
Health insurance premium should be tax-deductible;
Health savings accounts (also known as HSAs) should remain tax-free;
Require price transparency form all healthcare providers;
Block federal financial grants for Medicaid to individual states;
Enable better competition for prescription drugs.
However, Obamacare must be defused until we get into tax reduction for corporations and individuals. This may be a long fight.
Tax Reductions
Trump's tax plan calls for reducing personal income tax rates from seven to three brackets: 12%, 25% and 33%. His plan would also increase the standard deduction to $15,000, up from $6,300 for single filers, and to $30,000 for married couples filing jointly, up from $12,600.
Under current law, a taxpayer can pass up to $5.45 million to heirs tax-free. For married couples, their estate can pass up to $10.9 million. Above that amount, beneficiaries must pay an estate tax of 40 percent. (Fifteen states and the District of Columbia also assess an estate tax.)
Not all taxpayers would benefit from Trump's proposals, however. His plan calls for repealing personal exemptions for taxpayers and their dependents, as well as the head of household filing status. If that happens, single parents with dependent children and most married households with at least three dependents would pay more in federal income taxes.
About 20% of households and more than half of single parents would pay more in taxes under Trump's tax plan even with the child care breaks, per an analysis by the Tax Policy Center from New York University.
Trump's tax plan also caps itemized deductions at $100,000 for single filers and $200,000 for married couples filing jointly.
Corporate Taxes
President Trump told senior executives that significant cuts to both corporate taxes and regulations - promises he made for the duration of his campaign - were on the horizon. "I think we can cut regulation by 75 percent, maybe more," he said. As for the reduction of the corporate income tax rate - currently 35 percent at the federal level - Trump said, "we're trying to get it down to anywhere from 15 to 20 percent."
Both measures, a reduction in the corporate tax rate as well as an import tax or tariff, would require approval from Congress. If Trump can do this, it will be his greatest feat of free capitalism.
Capitalism
GrowthIncome has charted for the S&P 500's P/E on a quarterly basis along with the appropriate 10-Year Treasuries. As interest rates decline, the S&P 500 P/E will likely rise. If interest rates are likely to rise three time as of 2017, there will be a modest advance in P/E for the year.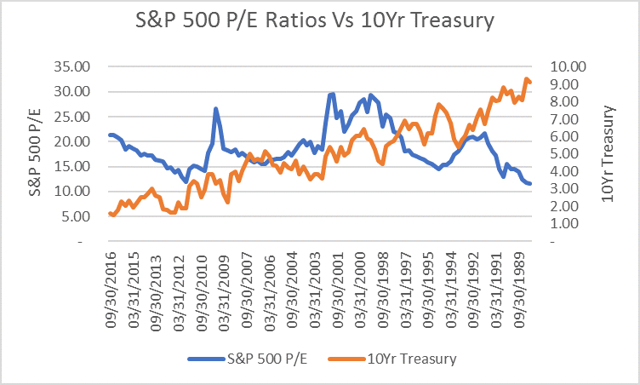 However, if President Trump can get things done in a timely manner, all worries are by the wayside.
4th Quarter Earnings (3/1/17)
GrowthIncome has the quarterly earnings of the S&P 500 - from the 4th quarter of 2013 to estimates for the 4th quarter of 2018.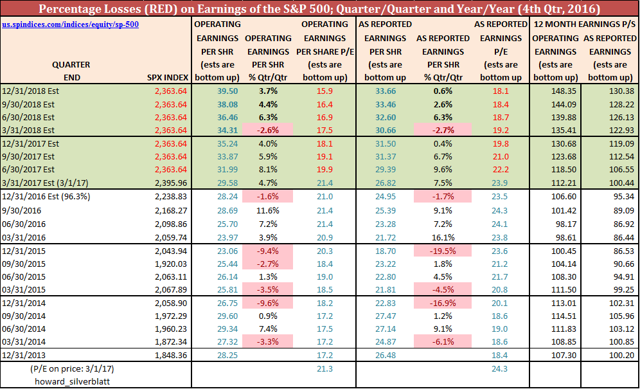 Estimated earnings were down $2.59 for the fiscal year 2016 (December), based on total Operating Earnings Per Share of $106.60. GrowthIncome has reported, "As Report Earnings Per Share" and their P/E and earnings for the quarter-to-quarter and year-to-year. (Sometimes, the results are reported as "As Report Earnings Per Share" as opposite to "Operating Earnings Per Share.")
The 4th quarter 2016 Operating Earnings Per Share was $28.24, down $2.34 from the previous quarter's ($30.58) 2016 estimated earnings. This would be down in the 4th quarter as opposite to the 1st quarter of 2017. GrowthIncome is not sure whether the suggestion of a 1st quarter 2017 increase may turn out to be a decline in the 1st quarter of 2017. We'll wait and see.
The Stock Markets: Tactical, Economic, S&P Earnings Projections and Stock Market Internals
1) Tactical: Tactical is the "short-term" stock markets movement. These are:
U.S. interest rates will likely rise three times in 2017.
Both UK and European interest rates will remain low.
Tax cut schedules for corporations (35% to 20%) by President Trump's administration will likely raise earnings per share.
Oil is likely going to be $50-60 per barrel in the immediate future.
U.S. nationalism will take over, and with the price of a U.S. dollar, it will be difficult for our foreign trading partners.
2) Economic Reports: The reports for the economy have been good rather than bad.
"Durable Goods" in March remained the same: 1.8% to 1.8% for the consensus figure month to month. Year to year, it was -0.6% to the prior revised of 1.3%. Ex-transportation month to month -0.2%, for the consensus figure of 0.5%. Year to year, ex-transportation was 2.4% versus the prior revised figure of 4.1%. Core Capital Good was -0.4% to 1.1% month to month.
GDP (Q4p) for the 4th quarter (SAAR) was 1.9%, compared to the consensus of 2.1%. The increase in real GDP in the fourth quarter reflected positive contributions from personal consumption expenditures (PCE), private inventory investment, residential fixed investment, nonresidential fixed investment and state and local government spending. These increases were partly offset by negative contributions from exports and federal government spending.
Beige Book for March 1, 2017, was modest to moderate. Retail sales are described as subdued, with modest growth the description for the energy sector. The increase in the U.S. dollar is once again resulting in headwinds for manufacturing.
Strong Numbers (February 27 to March 3): Dallas Fed Manufacturing Survey, Redbook, S&P Core-logic Case-Shiller HPI, Chicago PMI, Consumer Confidence, Richmond Fed Manufacturing, MBA Mortgage, ISM Manufacturing, Index, Jobless Claim, ISM Non-Manufacturing,
Weak numbers: Pending Home Sales, International Trade Goods, PMI Manufacturing Index, Gallup US Consumer Spending Measure, Bloomberg Consumer Comfort Index, PMI Service Index.
3) S&P 500 Earnings Projections: The 4th quarter's 2016 "Operating Earnings Per Share" was $28.24, down $2.34 from the previous quarter's 2016 estimate ($30.58). The full year's 2016 was $106.60, down from the previous estimates of $109.19 ($2.59). Total estimate P/E ratio was 21.0x.
The Key is P/E
Obviously, the P/E is the key. Looking back, the P/E's for the S&P 500 was over 20x for 1997-2003. However, U.S. interest rates may eventually go up at a faster pace, and that may advance the P/E ratio. However, this would mean the P/E ratios may remain in the 19.0x-20.0x range. If the P/E ratios were to settle at the 19.5% range for both 2017 and 2018, that would mean 2,548.26 and 2,892.82, respectively. That would be a 6.4% in 2017 over 2016 (March 1) and a 13.5% increase in 2018 from 2017. It would be a 20.7% from 2018 to today (3/1/17).
If Trump lowers the corporate tax rates (35% to 20%), earnings will likely be high for 2018.
GrowthIncome's Estimates
GrowthIncome's S&P 500 estimate (in yellow on chart) for 2017 is $127.92 (the official estimate for the S&P 500 is $130.68), and for 2018, it is $141.99 (the official estimate for the S&P 500 is $148.35). For P/E, the average for 2017 and 2018 is 19.5x. This would mean the S&P 500 Index would be at 2,494.44 and 2,768.83, which would be a 15.6% growth rate in 2018 from March 1, 2017 (2,395.96).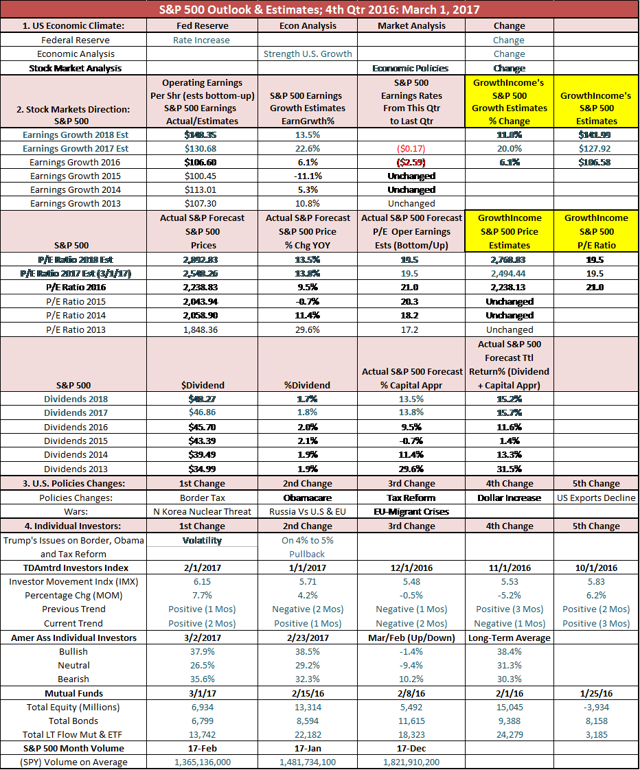 4) Stock Market Internals: The SPX (S&P 500) market internals seem to be "rolling over." The Keltner Channel is in its upper range. The "Squeeze" "MACD" and "Price Oscillator" are trending downwards. The CCI (Commodity Channel Index) has the SPX (March 1, 2017) at the upper level and represents an "oversold." This should be watched as we get into an oversold position.
Sectors of the S&P 500
The S&P 500's "Market Capital Value" and "Sector % of the S&P 500" are designated. Forward P/E ratios are covered. The 12 months' "S&P 500 Projected Ann Grwth" for 2017 for the sectors is explained.

Evaluation of the Sectors
We have taken the forward P/E ("S&P 500 Forward P/E") and divided it by the long-term growth rates (per share) and the dividend yield multiple by 100. This is the PEGY ratio (Price/Earnings-to Growth and Dividend Yield Ratio). Low PEGY ratios (below 1.0) tend to suggest that a stock is "cheap," but has high earnings potential or dividend yields. Thus, a stock with a low PEGY ratio might be poised for significant price appreciation. We have added the rates of decline for the Market Capitalization of the sectors to 3/1/17 from 11/22/16 to have an impact.
For 4Q, we have chosen Information Tech (NYSEARCA:XLK), Consumer Discretionary (NYSEARCA:XLY) and Energy (NYSEARCA:XLE), which may be attractive for the 2nd quarter 2017 or longer. Additionally, Finances (NYSEARCA:XLF) may be attractive given the increase in rates and the deregulation of rules regarding the banks. Additionally, both Real Estate (NYSEARCA:XLRE) and Utilities (NYSEARCA:XLU) may be less attractive.
For the choices we made for 3th quarter (Financials, Consumer Discretionary, Information Technology and Healthcare), the stocks are up 9.4% to the S&P 500 of 8.0% for 3/1/17 from 11/22/16.
Disclosure: I/we have no positions in any stocks mentioned, and no plans to initiate any positions within the next 72 hours.
I wrote this article myself, and it expresses my own opinions. I am not receiving compensation for it (other than from Seeking Alpha). I have no business relationship with any company whose stock is mentioned in this article.