I've been noting for several months that the short leading indicators available on a weekly basis have been very positive. In this post, I want to take a more detailed look at the most prominent short leading indicators, including those reported monthly. Most, but not all, have been very strong.
Let's start with the two that are reported daily or weekly.
Stock prices typically top out 3 to 9 months before the economy turns. As most readers probably know, the stock market has been on a tear recently, setting a bunch of new record highs: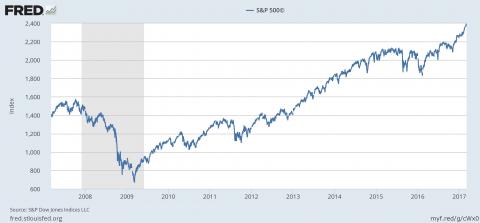 Meanwhile initial jobless claims, which typically turn up significantly about 3 to 6 months before a recession, also have set new 40-year lows:
Turning to the monthly data, motor vehicle sales tend to have long plateaus during expansions, and turn down significantly within the final year before a downturn. These have not been making new highs, but remain within their plateau range: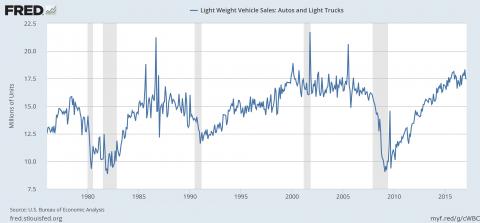 The ISM manufacturing report has a very lengthy history. The new orders subindex has been the most reliable and least noisy short leading indicator. ISM has withdrawn permission to FRED to post its data, but here is a long-term archived history: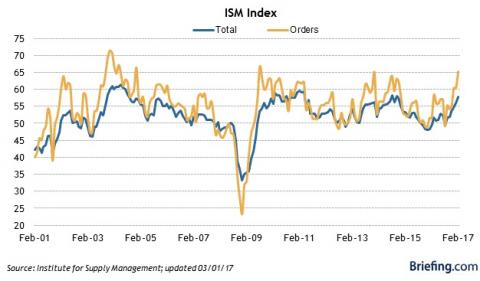 ISM new orders are presently near their 15-year highs.
Several other manufacturing-related short leading indicators are more ambiguous.
The average workweek for manufacturing also has a lengthy history, and with the exception of 2008-09, this has always turned down significantly before the onset of a recession: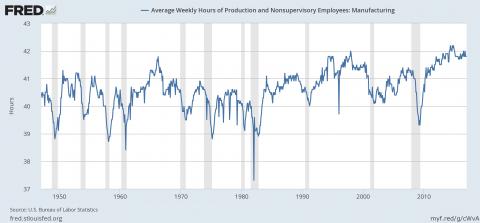 This has been improving, but not to new highs, after the bottom one year ago of the shallow industrial recession.
Similarly, total manufacturing new orders and core capital goods new orders declined during the shallow industrial recession. The first has gone sideways since then, while the second has been improving: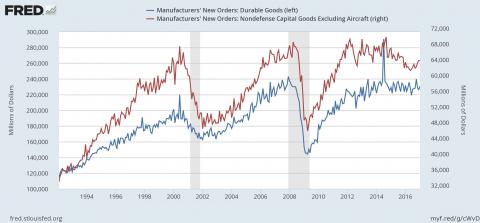 Finally, temporary jobs - which tend to lead overall employment - have been increasing for a year, and just made another new high in January: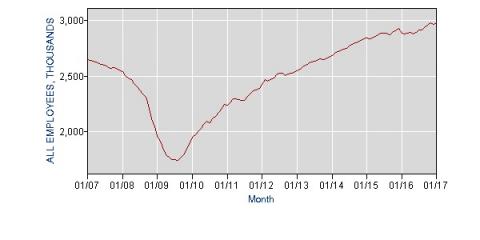 While the overall picture isn't uniformly positive, in almost all series we are either seeing new highs, or else a renewed positive trend over the last year. This is a very good signal that the next 3-9 months should see relatively strong and positive economic activity.