We've been writing about Celsius Holdings, Inc. (OTCQX:CELH) now for just over three years. We published our first report on the company on March 4, 2014 when the stock was a scant 0.34 cents a share.
What was once a 0.34 cent stock has now become a ten-bagger in the parlance of famed Fidelity Magellan Fund manager Peter Lynch.
Micro-cap investing is very risky. Most small companies fail for two primary reasons in our opinion; poor company management and/or inadequate access to capital at a reasonable price.
As a result of the highly-speculative nature of Micro-cap stocks, we encourage investors to perform extensive due diligence on companies that they are considering for investment, and find as many ways as possible to reduce the risk of owning very small companies.
We believe that one way an investor can possibly reduce the risk in Micro-cap holdings is to find companies where insiders own a fair amount of the equity in the business.
At least it's comforting knowing that they have "skin in the game" which aligns their interests with other shareholders. It also creates a great incentive for them to work hard at building shareholder value, since they directly benefit from their own success.
There can be many reasons why insiders may sell shares in a company (diversification, estate planning, tax issues, etc.) but in our experience there is only one reason why insiders buy stock in a company. They believe that the value of their investment will increase dramatically over time.
Back in April of 2015, Celsius Holdings, inc. received an unsolicited offer by a group of global investors to provide capital to expand operations. That group included some very high-profile names, including Hong Kong's wealthiest individual Li Ka-Shing and his Horizon Venture's partner Soilna Chau.
Other members of that 2015 investment group also included Hip-Hop mogul Russell Simmons, his ex-wife Kimora Lee Simmons, and former Goldman Sachs Southeast Asia Chairman Tim Leissner.
Then, just a few months ago, it was reported that Celsius Holdings, Inc. had signed a strategic partnership deal with A.S. Watson, part of Li Ka-Shing's global empire of health & beauty stores spanning 25 countries.
Then in two separate Form 4 Filings on December 31, 2016 with The Securities & Exchange Commission it was revealed that both Li Ka-Shing and his partner Solina Chau has increased their stake in CELH substantially.
What made the filing even more interesting was that the price of the share purchased by Ka-Shing and Chau on December 31st, at $3.00 a share, represented a 22% premium over the closing price of CELH shares that day.
Additional Form 4 Filings followed, as the price of CELH shares rose in the weeks immediately after Ka-Shing and Chau's purchases of 833,000 and 533,333 shares respectively were picked up by various websites that track insider trading.
As we noted previously, we have written extensively about Celsius Holdings, Inc. over the past three years, on our blog page and on Seeking Alpha.
What was once a fledgling little company, on the brink of bankruptcy, has now gone from burning cash to rolling in it, while at the same time attracting some serious investment dollars by big-name global investors.
With Q4 and FY2016 results just weeks away, it will be interesting to learn what insiders saw coming, and just how the stock reacts to the news.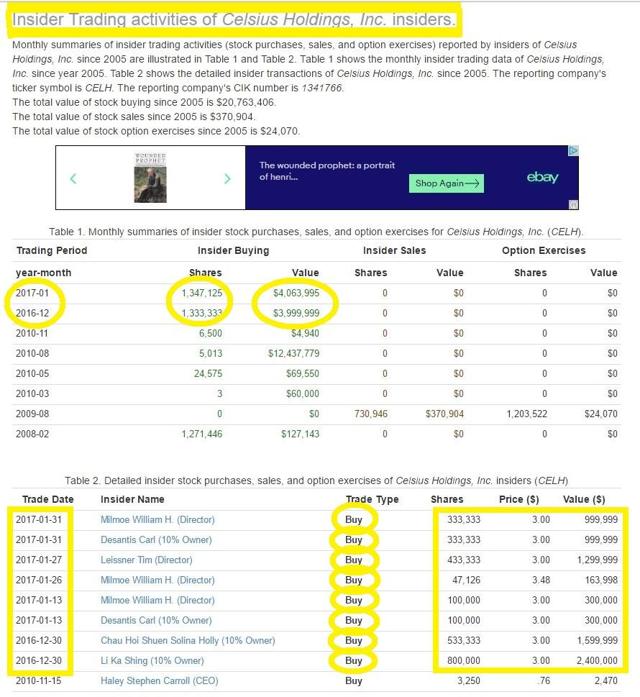 Disclaimer: This article discusses a company whose stock has limited liquidity, due to a low number of publicly traded shares. You are urged to exercise caution and prudence when considering an investment in such securities, as they entail much greater risks than those stocks that have more adequate liquidity and a much greater number of shares in the public float.
The opinions expressed herein are exclusively those of Altitrade Partners. We do not provide investment advice, and do not offer buy and sell recommendations on any securities mentioned in our reports. For additional information, including our full disclaimer, we invite you to visit the Altitrade Partners website.
Additional disclosure: This article discusses one or more securities that do not trade on a major U.S. exchange. Please be aware of the risks associated with these stocks.
Disclosure: I am/we are long CELH.
I wrote this article myself, and it expresses my own opinions. I am not receiving compensation for it. I have no business relationship with any company whose stock is mentioned in this article.
Editor's Note: This article discusses one or more securities that do not trade on a major U.S. exchange. Please be aware of the risks associated with these stocks.