We go through life under a constant barrage of events and trends which are driven by either fear or greed. Over the last few years we have seen the meteoric rise and complete collapse of the 3D printing, 3D televisions, and personal cameras such as the GoPro (GPRO) (at least as investments).
Millenials have also seen a huge rise in popularity of live streaming through apps such as Twitter's (TWTR) Periscope and Meerkat, YouTube streaming and FaceBook (FB) Live. Yet many of the live streamers which I followed in the past are no longer doing so, myself included, which may be a microcosm that even this is becoming a fad, much like MySpace and Google Plus was.
Fads are obviously not restricted to the technology boom of the last 15 years. Many Seeking Alpha readers will likely remember Laser Disks, water beds, Beanie Babies, Trolls (the dolls, not the internet kind), drive in movie theaters, Ouija Boards and X-Ray Spex.
There were also however major thematical changes such as mobile phones, online shopping, the shift to urban from suburban, the rise of China and the shifting demographics towards Asia.
In the investment universe we have seen an influx of thematic investments, a large number of which had failed to get traction. Janus Capital (JNS), an investment manager who has traditionally focused on open end mutual funds had entered the ETF marketplace with 4 thematic investments, the Janus Health And Fitness ETF (FITS), Janus Long-Term Care ETF (OLD), Janus Organics ETF (ORG) and the Janus Obesity ETF (SLIM). Janus believes these 4 funds will capitalize on long term trends.
Are they trends or perhaps just fads? Let's take a quick look and try to find out.
The Funds
| | | | | |
| --- | --- | --- | --- | --- |
| Ticker | Name | Distribution | Expense Ratio | AUM |
| FITS | Janus Health & Fitness ETF | 0.00% | 0.50% | 2.552M |
| OLD | Janus Long-Term Care ETF | 3.59% | 0.50% | 4.872M |
| ORG | Janus Organics ETF | 0.00% | 0.50% | 2.393M |
| SLIM | Janus Obesity ETF | 0.00% | 0.50% | 2.378M |
Source: YCharts Data as of 3/7/2017
Janus Health & Fitness ETF

Key Takeaways: This fund follows the Solactive Health and Fitness Index which is designed to "take advantage of the growing trend toward health and fitness consumption, including: companies whose business is focused on fitness technology & equipment, sports apparel, nutrition, and sports/fitness facilities." (source: Janus FITS ETF).
The Investment Case: Janus points out the following.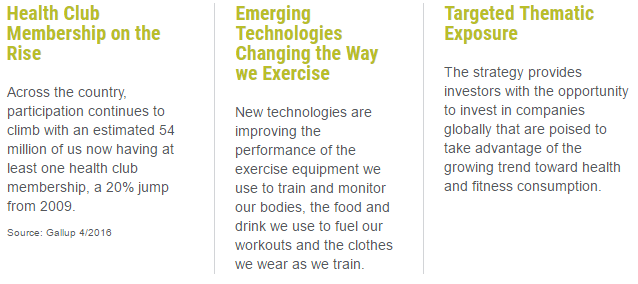 Source: Janus FITS ETF
Performance Quick Look: We can look at the fund against two key benchmarks, the US Consumer Goods ETF (IYK) and the iShares All Country World Index (ACWI) considering this is a global fund.
As we can see, while FITS initially outperformed both, it currently lags both benchmarks by a wide margin. The initial performance surge is attributed to the outsized gains by Adidas and Nike (NKE).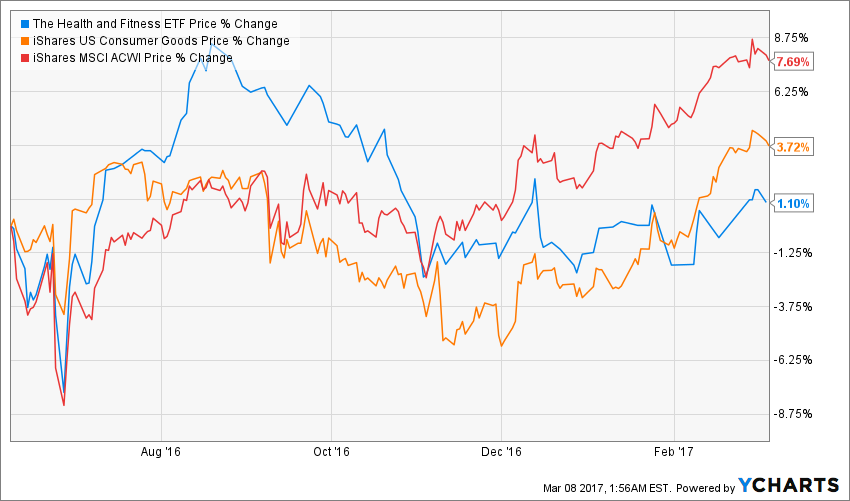 Quick Take: This is a global large cap fund that is approximately 57% US domiciled. Even though the fund has 77 holdings, the top two, Nike (NKE) and Adidas (OTCQX:ADDDF) make up 38.8% of the portfolio.
Janus Long-Term Care ETF

Key Takeaways: OLD tracks the Solactive Long-Term Care Index, an index designed to invest in companies seeking "profit from providing long-term care to the aging population, including: companies owning or operating senior living facilities, nursing services, specialty hospitals, and senior housing, biotech companies for age-related illnesses and companies that sell products and services to such facilities." (source: Janus OLD ETF).
The Investment Case: The theme here is the long term trend of rising life expectancies. Even though people are living older, it does not mean people are as healthy. For those reasons, companies focusing on the various aspects of long term care are in a position to take advantage of these shifting demographics.

Source: Janus OLD ETF
Performance Quick Look: Just like FITS, this ETF should be benchmarked against the iShares All Country World Index. If you take a look at the holdings however, you can see that this fund is approximately 2/3rds REITs, and thus looking at a REIT benchmark is also prudent in this case.
Looking at the performance on a total return basis we can arrive at two determinations. First, the fund has tracked the the REIT indexes more closely than the broader MSCI All Country Index. Secondly, the fund being focused on LTC REITs has lagged both over the last 6 months.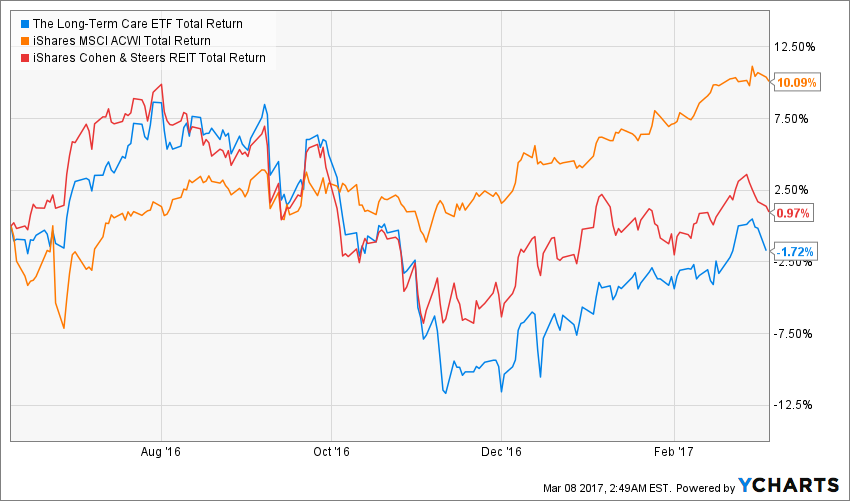 Quick Take: The best way to think about this fund is as a mix of a senior housing REIT and a biotech ETF. My main issue with this fund is that over 40% of the ETF is in two holdings, Welltower (HCN) and Ventas (VTR).
Janus Organics ETF

Key Takeaways: This ETF like the other Janus themed ETFs follows an index by Solactive. In this fund it is the Solactive Organics Index. This index is designed to track companies who are seeking to capitalize on the production and sale of naturally-derived food and personal care items.
The Investment Case: As the world population continues to grow, so does the demand for low cost produce and consumer goods. In order to keep prices lower, producers are turning to chemistry in order to increase yields. (Genetically Modified Organisms). Even though authorities say GMOs are safe, so was the intake of cocaine, smoking, lead paint, asbestos walls, radioactive drinks and cosmetics (early 1900s), heroin cough syrup (by Bayer no less), bloodletting, mercury in vaccines or as a treatment by itself, using tapeworms to lose weight (1950s), and todays "Vitamin" Water which contains 33 grams of sugar. Good read on these items.
All of this has led to consumers demanding natural and organic goods. This ETF goes beyond organic and natural foods and also targets naturally derived personal care items.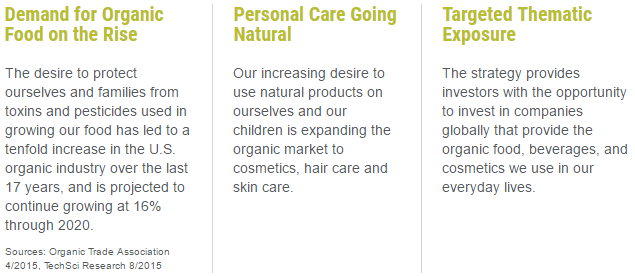 Source: Janus ORG ETF
Performance Quick Look: For this fund we can take a look at how it has performed against the All Country World Index and the Global Consumer Staples ETFs. As we can see the fund stayed competitive however has trailed quite a bit over the last 6 months.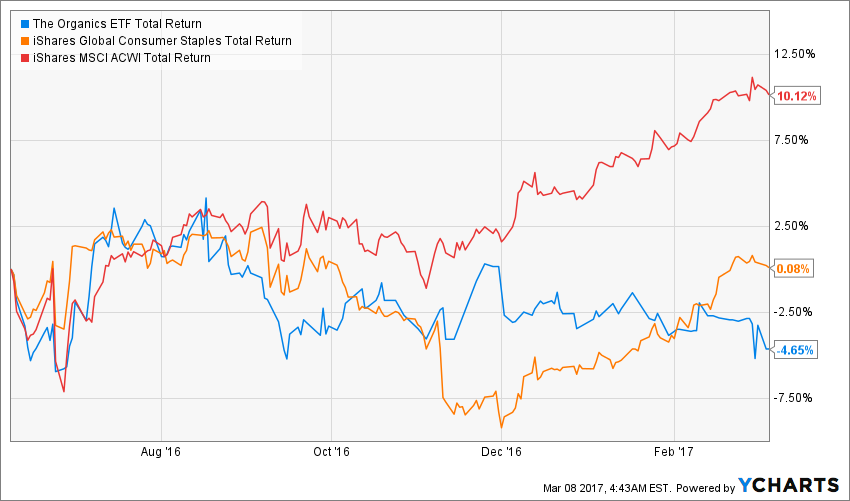 The performance lag over the last 6 months can be contributed to being too concentrated in 2 positions that were flat to down since inception.
Quick Take: My family is a believer in and user of natural and organic food and personal care items. As most immigrants coming to the United States we were shocked to find how many more inorganic compounds are found in US products. My wife as a chemist does not let me forget that either. It is no surprise to us the common thing heard from friends and family, "Wow, the fruits and veggies tasted so much better when we were on our trip to..."
Being a fan of the trend does not make me a fan of the ETF however. Just like the other 2 ETFs we have looked at, this Janus ETF is extremely concentrated, and unfortunately it has not worked out. The two biggest holdings are WhiteWave Foods (NYSE:WWAV) and Whole Foods (WFM). The two names make up 40% of the portfolio and the top 10 holdings make up over 75%. Unfortunately, WWAV has been trading at a range since it will be acquired by Danone (OTCQX:DANOY), and WFM has been flat to down during the fund's tenure.
Janus Obesity ETF

Key Takeaways: The Janus Obesity ETF is the last of four to follow a Solactive index, this time the Solactive Obesity Index. The fund follows an index that "seeks exposure to companies globally that could benefit as they fight the global obesity epidemic, including: biotechnology, pharmaceutical, healthcare and medical device companies whose business is focused on obesity and obesity related disease, including diabetes, high blood pressure, cholesterol, heart disease, stroke and sleep apnea, and companies focused on weight loss programs and supplements, and plus sized apparel." (source: Janus SLIM ETF)
The Investment Case: As the Western world continues to see an improvement in the standards of living, so have they seen the increase in the average waist size. With most Americans commuting to work in a car in order to sit at a desk for work, very few Americans stay active enough to remain physically fit. Be it the rising standards of living or the genetically modified products that are consumed, the fact is Americans are becoming more obese. This ETF seeks to take advantage of those "growing" trends.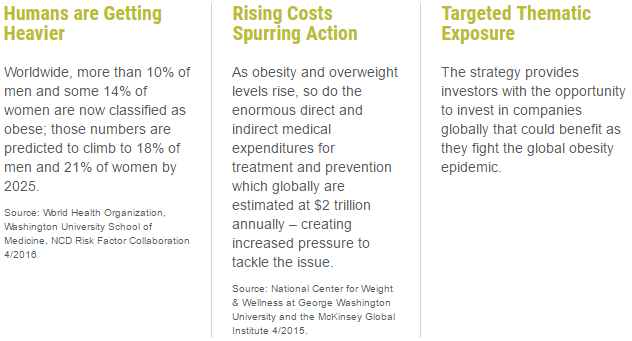 Source: Janus SLIM ETF.
Performance Quick Look: ...and it too is bad. As with the other Janus thematic ETFs, SLIM is a global ETF which benchmarks itself to the MSCI ACWI. The majority of the holdings of this fund are healthcare related companies with about 1/5 in consumer staples and discretionary. As such we also look at this fund against the iShares Global Healthcare ETF (IXJ).
As we can see, since inception the fund has lagged the benchmarks with a significant gap starting from October 2016. Compared to the global health care ETF, SLIM is lagging by over 6%, and over 15% behind the MSCI ACWI on a total return basis.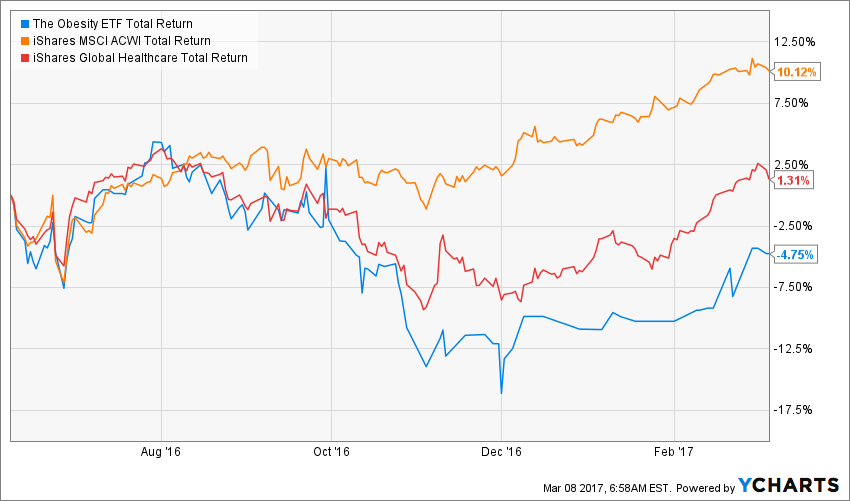 Quick Take: As with the other Janus thematic ETFs which we have discussed today, SLIM has a heavy concentration in one name, Nova Nordisk which represents nearly 20% of the portfolio. The fund is fairly well diversified otherwise with 40 holdings, where the top 10 represent approximately 60% of the portfolio.
Our Take & Bottom Line
If you simply looked at the names of the 4 thematic ETFs discussed today you can come away with the conclusion that Janus believes people are getting old and fat, but they at least want to do something about it so they are trying to exercise and buy organic food (or maybe Nikes are just more comfortable than wearing dress shoes or high heels as you get older or more obese).
Part of writing this article was to complete my initial due diligence on 4 funds that I found of interest to which I was open to investing in. Unfortunately after doing this initial look, I have significant concerns.
I do believe that Janus has clearly identified two long term demographic trends that will not disappear, longer life expectancies and the growing waist sizes. I am not however certain that the fitness focus or the current fad with Whole Foods is going to go mainstream.
I am quite sure that many people have heard the joke... "Whole Foods? More like Whole Paycheck." Even though consuming naturally derived products is better for you, most consumers typically buy the lowest cost.
Fitness? The lack of discipline and praying on fear and shame is EXACTLY the business model employed by fitness clubs. If everyone was using a gym, they would be out of business. I touched on this in my Planet Fitness (NYSE:PLNT) article.
This leads me to my second issue, even if you buy into the long term sustainability of the trends identified by Janus, I have "YUGE" issues with the indexes and the funds.
One issue that plagues all 4 funds is what I believe is significant over concentration in the top 1 or 2 securities. Getting those wrong, which the indexes have thus far, sets the funds back against the global benchmarks from the start.
Another issue with the indexes is the over concentration on specific sectors. For instance, the Long Term Care/Aging ETF is mostly a senior housing REIT fund and the Obesity ETF is predominately a play on pharmaceuticals, and in all of the cases, the underlying sector ETF would have outperformed the Janus ETF.
Finally there is the myriad of risks of investing in almost 1 year old funds which have failed to raise any significant capital.
With a pittance of capital in each of these funds the investors are staring at larger bid/ask spreads and swings above and below NAV and the risk of placing market orders into a market which may go days without trading any shares. All of this leads into the eventual risk that Janus may decide to cut their losses and close these funds.
Couldn't Bill Gross and Janus employees throw in a few million into each?
I am a big fan of Janus and their smart beta ETFs, unfortunately I would caution potential investors to stay away from these thematic funds until there are significant developments, either raising meaningful capital or the funds being turned into actively managed or smart beta ETFs. The Solactive indexes have not been impressive up through now.
For More Information About These Funds Please Visit the Janus Thematic ETF Website.
I believe in active management that works, and I am here to help you find those opportunities. Please follow me here on Seeking Alpha as we look for those opportunities and sort out the good managers from the mediocre.Simply click the "Follow" button next to my name at the top of the article or on my profile page.
Disclosure: I/we have no positions in any stocks mentioned, and no plans to initiate any positions within the next 72 hours.
I wrote this article myself, and it expresses my own opinions. I am not receiving compensation for it. I have no business relationship with any company whose stock is mentioned in this article.
Editor's Note: This article discusses one or more securities that do not trade on a major U.S. exchange. Please be aware of the risks associated with these stocks.