In Retail, as Clicks Rise, the Bricks Tumble
The world of retail shopping is changing quickly. Consider that retail giant Target (NYSE:TGT) just suffered its biggest-ever price drop of 12.2 percent last week as it missed its fourth quarter profit expectations. Target's CEO cited "rapidly-changing consumer behavior, which drove very strong digital growth but unexpected softness in our stores." Meanwhile, retailers J.C. Penney (NYSE:JCP), Macy's (NYSE:M), Gap (NYSE:GPS) and other brick-and-mortar retailers have recently announced store closures, also in response to slowing in-store sales.
J.C. Penney Chairman and CEO said that "we believe closing stores will also allow us to adjust our business to effectively compete against the growing threat of online retailers."
Brick-and-mortar retailers are suffering across the board. According to Moody's Investors Service, the number of U.S. retailers ranked at the most-distressed level of the credit-rating spectrum has more than tripled since the Great Recession of 2008-2009 and is heading toward record levels in the next five years.
At the same time, consumers are clicking away on e-commerce sites, increasingly choosing to shop online. Amazon's (NASDAQ:AMZN) total 2016 company revenue increased by 27 percent in 2016. Amazon represents only a small portion of global e-commerce sales, as shown in the chart below.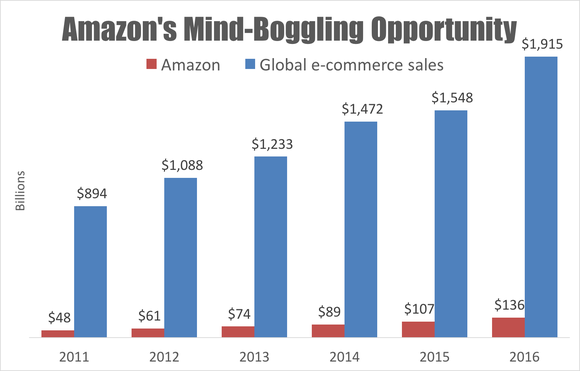 Source: eMarketer
According to the U.S. Census Bureau, total U.S. e-commerce sales for 2016 increased 15.1 percent from 2015, while total retail sales in 2016 increased only 2.9 percent in the same time period. And fourth quarter U.S. e-commerce increased 14.3 percent (±1.8 percent) from the fourth quarter 2015 with total retail sales increases of only 4.1 percent (±0.7 percent).
Estimated Quarterly U.S. Retail Sales: Total and E-commerce*
Quarter

Percent Change from Same Quarter a Year Ago

Adjusted**

Total

E-commerce

4th quarter 2016 (P)

4.1

14.3

3rd quarter 2016(r)

2.3

15.1

2nd quarter 2016

2.2

16.0

1st quarter 2016

2.1

15.5

4th quarter 2015(r)

1.4

15.5

Not Adjusted

4th quarter 2016

3.9

14.3

3rd quarter 2016(r)

2.3

15.5

2nd quarter 2016

2.2

15.9

1st quarter 2016

3.3

15.2

4th quarter 2015

1.7

14.8
Preliminary estimate. (Estimates are based on data from the Monthly Retail Trade Survey and administrative records. Unless otherwise specified, all estimates are revised based on the 2014 Annual Retail Trade Survey and the final results from the 2012 Economic Census.)* E-commerce sales are sales of goods and services where the buyer places an order, or the price and terms of the sale are negotiated over an Internet, mobile device (M-commerce), extranet, Electronic Data Interchange (EDI) network, electronic mail, or other comparable online system. Payment may or may not be made online. 2** Estimates are adjusted for seasonal variation, but not for price changes. Total sales estimates are also adjusted for trading-day differences and moving holidays.
The trend is expected to continue. While total retail industry sales are expected to grow between just 3.7 and 4.2 percent over 2017, online and other non-store/online sales (included in the overall number) are expected to increase between 8 and 12 percent, according to the National Retail Federation's economic forecast for 2017.
Consider also that global online sales were $1.5 trillion in 2015 and are projected to be $4.1 trillion in 2020.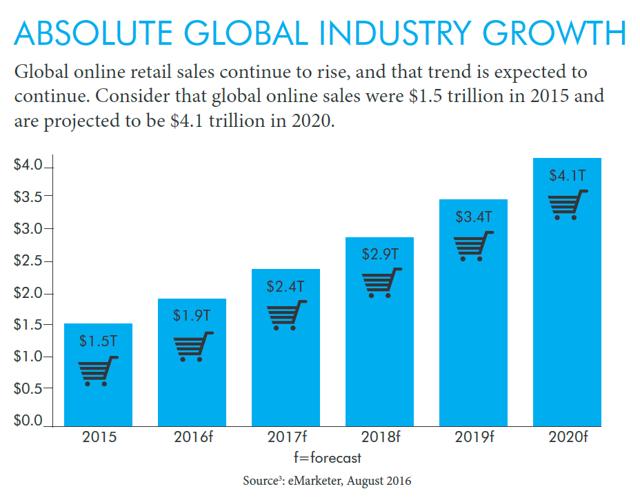 So how do you gain exposure to this rapidly growing e-commerce segment? Doing so recently became that much easier.
The Amplify Online Retail ETF (NASDAQ:IBUY) is made up of global online retail stocks, and it's up 15 percent since its inception on April 20, 2016 (as of March 2, 2017). The Fund hit its $10M under management milestone just two months short of its one-year anniversary.
IBUY focuses on companies with 70 percent or more of their revenue from online or virtual sales. While many traditional retail ETFs own only U.S. stocks, IBUY reflects a global marketplace with a 25 percent allocation to international stocks. Portfolio holdings fall into three categories: traditional retail, marketplace and travel. It offers diversification across country, market cap and industry. Top holdings include names such as PetMed Express (PETS), Etsy (ETSY), FTD Cos. (FTD), and eBay (EBAY). For those looking to gain cost-effective exposure to a rapidly growing industry, IBUY is an investment to consider.
Disclosure: I/we have no positions in any stocks mentioned, and no plans to initiate any positions within the next 72 hours.
Business relationship disclosure: I receive compensation for writing this article as I am independent contractor for EQM Indexes, the index provider for IBUY.