Stocks have soared in value since the recent election of U.S. President Donald J. Trump. The financial consequence of this political upset has increased share value for stocks across multiple sectors, leading the DOW to all time highs. The chart below from the U.S. Bureau of Labor Statistics shows the substantial spike in DOW stock performance since the Nov. 8th election.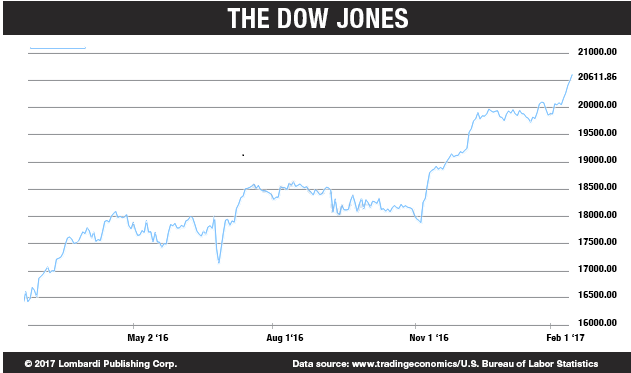 Below is a chart from Yahoo Finance that also illustrates the post-election stock rally. It represents the share price change of the SPDR S&P 500 ETF (NYSEARCA:SPY).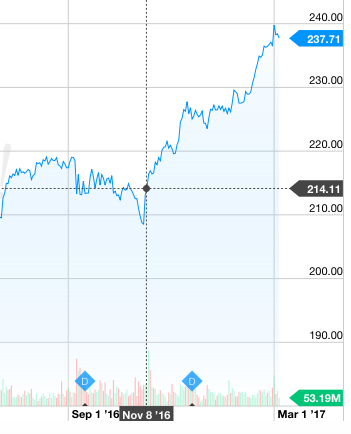 I'm evaluating the type of growth happening in the market and choosing potential investments accordingly. I will also evaluate other intervening factors that could potentially contribute to organic, or quantitatively-warranted growth. My hypothesis is that this share price appreciation is due to politically-driven psychological sentiments among the public; and the equity growth is inorganic.
Over the interval cited (Nov. 8th, election day to market close on 3/6/17), the index-mirroring fund increased by ~10%. This is a significant increase as 500 entities are represented.
According to Investopedia, the two factors that contribute to organic growth are: increasing output, and enhancing sales internally. I find it doubtful that such a widespread increase in share value is due to a coincidental across-the-board enhancement of internal efficiency. I also find it doubtful that the rally was caused by an aggregate increased output (top-line figures). Below is a chart that depicts the historical data for presidential post-election stock rallies. The interval cited is from election day to inauguration.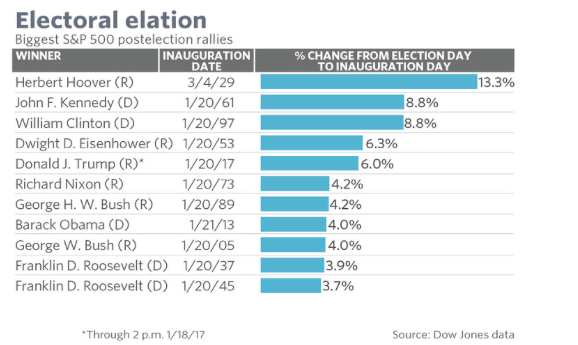 This chart shows that post-election stock rallies contribute to across-the-board share price appreciation. One can logically infer that when a stock's increased value is due to a political upset, the growth is artificial and inorganic. Despite this, the relevant pro-business policies that President Trump will likely implement may lead to more tangible organic growth. Until the effects of such policies come to fruition, the current stock rally is based primarily on artificial growth.
A quintessential example of a stock "outpacing" its organic growth is Target (NYSE:TGT). The subsequent share price appreciation post-election is shown in the chart below.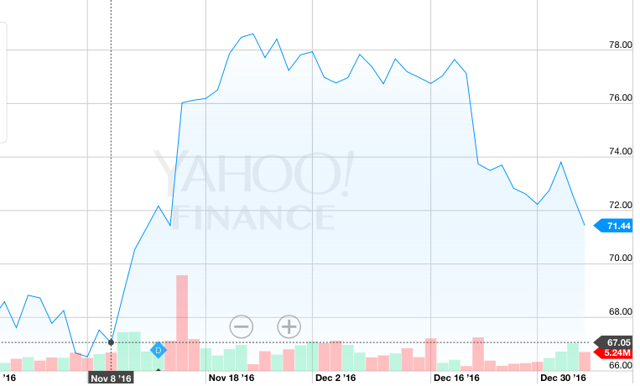 TGT experienced an approximate 15% gain over the span of a few weeks. I believe instances like this are purely event-driven and lend themselves to potential future downfall. Of course hindsight bias is applicable in this scenario, as TGT has declined significantly since their $78/share highs. The fact that TGT closed at around $56 (on 3/6/17) further illustrates the notion that the 15% increase post-election was solely inorganic - a mere political consequence.
There are a few ways in which to utilize a value-based investment strategy to capitalize on the current financial climate. One way is to pick the most inorganically grown stocks, and short them at their current price. This strategy assumes the current share price to be overvalued. The next move in this strategy is to determine a proper valuation and a target share price. Once one has determined a target price and the stock is trading close to it, I recommend reaping the ROI and exiting the position. An example of a possible stock to short is Boeing (NYSE:BA). From election day to 3/7/17, the stock has endured a 21.8% increase in share price. I don't think that the company's fundamentals warrant such an increase over so short of an interval. This move is illustrated in the chart below from Yahoo Finance.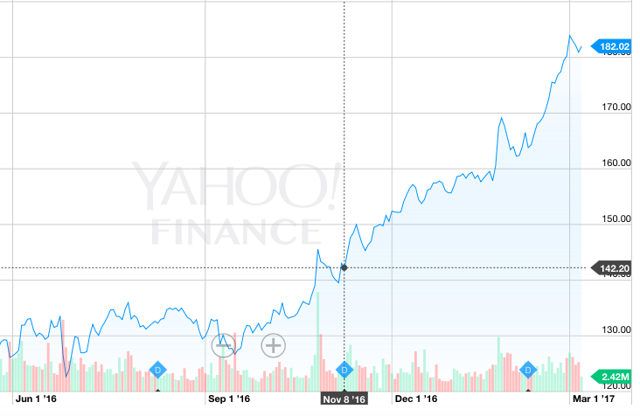 BA presents an opportunity for value investors who don't believe in a 21.8% premium associated with today's share price of $182.02 (3/7/17).
Another value-based method would be to determine stocks that have not grown artificially, but are susceptible to tangible organic growth that can ensue from policy changes. The financials present an interesting and possibly dichotomous situation, as they have grown significantly since the election, but also have huge potential upside from this administration's policy alterations.
If you completely disagree with my analysis, I also offer an alternative investing strategy. If you believe the recent growth is organic and will continue to rise, then I suggest an investment in an inverse volatility ETN, like (NASDAQ:XIV).
Conclusion
Data such as these gives value investors reason to be weary. As an investment thesis, I recommend a value-based short position on equities that have experienced unwarranted, politically-driven growth. I also suggest a complementary strategy to hold long positions in equities that have upside potential due to prospective policy changes. I hope that this culmination of information sheds light on an over-valued financial climate, and hopefully steers some readers to invest accordingly.
Disclosure: I/we have no positions in any stocks mentioned, and no plans to initiate any positions within the next 72 hours.
I wrote this article myself, and it expresses my own opinions. I am not receiving compensation for it (other than from Seeking Alpha). I have no business relationship with any company whose stock is mentioned in this article.