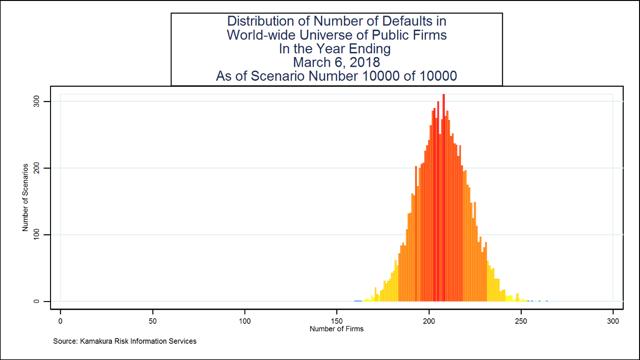 In a recent note, we explained that there are two primary reasons why using legacy credit ratings for portfolio strategy is difficult. Ratings have no explicit default probability and no maturity associated with them. In that note, we used modern "Big Data" default probabilities from Kamakura Risk Information Services (KRIS) to calculate not only the expected number of defaults (an average of 10.26 of the 2,579 rated firms can be obtained by direct calculation), but also the full probability distribution of outcomes for the rated firm universe of 2,579 companies:
In this note, we tackle a bigger question that is often asked at very big institutions that have large portfolios of both fixed-income and equity securities: "How many of the firms in our portfolio will default in the one year ending March 6, 2018?"
The process of answering the question using modern default probabilities is straightforward, and we illustrate that in this note using 38,567 firms in 67 countries as a representative set of counterparties. This is the total public firm coverage of Kamakura Risk Information Services. At first, we consider a simple 1-year horizon, but multi-period extensions are essential for an accurate assessment of risk.
First, we collect the 1-year default probabilities for the 38,567 firms from a source like Kamakura Risk Information Services. Without doing any simulation, we can derive the average or expected number of firms that will default in 1 year: 207.2 firms. This answer comes from Jarrow, Lando and Yu (2005), who proved that the default/no default experience for firm A and firm B are independent at any given point in time, as long as their default probabilities are conditional on all of the relevant macro factors at the time. The expected number of defaults in this case is simply the sum of the 1-year default probabilities (expressed as a decimal, not a percent), because the events of default, given the relevant macro factors, of each firm are independent. Take a two-company portfolio where firm A has a 10% default probability and firm B has a 20% probability. The expected number of defaults over all scenarios is simply 0.10 + 0.20 = 0.30 firms. In a two-firm portfolio, though, there will be scenarios that have 0 defaults, 1 default and 2 defaults. It takes a simulation to get the full probability distribution of outcomes.
Over time, of course, default events are correlated because the macro factors are changing values, but at one point in time, the Jarrow, Lando and Yu result is an important tool.
If we flip a coin 10,000 times, we will not get a result of 5,000 heads and 5,000 tails except by coincidence. Similarly, if we simulate default/no default for 38,567 firms and count the number of defaults over 10,000 repetitions, we will not get 207.2 10,000 times. The process works like this. We take company 1 in scenario 1. Assume the firm has a 5% 1-year default probability. The "default coin" has 1 tail and 19 heads. We flip the coin. If it comes up tails, we count 1 default so far in scenario 1, otherwise the default count for scenario 1 stays at zero. Next, we move to company 2 in scenario 1. Assume company 2 has a 33 1/3% default probability. The "default coin" has one tail and two heads. We flip the coin. If it comes up tails, we add 1 default to the running default total for scenario 1. Otherwise we add 0 to the total and go on to companies 3, 4 and so on until we have flipped the default coins 38,567 times. At the end of all of those coin flips, we have, say, 211 defaults. We record "211" as having 1 observation. We then move to scenario 2 and repeat the process from scratch. We do this 10,000 times, each time recording one more default total. The distribution of defaults varies as the number of scenarios increases, as this video shows:
The overall results are summarized in this table:


The results show that one scenario had 264 defaults, the highest of the 10,000 scenarios. The second highest number of defaults was 260 in one scenario. The highest number of defaults with more than 1% of total observations was 226 defaults. The median number of defaults, the 50th percentile, was 207, close to the calculated averaged of 207.2. The scenario-weighted average number of defaults approaches 207.2 as the scenario count increases, thanks to the law of large numbers. The lowest number of defaults was 160, recorded in just 1 of the 10,000 scenarios.
Which firms are most likely to be among defaulters? That is an easy question to answer: the firms with the highest 1-year default probabilities. The riskiest firms worldwide as of March 7, 2017, are shown here: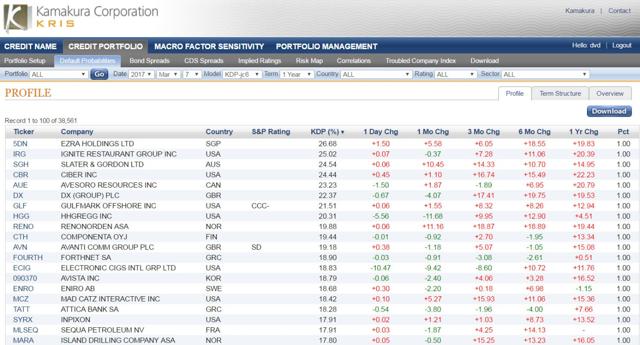 The most sophisticated institutional risk managers simulate defaults forward in a multi-period simulation with default probabilities that change in response to changes in randomly moving macro factors. The results in this note, however, can be reproduced using simple spreadsheet software or common statistical packages by a serious individual investor.
References:
Jarrow Robert, David Lando and Fan Yu, "Default Risk and Diversification: Theory and Applications," Mathematical Finance, January 2005, pp. 1-26
Disclosure: I/we have no positions in any stocks mentioned, and no plans to initiate any positions within the next 72 hours.
I wrote this article myself, and it expresses my own opinions. I am not receiving compensation for it (other than from Seeking Alpha). I have no business relationship with any company whose stock is mentioned in this article.