Rethink Technology business briefs for March 8, 2017.
At the Open Compute Project Summit, Microsoft's Project Olympus Looms Over All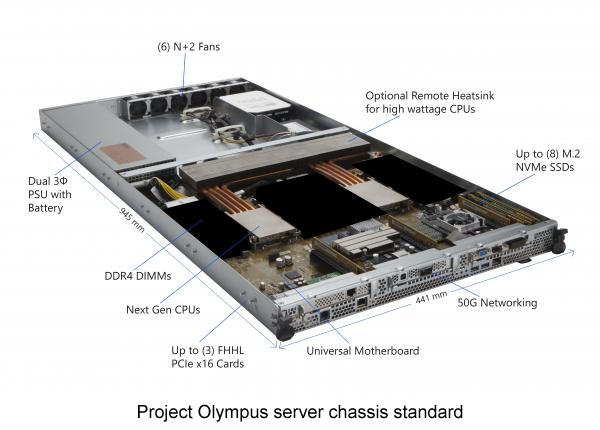 Source: The Open Compute Project
It's nice when everyone wants to be your friend, and right now at the 2017 Open Compute Project (OCP) US Summit, it seems that everyone wants to be Microsoft's (NASDAQ:MSFT) friend. That's because Microsoft's Project Olympus seems to be the next OCP hardware standard.
The standard is a fairly broad architecture standard for servers. It defines server chassis designs, such as the one shown above, and a Universal Motherboard that leaves unspecified the processor that would be used. A standard server rack is shown below: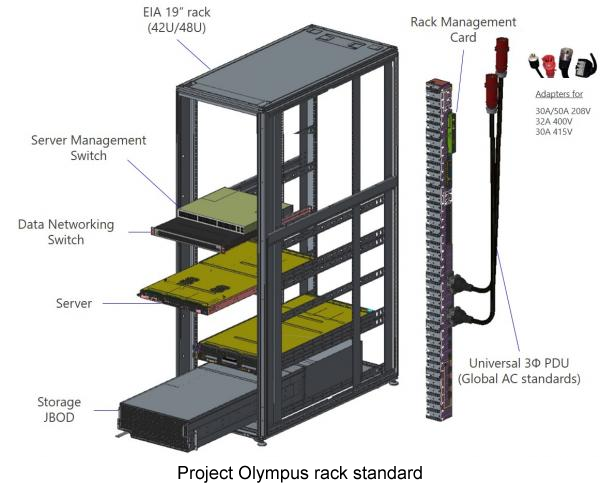 So now, the prospective processor makers such as Advanced Micro Devices (NASDAQ:AMD), and Qualcomm (NASDAQ:QCOM) are anxious to declare their "collaborations" with Microsoft.
Project Olympus is intended to be non-exclusionary and support a wide range of processors. Microsoft's blog post today on Olympus made clear that it would support the next generation of Intel (NASDAQ:INTC) Skylake Xeon processors, as well as AMD's Naples. The main point of the post was to highlight Olympus as a de facto OCP standard.
But it would be difficult to discern the open character of Olympus from the AMD press release. The release strongly implies that the Olympus standard will incorporate Naples specific features:
At the 2017 Open Compute Project U.S. Summit, AMD announced their collaboration with Microsoft to incorporate the cloud delivery features of AMD's next-generation "Naples" processor with Microsoft's Project Olympus - Microsoft's next-generation hyperscale cloud hardware design and a new model for open source hardware development with the OCP community.

Through Microsoft's contribution of the Project Olympus design much earlier in the cycle than many OCP projects, AMD was able to engage early on in the design process and foster a deep collaboration around the strategic integration of AMD's upcoming "Naples" processor. The performance, scalability and efficiency found at the core of Project Olympus and AMD's "Naples" processor means the updated cloud hardware design can adapt to meet the application demands of global datacenter customers.
What the "deep collaboration" actually yielded in terms of specific design implementation is never made clear, but it couldn't really amount to much. Tailoring Olympus to Naples, and vice versa, would defeat the whole point of OCP.
In a companion blog piece, Microsoft announced what may have been the more significant collaboration, which is the porting of Windows Server to Qualcomm's Centriq 2400 ARM server and to Cavium's (NASDAQ:CAVM) Thunder X2 ARM server. The port of Windows Server to ARM is "for internal use only" according to the post. This truly would have had to be a collaborative engineering effort between the companies involved.
The post also announced that Qualcomm, Cavium and Microsoft would be demonstrating Windows Server on the respective ARM server platforms at the OCP Summit. Qualcomm's own announcement of the collaboration came right to the point, without over-promising:
At Open Compute Project (OCP) Summit 2017, Qualcomm... today announced a collaboration with Microsoft to accelerate next generation cloud services on its 10 nanometer Qualcomm Centriq™ 2400 platform. This collaboration will span multiple future generations of hardware, software and systems.

With the goal of enabling a variety of cloud workloads to run on the Microsoft Azure cloud platform powered by Qualcomm Centriq 2400 server solutions, QDT today submitted a server specification using its advanced 10 nanometer Qualcomm Centriq 2400 platform to OCP. The Qualcomm Centriq 2400 Open Compute Motherboard server specification is based on the latest version of Microsoft's Project Olympus. Moreover, QDT today conducted the first public demonstration of Windows Server, developed for Microsoft's internal use, powered by the Qualcomm Centriq 2400 processor.
The fixation of AMD supporters on the competition with Intel really has missed the bigger picture developments in the industry. Processors based on ARM architecture are about to make inroads in what had been the private purview of x86 (Intel) architecture.
The advantages of ARM are the advantages that allowed the architecture to defeat Intel in the mobile space, lower chip cost and lower power consumption. For data centers, lower power consumption means a lot, since power is a significant portion of operating cost. Whether Qualcomm and other ARM processor vendors can deliver these advantages in the server space remains to be seen, but I'm optimistic that they will.
Microsoft has shown that it realizes the importance of ARM. It announced its partnership with Qualcomm for Windows 10 mobile devices using the Snapdragon 835 10 nm SOC last December. With the Windows Server announcement, Microsoft once again seems to be saying that the future of Windows computing is ARM, not x86.
Rethink Technology rates Microsoft a hold. Rethink Technology rates Qualcomm a buy.
Apple Claims to Have Patched Many Vulnerabilities Disclosed by Wikileaks
Following Wikileaks' reveal of CIA hacking tools, Apple (NASDAQ:AAPL) has announced that it had already fixed many of the vulnerabilities described by Wikileaks. The announcement made to press organizations was subsequently released by John Paczkowski of BuzzFeed on Twitter: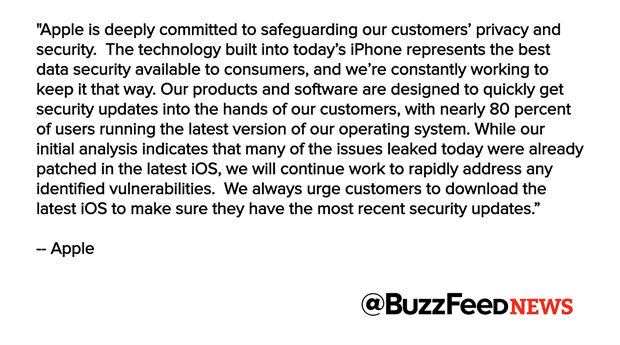 Undoubtedly Apple will work diligently to address any remaining vulnerabilities. Apple's exclusive control of iOS updates in contrast to Android means that iOS users can be assured of receiving the latest updates as quickly as possible, assuming they are using the most current version, iOS 10.
Wikileaks has some interesting observations regarding the targeting of iOS devices:
Despite iPhone's minority share (14.5%) of the global smart phone market in 2016, a specialized unit in the CIA's Mobile Development Branch produces malware to infest, control and exfiltrate data from iPhones and other Apple products running iOS, such as iPads. CIA's arsenal includes numerous local and remote "zero days" developed by CIA or obtained from GCHQ, NSA, FBI or purchased from cyber arms contractors such as Baitshop. The disproportionate focus on iOS may be explained by the popularity of the iPhone among social, political, diplomatic and business elites.
Not to mention millions of teenagers around the world, and yours truly. The use by members of the elite is merely a side effect of iPhone's superior security, and it's the superior security of iPhone that has required so much effort on the part of the CIA.
Rethink Technology rates Apple a buy.
Softbank Sweetens the Vision Fund with a 25% Stake in ARM Holdings
Softbank (OTCPK:SFTBY) is poised to launch soon its $100 billion Vision Fund, which is intended to be an incubator for future technologies. Softbank will contribute $25 billion to the fund. Other investors include Saudi Arabia's Public Investment Fund, which may contribute $45 billion.
Other investors are involved, including Apple, and Qualcomm. Now, as part of Softbank's contribution to the fund, it will transfer to it 25% of ARM Holdings, which Softbank acquired last year for $32 billion.
An interesting take on this development is that this is being done to interest Mubadala, the Abu Dhabi investment firm that is the owner of GlobalFoundries and part owner of AMD. The linkage between Mubadala's interest in the fund and the ARM Holdings transfer may be more perceived than real, but it is interesting.
Both GlobalFoundries and AMD are ARM licensees, of course. But AMD is not particularly strong in ARM technology, having only one shipping ARM processor, the ill-fated Opteron A1100 (Seattle), based on an out-dated ARM CPU design. As server design expert Johan De Gelas detailed in AnandTech in January 2016, Seattle was already two years late.
Mubadala's interest in ARM may be simply a desire to diversify into other more forward looking processor architectures. Or it may indicate a desire to gain greater access to ARM technology on behalf of AMD and GloFo. We'll have to see.
Disclosure: I am/we are long AAPL, QCOM.
I wrote this article myself, and it expresses my own opinions. I am not receiving compensation for it (other than from Seeking Alpha). I have no business relationship with any company whose stock is mentioned in this article.
Editor's Note: This article discusses one or more securities that do not trade on a major U.S. exchange. Please be aware of the risks associated with these stocks.