J. Jill (NYSE:JILL) confidentially filed for IPO in late 2016, made its S-1 filing public on February 10 with a $100M offering placeholder, then filed an amended S-1/A 17 days later with an amended proposed maximum offering of $215M with a share price cover range of $14-16 per share. I wanted to estimate JILL's valuation to predict where I think the post-IPO trading range will be and where, if it trades significantly below or above, could represent a buy / sell opportunity. As will be discussed below, JILL has been the gift that's kept on giving for private equity investors, and now with an IPO the question becomes if it continues delivering returns for public investors.
JILL Introduction and Investment Highlights
Proven omni-channel model: $617M in total trailing twelve month sales through Q3:16, with 57% at retail (through its 275 JILL stores) and 43% direct-to-consumer (38% ecom, 5% catalogue). 2016E total revenue growth of 15%+ with retail up 11%, ecommerce up 25%, and catalog up 5%.
Data-centric approach helps guide success: 97% of transactions can be identified to a specific customer of their 1.7M active customer base; capture personal identifiers, demographics, contact history, transaction history, channel history.
Distinct brand that resonates with consumers: JILL has 1.7M customers (up 11%), who are primarily 40-65 year old females who are typically college grads with household income above $150,000 and who shop in store and online and are loyal (70% of 2015 sales came from repeat customers with over 5 years of tenure shopping JILL; average customer tenure is 7 years).
Aligned, customer-focused product strategy driving superior margins: focus on naturally authentic, thoughtfully engaging, relaxed femininity, positive energy, confident simplicity: Core line makes up 63% of sales, Pure Jill is 18% of sales, Wearever is 11% of sales, and accessories are 8%. Gross margin high at 67% and improved 110bps since 2014.
Continued momentum, outperforming sector: Positive same store sales in 18 of last 20 quarters with 20 consecutive quarters of EBITDA growth.
Clear, sustainable growth strategies: JILL has less than 2% market share of the $42B NPD Market and 79M customer opportunity. Estimated retail door potential of 375, representing 100 door headroom opportunity (represents ~$100M incremental retail revenue and $27M incremental EBITDA based on new store model). Direct sales currently 43% of total revenue, with management belief this can reach 50% (represents ~$87M revenue upside based on 2016E retail level).
Team, culture and investments to deliver consistent, profitable growth: JILL team has an average of 25+ years of industry experience across channels.
JILL Benchmarking and Valuation Estimates
JILL has been the gift that's kept on giving for private equity. Current owners, TowerBrook, acquired J. Jill from private equity firm Golden Gate Capital and global investment firm Arcapita only two years ago in March 2015 for around $400M, which was a big step up in value for Golden Gate which acquired J. Jill for around $75 million in 2009 from Talbots. Golden Gate sold a majority stake in the business to Bahrain-based Arcapita and it was reported Golden Gate made five times its money on J. Jill over the course of its investment.
At the $15.00 midpoint of the range, JILL is valued at a $925M enterprise value, representing a 2.3x increase in enterprise value in just two years for TowerBrook, and a higher multiple of equity. Where do I think JILL trades up to after IPO? Let's benchmark.
How does JILL rank across a variety of performance metrics relative to 50+ other public apparel and retail companies? Fairly strong:
4th place in 2016 Revenue Growth: at 14%, JILL is the 4th fastest growing revenue company out of the 50+ public apparel and retail company comp set (top companies charted below), trailing only Under Armour, Ascena Retail Group, and Lululemon: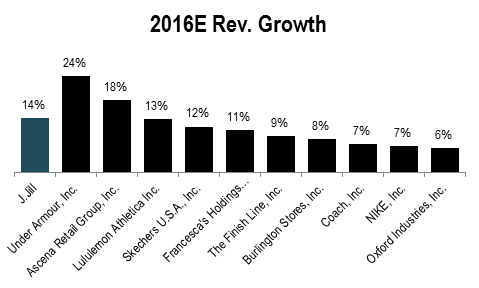 5th place in 2016 EBITDA Growth: at 28%, JILL is the 5th fastest growing EBITDA company, trailing The Children's Place, Coach, Perry Ellis, and Destination XL Group: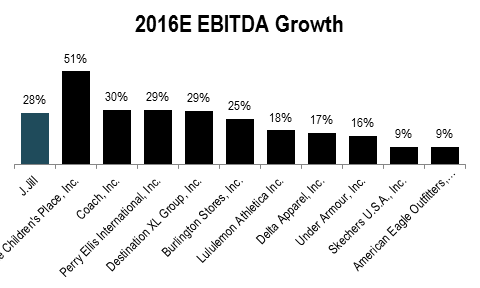 2nd place in LTM Gross Margin %: Gross margin of 66% is second only to Coach, which has a relatively large licensing business that augments its margin upward. Tiffany & Co is third at 62% gross margin.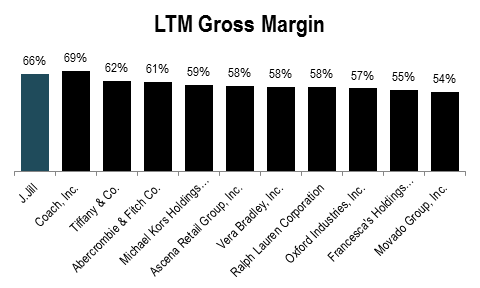 9th place in LTM EBITDA Margin %: at 17% margin, it's clear JILL has invested for growth in the mid term here and should see this margin continue to increase with growth.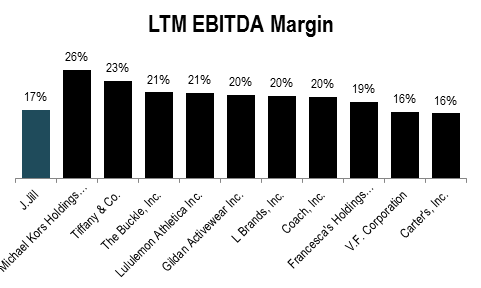 Conservative Valuation at the $15.00 IPO mid range price point
Given JILL is in the top 5 across a majority of key valuation driving performance benchmark metrics, how does JILL's IPO midpoint valuation benchmark? Conservatively:
10th place (at $15 midpoint) for Enterprise Value / LTM Sales: at the midpoint, JILL is valued at ~$925M enterprise value ($656M equity, plus $267M in net debt), which represents only a 1.4x sales multiple (2016E), which is at the lower end of top-quartile peer group trading around average of 2.0x to 2.2x: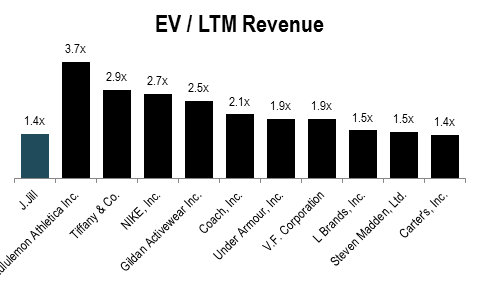 19th place (at $15 midpoint) for Enterprise Value / LTM EBITDA: the $925M EV midpoint represents an EBITDA multiple for JILL of nearly 9x, which is highly conservative given the top quartile operators trade closer to 13-14x: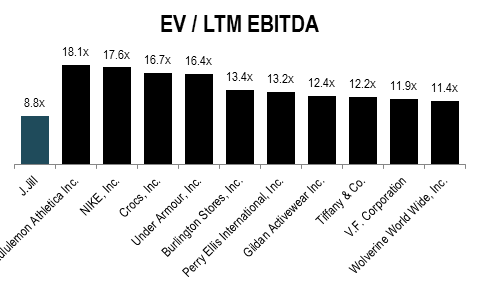 My conclusion based on the above data is that JILL/TowerBrook aren't getting greedy in its IPO pricing at the current midpoint or high end. I would anticipate in after IPO trading for JILL to trade closer to 12-14x EBITDA, which would suggest an IPO pop from the $15-16 TBD IPO price point up 40-60% to $21 to $25. If JILL trades below $20, I would consider going long, and much above $25 would seem to me not to price in risks related to the company's long term ability to expand customer base while maintaining its track record of staying on fashion trends. There is less fad risk here than a Vera Bradley, per se, given the older more established consumer and a wave of baby boomers continuing to age. Good luck, JILL in continuing to deliver outstanding returns to your shareholders while delighting customers!
Disclosure: I/we have no positions in any stocks mentioned, and no plans to initiate any positions within the next 72 hours.
I wrote this article myself, and it expresses my own opinions. I am not receiving compensation for it (other than from Seeking Alpha). I have no business relationship with any company whose stock is mentioned in this article.