Natural Alternatives International (NASDAQ:NAII) is a stock with a market capitalization of only $58 million. Usually, stocks with such a low market capitalization may be neglected by market participants and may offer a mispricing opportunity. In my view, the fundamental value of this company is much higher than is currently perceived by the market at prices below $9 per share. The demand for the company's product has been increasing steadily since 2013.
NAII has been able to fund incremental capital expenditures and share buybacks primarily from operations, and yet, its cash position is as strong as ever. The balance sheet is very strong, as the company does not have any debt. In addition, management's interest is aligned with that of the shareholders, but despite all of the good attributes, the stock trades at very cheap valuations below its book value of equity. So let me introduce the company first, as I would suggest it is not known to many of the readers.
Natural Alternatives Investments' primary business activity is providing private-label manufacturing contract services to companies that market and distribute vitamins, minerals, herbs and other nutritional supplements as well as healthcare products. Revenue also includes sales of raw material, royalty and licensing generated from patent estate pursuant to license and supply agreements with third parties for the distribution and use of the ingredient known as beta-alanine sold under NAII's CarnoSyn and SR CarnoSyn trademark. Beta-alanine is used in sports nutrition segment mostly in dietary supplements. Patent and licensing source of revenue were provided by an agreement with Compound Solutions, Inc. until 2015, when the company terminated this partnership and decided to pursue these services on their own.
The shift in strategy has resulted in higher revenue
Company management has made a couple of changes in its business strategy recently, as a result of which sales have increased significantly. For instance, the company decided to stop selling branded products, sell licensing and patents on its own rather than through distributors and increase its customer base. These initiatives have borne fruit, and NAII's revenue skyrocketed. Sales in the licensing segment have doubled since 2015 and increased further by 30% in 1H 2017. In the private-label segment, the management focus was on increasing the customer base, and this has also worked handsomely recently, as sales increased more than 30% last year.

(Source: Natural Alternatives International 10-K Reports since 2010)
The company has also reported sales for 1H 2017 (six months ended in December), and again reported double-digit growth in each of its reporting segments.

(Source: Natural Alternatives International 10-Q Report for 2Q 2017)
This is clearly a sign that the company is making products that are in high demand, and that management has made steps in right direction. It has to be pointed out, though, that management has provided guidance with respect to revenue growth for the full fiscal year to be in the range of 5-10%. This implies a negative rate of growth for the remainder of fiscal 2017 (June 2017). NAII management, though, is expecting this to be temporary, and the trend should reverse in fiscal 2018. Yet, if 5-10% revenue growth happens to be true, the company would report the best results in its recent history.

(Source: Natural Alternatives International 10-Q Report for 2Q 2017)
The capacity has increased
Over the recent years, NAII has also invested capital into its operations so it would be able to keep up with additional demand. In 2014, the company had $8.8 million in property and equipment on the balance sheet, whereas in 1H 2017, its property and equipment represented $17.5 million. This is almost double the amount it had in 2014. As a result, the company is in a very good position to benefit from incremental demand in the future. Yet, all of the expenditures have been funded primarily from operations, as NAII does not have any debt on its balance sheet.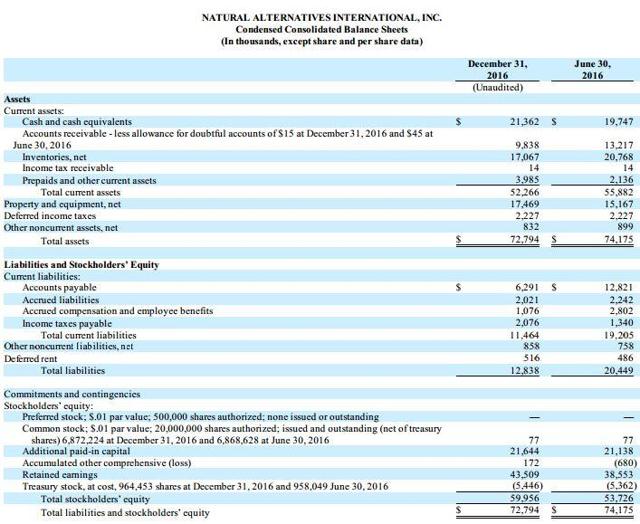 (Source: Natural Alternatives International 10-Q Report for 2Q 2017)
Share buybacks
In addition to funding its business to keep up with the incremental demand, NAII has also spent millions on share buybacks, having decreased the number of shares outstanding by approximately 5% since 2011.

(Source: Natural Alternatives International 10-K Reports since 2010)
Management has also devoted share buyback expenditures for the future period in the amount of $5 million, and despite the absent dividend, investors should benefit from the buybacks.

(Source: Natural Alternatives International 10-Q Report for 2Q 2017)
Yet, despite increased capital expenditures and share buybacks, the cash on the balance sheet is the highest ever at $21.4 million, representing 40% of its $58 million market capitalization. Perhaps the reason why the company has performed well over the years is the management and shareholder interest alignment. NAII's CEO and CFO own jointly more than 23% of the company, and therefore, it is in their best interest that the shareholder would benefit.

(Source: Natural Alternatives International 10-K Report for 2016)
Cheap valuation
Despite the healthy state of the business, increased demand for its products and management-shareholder alignment, the company is trading at very cheap valuations. Its book value of equity is $59 million, which is above its current market capitalization. Most of the equity value is in very liquid form, as current assets stand at $52 million (visible in the above picture). Over the recent history, the share price has traded with an average premium to book value of approximately 10%, and therefore, this may suggest a good entry point.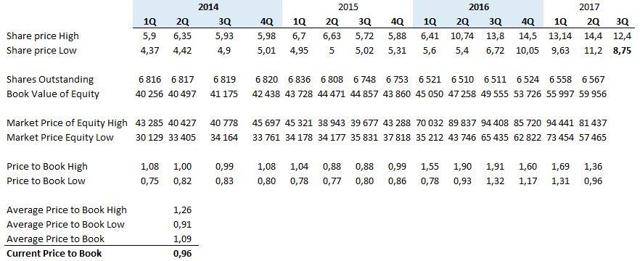 (Source: Natural Alternatives International 10-K Reports, Author's calculations)
Since 2014, the company traded at a price-to-book as low as 0.75. This would imply price per share of $7, or a 20% decrease from the current price. On the other hand, it has traded as high as 1.91 price-to-book, or a price of $17.4. This would be 100% implied rate of return from current price. Of course, if company performs poorly and report an earnings loss, then its book value of equity will shrink. But this has not been the case throughout its recent history, and there are no expectations of any negative earnings in upcoming quarters as well.
Potential downside risks
Having considered all the benefits of taking the long entry, one has to consider the potential downside risks associated with such an investment as well. First, there is a risk associated with low-capitalization companies. Usually, these type of stocks trade at very low volume, and any increase in volume could significantly influence the move of the stock price in either direction. Second, NAII's trademark for CarnoSyn is going to expire this year. The company has already introduced a new product called SR CarnoSyn, which it claims is superior to the previous version, but customers could not be motivated to shift to the superior product. As a result, sales from the patent and trademark segment may come under pressure. On the other hand, it also offers an opportunity for an incremental sales from the product upgrade.
Third, a significant portion of company's revenue is derived from one customer, i.e., Juice Plus+ Company. Management has already taken initiatives to broaden its customer base so sales would be more diversified, but as of the last reported 10-K report, Juice Plus+ Company still represented more than 43% of sales. If management is successful with the implementation of the new strategy and is able to attract a new customer base, it should deserve a higher valuation. Fourth, NAII has projected a decline in the pace of revenue growth for full fiscal year 2017, as I outlined above. If this negative growth persists, then the share price may come under pressure. However, even with projected declining sales, the company will most likely report the best results in recent history with $120 million in sales. It was able to maintain positive earnings even with $54 million in sales in 2011. And if the positive earnings persist, the book value of equity will rise, and so should the market value of equity. These are the risks that need to be considered before making an investment in NAII. I think they are all reasonable, and investors should be rewarded for taking them.
The key takeaway
The demand for Natural Alternatives' products has been very strong and kept rising at a double-digit pace of growth. Management has got the best interest on the share price outperforming, as it holds 23% of the company. The company is in an excellent fundamental position, as it has been able to finance from operations higher capital expenditures, share buyback and yet it reported the highest level of cash on balance sheet. With all that attributes, it trades at a very cheap valuation that is below its book value of equity, and therefore, should deserve a higher valuation. In my view, this provides an excellent risk-reward opportunity for a long position.
Disclosure: I am/we are long NAII.
I wrote this article myself, and it expresses my own opinions. I am not receiving compensation for it (other than from Seeking Alpha). I have no business relationship with any company whose stock is mentioned in this article.
Editor's Note: This article covers one or more stocks trading at less than $1 per share and/or with less than a $100 million market cap. Please be aware of the risks associated with these stocks.