Costco Wholesale Corporation (NASDAQ:COST) released disappointing Q2 2017 results last week, missing on both revenues and EPS. As part of the release, Costco announced that membership prices would increase from $55 to $60 for a primary membership and from $110 to $120 for its executive memberships in the U.S. and Canada. 75% of Costco's operating income comes from membership fees so this move is expected to boost the bottom line over a 23-month period without unduly impacting the number of shoppers.
After reviewing the earnings conference call transcript, I realized how Costco's business model, as successful as it has been, is limiting the company's growth and future potential. The model is based on getting customers into the warehouse, then selling them items that they weren't originally intending to buy. For this reason, the management has been dragging their feet with online retail as it runs counter to their business model. The point was made during the earnings conference, that Costco is only interested in picking the lowest-hanging fruit from the tree (in reference to their online efforts). They have hired one Big Data analyst, which provides a good indication that they are not serious about competing with Amazon, Walmart, and smaller online retail companies.
This business model is OK for investors wanting a relatively conservative investment that will likely grow at the rate of inflation, but investors should not expect more than that. Costco does have a strong market presence, loyal customers, and an expansive supply chain but the market that Costco operates in is saturated. Adding new outlets in the U.S. and Canada is resulting in cannibalizing of their existing warehouses. And this is in an environment of fierce competition from companies such as Amazon.com, Inc. (NASDAQ:AMZN) and Sam's Club, owned by Wal-Mart Stores, Inc. (NYSE:WMT).
Increased competition requires that Costco continuously work on reducing the cost of products sold. Lower prices may increase sales but at the expense of lower operating margin which is already razor-thin. Razor-thin operating margin means that investor can expect earnings surprises on a regular basis, and they won't usually be positive surprises.
The only real hope for Costco to excel going forward is its plans for expansion beyond the 90 warehouses they already have outside of North America. This is somewhat risky as each country has its own nuances and there is a great deal of effort and cost getting suppliers to conform to Costco requirements. And currency exchange can result in losses, something that occurred in the most recent quarter.
Fundamentals
I have chosen to compare Costco's fundamentals side-by-side with Walmart's fundamentals even though they have different business models. After all, they are the top two retailers. Costco essentially sells merchandise slightly above cost while making money on membership fees, while Walmart generates profits selling merchandise.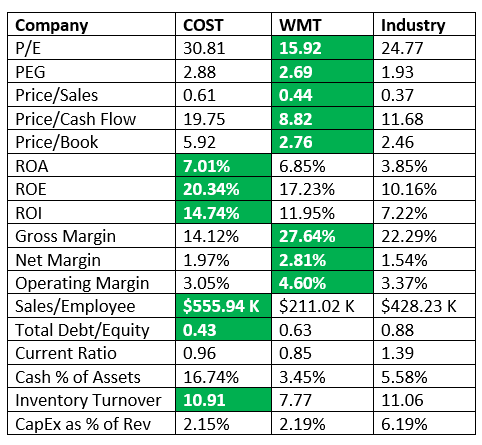 (Source: Portfolio123)
There are two fundamental factors worth mentioning from the above table. The first is the P/E Ratio which is 30.8 for Costco, double that of Walmart. This tells me that Costco is significantly overvalued. The second factor is the total Debt/Equity. Costco's lower figure of 0.43 compared to Walmart's 0.63 puts Costco in better shape in a rising interest rate environment. Costco also intends to use its high level of cash to pay down $1.1 billion in long term debt and save $50 million dollars per year.
Analysts' Estimates
Analysts' estimates for Costco EPS miss the mark more often than not. This could be a result of the number of factors influencing the calculation including the price of gas, foreign exchange rates, losses resulting from currency hedging, inventory inflation/deflation, etc. Or it may simply be due to Costco not issuing forward guidance, making the analysts' job all that more difficult. In any case, the result is that the share price of Costco is more volatile due to missed estimates.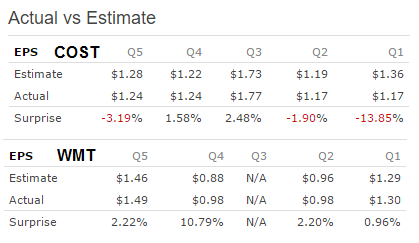 Wrap-up
Costco is a reasonable investment if you are interested in keeping up with inflation but I would not count on superior performance going forward. The company is slow-moving and conservative by paying down long term debt. There isn't much opportunity for growth other than in Asia and Europe, which is expensive and risky. I do believe that the stock price is too high at present and investors should wait for the price to drop at least 30% before buying. The company simply doesn't have the growth to justify the P/E Ratio.
Disclosure: I/we have no positions in any stocks mentioned, and no plans to initiate any positions within the next 72 hours.
I wrote this article myself, and it expresses my own opinions. I am not receiving compensation for it (other than from Seeking Alpha). I have no business relationship with any company whose stock is mentioned in this article.