Sogou, China's third largest search engine, has taken one important step toward an initial public offering (IPO) in 2017. Multiple parties that we understand to include are Sogou's management and two major shareholders, Tencent (OTCPK:TCEHY) and Sohu (NASDAQ:SOHU). They have already sat down to discuss possible IPO arrangements. Although most details of the IPO are not yet certain, one thing is most likely; Sogou would be listed on the NASDAQ.
"We multiple parties have sat down to start talking (about the IPO). This is the biggest difference from (the situation) last year." Sogou CEO Wang Xiaochuan told 21st Century News in late February. However, Wang admitted at the sideline of Sohu's 2016 earnings meeting that, so far, there is no specific timetable.
Multiple Parties Hold First Meeting On IPO Plan
It is widely known in China's Internet community that Wang and his colleagues are vying for an IPO, hopefully, within this year. Sogou, China's third most popular search engine behind Baidu (NASDAQ:BIDU) and Qihu 360 (NYSE:QIHU), already meets the earnings criteria for an IPO. Its management has been preparing for some time but it has yet to get approvals from Tencent and Sohu.
Sogou was launched by Sohu in 2004. The latter's founder and CEO, Zhang Chaoyang, had considered Sogou one of Sohu's core assets. However, Tencent paid $448 million plus most of its own search engine assets in exchange for a 36.5% stake in Sogou in September 2013. By last September, Sohu reported Tencent's stake in Sogou already reached 45%, meaning that the company became Sogou's largest shareholder. Sohu's stake dropped to 38.35%.
However, as Sogou has a dual-class share structure under Sohu and Zhang, together, they hold most of Sogou's multiple voting shares. By maintaining control over Sogou, Sohu can veto any Sogou spin-off plan.
In early January, Sogou CEO Wang Xiaochuan said in a Bloomberg interview that the company expected to hold an IPO by listing about 10% of its shares in 2017.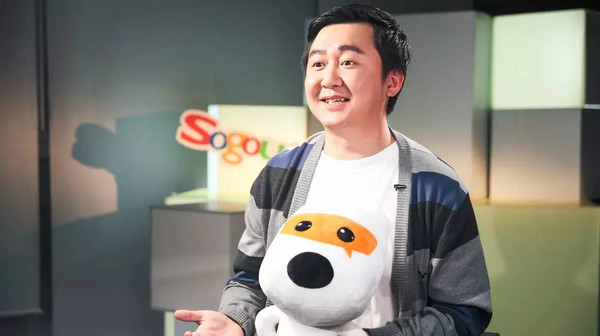 Sogou CEO Wang Xiaochuan has two goals in 2017: an IPO and to start making AI technology hardware.
With a valuation of as much as $5 billion, Sogou hoped to raise as much as $500 million in cash to deliver on its two strategies: 1) To chase after Baidu in mobile search engine business; and 2) to continue supporting the company's quest for artificial intelligence (AI) and machine learning technologies.
Sohu Talks On Sogou IPO Shortly After Rejecting The Idea
However, Sohu swiftly denied any IPO plan before it agreed to discuss the issue in late February. The mere fact that Sohu has changed its mind in less than two months and agreed to discuss Sogou's IPO is already a big step forward.
Wang did not reveal the details of the first multi-party IPO meeting. It is understood that at least three parties were present. Sogou's management and its two main shareholders, Tencent and Sohu, are expected to sell some of their Sogou stake in the IPO in order to recoup part of their investment. Tencent, which has invested substantially in Sogou, is believed to aim at being the largest shareholder and major strategic partner of Sogou.
The case for Sohu is more difficult. Its ownership in Sogou has already dropped to 38.35%. Any IPO may further dilute its stake to below 35%. Moreover, as Sohu no longer manages Sogou's operation, it will find it difficult to convince other shareholders why it deserves to continue controlling Sogou.
Hence, the future distribution of Sogou's A and B shareholdings should be one of the priority IPO issues to be discussed among the three existing shareholders as well as investment bankers and institutional investors.
Future multi-party meetings will decide where Sogou's shares will list. Stock exchanges in mainland China and Hong Kong do not allow listing of companies with dual-class share structure. But, in New York, such practice is popular, especially among technology companies. If Sogou decides to keep the dual-class share structure, it can only list shares in New York. As Sohu is listed at NASDAQ, Sogou has a good chance of listing its shares there.
CEO Wang said that his company had been repositioning itself as an AI technology firm for two years. It has already applied some AI technologies to its existing products, including its search engine.
Sogou has apparently planned for a major change in development strategy in 2017. CEO Wang said he looked for an appropriate scenario to launch AI hardware products as a means to apply the technologies Sogou had gathered. He also looked for a strategic partner with rich experience of hardware manufacturing and marketing.
"We start to mention the term 'hardware' as much as possible," said Wang. This is a real change for Wang as in the past he often played down the prospects of hardware selling.
On February 21st, Sogou reported results for the fourth quarter and the whole 2016. Its 2016 revenue jumped 19% to 4.4 billion yuan ($667 million). Yet, its non-GAAP net income dropped to 640 million yuan ($97 million) from over $100 million in 2015.
Nonetheless, Sogou still manages to report continuous profits for several quarters, thus qualified for an IPO.
Self Valuation Already Above Baidu And Tencent
Wang said in January that Sogou was valued at $5 billion. With its non-GAAP net income amounting to $97 million for the year 2016, its P/E ratio at the end of 2016 was 53.88.
In comparison, Baidu achieved a non-GAAP net income per ADS of $5.48 in 2016. With a share price close at $164.41 on December 30, 2016, Baidu had a P/E ratio of 30. Tencent has not yet reported its 2016 results. Its latest P/E was 44.5. Sohu, Sogou's controlling shareholder, reported a negative bottom line in the fourth quarter of 2016 and has no P/E. It has posted 11 losses in the last 12 quarters.
Observation: High Valuation Counts On AI Concept
Sogou's 2017 IPO plan may result in three possible scenarios:
1. No IPO: Sohu denied any Sogou IPO plan right after the Sogou CEO Wang announced his IPO wish early January. Yet, less than two months later, the dot-com pioneer agreed to sit down and talk on this plan. This suggests it might have received some proposal that it considered at least providing foundation for further negotiation. So, the possibility of no IPO is slim.
2. IPO keeping status quo: This will be the solution if Sohu finally disagrees with its colleagues on Sogou's shareholding distribution. The mechanism is simple: Sogou issues new shares while existing shareholders also sell some of their holdings so that their stakes all decrease by 10% after the IPO. By doing so, the power structure among major shareholders is maintained. But then Sogou cannot get rid of the image of a traditional search engine under a traditional dot-com company.
3. A listed AI technology firm: AI is now fashionable in the Internet sector. Any company seeking IPO will give potential investors more room for yearning and a higher valuation if it can show its AI involvement. For Sogou, a close link with Tencent, one of China's two Internet big brothers and a strong propellant of AI, is also investor appealing.
Sogou has already laid down the groundwork of transforming itself into an AI firm, apparently influenced by Tencent.
Here is the timeline of Tencent's interaction with AI and Sogou:
September 2013: Tencent got a 36.5% stake in Sogou in exchange for an infusion of cash and its own search assets. This helped Sogou develop into the third largest search engine in China.
2014: Tencent boosted its stake in Sogou to 40%.
Early 2015: Sogou started repositioning itself as an AI technology firm.
April 2016: Tencent formed AI Lab and called the technology its top development priority.
September 2016: Sohu revealed Tencent's stake in Sogou had risen to 45%.
January 2017: Sogou CEO Wang suddenly said Sogou ventured into AI hardware making business and looked for a strategic partner with good experience in this field.
January 2017: Wang also announced Sogou planned for an IPO within 2017.
Conclusion: Sogou May Seek More AI Achievements Before IPO Quest
We can see that Sogou has been transforming itself into an AI technology firm after Tencent started increasing its stake in Sogou in 2014. Tencent itself has invested heavily on the technology.
Sogou CEO Wang revealed in January that an IPO and being an AI technology hardware manufacturer were his two goals this year. The two goals are inter-related and enhance each other. From the timeline listed above, Tencent seems to aim at turning Sogou into a listed maker of hardware with AI technologies developed by Tencent and Sogou.
As AI is now fashionable in the Internet world, while Tencent is one of the most prominent Internet names in China, Sogou is expected to take three actions to make full use of these two beneficial factors and get a higher IPO valuation:
1. Formation of a strategic alliance with Tencent AI Lab to jointly develop the AI technology.
2. Announcement of a strategic partnership with an experienced electronics manufacturer.
3. Sogou will emphasize its status as an associate company of Tencent after the IPO. That means shareholders agree to let Tencent buy more A shares from Sohu to consolidate its status as Sogou's largest and controlling shareholder. To pacify Sohu, Sogou may agree to provide long-term search engine service for Sohu.
Disclosure: I/we have no positions in any stocks mentioned, and no plans to initiate any positions within the next 72 hours.
I wrote this article myself, and it expresses my own opinions. I am not receiving compensation for it (other than from Seeking Alpha). I have no business relationship with any company whose stock is mentioned in this article.
Editor's Note: This article discusses one or more securities that do not trade on a major U.S. exchange. Please be aware of the risks associated with these stocks.