Thesis
During rising interest rates, lengthy fixed-rate bond durations sink investment-grade bond values. Senior floating-rate bank loans, on the contrary, maintain value and return more than investment-grade bonds to investors.
Markets were not expecting a rate hike in March
Federal Reserve policymakers recently and seemingly made a coordinated effort to communicate their intentions to raise the benchmark rate at its March meeting. Janet Yellen, at a business luncheon in Chicago, gave an indication that a rate hike would be appropriate should employment and inflation be in line with the committee's expectations. She also said:
The process of scaling back accommodation likely will not be as slow as it was in 2015 and 2016.
Should the committee elect to raise the benchmark rate in March, that would be two hikes in the past three months, indicating the pace of removing accommodation is quickening.
The Fed is justified in raising rates since a tighter labor market is increasing average hourly earnings at the fastest pace since the financial crises. The PCE price index, the Fed's preferred gauge of inflation, currently at 1.74%, has also been approaching their target of 2%. Inflationary fiscal stimulus on the horizon is likely being taken under consideration as well.
According to the FedWatch Tool (below) there is a near 80% chance of a rate hike, which is up from just 31% a week ago.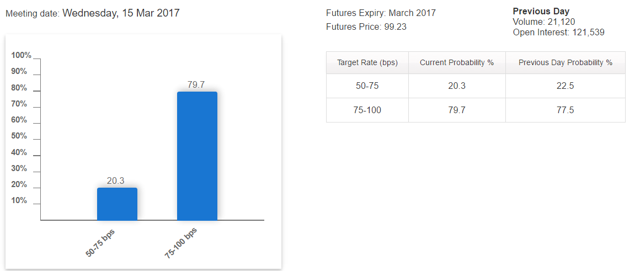 Source: CME Group
I see more risk inherent in rates moving up faster than rates moving slower because the market is not pricing in a faster pace of rate hikes.
Inflation will likely upend abnormally low rates
Headline inflation has been rising at a fast pace in the past six months. This trend is expected to continue as over 50% of CPI components, the highest since 2008, are realizing above-average inflation.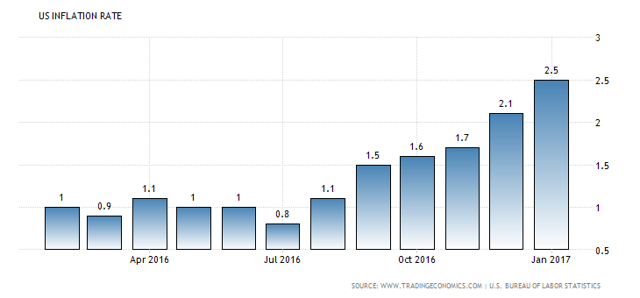 Higher interest rates follows from higher inflation.
The abnormal Treasury rate
The following chart shows the safety trade in play since the financial crisis. Yields fell from 5% before the crisis to below 1% and have since risen to a multi-year high of 2.03% as the safety play is waning. Notably, interest rates as presented by the 5-year Treasury yield have been below the core rate of inflation since 2011 indicating an anomaly.
Normally, interest rates are above the core inflation rate as you can see from 1990 up to the financial crisis in 2008. I expect interest rates to eventually increase above the core inflation rate as the safety trade unwinds and the Federal Reserve hikes interest rates.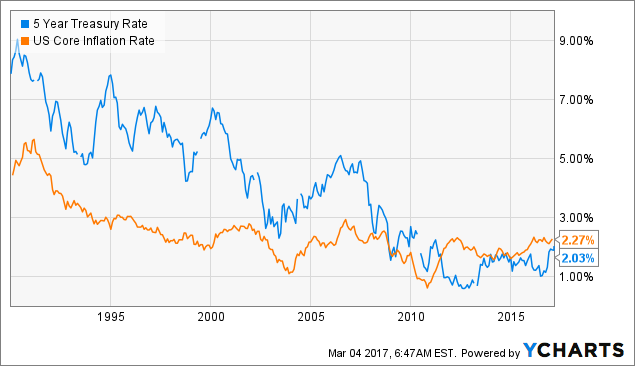 I am not alone in projecting an end to abnormal bond yields. Here's David Tepper of Appaloosa Management:
Asked if he was betting against government bonds, Tepper said: 'You bet your hiney!' He is expecting a secular bull market in U.S. government bonds to end, pushing prices lower and yields higher. That said, Tepper says interest rates are still relatively low relative to historic averages.
Source: MarketWatch
Should core inflation revert to 3%, which is not unusual for a growing economy, the 5-year Treasury yield could reach 4%.
Long and intermediate duration sink bond values
The lows in bond yields are likely behind us. Bond duration matters now more than ever because it predicts the magnitude of change on bond prices based on interest rate changes. When interest rates rise, a bond's price will fall by the interest rate change multiplied by the duration of the bond.
For example, suppose a 10-year Treasury note has a duration of 9 years and interest rates rise 1%, the bond's price will fall by approximately 9.0%. Put another way, a $10,000 bond is now worth $9,100. The converse is also true, should interest rates fall by 1%.
Bond funds are subject as well to duration risk. The average duration of a bond fund tells you how sensitive the fund is to changes in interest rates. For example, Vanguard's Long Term Bond Index Fund (MUTF:VBLTX) has an average 14.9 years duration. Should interest rates rise by 1%, the fund would fall by 14.9%.
The chart below highlights long and intermediate duration bond total returns over the past eight months. The chart notes total returns including interest for ETFs: iShares 20+ Year Treasury Bond ETF (NYSEARCA:TLT), iShares 7-10 Year Treasury Bond ETF (NYSEARCA:IEF), Vanguard Extended Duration Treasury ETF (NYSEARCA:EDV), and Vanguard Intermediate-Term Bond ETF (NYSEARCA:BIV).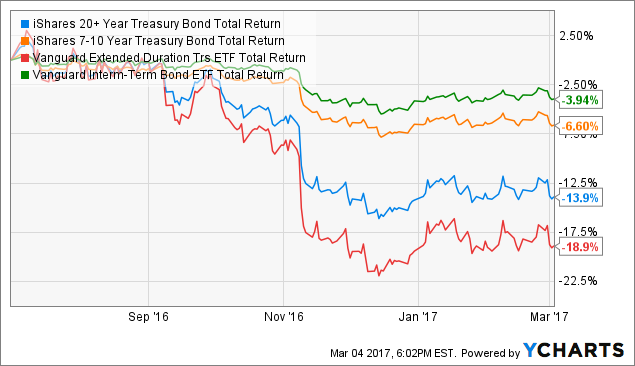 Clearly, bond prices are sinking under the weight of longer durations, suggesting that duration should be kept to the short term.
Senior bank loans provide income and maintain value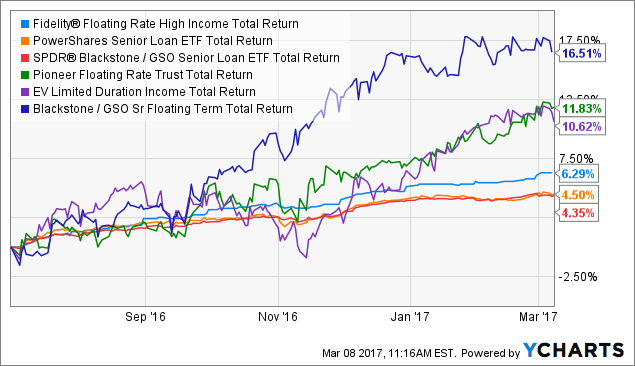 One strategy to meet fixed income needs is utilizing short-duration senior floating-rate bank loan funds. Duration on average for these loans is around 0.25 years. Notice the total returns over the same eight month period as compared to long and intermediate duration bonds. I want investments with these characteristics in a rising rate environment.
Senior floating-rate bank loans have rising interest rate protection inherent. Loans are structured with a floating-interest-rate based on LIBOR to protect the issuer from rising interest rates and inflation. For example, a bank's interest rate charge is LIBOR + 6%, and supposing that LIBOR is 2%, then the loan interest rate is 8%. The loan rates are adjusted periodically according to a set schedule. So as interest rates rise, LIBOR rises and loans generate higher income for investors at the borrower's expense. The interest rate reset period varies for each loan; however, a 60 day reset period is about average. Thus, income earned from loans respond relatively quickly to rising rates.
Interest rate changes do not effect bank loans like bonds. When interest rates rise, the price of bonds falls because of their fixed coupon rate. Senior bank loans are different. Because changes in interest rates effect the variable income portion of the bank loan, its intrinsic value becomes higher. Because of this floating rate feature, senior bank loans provide a hedge against rising interest rates. I noted senior loans along with other asset classes responding well to higher interest rates in a previous post found here.
The risk of being hurt by rising interest rates is mitigated by low duration and floating loan rates.
Senior bank loan relative safety
Although bank loans are considered below investment grade, they are ranked higher than bonds and equity. One reason they are ranked higher is because they are secured by collateral. Conversely, bonds and equity are typically unsecured. Another reason is the ranking in the capital structure. The graph below does show how senior floating-rate bank loans are ranked in the capital structure.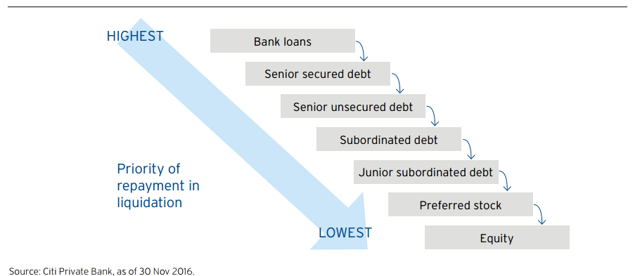 Should a company devolve into bankruptcy, senior loans are first in line for payback ahead of bond and equity holders.
Senior bank loans respond well to rising rates
Senior floating rate loans have a negative correlation to 10-year Treasury notes. Both instruments react differently to the same market condition of rising interest rates. Investing in assets that have a negative correlation or modest positive correlation to price moves in 10-year Treasury is an effective technique to dampen effects of rising interest rates on portfolio assets.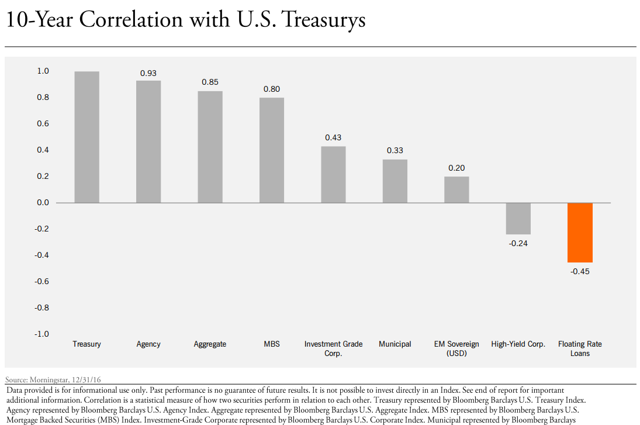 The graph below shows three periods of rising interest rates as shaded in the green columns. All three periods show loans returning more to investors. I expect this era of rising interest rates to be no different.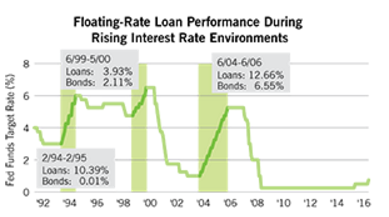 Sources: Eaton Vance
As Treasury notes fall in price due to rising rates, floating-rate bank loans rise in value.
Senior bank loan return history
Senior loans have shown positive returns in the past 20 years with two exceptions. Average annual returns are roughly more than 5%. The two negative returns for the index were caused by the global financial crisis in 2008 and credit tightening in 2015. As interest rates continue to rise going forward as the economy strengthens, I expect future returns to be above average as floating-rate loans adjust higher.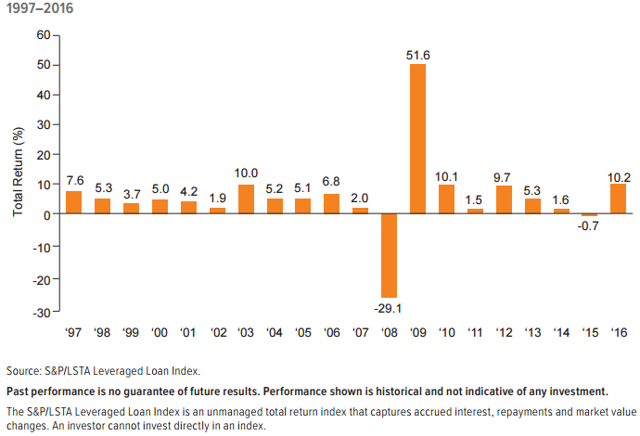 Source: Voya
Senior bank loans provide investors with high risk-adjusted income along with a hedge against rising interest rates.
Conclusion and actions
Senior floating-rate bank loans are a buy in this environment of rising rates. The risk of being hurt by rising interest rates is mitigated by low duration and floating rates.
Fidelity Floating Rate High Income (MUTF:FFRHX) is a good choice for conservative investors.
ETF investors can look to PowerShares Senior Loan Portfolio (NYSE:BKLN) or Highland/iBoxx Senior Loan (NASDAQ:SNLN) or SPDR Blackstone/GSO (NYSEARCA:SRLN).
Closed-end fund investors can look to Pioneer Floating Rate Trust (NYSE:PHD) or Blackstone/GSO Senior Floating Rate (NYSE:BSL) or Eaton Vance Limited Duration Income (NYSEMKT:EVV). Note closed-end funds use around 30% leverage so both upside and downside are magnified; however, the returns are well above their non-leveraged counterparts.
As a shareholder in Fidelity Floating Rate High Income Fund and Pioneer Floating Rate Trust, I receive regular monthly income. Since the equity market is generally extended as noted in a previous post found here, I plan on adding to my positions on any weakness. Equity investors as represented by ETFs: XLP, XLU, XLE, XLY, XLF, XLV, XLI, XLB, XLK, SPY, IWM, EFA who are trimming positions and rebalancing can consider the conservative Fidelity Floating Rate High Income Fund as a relatively stable reserve as rates rise.
New investors can consider initiating positions and continue scaling in over time, buying both strength and weakness since a longer-term investment horizon for this asset class makes most sense.
Disclosure: I am/we are long FFRHX, PHD, XLF, XLY, XLI.
I wrote this article myself, and it expresses my own opinions. I am not receiving compensation for it (other than from Seeking Alpha). I have no business relationship with any company whose stock is mentioned in this article.
Additional disclosure: This article is intended to provide information to interested parties. As I have no knowledge of individual investor circumstances, goals, portfolio asset mix, diversification. Readers are expected to complete their own due diligence before purchasing any stocks mentioned or recommended. I am not a certified market technician nor a registered financial advisor. Investing in public securities is speculative and involves risk, including possible loss of principle. The reader of this article must determine whether or not any investments mentioned in this article are suitable for their portfolio, risk tolerance and accepts responsibility for their decisions.