You don't have to research deeply to discover the consensus view on Zynga (NASDAQ:ZNGA).
The social game company floated on the Nasdaq back in the heady pre-Facebook IPO days of late 2011 at $10, and the shares have been underwater ever since. The 52-week peak is $3.08.
Zynga's gone through two CEOs in the past two years, with founder and executive chairman Mark Pincus unassailable in his control of the company thanks to the voting rights afforded by his Class C shares, which give him 66 percent of overall voting power.
Loss-making for all but two of the past 16 quarters, the company has an accumulated deficit of $1.6 billion, including $226 million in FY14. Its FY16 net loss was $108 million, while GAAP revenues were down 3 percent year on year.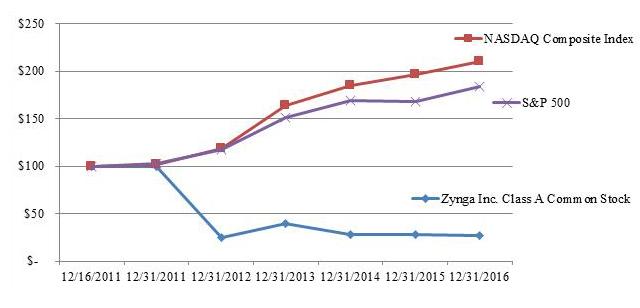 (Source: Zynga FY16 10-K)
Zynga's cash pile has dropped $430 million over the past four years, in part thanks to the $522 million acquisition of UK developer NaturalMotion. That deal appears ill-fated, given that NaturalMotion's long awaited (and delayed) mobile games - CSR Racing 2 and Dawn of Titans, both released in H2 2016 - appear at best to be solid performers, not game changers as once hoped.
The company's strong balance sheet, including ownership of its San Francisco office, results in joke headlines that maybe it should become a REIT, while others - including me - have suggested Zynga should be split into its constituent parts. Its highly profitable social casino games would be valued much more highly without the drag of rest of the portfolio.
So, when self-confessed bullish Zynga investors suggest the company needs a "massive hit game" to turn around its business or complain the stock needs to drop closer to $2 to trigger buying, you know it generates little market confidence. Even the praise is backhanded.
But what if we've been looking at Zynga all wrong?
An alternative view
Most companies have multiple revenue streams, and as such, can be deconstructed into constituent parts.
In the case of Zynga, there are two obvious splits. The least interesting is the split between advertising revenue and in-game revenue, which in FY16, was 25:75 respectively.
The other is the split between the revenue generated from web games (mainly from Facebook (NASDAQ:FB)) and mobile games. This is more interesting, as it highlights the company Zynga originally was and the company it wants to become.
When it IPOed, all of Zynga's revenue came from Facebook, but over the years, this proportion has radically changed.
Zynga became a majority mobile company in terms of GAAP revenue and bookings in FY14 Q2, and mobile's share of total revenue has continued to rise. It hit 81 percent of GAAP revenue (80 percent of bookings) in FY16 Q4.
(It is worth pointing out here that Zynga accounts for its Facebook and mobile revenues differently. Mobile revenues from Apple (NASDAQ:AAPL) and Google (GOOG, GOOGL) are accounted as gross income, with the 30 percent share taken by these companies listed in cost of revenue. However, because Facebook can offer players discounts on purchases within Zynga games, Zynga says it can't be certain what the "actual cash paid" is, so only records the net amount passed on by Facebook. Hence, to properly compare Zynga's mobile and web revenues, we should really compare 70 percent of mobile revenues to web revenues. On that basis, its current mobile share of overall sales is perhaps better stated as "at least 71 percent.")
It's clear to see from the graph below that Zynga's bookings (GAAP revenue plus deferred revenue) from its mobile games stepped up a gear in FY16, passing the symbolic $150 million mark in Q3 and Q4.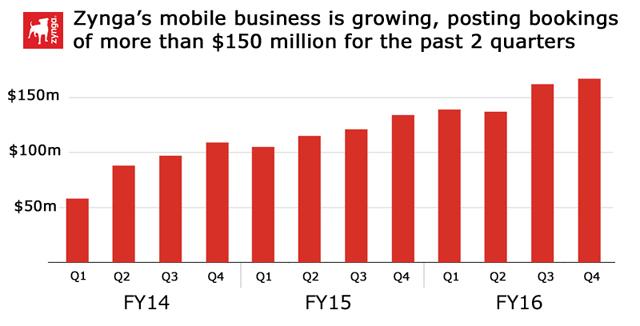 (Source: Chart created by author based on data supplied in company 10-Q filings)
Partly, this was due to new launches. NaturalMotion game CSR Racing 2 launched in June and generated $18.3 million in FY16, while Willy Wonka and the Chocolate Factory Slots launched in March, generating $16.6 million.
Zynga also benefited from full-year revenues from games launched during 2015, notably Empires & Allies and Black Diamond Slots, which generated an additional $31.2 million and $17.4 million respectively compared to their FY15 performance.
Overall, FY16 mobile bookings were up 27 percent year on year.
Positive signs
Another marked change in FY16, and one fueled by Zynga's growing mobile business, was the company's ability to generate positive operating cash flow.
As new CEO Frank Gibeau was keen to highlight in his quarterly earnings letter, annual Operating Cash Flow (OCF) was $60 million, "a $104.5 million increase compared to 2015, and our best performance since 2012."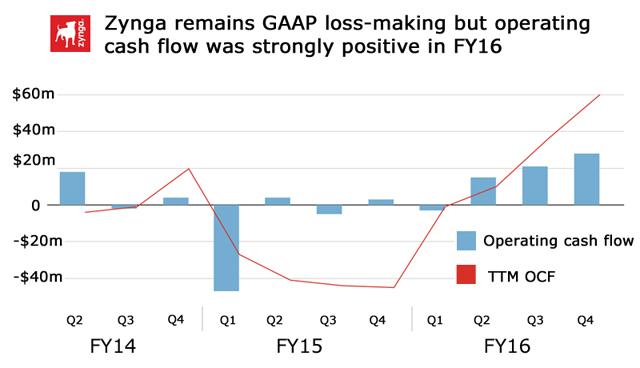 (Source: Chart created by author based on data supplied in company 10-Q filings)
Neatly for Gibeau, OCF became positive in FY16 Q2, which was the quarter he became CEO, having previously been a Zynga board member.
With his focus on operating Zynga's games in a more efficient way with time-limited events, tournaments and challenges - what Gibeau labels "big beats" - he can, however, take some credit for the improving performance of legacy games such as Zynga Poker and the ad-funded Words With Friends.
Zynga Poker delivered its highest level of mobile bookings in FY16, up 20 percent, while Words With Friends was up 32 percent year on year.
Dark side of the moon
Of course, viewing Zynga as a growing mobile game company is something of a mental exercise. In reality, it can only be part of the picture. It's the declining historical web side of the business that overly influences most investors.
In FY16, web bookings were down 34 percent to $149 million, or 40 percent in terms of GAAP revenue. And this trend is going to continue in 2017.
Yet, as its proportion of Zynga's overall business continues to drop, the impact of its web business also will decline, especially in absolute dollar terms.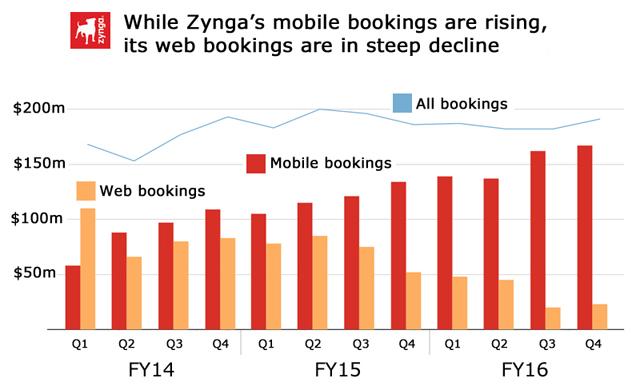 (Source: Chart created by author based on data supplied in company 10-Q filings)
This is particularly the case for a game like FarmVille 2. FY16 bookings were down $49 million to $63 million. But FY15 witnessed a decline of $79 million. At some point, FarmVille 2 will settle at some nominal level, if only because it can't keep losing more money than it's generating.
We should also remember that because web bookings are accounted as net income, not gross income as with mobile, web income is more "more profitable," so its decline has added significance.
More positively, some of Zynga's games operate across web and mobile. The best example is Zynga Poker, which, thanks to the uptick of its mobile component in FY16, stabilized its overall long-term revenue decline.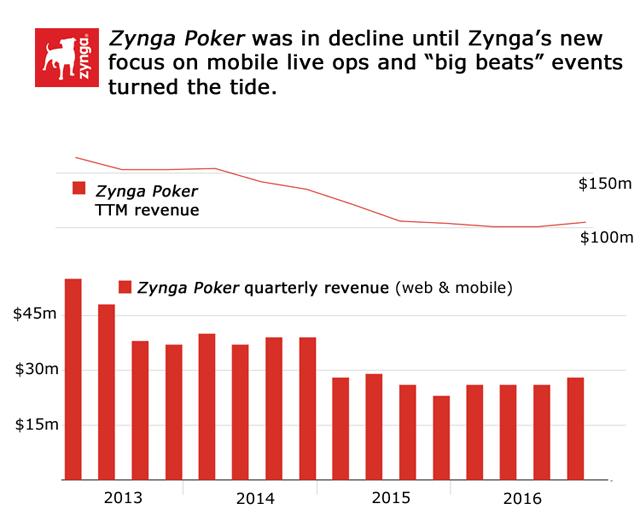 (Source: Chart created by author based on data supplied in company 10-Q filings)
Indeed, in FY16 Q4, Zynga's web bookings were actually up quarter on quarter for the first time since FY15 Q2.
Long memories
This isn't to say the company is out of the woods.
Despite the overall health of its mobile games, some older mobile titles are now in decline. For example, FarmVille 2: Country Escape generated $39 million less in FY16 than FY15.
A full-year of CSR Racing 2 could add $20 million of new bookings in FY17 compared to FY16, but NaturalMotion's other game, Dawn of Titans, is currently struggling to make an impact in the top-grossing charts and seems unlikely to add much of significance.
As FY16 has demonstrated, it's easier (and cheaper) to try to optimize the performance of existing games than launch new titles. Indeed, as part of his focus on "Big Beats" driving "Forever Franchises," Gibeau says he isn't expecting Zynga to launch any major new games in FY17, although the company is working on potential internal projects. There will be no "Hail Mary" passes.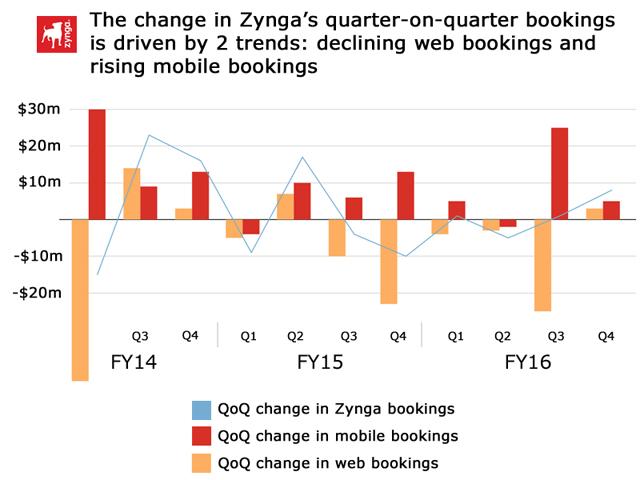 (Source: Chart created by author based on data supplied in company 10-Q filings)
Guidance for FY17 Q1 projects a 3 percent decline in GAAP revenue and a 6 percent decline in bookings quarter on quarter, thanks in part to stronger advertising revenues from the FY16 Q4 holiday quarter and, thanks to Apple's accounting methods, an additional week of App Store revenue.
As has been noted, Zynga tends to be conservative with its guidance, but the underlying message seems to be that the green shots of recovery are showing, something tentatively reflected in an average analyst stock target of $3.32 compared to the current price of $2.73.
Just how much concrete evidence of Spring we'll need to see to wipe away the gloom and disappointment of the past five years, not forgetting structural issues such as Pincus' control and the high level of stock-based expenses, remains to be seen.
Yet, it's clear if Zynga were a mobile-only company, assuming its fundamentals were the same, market sentiment would be very different.
Disclosure: I/we have no positions in any stocks mentioned, and no plans to initiate any positions within the next 72 hours.
I wrote this article myself, and it expresses my own opinions. I am not receiving compensation for it (other than from Seeking Alpha). I have no business relationship with any company whose stock is mentioned in this article.