The stock market as measured by the S&P 500 has seen significant gains in the last several months. Since November 2016, the market as measured by the S&P 500 is up approximately 11%. Year to date, the market is up over 5%. This recent rally in the backdrop of a 250% increase since March 2009 might suggest to most that the market is overvalued and we are due for a major correction. Our data suggests otherwise.
The price-to-earnings ratio (P/E) is one of the key factors in evaluating the market. The P/E ratio of the market tells us the value of the expected earnings. A higher P/E ratio means that investors are paying more for each unit of net income.
Many reports simply look at the P/E multiple in context of historical values. In this example, historical data is categorized into ranges -- let's say low, medium, and high -- and the current state of value is then reported. The current stock market P/E multiple for trailing 12 months of earnings as determined by the S&P 500 index and reported by mutpl.com is 26.52. Using historical data from mutpl.com as seen below, the current P/E ratio could be considered high relative to its historic average.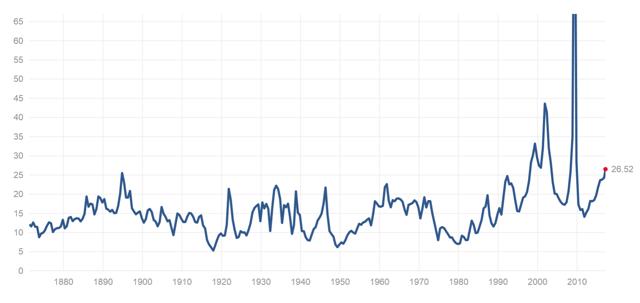 As we know, P/E ratios can vary dramatically and are highly dependent on the economic conditions associated with it. Numerous factors such as interest rates (GS10), inflation (CPIAUCSL), the yield curve spread (YCS) and the unemployment rate (UNRATE) are all important considerations that influence the P/E ratio.
Using monthly data from 1948 to the present, correlation coefficients were determined for each indicator. The data below demonstrates the very low correlation of the economic indicators to the P/E ratio and each other.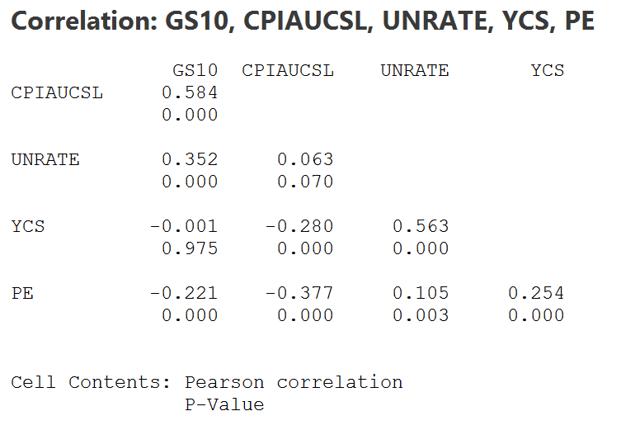 To better understand the combined effects of economic indicators on P/E multiples, ITN plotted P/E multiples as a function of the yield curve spread on the y axis, and the inflation rate (CPIAUCSL).
The bubble plot below shows the combined impact of these two economic indicators on the P/E ratio. In the plot, a large bubble size represents a high P/E multiple and a small bubble size equates to a small P/E ratio. Additionally, red bubbles are high P/E multiples while blue then purple represents lower values. When combined, increasing inflation rates in conjunction with a decreasing yield curve spread greatly reduces the value of earnings.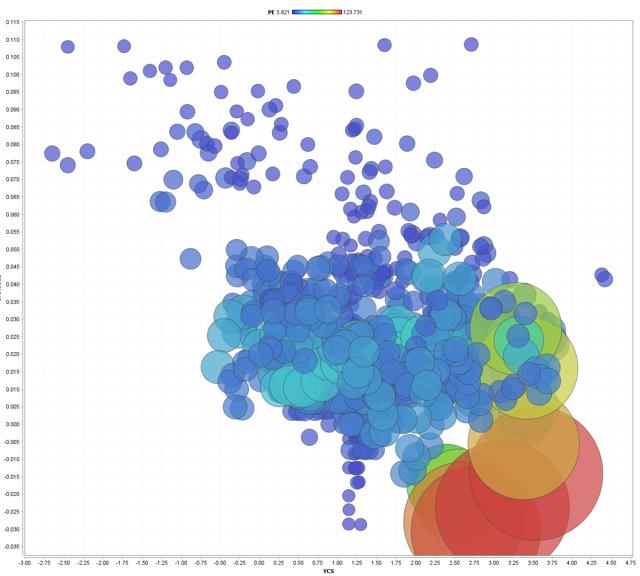 Finally, as a last step, the economic indicator data was binned and used to calculated the expected P/E multiple based on historic data using a Bayesian network. As seen below, the data shows that we are lower range for interest rates and unemployment and in the middle of the range for inflation and the yield curve spread. The historical values for P/E multiples given these conditions are highly variable.
The average expected P/E in this analysis is 23.0 with a standard deviation of 22 and slightly below today's current level.

Bottom Line
Predicting a precise P/E ratio for a given set of economic conditions is a complex and difficult task. Rather, looking at economic trends can help us to anticipate future market value changes. Most notably, sharp increases in inflation with a concomitant decrease in the yield curve spread will likely have a dramatic impact on reducing market P/E multiples. Increases in earnings will be needed to offset this decrease if market values are to continue their increase.
Disclosure: I am/we are long SPY.
I wrote this article myself, and it expresses my own opinions. I am not receiving compensation for it (other than from Seeking Alpha). I have no business relationship with any company whose stock is mentioned in this article.