We all know banks have been on a tear lately including Bank of America Corporation (NYSE:BAC), which is why this is a great time to monitor the longer-term charts for any changes brewing in the trend or momentum.
When thinking of momentum and market trends, I like to think of the beach. When we look out at the ocean's crashing waves, they look impressive, and if you're wading in the water, those waves can knock you around quite a bit. But the most powerful and often, the most dangerous part of the ocean is the under-current or the undertow.
As we look out at the current markets, we see waves crashing up and down. However, if we take a step back, we notice it's the undertow of the markets, that can make an investment or (and forgive me for this) sink one. The market trend is the undertow. The trend might consist of the chase for high yield by hedge fund managers following interest rates and growth, or risk aversion, or central banks and as we've witnessed, political events.
Investment flows, whether they're global or local, always or eventually come back to the fundamentals or trend. Unless the events mentioned earlier change the trend, they're simply waves crashing about the market.
In this analysis, we'll look at the weekly charts to show how fading momentum can often highlight a pullback. It may take some time for the pullback to play out, but weekly momentum can help us see a pattern of lower highs (less aggressive momentum) in a strong uptrend.
If you follow my articles and receive my email alerts, you know that it's in bullish times like today that we need to have a risk management strategy in place before the market corrects.
It's with this risk management theme that we'll analyze the weekly momentum for Bank of America.
In full disclosure, this analysis is not a recommendation to buy or sell at a specific level. I'm not a financial advisor. My goal is to help you identify areas of risk in your portfolio, identify areas of resistance and support, and areas where volatility is likely to rise.
REVIEW: How to read RSI (Relative Strength Index):
The Relative Strength Index (RSI) is a momentum indicator and an overbought-oversold indicator.
Typically, in a bull-run, we want to see RSI above 50 for a strong move higher. If it breaks below 50, we typically get a pullback. However, if RSI breaks below 40, we tend to see a more significant correction.
Please bear in mind, RSI (or any indicator) is not a predictor of price action; it merely represents the momentum in the market. Fundamentals drive the market, not the charts.
Bank of America Weekly Chart:
From left to right, in 2013 BAC was rallying hard until 2014 where we begin to see sideways trading (highlighted in yellow).
RSI starting in 2014 began to make a series of lower highs (highlighted red lines) while BAC was trading sideways.
The lower highs on RSI are signs of fading momentum.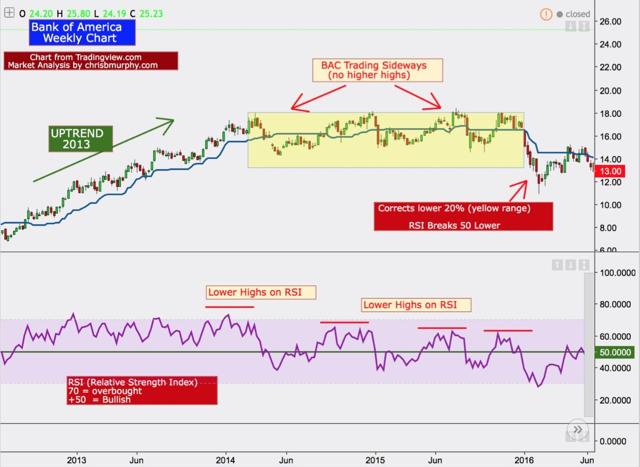 Bank of America Weekly Chart with RSI 50 Breaks:
As stated earlier, RSI isn't a predictor of fading momentum. However, as each time BAC fails to make a new high, momentum fades further. This makes sense since the bull run of 2013 is less bullish as traders contemplate their next move. It's during this contemplation that indicators can show us whether momentum is fading, rising or holding steady.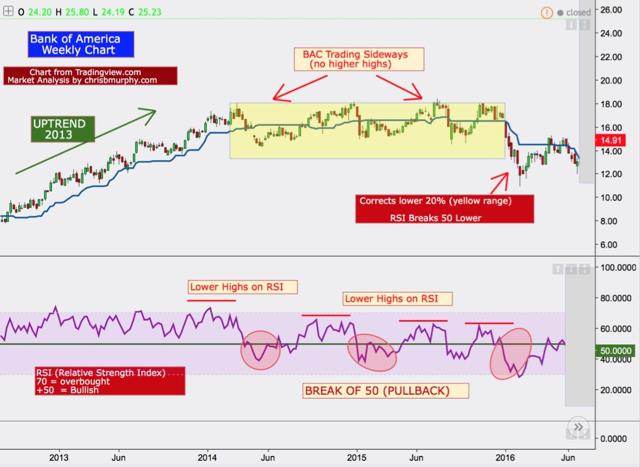 As RSI failed to make lower highs, it breached the 50 level (red highlighted circles) and with each breach was a pullback in BAC.
However, it appears, after a few lower highs in RSI, and a break below 50 was where we have the biggest correction in BAC. It took a while for all that momentum to work its way out of the stock.
When BAC corrected lower, RSI corrected too, falling below the 40 level. Typically (not always) a break of 40 is a sign of a deeper correction on the weekly chart.
In my prior article, we analyzed Wells Fargo & Co. (WFC). If you had traded BAC instead of WFC during May 2014 to July 2015, when RSI was making made lower highs, you might have been stopped out more often, or assumed financials weren't a good investment.
However, we can see that WFC rose another 10% (green rectangle on the chart below) during that period while BAC was trading in a $3 range (yellow rectangle on the BAC chart).
The different behavior in stock price movement between BAC and WFC during the same period, highlight the importance of diversification even within the same sector or industry.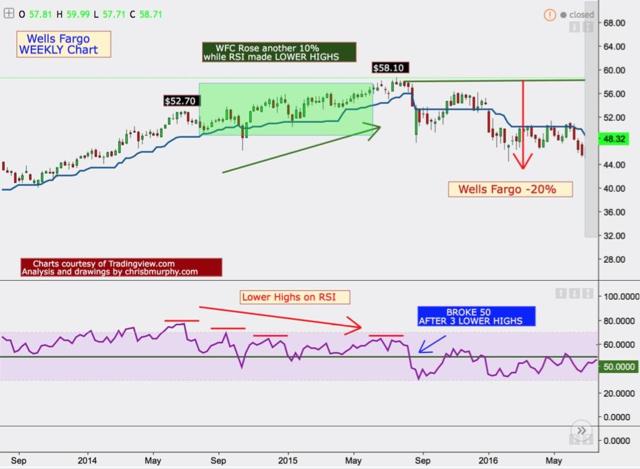 Indicators can show us different signs of momentum within the same sector. By comparing like stocks (like BAC and WFC) and their momentum signatures, we can get a better sense if a stock's behavior is an industry-wide issue or if it's specific to that company.
In short, utilizing momentum indicators for various companies in the same sector can aid in your industry analysis before making an investment decision.
Current Bank of America weekly chart:
BAC is making higher highs in price with $27.50, and $28 are medium and long-term levels of resistance, respectively.
RSI has made its first weekly lower high earlier this year (red lines on RSI).
Of course, BAC is still in a bullish uptrend, as RSI has not broken the 50 level at all since the massive run-up following the Presidential election and Fed hike last year.
Downside risk increases if BAC breaks below $23.50 and $21.50 and it's at those levels, RSI will likely be approaching 50 or breaking below it. However, that is merely an estimate.
A break of 50 RSI may simply be a pullback for BAC. However, a weekly break below 40 would likely translate to more significant correction; perhaps 10-20%.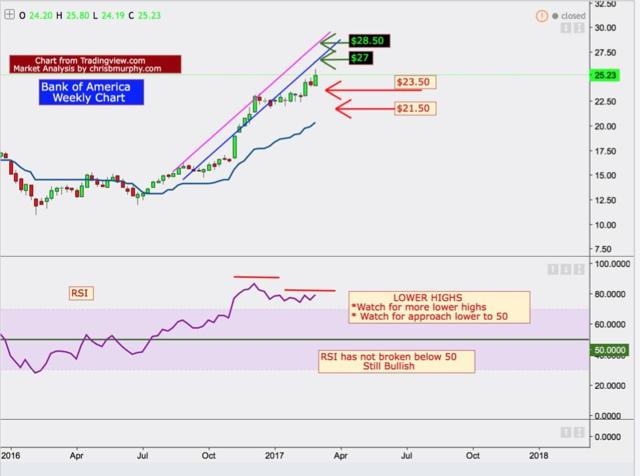 More articles to follow to keep you updated on Bank of America, financials, the Fed, and Treasury yields in the coming days and weeks.
If you like this article and would like to receive email alerts stay up to date on Bank of America, please click my profile page, and click the "follow" button next to my name, and check the "get email alerts" to receive these articles sent via email to your inbox. You can also find the "follow" button at the top of this article next to my name.
And of course, feel free to comment below if you have any questions or send me a private message by clicking the "send a message" link on my profile page.
Good luck.