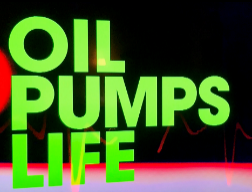 I sent the WTI chart below with that ascending trendline to my clients early in the morning on March 9 while crude oil was spilling. I like buying oil and energy stocks on this steep pullback. This move lower is a washout of the historic net speculative long in WTI futures and little more. The OPEC campaign to tighten the oil market and demand from Asia are currently being overlooked. The oil market might have to visit the range bottom at $45, but the longer-term picture is constructive.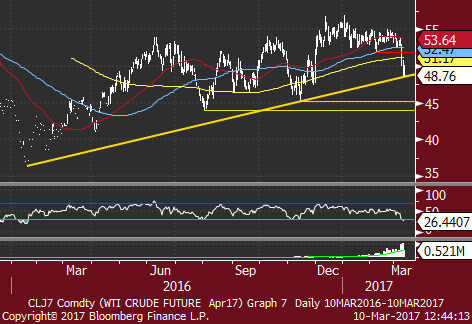 My bullish posture in crude oil is based on Saudi Arabia's compliance to output cuts and OPEC's "We Heart America" roadshow. OPEC plans on drawing inventories down in order to get time spreads to trade in backwardation. When they do, the oil market will become an increasingly attractive investment. There's nothing like roll returns in the portfolio, you know.
Technicals
Crude slid 7% from the low $50s to the ascending trendline and Fibonacci support (pictured above) at $48.60. All the bears are taking a victory lap, and I hope they continue to.
As of March 3, the net speculative long position was 525,300 contracts, down from a record 556,600 the week prior. Nearly 2 million futures contracts have changed hands within that price plunge. You can't see it yet, but that half million-contract bruiser (net spec long position below) just got its head shaved and is down to its fighting weight. My guess is 150,000 contracts of length came out in this slide by Friday's close. That would bring net spec length to a more manageable 375,000-contract position.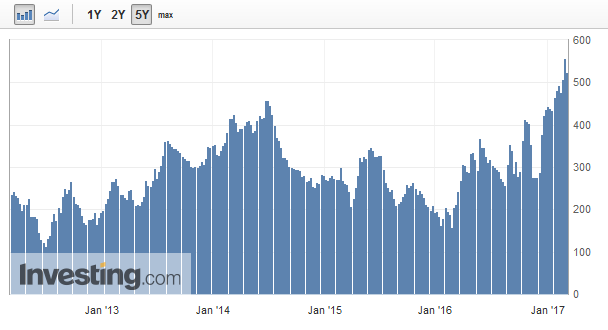 Mohammed Barkindo - Sec Gen
I listened intently to OPEC Secretary General Mohammed Barkindo on CNBC this week. He openly discussed the fact that when OPEC met in Vienna, the key issue was to address the buildup in inventories over the last two years that sent that supply-driven cycle into unsustainable levels of disequilibrium.
Mohammed Barkindo is not day trading or counting spec futures contracts. He said in May that OPEC will see how far they've gone in accelerating the stock drawdown toward the five-year industry average. Once they show results, their output cut plan will gain popularity and ultimately draw down excess crude inventory.
Crack Spreads
Refiners like Marathon Oil (NYSE:MRO) and PBF Energy (NYSE:PBF) have cut output because there's so much gasoline in storage. Low prices at the pump mean thin margins, so you won't get paid much after storage fees. That's why crack spreads have come off since the beginning of the year. Recent data shows refinery utilization picking up quite a bit. The crack spread chart below shows the 2017 downtrend being challenged.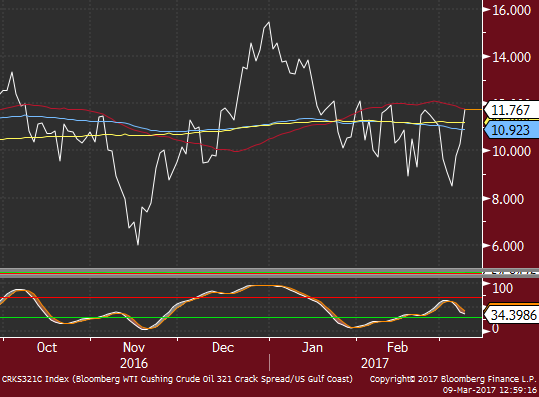 The most recent API data, which showed an +11.6M barrel build in crude. I'm sure that was the cosmetic headline that sent the 75' Spec Long pleasure boat up the creek, so to speak. API data also indicated a 3M barrel draw in heating oil and a 5M barrel draw in gasoline, which helps reverse falling crack spreads. It's extremely important to see the products draw inventory. Stronger crack markets will support refiner margins and perpetuate the drawdown cycle.
Marketing Campaign
OPEC has an extensive hedge fund marketing plan in place. Read the WSJ article about how OPEC is now lobbying hedge funds on their production cut compliance. It's much easier to convince a potential speculative long that they should hold oil long when evidence proves they really did turn the spigots off back home.
Barkindo met with shale drillers Hess Corp. (NYSE:HES) and Chesapeake Energy (NYSE:CHK) in Houston to break the ice. He wanted to know the focus of their operations, the state of their companies, and how financial engineering helped them survive. He even credited them for their professionalism in navigating the crisis. I'm sure he's buttering them up to get something, like a share in production cuts, in return, but at least an effort is being made.
This WSJ article states that OPEC is "reconciling the idea that the U.S. will be a major oil producer for years to come." I thought that was an interesting way to put it by News Corp.'s financial paper.
Compliance
What the Journal meant to say is that Mohammad Barkindo understands the gravity of the leadership change in the United States. He understands it would be irresponsible not to get on a plane and to start a goodwill tour in the soon-to-be-self-sustained U.S. energy market. These guys are no dummies and they know a total savage on American jobs and energy just won the White House.
Believe me - I understand OPEC and the Saudis could say one thing and do another, but for now I'm taking Mohammed Barkindo at his word given the indisputable shipping evidence. Below is a map of their output cuts at 157% of what they promised. The tanker tracking data shows a month-over-month drop of 1.6 million barrels per day of crude exports in January. They are executing with an open playbook and it might win over participation.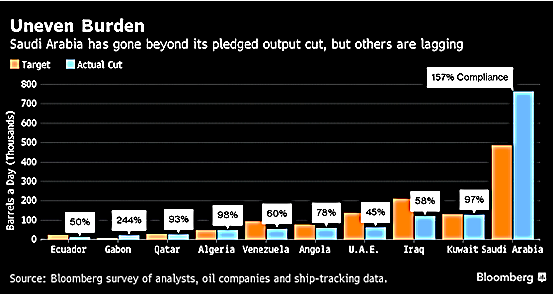 Saudi Oil Minister Khalid Al-Falih came to the CERAWeek Conference in Houston saying that while the stock drawdown is going slower than he thought after their production cuts, the inventory glut would be temporary. He sees the current agreements as "just the beginning" of what can be done to bring global crude inventories into balance, but he's not going to keep overcutting without others participating. In fact, he wants uniform compliance. On March 8, Reuters reported that the United Arab Emirates hit 105% of oil cut compliance last month. The campaigns are working.
Asia Demand
We care about China. U.S. crude exports averaged 746K barrels per day in January after 441K per day in December. Crude oil exports totaled 23M in January and less than 14M in December. China, Japan and Singapore were large consumers of those light sweet exports - almost 2M barrels each for a total of 6M barrels. For some scale, we exported 8M of the 23M barrels to Canada, so the combined demand out of Asia is second in line. For some price action, the chart below illustrates the premium the Dubai delivery hub is trading over local West Texas Intermediate. Producers are exporting oil to the nerve center of demand as the premium increases.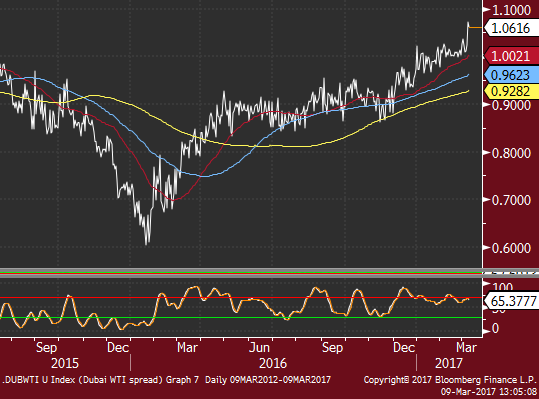 Gasoline Demand
The U.S. accounts for 10% of the world's gasoline demand, which is well off the record set in 2016 of 9.326 million barrels per day. You heard President Trump mention American roads and bridges in his Congressional address. Building them will increase the demand for raw materials and make travelling on them more enjoyable. Energy will be a critical input to that infrastructure implementation, assuming the president can pass legislation. If he does, you can expect a bump in GDP and then a bump in consumer spending that makes its way to travel and leisure.
The EIA told us we drove 3.22 trillion miles on U.S. roads last year, up 2.8% from 2015, the fifth consecutive year of increases. Gasoline demand (pictured below) was up 1.8% to 9.3 million barrels per day in December vs. last year. There has been a dip in the early part of this year, but we are heading into peak driving season.
The most recent American Automobile Association survey (and conference board data below) tells us there's a bull market in vacations, and 80% of them are road trips. When I consider that this driving season is happening in a new era of consumer optimism and business confidence, I think analysts are underestimating the amount of mileage Americans can put on their odometer this summer.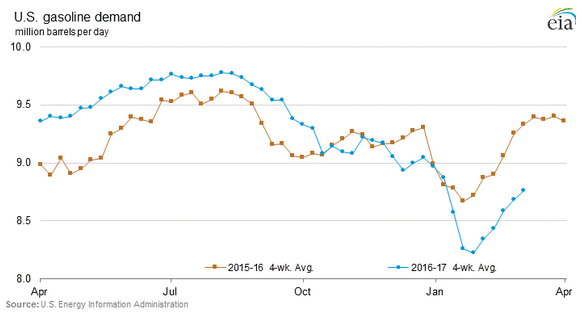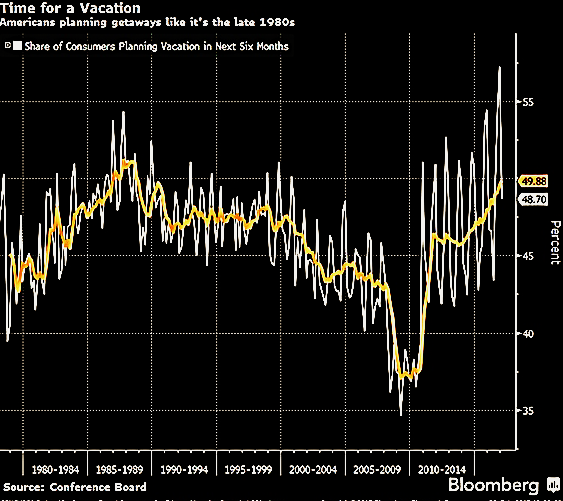 The Trump Put
A publication called "The Petroleum Economics Monthly" put out a note in December that talked about a "Trump put" in oil. They directly compared it to the "Greenspan put" in the stock market. PEM states that our oil and gas industry will be the greatest beneficiary of Trump's protectionist policies and "those exploring for oil and gas will rush ahead without caution." Back in the 1960s, U.S. producers benefited from federal controls that limited imports and raised the price of oil. It's likely to happen again. PEM says the Trump administration would allow a rise in gas prices because of the boom in investment, and therefore American employment in the oil and gas sector - wildcat city all over again.
What Can Go Wrong?
Like any trade, plenty can go wrong with this bullish oil thesis. Obviously, a dramatic slowdown in global GDP growth could dramatically increase inventory builds and weigh on the oil price. A consistently rising rig count shows producers are anxious to get production back online with the price above $50, but that will take time. Shale output could outpace expected growth. Output was projected at 400,000 barrels per day at the start of 2016, and the U.S. shale is currently pumping almost 1M barrels per day.
OPEC could chalk this whole public relations tour of the U.S. oil and gas industry up as a travel expense on a boondoggle business trip and start heaving oil into the bid, but I doubt it. I think the transparency of their intentions makes them much more believable. A report from the closed-door meetings between U.S. shale producers and the Saudis said OPEC warned that shale producers should not expect a free ride or an automatic renewal of production cuts at the May meeting in Vienna. The game of chess has begun.
Crude inventories rose to a record of 520.2 million barrels. Crude oil production has begun trending up again since the great oil spill of 2015. I'll leave you with one final chart that illustrates recovering U.S. crude production on top of record U.S. crude inventories, because that is the one that keeps an oil bull up at night.
I think the downside is limited to technical support at $45 in WTI, at the most. I still believe the six- to 18-month time frame is stacked with upside opportunity based on potential structural improvements and firm demand in the oil market.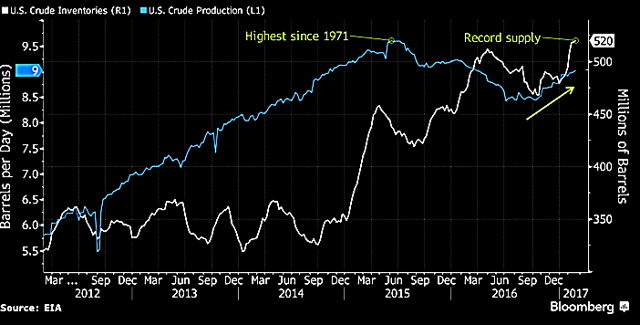 Disclosure: I/we have no positions in any stocks mentioned, and no plans to initiate any positions within the next 72 hours.
I wrote this article myself, and it expresses my own opinions. I am not receiving compensation for it (other than from Seeking Alpha). I have no business relationship with any company whose stock is mentioned in this article.