United Continental (NYSE:UAL) will soon face a big threat to its dominant market position in the Bay Area. Alaska Air (NYSE:ALK) has recently made one of the "single largest new market announcement" in its history where it would be adding flights to 13 new nonstop markets from the San Francisco and San Jose International Airport. San Francisco is a major hub for United and it has sizable market share on many routes started by ALK.
After successful merger with Virgin America, ALK is on an expansion spree in the west coast. It is looking to expand in the Bay Area by double digit percentages in the next few years. This should lead to a turf war between United and ALK which will create massive pressure on margins for United in this market.
Impact on United
United carried 22.19 million passengers from San Francisco and Oakland International Airport in 2015. It had a market share of 36.2% in the Bay Area. On many routes from Bay Area it is the only airline providing service. This has allowed it to enjoy better margins from this market. Last year it also added five international routes from SFO to meet the growing requirement for the tech sector.
However, merger of Alaska Air and Virgin America has brought up another big competitor in this market for United. Long term goal for ALK is to be a dominant player on the west coast. It is looking to expand aggressively in the Bay Area with flights to 13 new markets. This expansion will take place from late August to early December of 2017. It will include flights to Philadelphia, New Orleans, Nashville, Indianapolis, Raleigh/Durham, Baltimore/Washington, Albuquerque, Kansas City, Austin, Tucson, LA and Hawaii. United is the biggest player on most of these routes.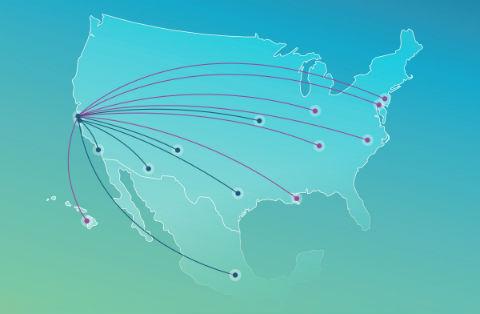 Last year ALK had already added four daily flights to Orange County, two daily flights to Minneapolis and another flight to Orlando from SFO. According to the company statement, after addition of these routes it will be able to offer 125 daily nonstop flights to 42 destinations from the three major Bay Area airports. It also has 10 global airline partners which would be providing flights for overseas customers.
Alaska Air's advantage over United
ALK has consistently been ranked as one of the best airlines among traditional airlines. In the latest survey by J.D. Power North American Airline Satisfaction Study, Alaska Air was at the top with 751 points whereas United came last with 675 points.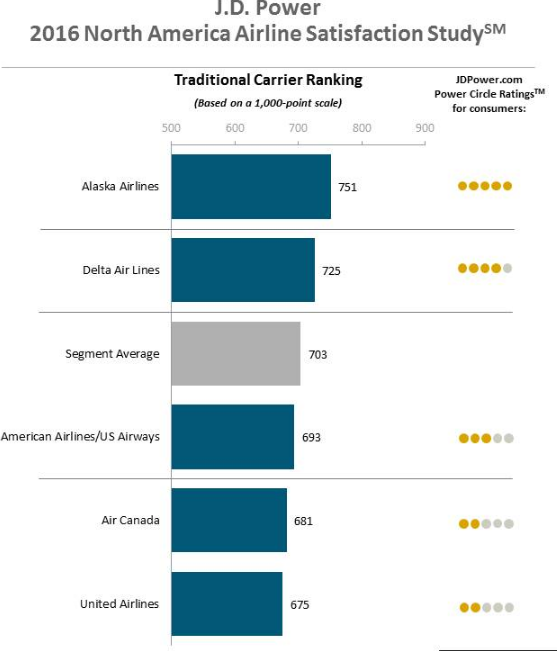 Fig: Comparison of user rating for traditional airlines.
At the same time cost per available seat mile or CASM for Alaska Air is much lower than United. ALK's CASM comes close to 8 cents whereas United's CASM is 9.6 cents. As Alaska grows its operations it should be able to further bring down the cost and transfer the benefit to customers through lower prices. This will certainly hit United which will be forced to lower prices and also take additional initiatives to improve customer service.
Valuation
UAL has seen one of the sharpest increases in stock price since hitting the bottom in June 2016 within the airline industry. It is now trading at forward pe ratio of 10.73. In comparison ALK has forward pe ratio of 11.82. ALK has delivered consistently better operating margin than UAL and provides a dividend yield of 1.19% whereas United does not give dividends.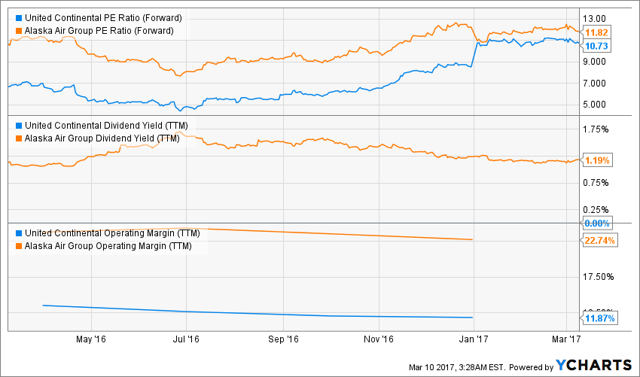 Investor Takeaway
United Continental is facing massive threat to its dominance in the Bay Area market. For the first time after merger with Virgin America, Alaska Air has announced a major expansion plan which will see it adding flights to 13 new markets from SFO later this year. United is the biggest airline on most of these routes and will face a major price war with ALK as it tries to grab more market share.
United also has lower customer service rating and a higher CASM than ALK. Currently, Alaska Air is trading at marginally higher valuation than United while giving much better margins, a good dividend yield and also having good runway for growth. This makes Alaska Air a better investment option compared to United Continental.
Disclosure: I/we have no positions in any stocks mentioned, and no plans to initiate any positions within the next 72 hours.
I wrote this article myself, and it expresses my own opinions. I am not receiving compensation for it (other than from Seeking Alpha). I have no business relationship with any company whose stock is mentioned in this article.