Summary
Terra Tech has two primary divisions, one which does not deal with cannabis and one that does.
While revenue growth for Terra Tech has been positive, net income has not.
Even with a current increase in net loss, I see Terra Tech as having significant growth potential.
In "Cannabis Stock Pick: MassRoots," I wrote about MassRoots as my first cannabis pick because, even though it has been going through some hard times, the average growth in both revenue and net income was positive. However, there is another company which has significant revenue growth: Terra Tech (TRTC).
Unfortunately, TRTC is seeing an increase in net losses as well, mainly due to increasing SG & A expenses. However, Terra Tech expanded its facilities throughout 2016, and that expansion may be a large factor. Therefore I expect to see even more revenue gains throughout 2017.
Furthermore, a main reason why I selected Terra Tech, even though it did not fit the positive net income growth screening was because the company is diversified into non-cannabis and cannabis related operations.
Edible Gardens
Terra Tech has a subsidiary, Edible Gardens, which "provide[s] fresh, locally grown herbs and leafy greens to supermarkets, restaurants and the food service industry."
This brand is available in major super markets. Indeed, I have purchased the product from Shop Rite, not even realizing that the brand was owned by Terra Tech. Having revenue from this subsidiary means that Terra Tech will not have to worry as much about changes in marijuana legislation.
In addition, the product is in line with the consumer movement towards organic and sustainable products.
Marijuana Component
Terra Tech's marijuana component is largely focused on medical cannabis, which will likely be more protected from federal crackdowns.
Regarding structure, production is vertically integrated, and so the company is involved in growing and processing the raw plant material, as well as selling the end product.
While the focus of IVXX is medical marijuana, with the legalization of recreational marijuana, Terra Tech was working on expanding its facilities. As I mentioned earlier, while revenue has been growing, so has net loss. However, the following projects are listed on Terra Tech's site: "two cultivation centers, two extraction labs, four dispensaries." However, after President Trump's comments, this has been delayed. Therefore while revenue may continue to grow, it will not be as fast as it could be, unless congress acts.
There are three subsidiaries related to marijuana production and sales:
IVXX
IVXX makes and sells a number of cannabis products including flowers, concentrates, and joints. The concentrates come in three forms: shatter, wax, and oil. The online store has only a few options, but according to a response to a question on their Facebook page, physical stores have a much larger selection of flowers and edibles.
Blüm
Blüm is a retail medical cannabis company. They have locations in Oakland, Las Vegas, and Reno.
MediFarm
MediFarm was established in 2014. Its primary function is to obtain permits for Terra Tech. I am interested in this division because, while there is no real indication that it is currently the case, it could be expanded to provide consulting to other firms over time.
The Stock
As of Tuesday, TRTC was trading at $0.27 and market capitalization was $152.85M. Like many low cost OTC stocks, the price range varied considerably throughout the year, with a high of $0.7455 and a low of $0.1361. Last week's trading volume was ~24,600,000. There are roughly 570,000,000 shares outstanding, meaning that weekly turnover was roughly 4%.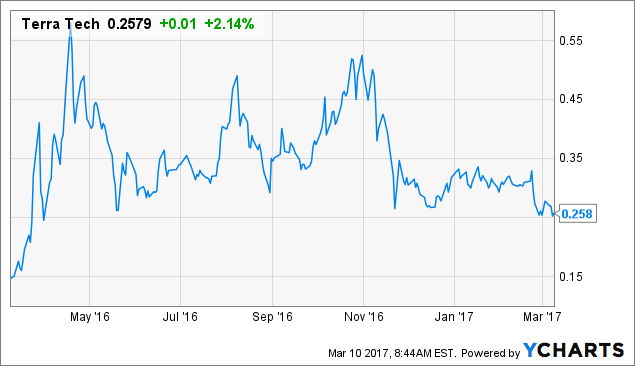 TRTC data by YCharts
Fundamentals
Annual
First I want to consider the annual time frame. From 2011 through 2015, revenue and gross income for Terra Tech have been growing fairly consistently.
| | | | | | |
| --- | --- | --- | --- | --- | --- |
| | 2011 | 2012 | 2013 | 2014 | 2015 |
| Revenue | - | $552,579 | $2.13M | $7.09M | $9.98M |
| Gross Income | - | $100,866 | $88,918 | $152,992 | $1.02M |
| SG & A | $7,497 | $1.07M | $3.58M | $18.3M | $9.83M |
| Net Income | -$28,985 | -$5.84M | -$6.15M | -$21.89M | -$9.23M |
Note that in 2015, SG & A was greater than the net loss.
Quarterly
Since 2016 aggregate information is not yet available, instead consider the four most recent quarters.
| | | | |
| --- | --- | --- | --- |
| | 3/31/2016 | 6/30/2016 | 9/30/2016 |
| Revenue | $1.55M | $9.7M | $6.95M |
| Gross Income | $133,974 | $1.26M | $1.32M |
| SG & A | $2.05M | $5.08M | $6.01M |
| Net Income | -$4.13M | -$4.93M | -$5.59M |
Clearly revenues are still mostly increasing. Indeed, for the quarter ending on 6/30, revenue is almost equal to the entire revenue for 2015. This suggests that the continued spending to expand is paying off.
Net Assets vs. Market Cap
Net assets for the quarter ending on September 30, 2016 totaled $69.97M while total liabilities totaled $30.71M, so net assets totaled $39.26M. I do not have the exact figures for the market capitalization during that quarter, but as a rough estimate, assuming the same number of shares issued and an average price for the quarter of $0.35 the market capitalization would have been roughly $199.5M for a price to book ratio of about 5. For comparison, Google (GOOGL)(GOOG) has a price to book ratio of about 4 and Monsanto (MON) has a price to book ratio greater than 11.
Recent Events
On March 7, 2017 Terra Tech announced that it had executed a lease for 13,000 square feet of industrial space in Oakland. The company is working on completing a "state of the art cultivation facility projected to produce over one metric ton of premium grade cannabis per annum for its IVXX brand." The construction for this project is estimated to be completed by the end of Q3 2017 and full production is expected to be reached by Q4.
I expect this project to increase, or at least maintain current SG & A, but also increase revenue even more. So long as revenue continues to grow at roughly the rate that it has been, I will be fairly confident in the company's future success.
Additionally, as I mentioned in prior posts, there are two bills in the house, which involve the legalization of marijuana on the federal level.
Risks
While there is a lot of potential in Terra Tech, like all other OTC stocks, TRTC carries significant risk. This is amplified by the fact that part of its product line involves a substance with only partial legality, and a questionable legal future. Like with my other cannabis picks, I advise caution, and would suggest that people diversify their portfolio, even within the cannabis sector.
Editor's Note: This article covers one or more microcap stocks. Please be aware of the risks associated with these stocks.
This article was written by
I am an occasional investor/trader and researcher. I use a combination of market theory and economic theory to determine my trading strategies, but focus on periods where contrarian actions seem reasonable, such as when market expectations seem to be trending in the opposite direction as fundamentals. Research Topics I am interested in the relationship between pattern day traders and investors and how value flows between these two groups.
Analyst's Disclosure: I/we have no positions in any stocks mentioned, but may initiate a long position in TRTC over the next 72 hours. I wrote this article myself, and it expresses my own opinions. I am not receiving compensation for it. I have no business relationship with any company whose stock is mentioned in this article.

I am also working on building a portfolio of cannabis stocks, which I will increase in size as new information comes out about legalization on the federal level.
Seeking Alpha's Disclosure: Past performance is no guarantee of future results. No recommendation or advice is being given as to whether any investment is suitable for a particular investor. Any views or opinions expressed above may not reflect those of Seeking Alpha as a whole. Seeking Alpha is not a licensed securities dealer, broker or US investment adviser or investment bank. Our analysts are third party authors that include both professional investors and individual investors who may not be licensed or certified by any institute or regulatory body.