There's been a sneaky rise recently in both nominal and real interest rates, something worth noting as we approach a March 23, 2017, reopening auction of a 10-year TIPS.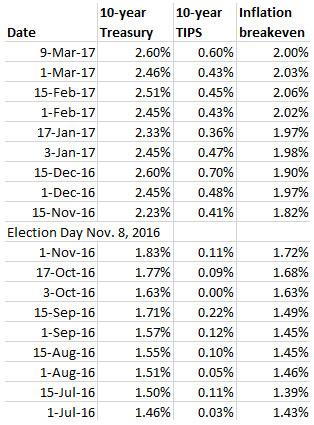 I'll be writing more on the March 23 auction next week, but I think the move in interest rates is worth noting. As of Thursday's market close, the U.S. Treasury was estimating that a full-term 10-year TIPS would yield 0.60%, up 29 basis points from the estimate for February 24.
The TIPS that is reopening March 23 - CUSIP 912828V49 - originally auctioned on January 19 with a real yield to maturity of 0.436%. It closed yesterday with a yield of 0.569%. If this trend continues, there's a reasonable chance that this TIPS reopening will generate a yield above 0.60% for the first time in more than a year for this term.
Inflation expectations don't appear to be the key to this rising real yield -- nominal interest rates are actually rising a little faster, as shown in the chart. The 10-year inflation breakeven rate has dropped slightly since early February, even as the real yield rose.
The key driver is the rise in nominal interest rates, with the yield on a 10-year Treasury rising 27 basis points since mid-January.
Why are nominal interest rates rising? One part of the answer lies in a headline currently leading the Wall Street Journal's website: "Strong Jobs Data Clears Way for Fed Rate Increase." Clearly, the record high stock market, trend of rising inflation and encouraging jobs numbers add up to future interest rate increases by the Federal Reserve. The Wall Street Journal's coverage includes this insight:
Luke Bartholomew, an investment manager at Aberdeen Asset Management, joins the consensus in calling a March rate hike "a done deal." He says the risk for the market now is that it starts to worry about "a much more rapid series of hikes."

"Investors are comfortable with three hikes this year," he says, "but any suggestion of four will probably cause a wobble."
Three rate hikes in 2017 would bring the Fed's Federal Funds Rate - a key short-term rate across financial markets - at least to 1.50% from the current 0.75%. A comparable increase in the 10-year nominal Treasury would bring its yield up to 3.35%. At that point a 10-year TIPS would be yielding somewhere around 1.10% to 1.20%.
Of course, it's possible that a higher short-term rate won't result in higher yields for TIPS. But in an environment of rising short-term rates, rising inflation, rising employment and higher asset prices, TIPS yields should also rise. I'd consider a yield above 1.00% on a 10-year TIPS a pretty good investment in 2017.
I'll be advancing the March 23 TIPS auction after the Treasury's formal announcement next Thursday, March 16.
Disclosure: I/we have no positions in any stocks mentioned, and no plans to initiate any positions within the next 72 hours.
I wrote this article myself, and it expresses my own opinions. I am not receiving compensation for it (other than from Seeking Alpha). I have no business relationship with any company whose stock is mentioned in this article.