On March 9, 2017, Ocera Therapeutics (NASDAQ:OCRX) was trading at $1.89, a whopping 315% spike from its share price on the March 7, 2017. At the Cowen and Company's 37th Annual Healthcare Conference, this clinical stage biopharmaceutical company not only reiterated the previously declared positive results from Phase 2b study, STOP-HE, but also announced additional encouraging data from the trial.
Understandably, investors are excited about the growth prospects for this orphan liver disease player. But the burning question is how much higher can the stock go up beyond $1.89? I believe this company is significantly undervalued and can fetch some nice returns for investors in long term.
In this article, I will present my rationale for considering Ocera Therapeutics to be a solid buy opportunity in 2017.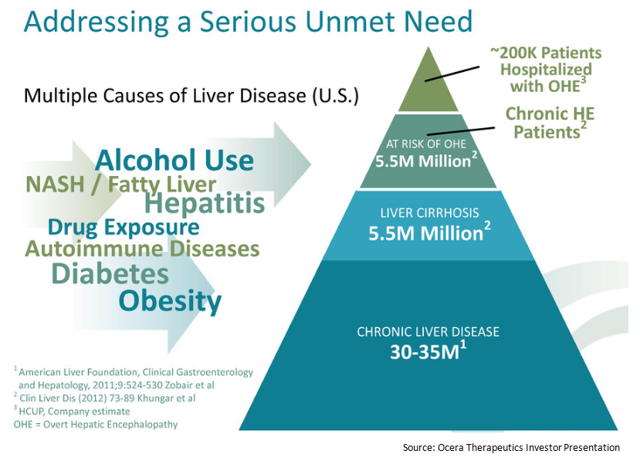 Hepatic encephalopathy is a market segment with significant unmet demand.
There are approximately 5.5 million patients suffering with chronic hepatic encephalopathy or HE in USA which are at risk of falling prey to overt HE. Out of these, 200k patients are hospitalized due to progression of the disease.
The demand in this therapeutic area is intense as this condition severely affects the quality of life for a patient. HE is a neuropsychiatric condition affecting patients with advanced liver disease. It is mainly caused due increased ammonia levels in the blood as the dysfunctional liver is unable to effectively convert ammonia into urea. In normal circumstances, this urea is expelled out of the body by the kidneys. In earlier stages of the disease, a patient may display personality changes and mood swings. This may progress to advanced symptoms such as impaired motor skills, confusion, and overall disorientation. In the later stage of the disease, a patient may suffer from stupor and may fall in comatose phase. Finally, a patient may even die due to advanced levels of HE.
Existing treatment options have left much to be desired in the HE segment.
In March 2010, Xifaxan (rifaximin) was approved by U.S. Food and Drug Administration or FDA as a treatment option for HE. The approval was based on positive results from clinical trial where the drug managed to report statistically significant reduction in risk of overt HE as well as hospitalizations due to HE as compared to placebo in patients suffering with liver disease.
In 2016, Xifaxan reported revenues close to $1.0 billion. While the drug has also been approved for irritable bowel syndrome with diarrhea or IBS-D, a significant portion of Xifaxan's revenues originate from its HE indication.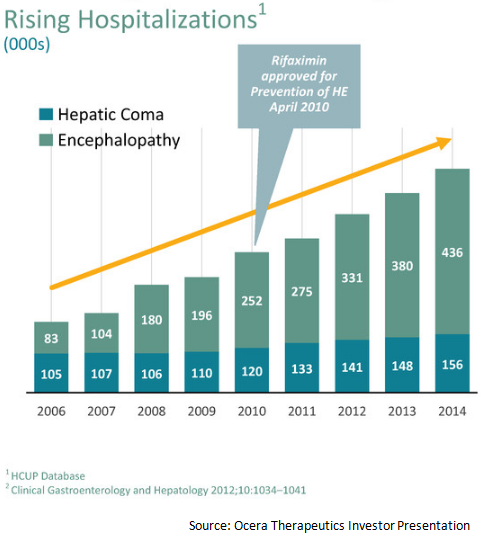 It is important to note that despite rapid uptake of Xifaxan, hospitalizations due to HE are on a rise. This is because Xifaxan works by eliminating ammonia-producing bacteria in the gut and hence is used as maintenance therapy. Since Xifaxan does not remove the ammonia circulating in body in the patient's blood, the drug is not effective as a treatment option for acute treatment.
Patients also continue to use laxative, lactulose, for treating HE. While this treatment option is inexpensive, it also results in diarrhea. Hence, compliance rates for this treatment option have always remained quite low.
Investigational OCR-002, may become the first intravenous and oral ammonia scavenger therapy for HE
On February 01, 2013, FDA approved ammonia scavenger, Ravicti, for certain urea cycle disorders. Despite the drug demonstrating efficacy in preventing HE in phase 2 trial, Horizon Pharma stopped developing Ravicti for HE due to high expenses required for completing clinical trials.
Another ammonia scavenger, Buphenyl (ammonul), has also demonstrated its efficacy in urea cycle disorders. However, the drug may not be suitable for HE patients due to probability of adverse events.
In this environment, Ocera Thyerapeutics investigational, OCR-002, is a very promising ammonia scavenger therapy being explored for HE. The drug is being developed both as intravenous and oral therapy, and is targeting market opportunity in the range of $1.5 billion to $2.0 billion in USA.
Intravenous OCR-002 therapy is expected to become standard of care for very sick HE patients who undergo hospitalization. Through this formulation, OCR-002 is targeting market opportunity close to $800 million in USA.
The oral formulation targets a larger market opportunity close to $1.2 billion, as it will ensure HE patients receive optimal therapy at home.
Orphan Drug Designation can help control competition for OCR-002
The composition of matter patent in USA for OCR-002 extends till year 2030. Further, OCR-002 has also been granted the orphan drug designation. Hence, on approval of its new drug application or biologics license application, OCR-002 will enjoy 7 years of market exclusivity. The orphan drug designation is a unique asset as it prevents FDA from approving a generic version of the drug or even any other drug for the same condition for 7 years. Further, orphan drugs also enjoy more leeway in pricing as compared to other branded therapies.
Investigational therapy, OCR-002, has managed to demonstrate its efficacy in reducing ammonia levels in phase 2b trial, STOP-HE.
On January 30, 2017, Ocera Therapeutics declared that after administering OCR-002 intravenously, the median time to meaningful clinical improvement in very sick and hospitalized HE patients was 47 hours, around 17 hours lesser than that reported for placebo. Since Ocera wanted to see more than 24 hours difference in median time for OCR-002 as compared to placebo, the investigational therapy failed to meet its primary endpoint in the trial. Nevertheless, the investigational therapy had managed to show an improvement trend as well as dosage-dependent clinical benefits in the tested HE patients.
There have been important deductions from data released on January 30, 2017. Ocera Therapeutics managed to confirm close relationship in the level of HE severity and ammonia in the body. Post administering OCR-002, HE patients also showed statistically significant reduction in ammonia levels. Patients demonstrated greater evidence of clinical benefit when they were administered higher dosages of 15g and 20g OCR-002. Further, OCR-002, has also displayed a solid safety and tolerance profile. It is interesting to note that the number of severe life-threatening adverse events and deaths in the higher dosage OCR-002 clinical trial arm were even lower than that witnessed in the placebo arm of STOP-HE trial.
The investor community, however, focused more on the trial not meeting its primary endpoint and punished the stock. However, subsequent analysis of Phase 2b trial data, has helped revive investor sentiment for the company.
Subsequent analysis of Phase 2b, STOP-HE data, has been very encouraging.
Subsequent analysis of STOP-HE trial data seems to unravel some of the reasons why the investigational therapy failed to meet its primary endpoint in the trial. It was found that some test patients in the OCR-002 arm were under-dosed. This resulted in much lower response from HE patients treated with 10g OCR-002.
Further, it was also found that the response rates for the investigational therapy are not only dose-dependent but also timing-dependent. Hence, Ocera Therapeutics believes that in case it had administered the therapy immediately to the patients after hospitalization and also assessed efficacy earlier, then OCR-002 may have managed to meet its endpoint in the trial.
Here, it is important to note that HE patients eventually respond to standard of care therapy. In STOP-HE trial, the standard of care, considered to be placebo, was administered immediately to patients on hospitalization. OCR-002 was delivered after more than 12 hours of hospitalization to the HE patients. Patients treated with OCR-002 also demonstrated better response rate after 48 hours as compared to placebo.
This shows that more than the clinical profile of OCR-002, it may be the sub-optimal study design that is the culprit for the less-than-stellar results from the STOP-HE trial.
OCR-002, however, managed to meet other secondary endpoints such as changes in ammonia levels and overall physician evaluation in STOP-HE trial.
Peak sales estimates
HE patients who show improvement in symptoms within 48 hours of hospitalization are generally discharged earlier by around 1 to 2 days. Ocera Therapeutics believes that OCR-002 can show clinical improvement in patients within 48 hours, thus reducing the expenses for patients as well as overall healthcare system. This can prove to be a major negotiation point while securing reimbursement from healthcare payers.
OCR-002 is also expected to capture significant patient share from Xifaxan as it may demonstrate equal or even better risk benefit profile in treating overt HE. If approved for this indication, OCR-002 will be preferred over off-label usage of Xifaxan in hospitals. Xifaxan's label also warns against its usage in patients with severe liver problems. This safety warning can prove beneficial in expanding OCR-002 penetration in acute HE segment.
Based on market opportunity in HE segment, limited competition, superior clinical profile of the drug, two modes of drug administration, and high probability of securing reimbursement, OCR-002 can reach peak sales of around $1.0 billion. This is based on assumed 50% market share of the oral and intravenous HE market, which will be close to $600 million and $400 million, respectively. Ocera Therapeutics can thus be valued at three times peak sales value of OCR-002. The average probability of regulatory approval for any investigational drug from Phase 3 is approximately 49.6%. Hence, risk-adjusted peak sales value of OCR-002 hovers close to around $496 million. OCR-002 is expected to be launched in the market by year 2020 while it may reach its peak sales value by year 2025. Hence, Ocera Therapeutics is expected to reach peak market capitalization of around $1.5 billion by 2025. Ocera Therapeutics can reach share price as high as $35.0 in 2025.
Since the target price is too far away in future, it can vary due to unexpected changes in the macroeconomic and regulatory environment as well as company strategy. However, this price can give a rough indication to investors about Ocera Therapeutics' capacity to grow in future years.
Investors should be more focused towards news related to OCR-002. The initiation of enrollment for Phase 3 clinical trial, the completion of subject enrollment, and announcement of interim and final results from these pivotal trials will prove to be future catalysts for Ocera Therapeutics' share price. Any problems related to these milestones will get reflected in investor sentiment for the stock.
In 2017, Ocera Therapeutics is a stock only for investors with above-average risk appetite
The future of Ocera Therapeutics depends extensively on the clinical and commercial success of its investigational molecule, OCR-002. This excessive reliance on a single growth driver exposes the company to high level of business concentration risk.
It should also be remembered that the commercial launch of intravenous OCR-002 may not materialize any time before year 2020. Hence, the company will become a commercial organization not before three years, which is a significantly long time span in the investment business.
Based on cash flow statements of the past three years, Ocera Therapeutics' annualized cash spending comes close to $20.0 million. The company expects to discuss study design for phase 3 trial of OCR-002 in end of phase 2 or EOP2 meeting with the FDA, which is scheduled in 3Q 2017. Hence, phase 3 trial can commence only in 4Q 2017 or even later in 2018. This implies that the cash outflow for 2017 may not change significantly from the previous annual outflow close to $20.0 million.
Ocera Therapeutics' latest quarterly report for period ended September 30, 2016, stated cash and short term investments for the company to be around $29 million. Since, the company has reported phase 2b STOP-HE data at the end of January 2017, it is only reasonable to assume that the cash asset must have depleted to around $25.0 million. Hence, it seems that the company can continue funding its operations on its own financial strength till 1Q 2018.
To sustain its research and development operations beyond 2018, Ocera Therapeutics may opt to issue new shares or bonds. The company may also enter into partnership agreement with some big pharmaceutical player and hence cede a part of its upside potential.
As has been historically seen for all original developers of HE drugs, Ocera Therapeutics can also become an acquisition target for larger pharmaceutical companies. Valeant Pharmaceuticals (NYSE:VRX) added Xifaxan to its portfolio through the acquisition of Salix Pharmaceuticals. Horizon Pharma (NASDAQ:HZNP) got hold of Ravicti and Buphenyl through acquisition of Hyperion Therapeutics.
In such a scenario, the deal will definitely be finalized much above the Ocera's current trading price of $1.89. While the acquirer may not cede the entire premium to Ocera, the company's investors can be sure of enjoying high returns in such a transaction.
While it is not possible to accurately project the stock's uptrend especially in absence of a revenue stream, I expect the company's share price to hover close to $6.0 by end of 2017. This is assuming that the stock appreciates in a linear fashion to reach its peak value of $35.0 in 2025. Based on these rough estimations, I believe that the company is a buy opportunity for a retail investor with substantially high risk appetite.
Disclosure: I/we have no positions in any stocks mentioned, and no plans to initiate any positions within the next 72 hours.
I wrote this article myself, and it expresses my own opinions. I am not receiving compensation for it (other than from Seeking Alpha). I have no business relationship with any company whose stock is mentioned in this article.
Editor's Note: This article covers one or more stocks trading at less than $1 per share and/or with less than a $100 million market cap. Please be aware of the risks associated with these stocks.