February jobs printed very well at 230,000 new jobs, exceeding consensus expectations of 200,000, a higher labor participation rate, and a slight increase in average hourly wages.
The unemployment rate was little changed from January's 4.8%, coming in at 4.7%; however, it dropped from the 4.9% from February of last year.
Discouraged workers remain roughly the same at 577,000, but the U-6 rate fell to 9.2% from 9.4% in January and from 9.8% for the same month in 2016.
Notably, average jobs gains over the last three months were 209,000 jobs, the highest three-month gain in the last few years. Nevertheless, the labor participation rate increased just slightly, to 63% from 62.9% for the same month last year.
Nominal average weekly wages increased just $2.07 month-on-month, but $21.89 year-on-year. On an annual basis, average weekly wages rose 2.5%, exactly equal to the January annual Consumer Price Index inflation rate. (We will report the 2017Q1 real wage increase with the March jobs report.)
Sector Highlights
There are four "big" stories in the February jobs report: the large jump in construction jobs, job gains in mining and logging, the increase in jobs in private education, and the job losses in the retail sector.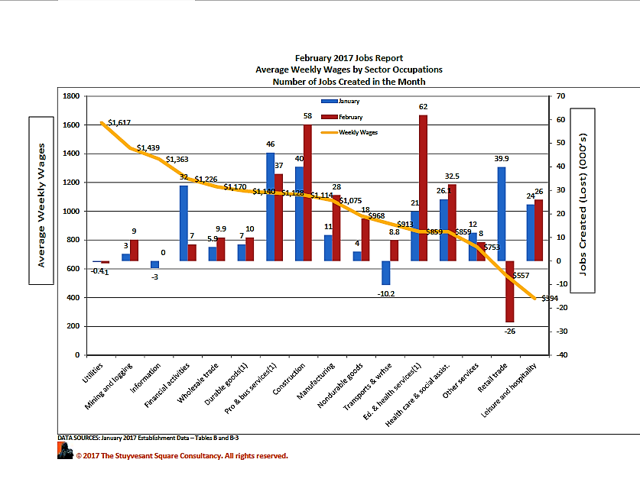 Construction Jobs: the 58,000 new construction jobs were more than double the 23,000 construction jobs created in February of 2016. While January building permits were actually down 3.76% from January 2016, permits were up some 18% over January 2016.
Mining and Logging: BLS says that 6,000 of the 9,000 jobs in this sector are from mining support activities. Given the new Trump Administration's views on carbon-based energy, we expect this sector to gain more jobs in the coming months. There is downside risk, though, because this sector also includes oilfield workers whose employment situation tends to be directly proportional to oil prices and those have been falling.
Education and Health Services: In the chart, we break out Healthcare and Social Services From Education and Health Services to present details for both segments; so the 32,500 jobs created in the Health and Social Services are included in the total of 62,000.
According to the Bureau of Labor Statistics, the jump in employment in the Education and Health Services sector is mostly attributable to private education services. BLS doesn't indicate whether that private-sector job creation is in elementary, secondary, or post-secondary education. It's speculation, but it may be that charter schools are hiring in anticipation of changes to come from the new education secretary, a charter schools advocate, or there may be additional hiring by colleges and universities. (Charter schools generally recruit from outside the population of professional teachers, so their new hires often require a few months training before joining the classroom.)
Retail Sector: The sharp drop-off in the retail sector seems more than seasonal, post-Christmas layoffs. Jobs were added in this sector in the same month in 2015 and 2016. We suspect that most of this is attributable to the decline in brick and mortar retail and less-than-expected retail earnings reports.
Macro Analysis
Three months average job creation in excess of 200,000, today's job report and the consistent 200,000+ average jobs in the two prior months, point to a considerably better macro economy than any in the last few years.
Nevertheless, it would be incorrect to assume that the jobs creation is leading to wage inflation for which interest rates must be increased to counter. There is no real wage growth in average terms, as discussed above; average wages are just keeping step with inflation.
That is not to say that rates should not be raised; there may be other reasons to do so (for example, the troubling divergence between growth in margin debt to S&P growth). But it's not appropriate to raise rates because of wage or employment growth, not yet.
It's also important to note that the length of unemployment for all but the hardcore unemployed (i.e., those unemployed for more than 27 weeks) is moving lower.
This means that workers may come to view the prospect of unemployment as less onerous in prior years; it may not necessarily result in a lifestyle change for workers out of work because they can more readily find another job. Workers would, therefore, tend to be less fearful of long-term unemployment and, thus, more willing to borrow money, make major purchases, and otherwise engage is personal consumption expenditures on things like vacations, consumer durables, dining out, etc. That should bode well for the consumer discretionary segment that is part of personal consumption expenditures of GDP.
While Janet Yellen and her colleagues at the Fed have been signaling more rate increases through 2017, it seems that, at least with respect to employment considerations, the Fed would be better to stand pat at least in the March meeting next week. We can see whether there is actual wage inflation with the 2017Q1 GDP and other data. Moving rates too fast or too much in anticipation of real wage growth without evidence there is real wage growth would likely inhibit growth.
Employers and the Fed should also watch carefully for execution risk related to President Trump's planned tax cut. When we see the 2017 GDP report in late April, we'll have a better view of whether companies are making the types of investments in property, plant and equipment that shows they are confident the planned tax cut will occur and that the economy is on the upswing; they will have put money on it as reflected in the Gross Domestic Private Investment element of GDP. If they have, then the Trump Administration will need to move fairly rapidly to ensure the promised tax cut can be delivered, soon, or risk a decline in gross domestic private investment in Q2 and Q3. That will be very hazardous to the recent momentum we have seen in the markets.
Author's note: Our commentaries most often tend to be event-driven. They are mostly written from a public policy, economic, or political / geopolitical perspective. Some are written from a management consulting perspective for companies that we believe to be underperforming and include strategies that we would recommend were the companies our clients. This approach lends special value to contrarian investors to uncover potential opportunities in companies that are otherwise in downturn. (Opinions with respect to such companies here, however, assume the company will not change.)
If you like our perspective, consider following us by clicking the "Follow" link above.
Disclosure: I/we have no positions in any stocks mentioned, and no plans to initiate any positions within the next 72 hours.
I wrote this article myself, and it expresses my own opinions. I am not receiving compensation for it (other than from Seeking Alpha). I have no business relationship with any company whose stock is mentioned in this article.
Additional disclosure: Disclaimer: The views expressed, including the outcome of future events, are the opinions of the firm and its management and do not represent, and should not be considered to be, investment advice. You should not use this article for that purpose. This article includes forward looking statements as to future events that may or may not develop as the writer opines. Before making any investment decision you should consult your own investment, business, legal, tax, and financial advisers.