"That's been one of my mantras - focus and simplicity. Simple can be harder than complex: You have to work hard to get your thinking clean to make it simple. But it's worth it in the end because once you get there, you can move mountains." - Steve Jobs
The U.S. stock market has been on a steady climb higher since the November election. From 11/8/16 to 3/1/17 the S&P 500 Index has moved higher by 12% since the election back in November 2016. This double-digit gain in a period of just four months has some investors nervous and asking if this is an appropriate time to reduce equity exposure. For the last several weeks, investors have been bombarded with 'advice' to 'sell'. Every event the bears could muster up that would potentially have a negative impact on stocks has been highlighted. So far, none of those strategies have worked out.
A long term bull, Jeff Saut, who is still bullish on the equity market, has decided to move to the sidelines for now. That should not be taken that he is now sitting in cash, he isn't. At this point in time he has decided to raise some cash, sit and watch. I view that move as simply taking a break from playing offense.

Many investors simply don't trust the new administration and don't trust the stock market at these levels. In some ways I found that curious given the confidence reports that we have witnessed lately. I continue to see people that are very nervous including some money managers that have confessed they are in more cash now than they have been since 2007. The key phrase ringing in their ears during all of this uneasiness is I don't know what is going to happen. Excuse me, when do we ever know what is going to happen? What I believe is going on with these folks is the dreaded fear of new stock market highs, combined with the flashbacks to the financial crisis and the you will lose it all commentary.
There isn't one correct answer to the question of raising cash, except to say it depends. All of us have different life situations, time horizons and other factors that will come into play to make that decision. For those so inclined, one suggestion that was put forth here was to trim any position that became overweight in the portfolio. Selling covered calls against positions that are stretched is another way to add income, but unless the position is called away it doesn't solve the total stock exposure issue.

With the strength of the market's advance since the election, now is a good time to review the overall allocation across one's investment portfolios. If equity exposure is higher than a person's comfort level, no one went broke taking a little profit or trimming equity exposure a little bit.
The move higher in stocks may have resulted in an investor's allocation to be over weighted in equities. This should be reviewed in conjunction with one's weighting in cash and shorter term bonds. Does the cash and/or short term investments to support cash needs in the event the equity market does experience a pullback, be sufficient to meet your needs? This cash and short term investment bucket should be sufficient to sustain cash needs over a time period that will allow stocks to recover without the need to sell equities while they are down. Assigning a value to this short term bucket is again dependent on an individual's situation and then adding risk tolerance to the equation.
Blending all of this together is challenging and when you add in the outlook to form a big picture it is a daunting task. None of this should be taken as a cautionary stance. You will see that I am still quite bullish at this point in time. However, it's simply good portfolio management to review the situation and make subtle changes from time to time.
I don't do any of what I just mentioned in a vacuum. For myself the use of market history and ongoing trends play a huge role in making these decisions. Instead of jumping to the conclusion that the stock market has come too far too fast, and make a decision that might be regretted, it's better to look around and put things in context. So I want to take into consideration how significant has the recent move higher in stocks actually been compared to history. Last week I posted a chart of the S&P showing the current 10 year rolling price return is just below the market's average looking back to 1950.

Looking at the bigger picture however does show that given the quick rise in prices, it raises some short term concerns. There are ALWAYS short term concerns, every hour, every trading day. They are inescapable, so to make an educated decision they have to be placed in context with all of the other data.
Valuation is on the minds of everyone now, and here again a lot of factors come into play. The current S&P 500 earnings consensus projections as reported by Factset are around $146 for 2018. As economic growth continues to build momentum if the Trump administration is able to pass economically enhancing reform, that could easily make the forecasts we see a possibility. So the forward looking valuation may not be the headwind that some people believe. That headwind might even be reduced to a slight breeze if proposed reforms include a healthy cut to taxes. That $146 forecast will get a healthy boost.
Achieving all of the above without some challenges seems like a low probability, especially regarding fiscal reform. Additionally, forward earnings projections have tended to overshoot actual results historically. Yet, stocks appear to be trading looking out at the positives, and for the moment putting the unknown negatives to the side. Of course, if and when challenges appear, stocks will suffer bouts of weakness, but I don't perceive all of the negatives ruling the entire situation. Therefore, any of these by themselves shouldn't upset the long term uptrend in place.

When I put all of this together and decide how I am going to position myself, I usually find that what is presented is usually a mixed bag. Therefore, the deciding vote always comes down to the trend. The underlying trend that is in place at the time, and right now it is decidedly up. Attempting to figure out when it may turn is a fool's errand.
There are a lot of people who don't believe in the merits of technical analysis. It doesn't make sense to many that you can look at past price movements and determine future price movements. The question they pose is if stock prices are driven by earnings, how can a chart provide any insight? Yes, stock prices are driven by earnings in the long run, but in the short run they're driven by sentiment. This analysis can present a forward looking approach, which can be observed by measuring supply and demand.
A perfect example of that occurred recently. Investors looked at one side of the equation but ignored the other. That event just played out in front of our eyes. The so called earnings recession that was supposed to take the S&P down. Instead, the market bided time, traded in a range for almost two years due to other factors at play and waited for the earnings turnaround that was coming.
The ONLY way that was apparent to some was the technical picture being presented at the time. The long term trend was not violated and remained in play. That fact was drowned out as the focus was on earnings and other issues. The technical point was missed causing many to abandon the equity market. Far too many investors only look at the data they want to see. Failure to observe everything was costly. The difference between prices then and now is some 30% higher.

Economy
All along the thought that consumers have been reluctant to go out and spend, spend, spend has been brought up to explain periods of tepid consumer activity. It's all about what is going on in their minds, and it is deleveraging from the financial crisis.

Chart Courtesy of Urban Carmel; Data from Federal Reserve
This is the first expansion in more than 40 years accompanied by growth in personal savings.

Despite the renewed confidence that has been noted among small business owners, the fact remains that it now becomes more of a show me situation.
Reuters reports;
"Borrowing by small U.S. firms fell in January to the lowest level in three months, data released on Wednesday showed, a signal that small-business owners are not betting on faster demand for the coming year, at least not yet."
This makes perfect sense given the political posturing that takes place before any issue gets resolved.

Non farm payrolls rose by 235,000 for February. The unemployment rate was steady at 4.7%.

Global Economy
The theme that represents the backbone of my assertions is the premise that the global rally taking place goes far beyond our election and new administration
Bloomberg reports;
"This year is shaping up to be the most synchronized for global growth since the immediate aftermath of the last recession, in a development that could ease the burden on the U.S. as the world's economic engine. From robust Chinese factory data to faster inflation in Germany, just about all major economies are running at a decent clip, if not accelerating."
Looking at the respective stock markets, all of the G7 countries are showing gains. As of March 3rd, the U.S. is up the most with a gain of 5.99%. Germany ranks second, followed by Britain and France. Japan has been the weakest of the G7 with a small gain of 1.39%. Looking at the BRICs, Brazil is up the most with a gain of 10.16%, while Russia is performing the worst with a decline of 3.73%. Nigeria and Kenya are the two worst performing countries, with respective declines of 8.5% and 7%.

Bloomberg reported on the recent Mario Draghi press conference where the ECB left interest rates unchanged;
"Mr. Draghi said the risks of deflation have largely disappeared and the inflation outlook has improved, though this was the one area where he tempered his optimism."
Eurozone GDP, which showed an expected uptick in investment and government spending, brought overall growth to the as expected 0.4% quarter over quarter, or at the 1.6% seasonally adjusted annual rate.
German Retail Sales unexpectedly surprised to the upside, increasing by 2.3% in January.
Germany Construction PMI for February surprised to the upside with a reading of 54.1. That eclipsed the January five month low print of 52.
A blow to the acceleration narrative in Europe, German Factory orders plunged 7.4% in January, the biggest sequential decline since the financial crisis. Unless we start to see a trend develop here, it is assumed this will be an outlier of what has been reported recently.

Chinese Premier Li Keqiang delivered a report on economic growth and planned economic policy. Li continued the recent Chinese push to defend free trade and globalization, striking a similar tone as Xi Jinping did at Davos this year on that subject. The link provides an interesting read on how the Chinese leadership see themselves and how they wish to be seen by the rest of their countrymen and the world at large.

The Headlines keep rolling in regarding the status of the French election. Conservative candidate Francois Fillion continues to deal with his recent scandal. Alain Juppé says he won't be running as a replacement for what he describes as a dead end candidate.

Earnings Observations
Given the proposals reducing the regulatory burdens on the banks combined with a rising rate environment, revenue growth in the financial sector is set to rise dramatically. Remove the drag that the energy sector produced, and we just might be on the way to a more typical earnings growth picture.
If the estimates are anywhere near accurate, it appears there is a very good chance that 8-9% earnings growth can be achieved in the latter part of this year and that would be in line with history.
Last week I posted a graphic that showed the current 10-year rolling price return for the S&P 500 is just below the market's average going back to 1950. Further evidence of returns for the S&P 500 Index total return since 1928 also shows the ten year period return from 2007-2016 is below the longer term (1928-2016) return of 9.52%. So in spite of the strong equity return since the financial crisis, the return over the past ten years has been quite a bit below average.
The following table shows the returns for the S&P 500, 3 Month T Bill, and 10 yr. T Bond.

For what it is worth, Dan Loeb joins the club suggesting that in his view, stocks are not overvalued.
Factset Research provides us their view on S&P earnings, past present and future.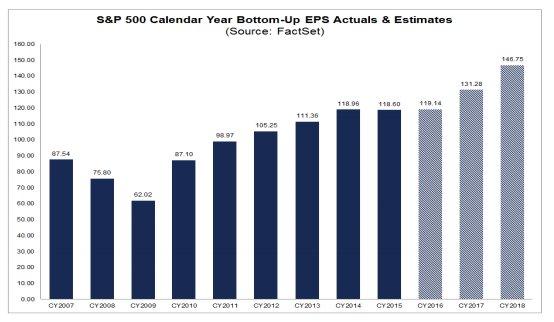 The estimate for 2017 is $131.28 and $146.75 for 2018. Based on Friday's closing price the corresponding forward looking PE ratios work out to be 18 and 16.1

The Political Scene
Interesting, but not a surprising revelation; only 3% of NBC and CBS reports depict Trump positively.
At the moment, institutional money managers don't seem to care.
The NYTimes reports;
"Automakers appear to be on the verge of a rare victory in their long-term effort to reduce government regulations on new cars and trucks. As soon as Tuesday, the Trump administration is expected to announce its agreement with the major auto companies that future mileage and emissions standards should be overhauled to reflect the growing consumer demand for larger, less fuel-efficient vehicles such as pickup trucks."
No surprises this week as Washington continued to dominate headlines, with the primary story being the unveiling by House Republicans of a replacement for the Affordable Care Act. The proposed reforms are likely to face an uphill battle, however, after facing early public resistance from moderate Senate and conservative House Republican legislators.
It would be nice if the bobble heads can get together and do something for the folks that have literally no choice in selecting a healthcare policy. Helping the crowd that has seen their premiums double, and the masses that have healthcare but need to pay the 5,000 out of pocket deductible, before it actually helps them. Instead it's more posturing, in lieu of action.

The Fed
Treasury yields have been on the rise lately across the entire spectrum of the yield curve, but looking at the charts of different maturities shows a very different picture the further out on the curve you go. With the short end of the curve seeing much more of a move than the long end, the yield curve shows little signs of wanting to steepen.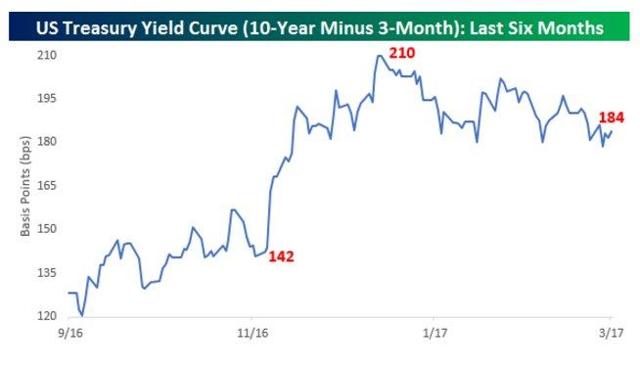 Source: Bespoke
As of early last week, the spread between the yield on the ten year and three month U.S. treasuries was at 184 basis points, which is down 26 bps from the post-election high of 210 bps in December. That's quite a bit of flattening in an environment when the economy is supposed to be picking up speed, although it is still much steeper than the 142 bps level it was at prior to the election.
Next week we will get to hear the results of the March FOMC meeting. The drumbeat rolls on about the rate hike that appears to be all but announced, by an aggressive Fed and what that could mean for stocks.
Aggressive Fed? Sure if inflation spirals out of control, but that doesn't appear to be a given now. And assuming that it will occur and positioning a portfolio on that thought appears to be another knee jerk reaction to a remote possibility. A reality check. This will be the third increase in 10 years, coming off of zero.
I heard an interesting description applied to what the Fed may be about to do regarding the next rate increase. "They're not really slamming on the brakes so much as taking the foot off the gas pedal."

Sentiment
On this eighth anniversary of the bear market lows from 2009 and the start of the most hated bull market in history, it seems only fitting that sentiment gauges of individual investors from AAII came in where they did this week. In this week's survey, bullish sentiment dropped from 37.9% down to 30.0%. That's the lowest weekly reading in bullish sentiment since the week before the election, and also extends the record streak of weeks where bulls haven't been in the majority to 114.
That being said, money has started to find its way into the stock market.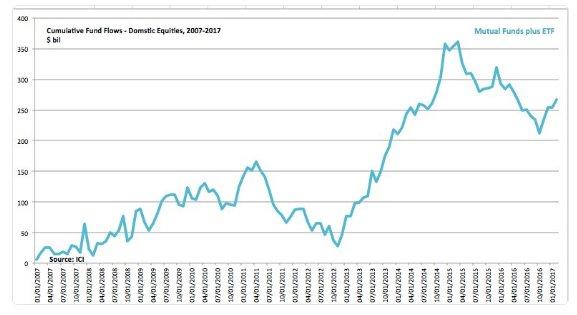 Source: ICI
About $50b cumulative inflows into domestic equity mutual funds and ETFs in the last 4 months. That is still $100 billion below the 2015 peak.
I recently posted a graphic on February 25th showing a comparison of equity inflows and stock market action. The relentless bid in the equity during 2013 was driven by equity inflows. It clearly indicated it is an issue that shouldn't be viewed as everyone rushing into the equity market creating euphoria and market bubbles. In short, it isn't the horrible negative so many are making it out to be. I also noted this fact;
"The trajectory of equity inflows from late 2012 to March 2015 came in concert with a 50% gain in the S&P."
Regular followers may have noted that I reported similarities in the current market that is reminiscent of 2013. Here is yet another. This one coming from an unexpected source. All we have heard lately is to be wary because there is too much optimism in various surveys. The recent reports regarding the optimism seen from NAAIM surveys poses an interesting comparison to 2013 as well. Active investor exposure to equities just hit 102%, the highest since Jan 2013.
With that revelation comes the talk of: Oh my, way too many investors are optimistic, the market is headed down and down quickly. Well, I guess that could happen. However, it might not be a good idea for an investor to change positioning now based on that information. I will remind everyone that just two months after a similar bullish reading in January 2013 from NAAIM was released, the S&P broke out of a 13 year base building pattern. That was viewed as the beginning of the secular bull market. It then recorded a 30% gain for the year. Taking one issue and running with it without consulting the other data, puts an investor on the road to failure.
Here is what my experience in the markets tells me about using the word euphoria when speaking about the equity market. When there is REAL euphoria in the air, we will hear crickets in the background as to why the market can't go higher. That is hardly the case today as I point out later in the Market Skeptic section.

Crude Oil
My view that the crude oil market trading in a tight range recently was like a coiled spring ready to make a move either way may have started last week. For those that are bullish on oil stocks it didn't go the way they were anticipating.
Apparently the selling started early in the week as hedge funds reported they were unwinding their long positions. Long positions that had built up to record levels. Wednesday's build in inventories scared the daylights out of them and they ran for the exits as WTI closed over 5% lower on the day.
The price of WTI closed the week at $48.40, down $4.80 or 9%. That move lower took the price below key support levels, and keeps everyone in suspense as to how far this decline will go.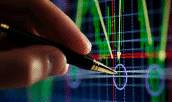 The Technical Picture
Last week the technical view was summed up as follows;
"The area around 2,340 is a downside level that could be tested. That would simply bring the index back closer to the 20-day moving average trend line."

"There is a gap on the Daily chart presented above that will be filled with a drop to 2,367, and that could simply end any retreat. Bottom line, I don't see the recent market strength evaporating overnight."
The S&P behaved very nicely for the bulls as it traded right down to the 2367 pivot point on Monday, broke below that level momentarily on Tuesday, but closed at 2368. Wednesday saw the first close below that initial support level, and bounced nicely off of the 20 day moving average which stands at 2357. If we see last Friday's rally continue into next week, this pullback would have then achieved the 2% pullback I targeted two weeks ago.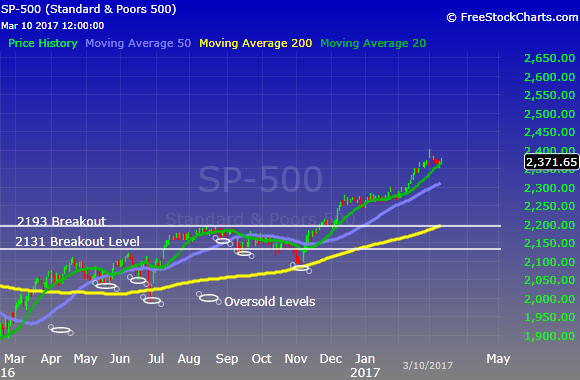 Chart courtesy of FreeStockCharts.com
Continuing with that thought, if the S&P continues to trade sideways and we do not get a close below the 20 day MA soon, it brings in the distinct possibility that this pullback is over. If that is the case it ushers in the next upside target of 2420.
While there is some deterioration relative to breadth noted in recent trading, that too can be resolved in time and it doesn't mean that it can't be revitalized in a matter of days or weeks. The recent strength was just too strong to dissipate quickly.
Short term support comes in at S&P 2354 and the 2336 pivot, with resistance now back at 2385 and S&P 2401.

Market Skeptics
A good stock market rally wouldn't be complete if it wasn't accompanied by a good story about a catastrophic end. Mr. Marc Faber graces us with his new missive on the potential end of the bull market. In a recent interview he mentions that a period like 1987 is right around the corner and will be accompanied by an avalanche of selling. He tells us how bear markets happen repeatedly and how very few are prepared. His message argues that crony capitalism combined with the Fed manipulation has obscured reality.
The fact of the matter is crashes do not occur that often. In fact history tells us that the market is headed in the opposite direction more often than it's headed down when viewed over a 2 or more year period of time.
Take a look at this graphic courtesy of Ben Carlson,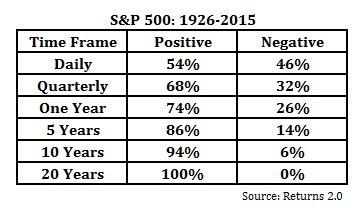 For those that keep telling me that they play the odds, then follow that with crying that odds of a correction are high, need to first go back and look at the real odds an investor is dealing with when investing in the equity market.
As far as reality and it being obscured. Here is the reality that I have witnessed with the crony capitalism that has been cited.
The Dow is up 14,000 points since 2009, the S&P is up over 1700 points.
Now in reference to how far this current rally has run in a short period of time, it brings out the commentary that, it will be time to pay the bill soon.
Let me be the first to remind everyone that the folks that have the money to pay that bill when it comes due are those that have stayed on board the bull market train. All others need to worry about how they are going to handle that problem, when it arises.
Bill Gross says it's time to get concerned, and warns us about buying into what he calls the Trump rally. His writings are amusing but not very accurate. He wasn't a fan of stocks last August, that was after the S&P broke out of a two year trading range to set new highs. He apparently didn't believe in the market then, so it's apparent that he is simply pushing the date when equities might correct to the present.
Finally on this topic, if one thinks an avalanche of selling wasn't enough of a warning from Marc Farber, here is an article that makes that look like a walk in Disneyland. Not to mention this warning of how 2017 will be worse than 2008.
But we may not have to wait for that to take place because according to the recent David Stockman article, after March 15 everything will grind to a halt.
Everyone is optimistic?

Individual Stocks and Sectors
Consumer confidence has risen to new heights recently, and Ned Davis Research reports that U.S. Healthcare sector outperforms during high consumer confidence periods.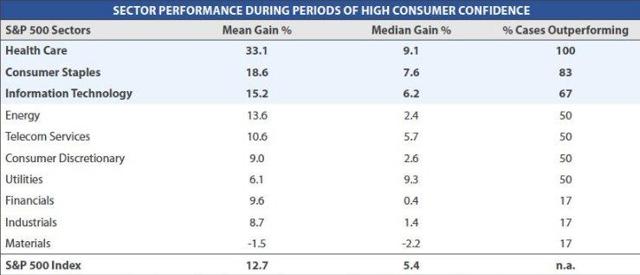 Source: Ned Davis Research
The chart below shows the year to date returns of the eleven major S&P 500 sectors. Notably, eight of eleven sectors are already up 5%+ on the year, and Technology is in double digit territory. Energy remains the one cyclical sector in the red.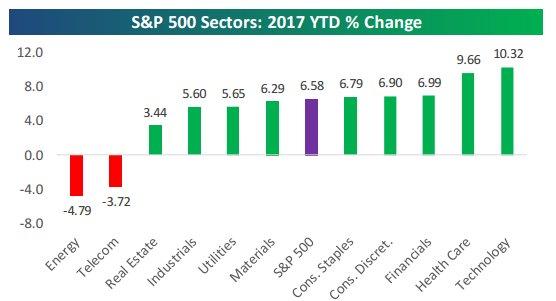 Source: Bespoke
LPL Research recently posted statistics on the sectors that have outperformed the S&P during the month of March. The data is compiled from 1997 to 2016. Energy leads the way as it outperforms the S&P by an average of 1.3%. Financials come next outperforming by 0.9%. Consumer Discretionary and Industrials follow up, as both beat the S&P by 0.7%
One group that has really been struggling over the last 18 months is the Biotech sector, but we're finally seeing signs of life again. The Nasdaq Biotech Index (NASDAQ:IBB) hit a new 52-week high on March 1st by breaking above its highs from last September.
The indicator I watch to confirm a new bull or bear market in any sector is where it trades in relation to its 20 month moving average. In this case the Index closed above that important trend line for the first time since December 2015. Another weekly close (302) above that trend lines is indicative that the sector will start to attract money as market rotation continues.
In his latest missive, Ray Merola puts forth an informative piece on four large cap Biotech companies. His straightforward analysis concludes that Celgene (NASDAQ:CELG) a long time favorite of mine is a stock that should be on an investor's watchlist.
I recently heard that millennial investors are using the recent IPO of Snapchat (NYSE:SNAP) to get into the market. This is not intended to disparage millennials, but one can see how retail investors get themselves into trouble and buy on emotion. In the intermediate term the stock may have already topped out at $29. History suggests even the most successful companies saw their IPO share price top out after 3 months of trading is in the books. Facebook comes to mind. Snapchat may one day be a great company and follow in the footsteps of a Facebook (NASDAQ:FB), I don't know, but buying a recent IPO isn't a way to wade into the equity market.

With the market seemingly defying the odds and rallying at just about everything that gets thrown its way, the S&P remains resilient. That is more than likely due to the pro growth mindset that has taken over. As one astute reader commented last week;
"If the business men and women in the U.S. ACT to implement PRO-GROWTH, PRO GROWTH is on the way, no matter if there is legislation or not. It can be enhanced with the passage of legislation."
I agree, it can become a self-fulfilling prophecy on the idea that the D.C. mindset is now pro Corporate America.
The underlying trend and the recent breakouts in the major indices are telling me that is what needs to be in focus now. Of course there is a need to keep an eye out on the earnings and global economy issues. Sure the averages are stretched, sure the chance of a pullback is heightened. The S&P has been at these junctures before. When market participants get to this point they have to realize once again that these moves are worked off by either time, price, or both. Then another push higher can ensue.
We also have to be reminded of what has occurred in the past during this bull market. There could be at any time and for any number of reasons, a time where any sector can correct 5% to 10% just in the normal course of a market evolving. So while the focus is always on the major indices, at times it needs to be switched to what is going on underneath the surface. These mini corrections in sectors offer tremendous opportunity for active investors.
Stocks continue to trade on enthusiasm as they anticipate healthy economic and earnings readings in the coming months. If the anticipation becomes reality, there remains plenty of upside over the coming months.
Common sense also tells me the enthusiasm will be dealt a setback at some point. It's no secret that the current rate of ascent is not sustainable, periods of pause, sideways trading or pullbacks will develop. As long as economic flow remains healthy and sentiment positive, it is my opinion that these periods of market drawdowns can be purchased.
Pessimistic traders have been destroyed in this move upward, a stark reminder to look at all of the data, trade what you SEE, and not what you think. Mr. Jobs had it right. Focusing on all of the data and keeping things simple by avoiding the clutter of noise that is ever present will go a long way to assist in being successful.
Best of Luck to All!
Disclosure: I am/we are long CELG,FB.
I wrote this article myself, and it expresses my own opinions. I am not receiving compensation for it (other than from Seeking Alpha). I have no business relationship with any company whose stock is mentioned in this article.
Additional disclosure: The opinions rendered here, are just that – opinions – and along with positions can change at any time. As always I encourage readers to use common sense when it comes to managing any ideas that I decide to share with the community. Nowhere is it implied that any stock should be bought and put away until you die. Periodic reviews are mandatory to adjust to changes in the macro backdrop that will take place over time.