The non farm payroll numbers beat as expected, though wages continue to disappoint in terms of growth. At this point, all eyes will be on the upcoming FOMC meeting with a hike now being priced in. Market participants will likely be watching the FOMC statement rhetoric at the upcoming meeting for direction, with an indication that 2017 could see three or more hikes likely to boost the greenback further from current levels.
Trading and Technical Strategy for the week ahead:
Dollar Index, DXY (UUP, USDU, UDN, FXE, FXB)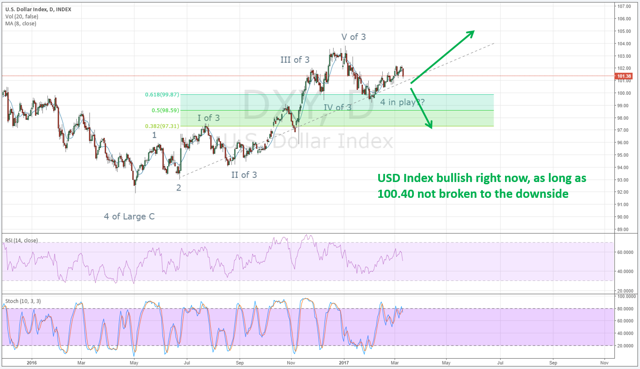 Charts created by themarketjournal, data provided by SAXO markets
| | |
| --- | --- |
| Key Levels | |
| Support: | 101.10/ 99.68/ 98.40/ 97.12 |
| Resistance: | 104/104.50/ 105.25/ 106 |
| | *Level to consider buying at for support and selling at for resistance for intra-day trades |
The USD continues to hold up given the market pricing an interest rate hike at the upcoming FOMC meeting. At this juncture, nothing remains unchanged as long as 100.40 on the DXY holds. Should 100.40 break to the downside, a test of 97.31 will then be the next likely scenario.
Trading strategy:
We continue to view the Australian Dollar (NYSEARCA:FXA) as the ideal currency to bet against the dollar, given challenging data in the recent months. We think traders can sell at current levels with a stop loss at 0.7620, and a downside target at 0.7480.
XAU/USD (NYSEARCA:GLD)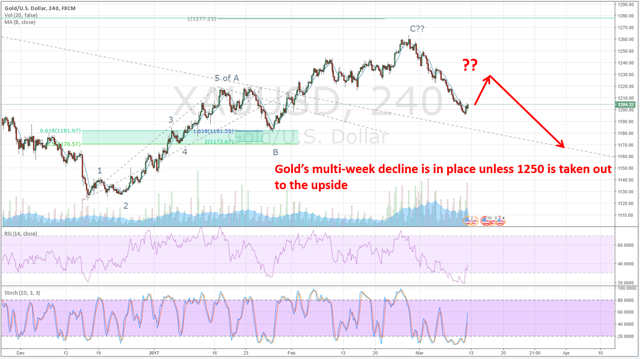 Charts created by themarketjournal, data provided by SAXO markets
| | |
| --- | --- |
| Key Levels | |
| Support: | 1170/ 1130/ *1100/ 1050 |
| Resistance: | 1205/ 1245/1265/1280/1305/1330/1360/1400 |
| | *Level to consider buying at for support & selling at for resistance for intra-day trades |
GOLD continued declining on Fed expectations, and the current multi-week decline could see lower lows below 1125 in the coming weeks. Next week should see the metal test 1180 for a bounce, to set up for another down leg thereafter.
Trading strategy:
High risk short term traders can look to buy the metal at 1180 for a bounce with a stop at 1176, looking to exit around 1200. It is important to note that the risk to the downside for the metal is high at this time, and the potential for it to exceed downside move expectations is high given the current Fed expectations.
WTI OIL (USO)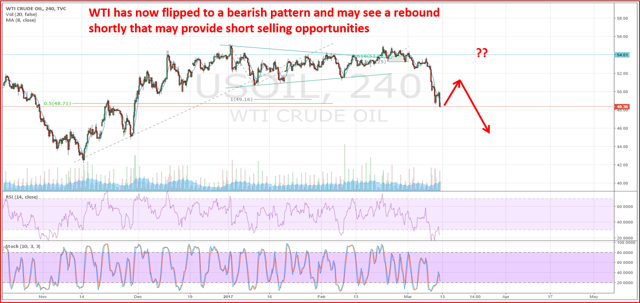 Charts created by themarketjournal, data provided by SAXO markets
| | |
| --- | --- |
| Key Levels | |
| Support: | 48.30/47.15/ 46.30/ 45.30 |
| Resistance: | 52.60/ 51.30/ 50.20/ 49.80/ 49/ 53.80/ 55/ 56.20/ 57/ 58.50 |
| | *Level to consider buying at for support & selling at for resistance for intra-day trades |
*Note on our price chart: Before we dive into the WTI technical analysis, we have decided to use the WTI continuous futures price as a chart instead of the original spot price posted in our article. This price will match the nearest dated WTI crude futures contract which will switch automatically once the contract settles, moving on to track the next nearest dated futures contract. We will also be only analyzing the technical aspect of the WTI price, given the fundamental aspect of WTI oil is well covered by many subject matter experts in the energy commodities section. At this time, the nearest dated futures contract being tracked by the above price chart is the April 2017 contract.
WTI oil broke down from its multi-week bullish breakout, and the move may have now reversed the price to a multi-week downtrend move as per our writing last week. Traders who went long and stopped out at $51.50, were likely spared the majority of the carnage in WTI this past week. However, whilst short term supply numbers have left the price of WTI in ruins for now, we are still bullish long term on WTI prices. However, we would exercise prudence at this stage for any long positioning, until multi-month overbought conditions are worked off.
Trading strategy:
We think short term high risk traders can play a bounce at around $48.10, with a stop loss at $47.30 and a take profit at $49.60. We personally will be avoiding playing the bounce, and will be looking for longer term setups to go long XLE.
Risk Disclosure:
High Risk Warning: Foreign exchange, futures and ETF trading carries a high level of risk that may not be suitable for all investors. Leverage creates additional risk and loss exposure. Before you decide to trade any instrument, carefully consider your investment objectives, experience level, and risk tolerance. You could lose some or all of your initial investment; do not invest money that you cannot afford to lose. Educate yourself on the risks associated with trading, and seek advice from an independent financial or tax advisor if you have any questions.
Advisory Warning: THEMARKETJOURNAL provides references and links to selected blogs and other sources of economic and market information as an educational or informational service to its clients and prospects and does not endorse the opinions or recommendations of the blogs or other sources of information. Clients and prospects are advised to carefully consider the opinions and analysis offered in the blogs or other information sources in the context of the client or prospect's individual analysis and decision making. None of the blogs or other sources of information is to be considered as constituting a track record. Past performance is no guarantee of future results and THEMARKETJOURNAL specifically advises clients and prospects to carefully review all claims and representations made by advisors, bloggers, money managers and system vendors before investing any funds or opening an account with any brokerages or dealers. Any news, opinions, research, data, or other information contained within this article and our website is provided as general market commentary and does not constitute investment or trading advice.
Disclosure: I/we have no positions in any stocks mentioned, and no plans to initiate any positions within the next 72 hours.
I wrote this article myself, and it expresses my own opinions. I am not receiving compensation for it (other than from Seeking Alpha). I have no business relationship with any company whose stock is mentioned in this article.